"Maisky's supercharged style of playing grabs you by the collar. He can be strong, passionate and powerful – but he can also make love to you with a pianissimo…like Rostropovich, Maisky's playing is all about the heart and the soul."
– Julian Lloyd Webber, The Guardian, January 2012.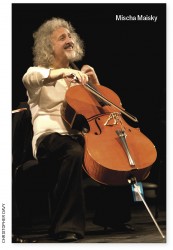 Facts you may not know about Mischa Maisky. Born in Latvia, educated in the Soviet Union, he now considers himself a citizen of the world. (He lives in Belgium, his four children were each born in different countries; his cello is Italian, its strings German, its bow French) He found it odd that people once referred to him as a "Russian cellist," since in the Soviet Union he wasn't considered to be Russian at all. "I was a Jew, which was made clear in my Soviet passport: 'Nationality: Jewish.' Very few people in the West realize that this is how Jews were treated in the Soviet Union."
He is the only cellist to have studied with both Gregor Piatigorsky and Mstislav Rostropovich. Two months before Pablo Casals died, Maisky, then 25, played the Bach Suite No.2 in D Minor for him in August of 1973, in an Israeli hotel suite in front of Casals, his wife Martita, Isaac Stern, Leonard Rose, Eugene Istomin and Alexander Schneider. Maisky has recorded the Bach solo cello suites three times, most recently for Deutsche Grammophon in 1999.
In an International Cello Society interview with Tim Janof in 2007, Maisky expanded on that historic meeting with Casals:
"Perhaps the most frightening thing was to play Bach for him. [In addition to the second suite, Maisky played the Sonata No.3 in G Minor BWV1029 with his brother on piano.] Frankly, I was a bit depressed by his reaction. 'Young man, I personally don't think that what you do has anything to do with Bach. However, you are so convinced by what you do, that it actually sounds very convincing.' Isaac Stern calmed me down afterwards during lunch, saying that he thought I had received the highest compliment a young cellist could receive from Casals. I now prefer to take what he said as a compliment. I certainly didn't play Bach like him, as if anybody could, and I was never one to imitate anybody, so I'm not surprised by his reaction. Lately, however, I've come to realize just how much I have been influenced by his recording of the Bach Suites, which I have listened to repeatedly since I was a teenager."
Later in the conversation with Janof, Maisky talked about his view of Bach as a romantic:
"Some people think my Bach is too romantic, which I take as a compliment. I believe that Bach was one of the greatest romantics of all times. One shouldn't forget that in addition to his wonderful music, he had 20 children. Otto Klemperer was once told that it was discovered one shouldn't play Bach with vibrato, to which he replied, 'Huh? Twenty children and no vibrato?'
"I realize this may seem odd, but I don't consider Bach's music to be baroque. I believe calling Bach a 'baroque composer' is an insult to his genius because he was much, much larger than this. People such as Bach cannot be categorized so easily and those who try to do so are diminishing him and his accomplishments, not to mention that such a label doesn't begin to capture his essence. In addition to being one of the great intellects of all time, he was a passionate human being who I'm sure loved great food and drink. I agree with Pablo Casals when he said that there is no emotion known to human beings that is not in Bach's music. It's all in there and we just have to dig deep enough to find and express it."
Maisky falls clearly into the romantic camp as his Horowitz reference shows:
"Vladimir Horowitz once said that 'all music is romantic,' and I couldn't agree more. Playing romantically means playing with feeling and emotion, and of course people in the 18th century felt things just as deeply as we do today. I don't mean to imply that one should play Bach like Shostakovich, I'm just saying that Bach was so far ahead of his time that he's probably spinning in his grave as he watches us trying to go back 300 years. To regress in our approach is to go against his own mentality and his own progressiveness. He was such an innovative and experimental person by nature that he would be appalled if he were to see how we argue amongst ourselves about how to play his music 'correctly.'"
Later Maisky defends his idea of Bach:
"His music is full of invention and experimentation. Just look at the last cello suite, which he wrote for a five-string instrument, or look at the variety in the Well-Tempered Clavier. I have no doubt that if somebody were to give him a modern bow, he would be thrilled to explore its possibilities. I strongly disagree with those who insist that Bach must be played a certain way. There is plenty of room for different approaches and it's the variety of ideas about all sorts of things, not just in music, that makes life so interesting."
Before Maisky performed at Roy Thomson Hall with the Moscow Soloists and Yuri Bashmet on May 3, 2012, he appeared on Classical 96.3 FM, where he likened Bach's Cello Suites to a great diamond which can shine differently depending on which way you look at it; he called the study of the suites a neverending process.
Maisky makes no secret of the fact that he listens to other cellists. At the time of the Janof interview he had more than 45 recordings of the Bach Suites, all of which he listened to, some of them several times. Listening to recordings in general is something he likes to do; listening to his own recordings gives him a sense of where he's gone developmentally. And he likes to hear live music when he can. "I believe very strongly that one can find something valuable in any performance, even if I don't agree with the interpretation or if mistakes are made."
After studying with Rostropovich for four years (from 18 to 22), Maisky spent 18 months in a labour camp, "shovelling cement, building Communism, obviously unsuccessfully," as he says sarcastically in an interview from the Verbier Festival in 2012. Then, to avoid military service, he had a friendly Jewish psychiatrist place him in a mental hospital for two months, after which he followed his sister to Israel and "repatriation." Maisky attributes the curtailment of his concertizing and other musical activities, as well as the trumped-up charge that landed him in the labour camp, to his older sister's move to Israel in 1969, a move the Soviet authorities were convinced (rightly as it turned out) Maisky would also make.
When Maisky asked Rostropovich for advice (before he left the Soviet Union) as to what future musical path to follow, Rostropovich told him that there are two major cello schools, one Russian and one French, and since he had already tried Russian, he should try French. "I prodded him for a more specific recommendation and he said, 'This is really difficult. Maréchal is dead. Fournier doesn't teach. Navarra teaches much too much. Tortelier is a genius but a bit too crazy for you. Gendron, hmmm, it's not that good anymore. You know what? The best French I can recommend is Piatigorsky.' This was funny because Piatigorsky was a Jew from Russia living in California. His only French connection was his wife, who was the daughter of Baron de Rothschild. 'Piatigorsky is the only one I could wholeheartedly recommend. He's a great cellist, a great musician, a great personality, and so on.'"
Maisky's career revived in Israel where he played seven concerts with the Israel Philharmonic under Zubin Mehta, Andrew Davis and Daniel Barenboim. "Mehta was very friendly with Piatigorsky and he recommended that I go to him as well. He said, 'You have the time and he's not young and he's not healthy. You never know how long he will be around, so go. You will never regret it.' And so I went to Piatigorsky [in 1974, for four months] and I've never regretted it, though I must confess that my career could have gone in a completely different direction had I listened to Isaac Stern's advice, who told me to go to New York instead of Los Angeles.
"I went to Piatigorsky's USC masterclass twice a week and I played for him at his house almost every day, each time playing a different piece. I must have played at least a hundred different works for him in four months. After our private lessons we would play chess, since we were both passionate about the game. Then we went for long walks and talked about all sorts of things, and not just music. It has been over 30 years since Piatigorsky died, and I still feel his presence in the sense that I am still digesting his ideas and feeding on the positive energy he directed my way."
Mischa Maisky will perform Bach's Solo Cello Suites Nos.1, 4 and 5 at 4pm and Bach's Solo Cello Suites 2, 3 and 6 at 8pm, May 7 in Koerner Hall.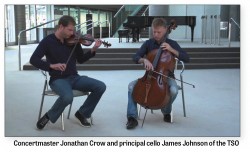 The TSO: The TSO's season shows no sign of letting up, even as it enters its penultimate month. May 4 and 5 violinist Leila Josefowicz continues her championing of contemporary music in Scheherazade.2, John Adams' riff on Rimsky-Korsakov's Scheherazade. Peter Oundjian also leads the orchestra in Brahms' seminal Symphony No.4. May 13 and 15 Julian Rachlin is the soloist in Mozart's irresistible Violin Concerto No.5 K219 "Turkish," written when the composer was 19. But the evening's major attraction will be Shostakovich's Symphony No.13 "Babi Yar," the composer's setting of five poems by Yevgeny Yevtushenko, including the searing indictment of anti-Semitism, Babi Yar. Conductor Andrey Boreyko is joined by bass soloist Petr Migunov and the basses of the Amadeus Choir and Elmer Iseler Singers. TSO Conductor Laureate, Andrew Davis, returns to the podium May 25 to conduct Richard Strauss' vivid musical travelogue, An Alpine Symphony. May 26 and 28 the program expands to include Janácek's Taras Bulba, Elgar's Sospiri and Ives' "Decoration Day," the first installment of the Decades Project 1910-1919. June 1 and 2 Basque conductor Juanjo Mena takes up the baton as the Decades Project 1910-1919 continues with Granados' famous Intermezzo from Goyescas, Nielsen's imposing Violin Concerto (featuring Finnish violinist Pekka Kuusisto) and Ravel's impassioned Daphnis et Chloé.
QUICK PICKS
May 5: When Honens laureate Pavel Kolesnikov appeared in Toronto last year as part of the Piano Extravaganza, he revealed that he had Chopin specialist Maria João Pires as a mentor. Now he returns to conclude the Women's Musical Club of Toronto season with a pleasingly packed program that includes two sonatas by C.P.E. Bach, Beethoven's Sonata No.30 Op.109 and a Chopin selection of Nocturnes, Mazurkas and Scherzo No.4.
May 6: The always interesting group of 27 downsizes for their final concert of 2015/16: Jocelyn Morlock's duet for violin and viola, Blue Sun; Nielsen's ingratiating Wind Quintet; and Schubert's String Trio D.471.
May 7: Wunderkind Leonid Nediak (b. 2003) is the soloist in Rachmaninov's romantic masterpiece, his Piano Concerto No.2 Op.18 with the Kindred Spirits Orchestra, conducted by Kristian Alexander. Alexander told me last month that "Leonid is a great communicator, able to unlock the emotional content of the piece and unfold the storyline of the composition. He also has a reach and versatile palette of colours, natural sense of phrasing and flawless energy flow." Interestingly, Nediak's teacher, Michael Berkovsky, is the collaborative pianist May 16, when Music Mondays present the Flautas del Fuego flute duo. May 22 Berkovsky then joins violinist Conrad Chow at the George Weston in Piazzolla's intoxicating Four Seasons of Buenos Aires. And Music Mondays continues May 23 with Schubert's marvellous "Trout" Piano Quintet in A Major D667.
May 8: Best title of the month,Sweetwater Music Festival presents Few & Fewer, featuring artistic director Mark Fewer on violin and Guy Few on trumpet, along with pianist Stephanie Mara in a crowd-pleasing Mother's Day program: Sarasate's Zigeunerweisen, Puccini's Morire, Saint-Saëns' Sonata in D Minor, Op. 75, Three Preludes by Gershwin and 'Round Midnight by Thelonius Monk.
May 12: The Kitchener-Waterloo Chamber Music Society presents Boston-based Irina Muresanu in a solo violin recital, "Four Strings Around the World," featuring music by Prokofiev, Enescu, Paganini, Kreisler, O'Connor, Piazzolla and more. May 20, the K-WCMS brings the Xia Quartet (Edmonton Symphony Orchestra concertmaster Robert Uchida, TSO violinist Shane Kim, TSO assistant principal viola, Theresa Rudolph, and TSO principal cello, Joseph Johnson) to their music room in program of Schubert, Bartók, Debussy and John McPherson.
May 15: The Windermere Quartet's latest recital includes Schubert's greatest quartet, Quartet in D Minor D. 810 "Death and the Maiden."
May 16: Xia Quartet members cellist Joseph Johnson, violinist Shane Kim and violist Theresa Rudolph put on their TSO hats when they join concertmaster Jonathan Crow and pianist Angela Park for an Associates of the TSO concert that includes music by Dohnányi, Schumann and Prokofiev.
May 18: Toronto Summer Music artistic director Douglas McNabney previews TSM's upcoming "London Calling: Music in Great Britain" program with a COC free noontime concert at the Richard Bradshaw Ampitheatre.
May 21 Shannon Mercer, soprano, Andrew Burashko, piano. Yehonatan Berick, violin, and Rachel Mercer, cello, perform Shostakovich's Trio No.2 and Seven Romances on Poems by Alexander Blok Op.127 in Hamilton's 5 at the First Chamber Music series' final concert of the season.
May 26: James Ehnes brings his 40th Birthday Tour to London under the auspices of Jeffery Concerts. Four days later, May 26, he and his collaborative pianist, Andrew Armstrong, continue the tour for Bravo Niagara!
May 29 and 30: The Canzona Chamber Players present two pillars of the chamber music repertoire, Beethoven's Septet in E-Flat Major Op.20 and Schubert's Octet in F Major D803.
Paul Ennis is the managing editor of The WholeNote.