Charles Richard-Hamelin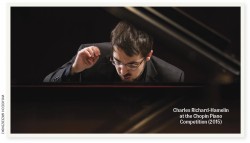 It is said that making your mark in a prestigious international competition changes your life and for Charles Richard-Hamelin that is exactly what happened when he was 25. "There is something magical about this legendary hall [Warsaw Philharmonic Hall] that somehow made it possible for me to be myself on stage, and be able to say what I wanted to say, at least most of the time," he wrote on the Scene and Heard International website.
Richard-Hamelin won the silver medal at the International Chopin Piano Competition in 2015 as well as the Krystian Zimerman Prize for best performance of a sonata and his career took off. "This silver medal was of course incredibly unexpected and has single-handedly changed my whole life," he said. "I've never performed professionally outside of Canada before the Chopin and now I have confirmed engagements in Canada, the USA, Poland, France, Spain, Mexico, Japan and South Korea."
By May 2016 when he spoke to Yves Leclerc (Journal de Québec) he had already given 40 concerts that calendar year with 40 more to come. One of those concerts is his upcoming Sinfonia Toronto performance, December 9, of Mozart's Piano Concerto No.23 in A Major K488 conducted by Nurhan Arman. The pattern continues in 2017 when he joins Christian Reif and the Kitchener-Waterloo Symphony January 13 and 14 for Mozart's Piano Concerto No.20 in D Minor K466. The following evening he gives a recital for the Kitchener-Waterloo Chamber Music Society that mirrors most of the repertoire Analekta captured on the CD of his May 2016 Quebec City concert – two Beethoven Rondos, Enescu's Suite No.2 and Chopin's "Heroic" Polonaise No.6. There his playing sparkled, his confidence was clearly evident, his musicianship mature and engaging.
"I love this new life, even if it is a bit tiring," he said to Leclerc. "I am not in a position, however, where I can afford to refuse offers that arrive on my table. This is what will enable me to secure a future abroad. I have contracts for the next two years and we will see if it will continue and open doors."
A mere five months before his Chopin Competition success, he was awarded the prestigious Career Development Award by the Women's Musical Club of Toronto. That venerable institution will reap the benefits of their prescience when Richard-Hamelin returns May 4, 2017, for his first Toronto solo recital since winning the Chopin Competition prizes.
Isabelle Faust and the Mozart @ 261 Festival.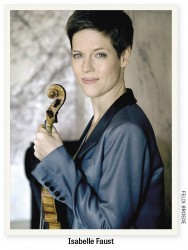 When German violinist Isabelle Faust was 11, she played in a string quartet. "That was in Stuttgart, where I grew up," she told Jeff Kaliss (San Francisco Classical Voice, May 28, 2012). "That was my father's brilliant idea. It was even more unusual than now that young kids would get together and try to do chamber music. My brother Boris also played in this, the viola part. And the parents had a very important role to play, driving everybody from one rehearsal to the other. We played for five years, every weekend rehearsals and lessons and competitions, national and international, and we started, slowly, to play little concerts. At age 15, we stopped with that. I wanted to make an impression with my solo playing, [to learn] where I actually stood internationally. So I went to participate in this Leopold Mozart Competition in Augsburg, and I was so lucky, I won it right away. So that opened a new chapter in my musical life."
Winning led to her playing Dvořák under Yehudi Menuhin, an experience she found to be special since "if you play the standard repertoire, you can see that the conductor knows every little corner, and whether technical difficulties require a bit of attentive conducting."
Known for her pristine sound and incisive approach, Faust will be the soloist in Mozart's Violin Concertos Nos. 1 and 3 in Koerner Hall January 18 and 20, part of the TSO's Mozart @ 261 Festival. All five of the composer's concertos for violin were completed during the year he turned 19 (1775) but none is so universally loved as the elegant, playful and joyous Third which is particularly tuneful and buoyant.
When Faust spoke with Aart van der Wal for the Dutch website Opus Klassiek in April 2011, she talked about keeping an open mind (and open ears) about different performances of familiar repertoire: "Music must be enjoyed without prejudice. I notice so often that people have made up their minds already before really listening to a piece. They know it all, they have heard it so many times, and they know exactly which recordings are fabulous and which are not. It happens often that one is so deeply engaged with one specific recording or interpretation that each and everything else is compared to and diminished by it. I was at a concert where a Beethoven symphony was performed. One of the critics recognized me and, already before the performance, started to explain to me which specific very old recording he thought was the one and only version of this symphony…I advised him not to go to any concert anymore because he would never be happy with any living conductor, or any live performance for that matter…"
Mozart @ 261 begins January 11 and 12 under Peter Oundjian, with wunderkind Leonid Nediak (b.2003) playing Mozart's final piano concerto on a program that also includes Mozart's moving Symphony No.40 K550. The festival continues January 13 and 14 when Emanuel Ax brings his pianistic geniality to the spirited Concerto No.16 K451 and the effervescent Concerto No.22 K482. Mozart's vigorous Symphony No.33 K319 opens the program with the TSO led by Michael Francis. Bernard Labadie leads the orchestra in the grand Symphony No.38 K504 "Prague" which concludes the January 18 and 20 concerts.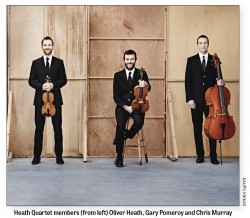 The Heath Quartet. The Heath Quartet – making their Canadian debut in concerts in Kitchener-Waterloo and Toronto in January – is a young British ensemble whose star has recently risen considerably since their recording of Tippett's string quartets won Gramophone magazine's 2016 Chamber Music Award. It was their debut recording. A slew of adjectives like "vibrant, adventurous, irresistible energy" has followed in their wake over the last few years. First violinist Oliver Heath, violist Gary Pomeroy and cellist Chris Murray originally met at Manchester's Royal Northern College of Music. Five years after getting together, they moved to London in 2009 where they met Cerys Jones, freshly returned from graduate studies at Juilliard. She became their second violinist, and their career path ascended. Now, November 2016, she has announced that she is stepping down from the quartet to devote more time to her family.
"We had eight wonderful years with Cerys," Ollie Heath told me via email. "But that chapter has now closed and we are looking forward to the next stage in the future of the quartet." I asked what qualities he was looking for in a new violinist. "To be a great second violinist you need many different qualities," he said. "To be a first-rate violinist and musician, of course, and to have the ability to be the glue of the ensemble, but most importantly you need a strong fire in your belly! Our first teacher said a good second violinist is always on the brink of revolution."
I asked how he would characterize the ensemble's approach to quartet playing. "We try to be as truthful to the composer's intentions as possible," he said. "To discover the way of speaking each composer's language in a way that communicates most dynamically the emotional core of the work. Also we are very communicative with one another when we perform – there is a lot of energy that flows between the members of the quartet. We are also open to things being different from performance to performance – we never try to create a definitive way to interpret a work."
The programs in Toronto for Mooredale Concerts January 22 and for the Kitchener-Waterloo Chamber Music Society January 20 are somewhat similar, with Bartók's First and Dvořák's 13th in each, but opening with Bach Organ Preludes in Toronto and Beethoven's Op.18 No.3 in Waterloo.
I asked how he constructs a program. "Nearly always we begin a concert with a piece from earlier in the repertoire," Heath said. "The simpler, cleaner textures and conversational aspects of these pieces is a good way of bringing everyone 'into the room,' and introducing the possibilities of what a string quartet can do. The second work is often more complex – more demanding on both listener and player. We then fill the second half with a more generously sized work – from one of the Romantic, nationalist composers or one of the big Beethoven quartets."
Ergo Bartók's masterful String Quartet No.1 Op.7 which is formally modelled on Beethoven's unsurpassable String Quartet No.14 Op.131 (the movements of each are played without a break, for example). And Dvořák's String Quartet No.13 Op.106, with its joyous opening, poetic slow movement, idiomatic third, and ebullient conclusion, one of the composer's most expressive chamber works, emblematic of his return home in 1895 after his American sojourn.
Till Fellner. Viennese-born Till Fellner has spoken elsewhere of his pleasure working with Kent Nagano and the Montreal Symphony on their ECM recording of Beethoven's Fourth and Fifth Piano Concertos, mentioning the orchestra's ability to play softly and transparently. In our conversation for The WholeNote's March 2015 issue, I asked about his own transparent approach with its focus on the music's singing lines. He confirmed that transparency (clarity) and a singing way of playing the piano are essential goals of his. He told me that when he played for his teacher Alfred Brendel in 1990, it was the first movement of Beethoven's Appassionata Sonata that started the teaching process. Brendel told him that the beginning of a Beethoven sonata was crucial, that everything is there. Brendel also said that your playing should be so clear that a musical person would be able to write down the score just by listening.
Fellner's subtle approach and the apparent ease with which he and the OSM carry it off augurs well for their appearance performing Beethoven's Piano Concerto No.4 Op.58 at Roy Thomson Hall December 8. In a brief interview (available on YouTube) with Jim Cunningham of Classical 89.3 in Pittsburgh, Fellner talked about the character of that same concerto which he was about to perform with the Pittsburgh Symphony in late November 2013:
"It's a very poetic piece, a lyrical piece – even pastoral – so it's very different from the other Beethoven concertos. The second movement is an Andante con moto so it shouldn't be played too slowly. It's a traumatic scene between the orchestra and the piano, a very tragic movement. The music kind of dies away at the end of this movement. There are lyrical elements in the third movement but there is also this joy and enthusiasm. It's like seeing a person you haven't seen for a very long time."
December 13, Fellner turns his musical artistry to Brahms (Four Ballades Op.10) and Schumann (Humoreske in B-flat Major Op.20 and Fantasie in C Major Op.17) in a recital presented by the Kitchener-Waterloo Chamber Music Society.
Music Toronto. The invigorating sounds of the St. Lawrence Quartet will again fill the Jane Mallett Theatre, January 26. The exuberant Geoff Nuttall leads the quartet in their continuing examination of the treasure trove that is the music of Haydn, this time with his Quartets Op.20 Nos.1 and 5. The two Haydn quartets bookend works by Rachmaninoff and Jonathan Berger. On his website, Berger describes Swallow, commissioned by the St. Lawrence String Quartet in celebration of their 25th year: "My daughter taught me that swallows communicate in a rich sonic repertoire that humans categorize as chirps, whines, and gurgles. These sounds – lowered in pitch and stretched in time – inspire the musical materials of my sixth quartet. In addition to chirps, whines, and gurgles, the work pays homage to blues musician Mance Lipscomb, as well as Haydn, (in the scherzo of the third movement), and Schubert (in the elegiac fourth movement)."
Young American pianist Sean Chen, who finished an impressive third in the most recent Cliburn Competition makes his Toronto debut January 10 with an ambitious program primarily devoted to his piano transcriptions of larger works. He sets the stage with one of Ligeti's Musica Ricercata and L'escalier du diable (Étude No.XIII) before beginning a series of his own transcriptions: Mozart's Offertorium from his Requiem and Madamina (Catalogue Aria) from Don Giovanni and Rachmaninoff's Symphony No.2 mvt.3. Beethoven-Liszt's Symphony No.2 mvts.3 and 4 completes what promises to be a wild ride.
Dec 4: The highly skilled artistry of Toronto's own Stewart Goodyear is on display at Koerner Hall in a typically ambitious program that includes Bach's Fifth Partita, Beethoven's final piano sonata, two Chopin favourites, selections from his own concert-length piano arrangement of Tchaikovsky's The Nutcracker ('Tis the season) and the world premiere of Acabris! Acabras! Acabram! commissioned in honour of Canada's 150th birthday. Jan 28: Goodyear returns home to perform Tchaikovsky's evergreen Piano Concerto No.1 with Peter Oundjian and the TSO after their mini-tour to Montreal and Ottawa.
Dec 11: Simone Dinnerstein links Schubert's Impromptus and Philip Glass' Metamorphosis at the Isabel Bader Centre for the Performing Arts in Kingston. If you're wondering what these two composers share besides a common birthday (January 31), pianist Hans Pålsson shed light on their musical kinship on the Swedish TV series I döda mästares sällskap (In the company of dead masters). One example: they both have an economical way of composing; they use simple harmonics, few tones and a limited amount of musical material.
Dec 11: Syrinx Concerts showcases clarinetist Shalom Bard in trios by Brahms and Beethoven. Feb 5: Syrinx presents two pianists: Walter Buczyinski performing his own Sonatas Nos.13 and 14; and Richard Herriot playing works by Chopin, Albéniz, Ravel and Turina. The octogenarian Buczyinski, a Canadian icon, is an accomplished pianist whose devotion to the classical repertoire has informed his compositions.
Dec 13: The Cameron House, once home to Handsome Ned and countless other musicians, atypically plays host to "A Winter's Night" with works by Bach, Schumann and Mozart performed by the Duo Mechant (Joseph Nadurata, viola; Linda Shumas, piano) and James Petry, clarinet.
Dec 13: Ukrainian-Canadian Dmitri Levkovich's Heliconian Hall recital includes such staples of the piano repertoire as Chopin's Sonata No.2 and12 Études.
Dec 19: The amazing talents of Nadina Mackie Jackson are on display in her traditional "Vivaldi Christmas Concert," six festive and rarely heard bassoon concerti performed by Toronto's top professional bassoonists, including Michael Sweeney, Catherine Chen and Jackson, with chamber strings and harpsichord. Jan 22: Jackson's Bassoon out Loud series continues with a recital by Chen, the TSO's new associate principal, accompanied by pianist Rachael Kerr, performing works by Jeanjean, Elgar and Boudreau, as well as a two-bassoon concerti with Jackson herself.
Jan 13: If you're in London, don't miss the vibrant, musically mature playing of the Dover Quartet in works by Mozart, Britten and Shostakovich (in which they are joined by pianist Arthur Rowe).
Jan 14: Pocket Concerts' latest presentation of quality chamber music in an intimate setting features violinist Csaba Koczó and pianist Emily Rho performing two musical pillars, Beethoven's Sonata No. 9 Op. 47 "Kreutzer" and Brahms' Sonata No. 3 in D Minor Op. 108.
Jan 15: The Royal Conservatory presents Canadian violinist Dennis Kim, who was recently appointed concertmaster with the Buffalo Philharmonic Orchestra, and Diana Doherty, currently principal oboe with the Sydney Symphony Orchestra, in works by Bach and Mozart, among others, in Mazzoleni Hall. Jan 21: Stefan Jackiw (violin), Jay Campbell (cello) and Conrad Tao (piano) – the JCT Trio – perform an early and a late trio by Mozart as well as music by Ives and Dvořák in this unusual program in Koerner Hall. Feb 4: Gidon Kremer and his Kremerata Baltica return to Koerner Hall, thanks to the RCM, in a program with an Eastern European tilt: works by Pärt, Weinberg, Tchaikovsky, Mussorgsky and Silvestrov.
Jan 18: The COC free noontime Piano Virtuoso Series continues with the talented, young (20-year-old) Chinese pianist, Jingquan Xie, performing Bach's magnificent Partita No.6 and Chopin's Sonata No.2 with its famous funeral march.
Jan 27: Armenian-born Kariné Poghosyan returns to Sinfonia Toronto to play Schumann's impulsive and passionate Piano Concerto in A Minor.
Jan 28: 5 at the First Chamber Music Series presents pianist Angela Park, violinist Yehonatan Berick and cellist Rachel Mercer – the AYR Piano Trio – in a Saturday afternoon Hamilton recital. The program by the three high-powered musicians includes works by Ysaÿe, Haydn and Sigesmund but the icing on the cake is Schubert's luminous Trio Op.100 in E-flat Major. Jan 29: the "Star Canadian Trio" travels to the Kitchener-Waterloo Chamber Music Society's Music Room for a reprise.
Feb 7: Nineteen-year-old violinist Kerson Leong – First Prize-winner in the Junior Category of the 2010 Menuhin Competition – and collaborative pianist Philip Chiu perform works by Ravel, Poulenc, Fauré, Debussy and Dompierre in this free noontime concert at the Richard Bradshaw Amphitheatre. Leong can also be heard Jan 11 and 12 with the TSO, launching Mozart @ 261 with the Rondo for Violin K373.
Paul Ennis is the managing editor of The WholeNote.