The venerable Juilliard String Quartet opens Music Toronto's 45th season October 13 with a typically strong program - Bartók's String Quartet No.1 and Beethoven's String Quartets Op.95 "Serioso" and Op.59 No.1 "Rasumovsky." And a first. In its 71st year, the quartet has hired a woman; cellist Astrid Schween has replaced Joel Krosnick, the quartet's cellist since 1972, who was the last link to its original members. With characteristic elegance, the Juilliard introduced Schween by including her as the second cello in Schubert's String Quintet in C, playing alongside Krosnick last year (violist Roger Tapping had done a similar thing in 2013, performing with outgoing violist Samuel Rhodes). A member of the Lark Quartet for two decades, Schween studied with Jacqueline du Pré for seven years during school holidays and summer breaks. She spoke about their relationship in a recent interview in Strings shortly after being hired by the Juilliard.
"Jacqueline was one of my idols, and I had every recording she made. Her playing captivated my imagination, and I spent countless hours listening to these recordings and trying to work out what lay behind her extraordinary tone colour, long singing lines and sheer power. When I was actually with her, we would spend quite a bit of time listening to these recordings, analyzing her interpretations and discussing the secrets behind those wonderful colours. There was also time for plenty of stories and anecdotes. She had a wonderful sense of humour."
Janina Fialkowska opens Music Toronto's piano section with an all-Chopin recital October 25. Winner of the first Arthur Rubinstein International Master Piano Competition in 1974, Fialkowska went on to be mentored by Rubinstein who helped her establish an international career. Born to a Canadian mother and a Polish father, her natural affinity for Chopin has long been apparent. In a Music Toronto masterclass at Mazzoleni Hall, October 29, 2014, she had much to say about her relationship to her countryman.
"Chopin didn't wear his heart on his sleeve," she told one of the RCM students. "Sing! as if you were a great singer," she continued. "In Chopin, never shorten a dotted note; if anything elongate it."
"Don't eat all the chocolates in the box at once," she said to a student whose performance had no shape and too much rubato, making it self-indulgent; she went on to help him shape the piece by emphasizing its long lines and making it sound spontaneous and simple.
She mentioned that Rubinstein was very intellectual; his goal was to make everything sound simple and natural. She revealed that he would put down the soft pedal when he played Chopin so he could play louder and she noted Rubinstein's great sense of rhythm, especially in the Mazurkas (three of which she will be performing in the Jane Mallett Theatre). Fialkowska mentioned that Liszt said that Chopin rubato was like a tree in the forest with the trunk barely moving and the leaves fluttering in the breeze. There will be ample opportunity to see these precepts in action in her varied program that includes a Nocturne, an Impromptu, a Ballade, the Polonaise Fantasie, two Waltzes, two Scherzos and the Op.50 Mazurkas. (Fialkowska performs the same recital for the Kitchener-Waterloo Chamber Music Society on October 23 and gives a masterclass at Mazzoleni Hall the morning of October 26).
Esther Yoo. BBC New Generation Artist, Korean-American Esther Yoo was 16 when she became the youngest prizewinner of the Sibelius Violin Competition in 2010. Two years later she won a prize in the Queen Elisabeth Competition. Vladimir Ashkenazy, who conducted her Deutsche Grammophon recording debut of the Sibelius and Glazunov violin concertos, said she was "without any affectations" in a YouTube video preview of that recent CD. On October 8 and 9 she joins the TSO under the baton of Karina Canellakis (the 2016 Georg Solti Conducting Award winner) whose exuberant conducting has been celebrated over the last two years when she was assistant conductor to the Dallas Symphony. She leads the TSO in Mozart's thrilling Marriage of Figaro Overture and Beethoven's underrated Symphony No.4. Yoo is the soloist in Tchaikovsky's ever-popular uber-Romantic Violin Concerto. Yoo grew up in a musical household, took up the piano at four and was "really inspired by music from a young age," she said in a BBC Radio 3 YouTube post. "The most important thing is that you love and are passionate about what you choose to do," she said. "I think being exposed to a lot of different activities, be it in culture or in studies or in sports, it all comes together to inspire you and to help you grow as a person and all of that reflects in your playing and in your music, so to be exposed to many different opportunities and experiences is really important."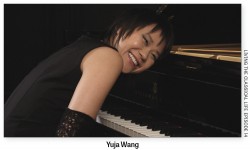 Yuja Wang. Yuja Wang, the 29-year-old, Beijing-born pianistic marvel, turns her sharp mind and impeccable technique to Bartók's haunting and complex Piano Concerto No.3 when she makes her fourth appearance (and seventh overall in Toronto) with the TSO since 2011. Krzysztof Urbański returns to the TSO as guest conductor to lead the orchestra in Grieg's Peer Gynt Suite No.1 and Dvořák's evergreen Symphony No.9 "From the New World." Wang is known for her unerring accuracy, prodigious memory, consummate musicianship, slinky dresses and four-inch heels. According to Janet Malcolm in the September 5, 2016, issue of The New Yorker, she may be undergoing a kind of midlife crisis, one which has led her to new repertoire away from the Romantic Russians that brought her early fame. When Malcolm asked Wang's close friend Gary Graffman, the 87-year-old former head of the Curtis Institute where Wang studied, how Wang compared with the other prodigies at Curtis, he said, "She was remarkable among remarkable students. She didn't play like a prodigy. She played like a finished artist."
In an interview with Michael Enright for CBC Radio's The Sunday Edition broadcast on June 14, 2013, she spoke about being "very surrounded by music in her childhood." Her father was a percussionist, her mother a dancer. The first thing she remembered hearing was Tchaikovsky's Swan Lake; she began piano at six. She talked about virtuosity being a tool for the music: "I never think of technique. I failed if the audience pays attention to how fast I can play or how powerful I can play because in the end I'm trying to portray the music's character, the mood, the atmosphere and also the logic of how the composer is structuring the piece. All of that is a completely different level of how to listen to music rather than how fast can one play."
Enright commented on her small hands, wondering if they could stretch an octave. Wang told him they can stretch a tenth on the keyboard and that her thin fingers (which can fit between the black keys) gave her great accuracy, though occasionally in big Russian pieces, she would need more arm weight to compensate.
Early in 2014, Yang sat down at the piano in conversation with Living the Classical Life (available on YouTube). As she answered questions she casually and effortlessly played excerpts from Rachmaninoff's Paganini Variations and Concerto No.3, as well as Prokofiev's Concerto No.3 and Art Tatum's arrangement of Tea for Two. She said that once she's learned a piece she no longer practises it: "Just keep it as it is, just not touch it, see what kind of magic I can do with it on stage." Then she played parts of Chopin's Waltz Op. 64 No.2, the first piece she performed in public; the Gluck-Sgambeti Melodie dell' Orfeo from Orfeo ed Euridice Act 2; and Liszt's arrangement of Schubert's Gretchen am Spinnrade. "It's the emotion of the music of those pieces that catches me so much; I feel like I own those pieces…Life and music and what I do has to be intermixed, has to be together. Otherwise I just feel like I'm not alive, like I'm wasting my time. Even though I love sauna, tanning, shopping, movies." (She laughs.)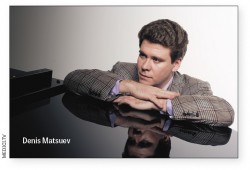 Denis Matsuev. Winner of the 1998 International Tchaikovsky Competition at age 23, virtuosic Russian pianist Denis Matsuev makes his third Koerner Hall appearance under the Show One banner on October 15. This recital nicely underlines Show One's string of Tchaikovsky prize winners which began earlier this year with a unique joint concert by Lucas Debargue and fellow 2015 Tchaikovsky runner-up, Lukas Geniušas, April 30, and which continues with the 2015 Gold Medallist, Dmitry Masleev, the newest Russian virtuoso, at Koerner January 28, 2017.
It's no wonder that Matsuev is back so soon; his recital on January 30, 2016, was ecstatically received. The enthusiastic, large Russian audience component made for a totally different experience than the usual Koerner gathering. Matsuev was presented with an enormous bouquet of flowers just before intermission, four bouquets after the concert, which included the pianist signing an autograph, two more bouquets after the first encore (Liadov's charming The Musical Snuff Box) and one more autograph after the second of four encores. The fourth, in the style of Kapustin or Earl Wild, was Matsuev's scintillating version of Ellington's Take the A Train.
The January recital began with Schumann's Kinderszenen (Scenes from Childhood,) suitably small-scale and wonderfully understated where appropriate, followed by Schumann's Kreisleriana, with an emphasis on lyricism (lovingly played). After intermission, a selection of Rachmaninoff's Études Tableaux Op.39 preceded Rachmaninoff's Sonata No.2. The whole evening seemed to have been a warm-up for the latter's profusion of melody and technique set off by a simple lyrical phrase. Matsuev fell into the sonata's beginning almost before he sat down, like casually plunging into the deep end of the pool. It was bravura playing at its finest.
There will be more Schumann (Symphonic Études) in the October 15 recital, as well as Beethoven's euphoric Op.110, Liszt's wildly popular Mephisto Waltz No.1, Tchaikovsky's Meditation Op. 72 No.5 and Prokofiev's dramatic Sonata No.7. It's a major program by a major artist.
The Isabel. Russian pianist Georgy Tchaidze, 2009 Honens International Piano Competition First Prize Laureate, heads a packed month of appealing concerts at Kingston's acoustically satisfying new hall. His October 16 recital includes works by Schumann, Rachmaninoff, Liszt and Prokofiev. The Isabel's Violin Festival, which begins October 13 with a concert by Quebec's nine-piece string ensemble, collectif9, takes hold October 17 with the superb James Ehnes (and Andrew Armstrong) performing Handel and Beethoven sonatas and a new work by Bramwell Tovey. The Zukerman Trio visits on October 28 to play Brahms, Shostakovich and Mendelssohn while the splendid Midori (and pianist Leva Jokubaviciute) conclude the month's activities on October 31 with an attractive program of works by Mozart, Brahms, Schubert and Ravel.
Gallery 345. The upcoming lineup at this west-end venue features several intriguing concerts beginning October 14 with the unusual combination of tuba, viola da gamba/harmonica and prepared piano that is Hübsch/Martel/Zoubek. Italian prize-winning pianist Marco Grieco's October 18 recital features works by Bach-Busoni, Beethoven, Chopin and Liszt. On October 28 Katherine Dowling gives us "A Portrait from the Piano," an imposing selection of the works of Henri Dutilleux. Twin sisters born in Iran, Hourshid and Mehrshid Afrakhteh, perform an evening of piano four hands under the name of TwinMuse, on November 3. Their tempting program includes works by Debussy, Stravinsky, Matthew Davidson and Lecuona, as well as solo pieces by Nicole Lizée.
QUICK PICKS
Oct 2: The Windermere String Quartet puts their period instruments to the service of Haydn's final word on the subject of the string quartet, the two-movement Op.103, before attacking Beethoven's immortal Op.131.
Oct 16: Baritone Russell Braun, TSO concertmaster Jonathan Crow and a cohort of topnotch musicians (including the marvellous TSO principal hornist, Neil Deland) join Amici for an inventive program exploring vocal and chamber works by Richard Strauss and Johann Strauss, Jr. Franz Hasenöhrl's clever deconstruction of Till Eulenspiegel is certain to be a highlight.
Oct 18: Lang Lang brings his grand showmanship to Koerner Hall for the RCM Season Gala - already sold out - featuring music by Debussy, Liszt, Albéniz, Granados and de Falla.
Oct 21: Schubert's enduring Octet highlights the Academy of St. Martin in the Fields Chamber Ensemble's visit to Koerner Hall.
Oct 21: Sheng Cai, who won the TSO National Piano Competition in 2003 as a teenager, is the soloist in the chamber version of Rachmaninoff's Romantic masterpiece, his Piano Concerto No.2. Nurhan Arman conducts Sinfonia Toronto, which also performs Tchaikovsky's graceful Serenade for Strings.
Oct 22: Attila Glatz presents the acclaimed German orchestra KlangVerwaltung with Chorgemeinschaft Neubeuern Chorus celebrating its 20th anniversary with its second North American tour. Conductor Enoch zu Guttenberg along with soloists Susanne Bernhard, soprano, Anke Vondung, mezzo-soprano, Daniel Johannsen, tenor, and Tareq Nazmi, bass, perform two canonical masterpieces at Roy Thomson Hall: Mozart's Requiem and Bach's Magnificat. Founded by musicians who had collaborated with zu Guttenberg throughout his career, the Munich-based orchestra is composed of renowned players from the Berlin Philharmonic, Stuttgart State Opera, Deutsche Oper am Rhein, and Cologne Radio Orchestra, as well as soloists and chamber music players. The basis of their interpretative approach is a collaboration of historically informed performance practice combined with the unexpected and emotional.
Oct 26, 27: The TSO celebrates the 1920s in the first Decades Project of the new season with a rousing program that includes Gershwin's Rhapsody in Blue, Kodály's delightful Suite from Háry János and Rachmaninoff's Piano Concerto No.4. Russian pianist Denis Kozhukhin, winner of the 2010 Queen Elisabeth Music Competition, is the soloist; Kristjan Järvi, a member of the very musical family, guest conducts. Nov 2, 3, 5: Continuing the 1920s Decades Project, Jon Kimura Parker is the soloist in Prokofiev's best-known piano concerto, the Third; conductor James Gaffigan leads the TSO in Milhaud's jazzy La création du monde and Shostakovich's precocious Symphony No. 1. The TSO Chamber Players perform Neilson's Woodwind Quintet prior to the November 2 concert.
Oct 29: The Kindred Spirits Orchestra and conductor Kristian Alexander welcome the new season with Michael Berkovsky in Tchaikovsky's beloved Piano Concerto No.1.
Nov 1: As part of their weeklong residency at the University of Toronto, the New Orford String Quartet performs Les veuves by Uriel Vanchestein-inspired by Richard Desjardins' song by the same name, Debussy's hypnotic String Quartet in G Minor Op.10 and Beethoven's String Quartet Op.127, the first of his Late Quartets, in Walter Hall.
Paul Ennis is managing editor of The WholeNote.