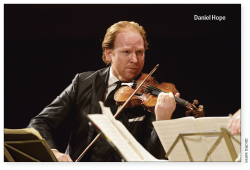 Daniel Hope has built a substantial international career as an acclaimed violin soloist, chamber musician and music festival curator. A champion of contemporary music and an advocate of the classical canon, his musical curiosity cannot be pigeon-holed. He was the violinist with the legendary Beaux Arts Trio for six years and is currently associate artistic director of the Savannah Music Festival. He is a prolific writer (with three German-language books to his credit) who has devoted much of his time over the last 15 years to the study and preservation of music by composers murdered by the Nazis. He has worked with the brilliant, Oscar-winning German actor, Klaus Maria Brandauer, on projects combining music and the spoken word, including a look at Stravinsky's A Soldier's Tale through the prism of war and peace.
Hope's father, author Christopher Hope, was an outspoken critic of apartheid. Those beliefs forced the whole family to leave South Africa in 1974 when Daniel was six months old. They moved to London, where his mother took a job as Yehudi Menuhin's secretary, later becoming his manager.
January 28 Hope returns to Koerner Hall for his third Toronto concert in 16 months following memorable appearances September 30, 2014 as soloist in Max Richter's Vivaldi's Four Seasons Recomposed, and April 8, 2015 when his singing tone contributed greatly to the Chamber Music Society of Lincoln Center's performance of Mahler and Brahms piano quartets. His upcoming recital "Yehudi Menuhin @ 100" with pianist Sebastian Knauer is a tribute to the man in whose house he grew up and with whom he performed many times during Menuhin's last ten years.
The program consists of music dear to Menuhin's heart. He and Glenn Gould famously recorded J.S. Bach's Violin Sonata No. 4 in C Minor, BWV 1017. The next piece on the program, George Enescu's Impromptu concertant reflects the fact that Menuhin studied with Enescu from the age of 11, a mentorship that led to the two becoming lifelong friends. Menuhin speaks about him on YouTube: "Enescu will always be my guiding light as a man, as a musician." Menuhin also had great affection for the next piece on the program, Mendelssohn's Sonata in F Major, which Menuhin was instrumental in publishing for the first time in 1953.
The Walton Violin Sonata was commissioned by Menuhin in the late 1940s. It's followed by Ravel's "Kaddisch" from Deux mélodies hébraïques. Hearing Menuhin play it on YouTube from a recording he made when he was 20 is a very moving experience. He lets the music speak for itself; his playing is serene yet paradoxically forceful. Bartók's Romanian Folk Dances, which conclude the program, acknowledge Menuhin's devotion to the Hungarian composer (Menuhin commissioned the Sonata for Solo Violin from Bartók). All in all, a splendid way to evoke Menuhin's spirit.
Hope and Menuhin: I spoke briefly with Hope backstage after his Soundstreams concert last year and he told me a little about growing up in Yehudi Menuhin's house and what an extraordinary influence it was on his life, how it was absolutely incredible in so many ways.
"That it happened completely by accident, that was the thing. My parents are not musicians at all; they have no musical training. But we were kind of thrown into this musical environment and then Menuhin himself, of course, but also the people who came to that house, who played with him, who came to work with him. The amalgamation of musical styles in that house was something out of this world. You would have on the same day Rostropovich and Ravi Shankar. Or Wilhelm Kempff and Oscar Peterson.
"So you had great, great music, the essence of music. And as a result, it took me until I was 10 or 11 to actually realize there were different categories of music. I didn't understand that. I heard amazing music and this music amazed my ears. And the fact that it happened to be Indian music or it happened to be a Beethoven sonata didn't make a difference to me. It was just fascinating."
When Hope was four he announced that he was going to become a violinist. I asked how he came to that decision.
"It came about," he said," because of absorption. It was hearing the violin, it was seeing the violin. There were violins everywhere; there were real violins, there were images of violins. He had the most incredible collection of Paganini original concert posters. He had sketches and drawings of Paganini everywhere. Hundreds of them. So, wherever you looked you saw an image of a violin or a violinist.
"Plus you had him always with a violin, you had violinists who came in there. So I heard this sound all the time so it wasn't perhaps so much of a surprise when I announced that this is what I wanted to do but it did throw my parents slightly a curve because they didn't really know how to deal with that. And it was out of the question to go to my mom's boss.
"Because I could have said the next day, 'I want to be a fireman or an astronaut or something.' So ... four-year-old child, whatever. So they decided instead to find a teacher who lived around the corner. And that was the next bit of great luck. This lady happened to be one of the great, great pedagogues of children. We didn't know that. We just asked a few people who said, 'This lady's pretty good with kids.' Sheila Nelson was a groundbreaking teacher. And she was the one who made this happen actually.
"Menuhin, much later in life, took a real interest, but only when I was 16 or something. So I had to make my way and I had to learn how to practise and meet the teachers that defined the way I played and the way I worked. And it was through my last teacher, Zakhar Bron, the great, great teacher, that Menuhin became quite interested because [Bron] had great success with Maxim Vengerov and Vadim Repin, at the time, 15-, 16-year-old kids. And I think he was curious to see what could Bron have done. And that's when I went to play for him when I was 16 and it was a mixture of shock and delight because [I was] the little kid who always ran around the house, who was very close to him (he was like a family member to us). Suddenly it changed and we became kind of teacher-student, mentor, colleague."
That was the beginning of 60 concerts Hope performed with him.
"Starting from that moment on, until his death, his last concert. That was a period of about ten years; going on the road with him, studying with him, then playing in the evening, playing the concerts. That was the ultimate because you could learn so much in a lesson but nothing actually prepares you for that moment when you go out and play, when you perform.
"And do the great concertos with him, you know, the Elgar, and the Bartóks – the things that he had, you know, he'd met the composers and he'd worked with them – was just incredible."
Hope's January 28 concert precedes the international release of his new CD, My Tribute To Yehudi Menuhin, by just a few days. There are many parallels between its contents and the program of the Koerner Hall recital. The CD includes Mendelssohn's Violin Concerto in D Minor which Menuhin resurrected after one of the composer's relatives presented it to him in 1951. There are works by Bartók and Enescu. There is an homage, Unfinished Journey, by Bechara El-Khoury, written ten years after Menuhin's death. There are three tributes to Menuhin, by John Tavener, Steve Reich and Hans Werner Henze, part of the Compassion project that Menuhin undertook with violinist Edna Michell.
Quick Picks
Dec 2 The Kitchener-Waterloo Chamber Music Society presents pianist Alexander Tselyakov and the Canadian Sinfonia Chamber Musicians in Hummel's Piano Quintet Op.87 and an intimate setting of Chopin's Piano Concerto No.2. Dec 9 Duo Concertante's pianist Timothy Steeves goes it alone in a performance of four diverse Haydn sonatas. Dec 16 K-WCMS celebrates Beethoven's birthday with the Penderecki String Quartet's program of two of the composer's most riveting quartets, Op.59 No.3 and Op.132. Jan 27 Mozart's birthday is acknowledged in a diverting program by Trio+ that includes the piano Sonata K457, two trios (K502 and K542) and the poignant Sonata for violin and piano K304, reputedly Albert Einstein's favourite piece to play. Jan 30 André Laplante studied with Yvonne Hubert in Montreal and no doubt had the same experience as all of Hubert's students; she would sit on her student's right and, with her left hand, play all the right-hand passages flawlessly. Laplante's K-WCMS program consists of crowd-pleasing jewels by Schubert, Ravel, Liszt and Chopin.
Dec 10 The iconic Gryphon Trio begins the third decade of its annual Music Toronto association with a program that includes an early Beethoven trio (Op.1 No.3), a world premiere by Vincent Ho (Gryphon Realms) and Arno Babajanian's Piano Trio in F-Sharp Minor. Jan 14 The compelling JACK Quartet brings their contemporary focus to works by John Luther Adams, John Zorn and Iannis Xenakis. Feb 4 Music Toronto's season continues with the Toronto-based Annex Quartet, whose program includes Janáček's powerful Quartet No.1 "Kreutzer Sonata", R. Murray Schafer's Quartet No.5 "Rosalind" and Mendelssohn's Quartet No.2.
Jan 17 A period ensemble that plays on gut strings with classical bows, the London Haydn Quartet brings a quintessential classical program to Mooredale Concerts' first event of the new year. Their performance of the same program – Mozart's sublime Clarinet Quintet in A Major, K581 (with guest clarinetist Eric Hoeprich), Haydn's String Quartet in Bb Major, Op. 50, No.1, and Beethoven's String Quartet in D Major, Op. 18, No. 3 – was called "revelatory" by the New York Times last year. The review went on to praise "the earthy, warm sounds of the gut strings [that] blended beautifully throughout" and the "myriad details of shading and contrast, and beautifully calibrated phrasing."
Jan 18 Pianist Christina Petrowska-Quilico heads a stellar group of chamber musicians in this Associates of the Toronto Symphony Orchestra concert with the intriguing title "Colours in Music: Composers with Synaesthaesia." The sensation of experiencing sounds as colours manifests itself in a wide-ranging program of works by Liszt, Ellington, Sibelius and Caravassilis.
Jan 16, 17 The TSO's "Mozart @ 260" features a representative sampling of the great composer's creative output: the overture and two arias from Don Giovanni, his "Jeunehomme" piano concerto (with French pianist Alexandre Tharaud) and his final symphony, all conducted by Bernard Labadie. Jan 27, 28 The musical treasure that is Barbara Hannigan returns to the TSO in a performance of Dutilleux's Correspondances. Hannigan and Dutilleux had a very close artistic relationship which the singer touched upon in CBC RADIO 2's This Is My Music recently. Peter Oundjian also leads the orchestra in Berlioz's ever-fresh Symphonie fantastique, which will share the stage with Richard Strauss' buoyant Horn Concerto No.1 on Jan 30. The TSO's principal horn, golden-toned Neil Deland, is the soloist.
Jan 30 Winner of the 1998 Tchaikovsky Competition, 40-year-old Russian pianist Denis Matsuev puts his poetic and virtuosic talent on display in a program that begins with Schumann's Kinderszenen and Kreisleriana before concluding with Rachmaninov's Etudes-Tableaux Ops.3,6 and 9 and Sonata No.2. As we go to press the Koerner Hall concert is almost sold out. Act quickly.
Daniel Hope performs "Menuhin @ 100" at Koerner Hall, January 28.
Paul Ennis is the managing editor of The WholeNote.