Toronto Summer Music Festival celebrates its tenth edition by paying homage to the Pan Am Games being held in Toronto from July 10 to 26. Festival artistic director Douglas McNabney has focused his fifth season at TSM on an exploration of the culture of the Americas in the 20th century. How the musical heritage of waves of European immigrants merged with that of indigenous peoples and Americans of African descent is an ongoing narrative that never gets old. To that end, McNabney has curated several programs that will keep any serious concertgoer's mind off the noise of the hemispheric contests simultaneously raging in the realms of physical culture throughout our fair city.
Soprano Measha Brueggergosman headlines TSM's July 16 opener, "Americans in Paris," spotlighting the music of Gershwin and Copland, whose careers were elevated by their European experiences. "The Hollywood Connection" and "American Romantic" are other concerts that promise beautiful music from Barber and Dvořák to Korngold, Beach and Antheil. Arts patron Elizabeth Sprague Coolidge was typical of the classical music lover of the New World, commissioning works by Prokofiev, Poulenc, Britten and Bloch. McNabney cleverly includes a concert July 24 of the fruits of her largesse performed by a collection of topnotch chamber musicians led by TSO concertmaster Jonathan Crow. The final thematic evening "American Avant-Garde," features the Afiara String Quartet, Pedja Muzijevic, piano, and Harumi Rhodes, violin, performing Cage, Ives, Feldman and Zorn. This kind of stimulating programming is part of what makes summer festivals and TSM, in particular, so compelling.
Argentinian pianist Ingrid Fliter performs Ravel's Piano Concerto in G Major with the YOA Orchestra of the Americas, conducted by Carlos Miguel Prieto, in a concert that also includes Mexican composer Carlos Chávez's infectious Symphony No.2 "Sinfonia India" and Dvořák's ever-fresh Symphony No.9 in E Minor Op.95 "From the New World." Panamanian pianist Danilo Pérez brings his considerable jazz skills to an all-star Koerner Hall evening July 22.
Garrick Ohlsson, the first American to win the International Chopin competition (in 1970), and coincidentally, a musical inspiration for the young McNabney, brings his sizable pianism and imposing six-foot, four-inch frame to a noteworthy program (in Koerner Hall on July 23) of Scriabin – Désir, Op.57 No.1, Sonata No.10, Op.70, Fragilité, Op.51, No.1 and Sonata No.5 in F-sharp Major, Op.53 – and Beethoven (Sonatas Opp.109 and 110).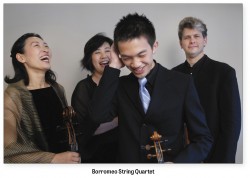 Even more impressive is the Borromeo String Quartet's complete traversal of Bartók's six string quartets which will take place August 6 at 7:30pm in the intimate confines of Walter Hall. As David Patrick Stearns wrote in The Philadelphia Inquirer in 2012: "Compared to the Emerson Quartet's famous Bartók marathons at Carnegie Hall in the 1990s (one of which I attended), Borromeo's at Field Concert Hall had musicians, music and audience contained in a smaller room that, over the three-hour-plus concert, became laudably claustrophobic: the performances never coasted or let you coast. While the 1990s version of the Emerson Quartet used vibrato so unceasingly as to form a safety curtain between your ears and the music's intensity, the Borromeo Quartet is much more judicious about such matters, giving performances with more nuanced contrasts of light and shade, as well as more open windows that your ear can't help but enter. The music's mystery, violence and sorrow become absolutely inescapable. Spanning the period from 1908 when the composer was 27 to the eve of World War II in 1939, Bartók's quartets ask to be performed in a single concert not just because they represent one of the highest peaks in 20th-century music, but because there's an easily traceable progression."
TSM also acts as a mentoring academy to 28 young musicians on the threshold of a professional career. Chosen by a jury headed by McNabney, 14 fellows in the Chamber Music Institute program for piano and strings (July 13 to August 8) and 14 in the Art of Song program for singers and pianists (July 12 to 25) will study under violinists Martin Beaver, Jonathan Crow, Mark Fewer, Ernst Kovacic, Harumi Rhodes and Axel Strauss; violists Paul Coletti, Steven Dann and Eric Nowlin; cellists Henrik Brendstrup, Denise Djokic and Mark Kosower; soprano Soile Isokoski; and pianists Martin Katz, Pedja Muzijevic, John Novacek, Steven Philcox and Huw Watkins. The "Mentors & Fellows" concerts at Walter Hall feature artist mentors and festival guest artists sharing the stage with TSM Chamber Music Institute fellows at 4pm and 7:30pm on July 18, 25, August 1 and 8. These are unparallelled opportunities for the aspiring professionals to gain invaluable experience making chamber music in front of the public while performing with seasoned musicians of the highest calibre. Which makes them fascinating to attend as well.
In a free TSM preview concert at the Richard Bradshaw Ampitheatre May 28, violist McNabney and violinist Axel Strauss anchored a hushed, lyrical performance of Dvořák's tuneful Piano Quintet No.2 in A Major, Op.81. Pianist fellow Todd Yaniw was a sensitive keyboardist; cellist fellow Sarah Gans and violinist fellow Aysel Taghi-Zada blended in nicely. The noontime recital proved McNabney's point (in his introductory remarks) that (young) musicians learn how to project their feelings about music by playing in public. In Dvořák they had a most willing partner. The first and second movements were filled with so much melody that if you were on a walk in the woods, dropping notes like breadcrumbs, you would have no trouble finding your way back home.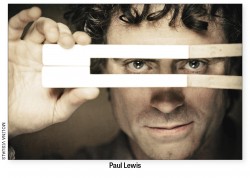 Stratford Summer Music: The Liverpool-born pianist Paul Lewis discovered classical music by listening to records in his local library as a child. Curiously, the first pianist he heard was Alfred Brendel, whose affinity for Schubert and Beethoven was echoed in Lewis' own critically acclaimed recordings many years later. His WMCT Toronto debut playing Schubert's last three sonatas in the fall of 2012 still lingers vividly in my mind; his recent Koerner Hall recital with the violinist Lisa Batiashvili was memorable for its Schubert and Beethoven. So it makes for a kind of cyclic balance that Lewis' Stratford recital July 29 will consist of Beethoven's last three sonatas, Opp.109. 110 and 111. His Harmonia Mundi recording of these pianistic touchstones was named Gramophone Record of the Year in 2008. This is one of the destination concerts of the summer; the fact that it follows Garrick Ohlsson's TSM recital, which also includes Opp.109 and 110, by a mere six days adds another layer to its attraction – the opportunity to compare artistic interpretations.
Another reason to make the trek to Stratford is the chance to hear budding superstar Jan Lisiecki play all five of Beethoven's piano concertos with a string quartet! Having heard his trio of concerts with the TSO last November when he performed Nos. 3, 4 and 5 under the baton of Thomas Dausgaard, I can't wait for the added intimacy the Annex Quartet and the Revival House venue will provide August 27, 28 and 29.
Another innovative piece of programming finds three Tafelmusik violinists each performing a Bach unaccompanied sonata and partita in a "Musical Brunch" on two separate weekends. The series begins July 25 and 26 with Julia Wedman playing Partita No.2. Aisslinn Nosky follows with Sonata No.1 August 1 and 2; Christina Zacharias performs the Sonata No.2 August 8 and 9; Nosky returns with Partita No.3 August 15 and 16; Zacharias follows with Partita No.1 August 22 and 23; Wedman completes the cycle August 29 and 30 with Sonata No.3.
Festival of the Sound: The 36th summer of this long-running vibrant festival has much to recommend between July 18 and August 9 beginning with "Flute, Harp and Strings" on July 21 when Suzanne Shulman, Caroline Léonardelli, Gil Sharon, Ron Ephrat and Yegor Dyachkov perform Debussy, Saint-Saëns and Villa-Lobos among others. An overview of Brahms promises much over three concerts July 22, while July 23 features a wealth of chamber music from Haydn, Beethoven and Schubert to Bruch, Saint-Saëns and Poulenc culminating in a 7:30pm concert of Beethoven's Piano Quartet with André Laplante and Schubert's seminal Quintet in C. Violinist Moshe Hammer performs two recitals on July 30; in the later one his Beethoven Violin Sonata "Spring" is followed by the Penderecki String Quartet playing the composer's great String Quartet Op.131. On August 4, the Afiara String Quartet gives us Beethoven's final quartet Op.135. The next day violinists Martin Beaver and Mark Fewer lead a cast of supporters in Beethoven's irresistible Septet. August 7 Beaver and Fewer are joined by festival artistic director, clarinetist James Campbell, the Afiara String Quartet and others for intimate concerto performances of Haydn's Violin Concerto in D and Mozart's sublime Clarinet Concerto. Earlier in the day, you can hear Stewart Goodyear's take on Beethoven's Diabelli Variations Op.120. Two days later, Goodyear is joined by Boris Brott and the National Academy Orchestra for Beethoven's Piano Concerto Op.73 "Emperor." A festival of many sounds.
Music and Beyond: Running from July 4 to 17, this Ottawa classical music and multi-disciplinary festival highlights the delightful Vienna Piano Trio (whom I profiled in my March column earlier this year) in three concerts July 8, 9 and 10. Then on July 11, the trio's pianist, the voluble and charming Stefan Mendl, joins soprano Donna Brown for an afternoon of "Song and Conversation" with music by Schubert and Brahms.
Clear Lake Chamber Music Festival: The tenth anniversary of this August long-weekend festival (July 30 to August 3) under the artistic direction of pianist Alexander Tselyakov features seven musically rich concerts, two of which are jazz-oriented. The five classical recitals are well-programmed and varied, with Tselyakov himself, and his talented pianist son Daniel, collaborating with violinist Marc Djokic, hornist Ken McDonald, cellist Simon Fryer and others in music ranging from Beethoven to Piazzolla, Mendelssohn and Schumann to Franck, Sarasate and Corigliano, all of which only enhance the natural beauty of Riding Mountain National Park, Manitoba, where the festival takes place.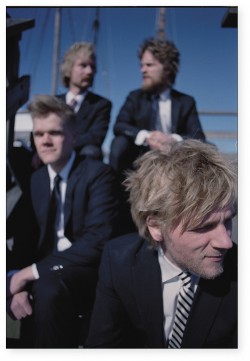 Ottawa Chamberfest: There is a feast for the ears here from July 23 to August 6. Belgian violinist Augustin Dumay's July 24 recital of Brahms, Debussy, Ravel and Beethoven is a chance to hear this patrician musician before his Koerner Hall concert next year. The strong Haydn component begins July 28 with "Haydnfest I," the first of two programs by the kinetic St. Lawrence String Quartet. The Calidore String Quartet also play two Haydn recitals, as do the Cecilia and Eybler String Quartets, making a total of eight "Haydnfests." The Calidore quartet joins up-and-coming Russian pianist Pavel Kolesnikov July 28 in a performance of Schnittke's Piano Quintet following a selection of Scarlatti sonatas and Beethoven's Op.109. Stalwart Canadian pianist André Laplante's solo recital July 31 includes Bach, Mozart, Schubert, Beethoven and Liszt. In "Metamorfosi" soprano Suzie LeBlanc joins the Constantinople Ensemble August 1 in works by 17th-century Italian composers Monteverdi, Kapsberger, Landi and Strozzi. The celebrated Danish String Quartet performs two evening programs August 5. Beethoven's Op.18, No.1, Schnittke's String Quartet No.3 and Nielsen's String Quartet No.1 comprise the earlier concert; the later one is devoted to Wood Works, their CD of traditional Nordic folk music. Four days later, the Danes play the Beethoven and Nielsen as part of their TSM recital, a must-see for those who cannot be in Ottawa. In the meantime, there are worthwhile musical moments every day in this packed festival.
Quick Picks
Tafelmusik Baroque Summer Festival: This annual Toronto event provides an invaluable introduction to our world-class baroque orchestra. Even better, admission is free, on a first-come basis. Check the Summer Festivals listings for details on programs and venues for the June 5, 10, 14 and 17 concerts.
Summer Music in the Garden: July 5 Elinor Frey, cello; July 19 Shauna Rolston, cello, and the Cecilia String Quartet play Schubert's glorious Quintet in C; July 30 Ton Beau String Quartet; August 13 Blythwood Winds play Barber and Rossini.
Music Mondays at the Church of the Holy Trinity: June 8 Angela Park, piano; June 29 Raphael Weinroth-Browne, cello; July 6 Cecilia Lee, piano; July 20 Mary Kenedi, piano; July 27 Chris James, flute, Lara Dodds-Eden, piano.
Kitchener-Waterloo Chamber Music Society: June 24 Pianist Su Jeon and violinist Andrea Tyniec have included Schubert's vital Violin Sonata D574 and his Fantasy in C along with Arvo Pärt's mesmerizing and iconic Spiegel im Spiegel in their intelligently designed program; July 26 pianist Alexander Tselyakov's program includes Brahms' Horn Trio and Beethoven's Horn Sonata in what is in effect a preview of his own Clear Lake Festival recital five days later, only with different musical partners.
Toronto Symphony Orchestra: June 10 and 12 the TSO led by Peter Oundjian performs Mahler's essential Symphony No.2 "Resurrection." June 26 the TSO performs Holst's indispensible The Planets in a Luminato "Late Night" concert. June 28 the TSO's free Luminato concert, "A Symphonic Zoo," runs the gamut from Tchaikovsky's Swan Lake and Stravinsky's Firebird to Rimsky-Korsakov's Flight of the Bumblebee, Prokofiev's Peter and the Wolf, the Bulldog from Elgar's Enigma Variations and the Mule from Grofe's Grand Canyon Suite.
June 17 and 18 HanVoice presents a benefit concert with Scott St. John and friends, including cellist Roman Borys and pianist Angela Park, performing Bach's Brandenburg Concerto No.3, Mendelssohn's Octet and Dvořák's Piano Quintet.
June 20 and 21 "The Night Dances" presented by Luminato, finds Charlotte Rampling reading Sylvia Plath and Sonia Wieder-Atherton playing selections from Britten's Suites Nos. 2 and 3 for solo cello. Anthony Tommasini wrote of its American premiere in The New York Times on April 24, 2015: "During some stretches of 'The Night Dances,' music and poetry overlapped. For me, the greatness of Britten's music came through with special force when Ms. Wieder-Atherton played alone and Ms. Rampling just listened, with an acuity as gripping as her recitations."
June 23 Nine Sparrows Arts Foundation presents flutist Allan Pulker in a free lunchtime concert.
July 29 St. Stephen's in-the-Fields Anglican Church presents the Ton Beau String Quartet in a free midday concert.
Paul Ennis is the managing editor of The WholeNote. he can be reached at editorial@thewholenote.com.