Gramophone's 2017 Young Artist of the Year, 25-year-old Italian-born pianist Beatrice Rana, makes her Koerner Hall debut April 8. I remember fondly her Toronto Summer Music concert in 2014, where she brought the Walter Hall audience instantly to its feet with a heartfelt, technically gripping performance of Prokofiev's Sonata No.6. Her career was clearly on the rise then; it continues on its upward path. I recently had an email Q&A exchange with her.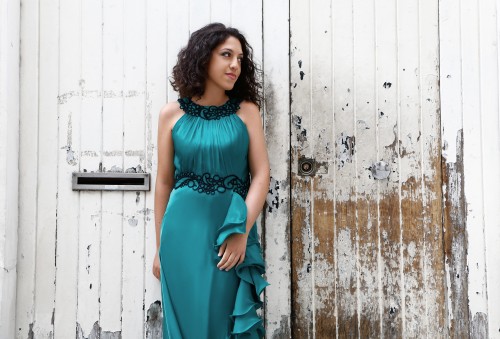 WN: What are your first memories of playing the piano?
BR: I began studying piano when I was four, but before that I have some little memories of me trying to repeat the melodies of cartoons four hands with my father. I also remember my parents taking me out for concerts on Friday nights; it was always a very special feeling.
Your parents are professional pianists and your younger sister plays the cello. Please describe the musical atmosphere in your home growing up.
I would say that music is really part of our daily life, as much as drinking water or eating lunch. The house could be pretty noisy at times (!), but it was absolutely wonderful to grow up in a family that really understood and supported our musical choice.
Who was the first composer you fell in love with as a child?
The first musical challenges when I was a child were some pieces by Mozart and Schumann, but the composer that was giving me the biggest sense of accomplishment was Bach, and I ended up playing a lot of his music. I still have a very special relationship with Bach's music, even though I constantly fall in love with so many other composers.
Who were the first musicians you fell in love with?
Martha Argerich and Glenn Gould.
Do you have any piano idols?
I wish I could have listened live to Horowitz and [Arturo] Benedetti Michelangeli.
How life-changing was winning the Silver Medal and Audience Award at the Cliburn piano competition in 2013?
It was absolutely a shock – a good shock of course! The first big change in my musical career came with [winning] the Montreal competition in 2011, but after the Cliburn I really reached what I was looking for, which was having the chance to be a concert pianist. The thing is that you don't know what it really means to be a concert pianist until you become one: it's an amazing life, full of travel, people, different cultures, but sometimes it can be tiring.
I'd like to focus on your upcoming Koerner Hall recital on April 8. What is it about Schumann's music that speaks to you in general? And what about Blumenstück and the Symphonic Etudes in particular?
I always loved Schumann, probably also because of my close relationship to Bach with whom there are many connections. Blumenstück and Symphonic Etudes really reflect Schumann's aesthetic with his two opposite personalities: on one hand there is Blumenstück, which represents Eusebius with his poetic, intimate and dubitative approach to life; on the other, the Symphonic Etudes are Florestan, incredibly extroverted and brilliant, inspired also by the bigger sonorities of an orchestra.
What fascinates you about Ravel's Miroirs?
The choice of Miroirs is connected to the choice of the piano as a symphonic instrument. Ravel was an incredible orchestrator and two pieces of the Miroirs were in fact orchestrated. What strikes me the most in this music is the imagination and plasticity of sound, which is able to recreate vividly either the hysteric movement of a butterfly in the night or a ship moving on the ocean and struggling with the storms.
What are some of the challenges of Stravinsky's The Firebird?
Again, the piano is imitating an orchestra but this time the process is the opposite: The Firebird was originally written for the orchestra, and [Guido] Agosti – an incredible pianist of the last century – wrote this amazing transcription. The main challenge is of course to recreate the different sounds that such a big orchestra can reach, but on the other side, the advantage is the freedom with the interpretive choices that it's impossible to have with an orchestra.
What do you find most rewarding and most challenging in your professional life?
It is very fascinating to travel so much and get to know so many audiences: every country is completely different, because of its culture and its musical traditions. Still, being able to communicate with all of them through music is a real privilege, and sharing moments of such authenticity on so many different stages is just incredible.
Alison Chernick's Itzhak
"When you finally get the sound [of the violin], you are really getting something out of yourself," the young Itzhak Perlman says in black and white footage from Israeli television in 1974, during Alison Chernick's new documentary Itzhak. "The more you have in your heart, the more you have to give," he explains, having noted that to get a sound out of a piano you merely have to strike a key. The Israeli-born Perlman has given an enormous amount over his long professional career; and he's been in the public eye since his appearance in 1958 as a 13-year-old on The Ed Sullivan Show playing an excerpt from Mendelssohn's Violin Concerto. Itzhak is a congenial portrait of the living legend, from the child crippled by polio to the 70-year-old musical icon travelling out to the CitiField pitcher's mound in his motorized wheelchair to play The Star-Spangled Banner in the home of the New York Mets.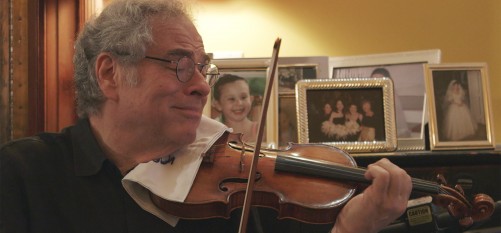 With the aid of old video, photographs and home movies we get a sense of what drove the young violinist to succeed. More recent footage records the love and devotion of his wife Toby and the importance to him of their family and Jewish heritage. His physical challenges are constant, his triumph over them as a performer, teacher, husband and father implicit throughout.
But it's the singularity of his musical life and the joy he brings to it that is the raison d'être of Chernick's film. Where does she lead us from the baseball diamond? To a rehearsal of Tchaikovsky's Piano Trio Op.50 with cellist Mischa Maisky and pianist Evgeny Kissin. Then the star-spangled musical trio takes a break in Perlman's New York City kitchen where the host animates the eating of takeout Chinese food with a hoary old Russian-Jewish joke.
Richard Strauss' Violin Sonata, Bruch and Wieniawski Violin Concertos, Brahms, Respighi and Ravel, Vivaldi, Bach, Mozart and Schubert all resonate on the soundtrack. Marian Anderson's singing of the spiritual Crucifixion has a special place in Perlman's iconography. As his playing of klezmer music with The Klezmatics does in ours. And what is the most requested piece of music in his repertoire? The theme from Steven Spielberg's Schindler's List by John Williams.
You can watch how Perlman evokes the beauty of a phrase and marvel at the way he brings out the colour of a melody when Itzhak plays at the Hot Docs Ted Rogers Cinema April 6 to 12, followed by a run at the Mt. Pleasant Theatre beginning April 13.
Massey Hall/Roy Thomson Hall presents Itzhak Perlman and pianist Rohan De Silva in recital at Roy Thomson Hall April 22, performing works by Schubert, Beethoven and Dvořák.
Paul Moon's Absolute Beauty
Recently I celebrated what would have been the 108th birthday of American composer Samuel Barber by watching Absolute Beauty, a comprehensive portrait of a man who wrote some of the most beautiful music of the 20th century. H. Paul Moon's documentary has just now become available via internet streaming or purchase, having made the rounds of film festivals over the last several months. I found Moon's assemblage of Barber scholars, musicians, personal reminiscences, film footage and photographs so touching that I immediately put on two of my personal Barber favourites: his Violin Concerto with its lovely first two movements; and his evocative Knoxville: Summer of 1915 for soprano and orchestra, the setting of James Agee's clear-eyed nostalgic picture of family life from the point of view of a five-year-old boy. I had just learned that Agee and Barber were the same age and that Agee's text spoke directly to Barber's own youthful memories.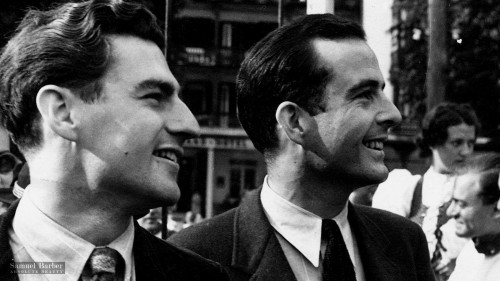 Moon took the film's title from Leonard Bernstein: "I've always associated Sam's music in my mind with Plato – I think, in terms of what Plato called the Absolutes, he's a Platonic composer… the concept that there is an absolute truth and an absolute beauty and the absolute rightness of things… that all Sam's music has tried to form one version or another of absolute beauty."
The documentary begins with the transfixing melancholy of Dover Beach Op.3, written for baritone and string quartet (from the poem by Matthew Arnold) when Barber was 21 and still a student at the Curtis Institute. "Barber found the profound essence of the poem in very small motives," Thomas Hampson says. The film moves through Barber's compositional output from the Cello Concerto, Symphony No.1, the justly famous Adagio for Strings, the Piano Sonata (written for Horowitz, a frequent visitor to Barber's Mt. Kisco home), Hermit Songs (and his collaboration with Leontyne Price) et al, ending with his 1966 opera Antony and Cleopatra and its misplaced stage direction by Franco Zeffirelli that blinded the critics to its musical qualities. Conductor Leonard Slatkin, one of Absolute Beauty's roster of talking heads, says that he was enchanted listening to the opera on the radio when he was 22.
Barber wrote very little after those negative reviews and spent the last years of his life without his longtime partner Gian Carlo Menotti. Unable to afford Capricorn, their country home with its sylvan setting, Barber moved back to New York City where a Fifth Avenue apartment was of little consolation. He left us with a legacy of blissful melancholy as Absolute Beauty's moving soundtrack depicts.
Absolute Beauty is available for purchase through Amazon and for rental at watch.samuelbarberfilm.com and at
https://vimeo.com/156522774.
TSO and Friends
Up-and-coming violinist Ray Chen is the soloist in Bruch's beloved Violin Concerto No.1; Sir Andrew Davis leads the orchestra in Sibelius' magnificent Symphony No.2 Apr 5, 7 and 8. Christian Tetzlaff performs Berg's ineffably beautiful Violin Concerto; Kent Nagano leads the OSM in Bruckner's ever-popular Symphony No.7 Apr 13. Violinist Blake Pouliot, recently named Women's Musical Club of Toronto's 2018 Career Development Award Winner, plays Beethoven's lyrical Romances 1 and 2 as part of an all-Beethoven program under the baton of resident conductor Earl Lee that also includes the iconic Symphony No.5 Apr 14 and 15. The Associates of the TSO perform two of the greatest string chamber works: Schubert's Quintet in C D946 and Brahms' String Sextet No.1 Apr 23. Bramwell Tovey conducts the 1993 concert version of Leonard Bernstein's brilliant musical Candide (essentially Bernstein's 1989 recording with a few excisions) Apr 26 and 28. The legendary pianist Leon Fleisher brings the wisdom of his 89 years to Mozart's Piano Concerto No.12; Peter Oundjian conducts Bruckner's immense Symphony No.8 May 2 and 3 (RTH), May 6 (Montreal) and May 8 (Ottawa).
QUICK PICKS
Apr 6: The indefatigable Stewart Goodyear joins Nurhan Arman and Toronto Sinfonia for Vinzenz Lacher's chamber version (originally for piano and string quintet) of Beethoven's masterful Piano Concerto No.5 "Emperor." Also in Barrie Apr 7. Later in the month Goodyear joins the estimable Trio Arkel (COC concertmaster Marie Bérard, TSO principal violist Teng Li and associate principal cellist Winona Zelenka) and Silk Road Ensemble bassist Jeffrey Beecher for a performance of Schubert's sublime Trout Quintet Apr 27. Music by Schoenberg, Boccherini and Barrière complete the program.
Apr 8: Syrinx Concerts presents three internationally known musicians who happen to be on the faculty of the Schulich School of Music at McGill University – Ilya Poletaev, piano; Axel Strauss, violin; and Yegor Dyachkov, cello – performing music by Beethoven, Ravel and Oesterle.
Apr 12: Music Toronto presents the German-based Schumann Quartet, proteges of the Alban Berg Quartet and winners of the BBC Music Magazine Newcomer Award 2016 in a program of Haydn, Shostakovich and Schumann.
Apr 14: WholeNote Early Music columnist Matthew Whitfield is the organist in "The Wagner Effect" presented by Abendmusik at St. John's Norway. (Apr 21 Whitfield plays harpsichord and organ in Bach's The Musical Offering with Molly Evans-Stocks and Jimin Shin, violinists, another Abendmusik presentation.)
Apr 21: Cathedral Bluffs Symphony Orchestra's Annual Fundraising Concert features two young soloists, cellist Alik Volkov in Tchaikovsky's charming Variations on a Rococo Theme and pianist Lauren Esch in Grieg's enduring Piano Concerto.
Apr 22: Pocket Concerts has decided it's time to tackle Late Beethoven. Shane Kim and Katya Poplyansky, violins, and Amy Laing, cello, join co-director Rory McLeod, viola, in a performance of String Quartet No.12 Op.127.
Apr 22: Nocturnes in the City presents pianist Karolina Kubálek (Antonín Kubálek's daughter) performing music by Mozart, Rachmaninoff, Chopin and Ravel.
Apr 26: The dean of Canadian pianists, Robert Silverman (soon to turn 80), gives an all-Chopin recital at Gallery 345. The program is repeated Apr 28 in the Music Room of the Kitchener-Waterloo Chamber Music Society.
Apr 27: Soprano Isabel Bayrakdarian joins Amici to celebrate the ensemble's 30th anniversary in a program of works by Respighi, Dohnanyi and much Bernstein.
Apr 28: Charismatic French cellist Gautier Capuçon and his longtime duo partner Jerome Ducros grace the Koerner Hall stage with a selection of Fauré, Brahms and Rachmaninoff plus French and Russian short pieces from their latest CD Intuition.
May 3: The Women's Musical Club of Toronto's final concert of the season "Cellodrama!" features principal cellist of the Regina Symphony Orchestra, Simon Fryer, who also happens to be artistic director of the WMCT. He's programmed himself along with seven cellist friends and special guest soprano Sarah Slean in a recital featuring works for solo cello, four cellos and eight cellos by Barrière, Penderecki, Jocelyn Morlock, Bach, Kelly-Marie Murphy, Queen and Villa-Lobos (the incomparable Bachianas Brasileira No.5).
May 3 to 6: Tafelmusik, with guest conductor Bruno Weil at the podium, takes a fresh approach to Beethoven, dipping into two classics from his fertile middle period. Music director emerita Jeanne Lamon is the concertmaster for the evening. Current music director Elisa Citterio is busy as the soloist in the Violin Concerto, which opens a strong program that ends with the Pastoral Symphony.
May 4: Festival of the Sound artistic director James Campbell gets ready for summer with music for clarinet, piano and cello in various combinations by Beethoven, Ravel, Fauré, Saint-Saëns and Brahms, at the Aurora Cultural Centre.
Paul Ennis is the managing editor of The WholeNote.