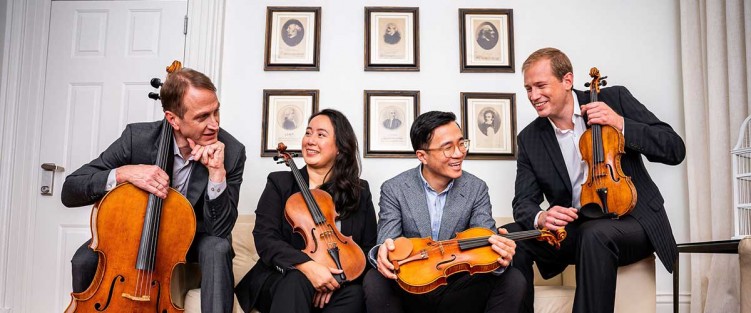 Toronto Summer Music (TSM) is back, bigger than ever – July 7 to July 30 – with "Inspirations" as its theme. Toronto's go-to summer classical music event will present an ambitious program of 26 mainstage concerts. Eight of them will showcase the TSM Academy Fellows and Mentors, highlighting one crucial aspect of the festival's mandate – to offer high-level training to emerging musicians. The details of those eight Regeneration concerts will be announced in June; the contents of the other 18 were made public in late April.
I took the opportunity in early May to discuss the "Inspirations" theme with TSO concertmaster Jonathan Crow, now in his sixth year as TSM's artistic director. (This interview has been edited for length.)
WN: In the festival release, you describe inspiration as "deeply motivating moments that connect us to one another." Given that the backbone of Toronto Summer Music is the TSM Academy with its Mentors and Fellows, there is clearly a wealth of inspiration to be had, in any TSM season, in terms of teachable/performing moments. But how did you make the leap from that to basing the whole festival on that theme?
JC: I don't think the leap came about because of one specific moment, but rather from thinking about how we've put together themes these last five years at TSM. There are so many things that come into play when tying music together – the specific reasons for the composition, the actual inspiration of the composer, the meaning of music to the artists… I thought it might be interesting to explore more explicitly the reasons behind how we program great music.
Can you give some examples of how these inspirational catalysts manifest themselves in the programming, maybe starting with how you decided what works to include in the New Orford program on July 26?
The New Orford String Quartet program ("The Americas") explores different inspirations that composers found in areas that may or may not have been their homes – from birdsong in Dvořák's "American" Quartet, to American folk music in Jessie Montgomery's Strum, and the flight paths of ravens in Carmen Braden's The Raven Conspiracy. This program came about when Sharon Wei joined our quartet last year; we were looking for a standard work we had not played together as a group, and surprisingly we hadn't yet done Dvořák''s "American" – even though it is probably the most played of all string quartets! I had heard Carmen Braden's The Raven Conspiracy last year online when the Rosebud Quartet performed it as part of their Echo Chamber performance for TSM 2021, and loved the work. With those two pieces decided on, a theme of the New World became possible.
And other examples?
This summer we have programs based on many different concepts. Folk music, for example: our opening night concert [July 7] looks at how composers incorporated different kinds of folk music into their classical works – Dvořák using Czech dumka forms and Ravel using Transylvanian Roma ideas among others. Some of the programs had influences that I had no idea about until I started researching – in the Mendelssohn Octet, for example [July 29], there is a connection to Goethe's Faust, which I had no idea about even after performing it dozens of times over the last years! Perhaps my personal favourite though, is the program [July 22] with the two Brahms Quintets; Brahms, of course, was constantly doubting his own abilities, and thought he had nothing left to say after his Op.111 Quintet. Lucky for us, he heard the inspiring clarinet of Richard Mühlfeld, and came up with several amazing late works including the Clarinet Quintet. And, of course, several pieces with no clarinet: I guess he wasn't finished quite yet!
"The Von Meck Letters" on July 15 jumped out at me for the way it connects Debussy and Tchaikovsky.
Debussy was actually a tutor to Nadezhda von Meck's children, and wanted to marry one of them – she refused though. Von Meck was a financial supporter of many musicians throughout her life, and later was a benefactor to Tchaikovsky, giving him financial support with the stipulation that they could never meet. Was this a reaction to her closer personal relationship with Debussy? Did that affect the way she thought about their music? Does any of this come across in their music? I suppose audiences will have to decide!
Franz Hasenöhrl's arrangement for violin, double bass, clarinet, bassoon and horn of Richard Strauss' Till Eulenspiegel's Merry Pranks, July 29, also strikes me as an inspired choice.
This is one of my favourite pieces; I love Strauss and I love chamber music, but we don't get to combine those two things very often, outside of the great Strauss Violin Sonata (stay tuned for next summer!) and a few smaller chamber works. I suppose when I think of Strauss I think of epic large-scale orchestral works, not quintets. But of all of the tone poems, Till is perhaps the lightest and most transparent, and works great in a reduction for chamber ensemble!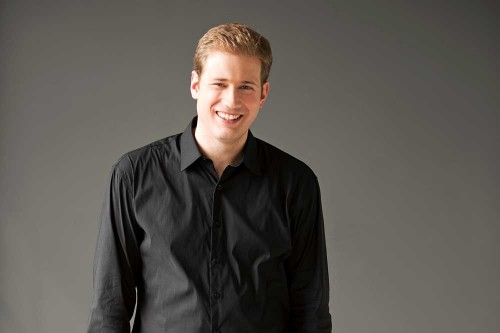 What about the Dover Quartet's Haydn/Mozart/Ravel program?
It's always nice to have an old-school quartet concert at the festival. The Dovers are performing a fantastic program [on July 14] with three of the all-time great compositions for quartet. Haydn was perhaps the father of string quartet writing, composing almost 70 quartets; for me the "Lark" Quartet is one of the highlights (named "Lark" because of the soaring violin melody in the first movement). This quartet has another less famous nickname though – the "Hornpipe" – due to the hornpipe melody in the last movement. Haydn didn't attach either of these nicknames, but do you think he was aware of these connections when writing? Was he hoping to provide this sort of imagery in his music, or are we attaching these ideas ourselves while we listen?
Mozart's "Dissonance Quartet" was also not nicknamed by Mozart! It was part of a set dedicated to Haydn. Ravel's quartet was similarly dedicated to his teacher Fauré (who didn't care much for the work); it was modelled, however, on Debussy's earlier quartet and Debussy very much liked the piece, sending Ravel a letter of encouragement. Mozart and Ravel both derived inspiration from a previous-generation composer, not looking to match the earlier composer's work, but very much looking at setting out on new compositional paths – Mozart with unsettling new uses of harmony (hence the title "Dissonance") and Ravel with a search for a new sound world.
What led you to choose the specific works in "Two Canadians in Paris" (July 25)? Did you consult with your performing partner Philip Chiu?
Similarly to The Americas program, Phil and I were searching for an anchor work that we had never performed; we've done the Franck Sonata dozens of times, but not the Fauré A Major; I also liked the idea of trying to pair French music with something of a different style, and although Louise Farrenc is French, she would have grown up hearing Beethoven and other Germanic works, as French music wasn't in vogue (even in France…) at the time. In a way this is a program that brings together pieces that don't have significant musical connections to highlight how composers from similar areas can have such different styles.
And using "Inspirations" as the title for the evening concert (July 28) featuring Keiko Devaux's Arras and Mahler's glorious Symphony No.4?
Well – we had to have one concert that used our theme for the title! Seriously though, these two works incorporate similar ideas into the music, with Mahler's Symphony exploring themes of religion – specifically Heaven – and Arras also bringing together sacred musical references. As well, Arras incorporates several extra-musical concepts, in particular the idea of memory, and weaves them together into what Keiko Devaux refers to as a "tapestry" even including the sound of a mechanical loom into the work! What I find fascinating are the different ways the two composers approached bringing these extra-musical elements to the awareness of the listener. Keiko speaks beautifully about all of her influences on the violin channel (theviolinchannel.com/vc-new-music-tuesday-composer-keiko-devaux-arras/).
Where do you personally find inspiration?
I think I find different inspirations when I'm performing and when I'm curating; when playing the violin I definitely find inspiration from the people around me – teachers, students, colleagues, family… Hearing someone play a piece and interpret it differently than I would, always opens up new ideas for me and helps me to challenge the way I might approach a piece I've played many times. And I think we've seen recently that most organizations have been inspired by current events such as the Black Lives Matter movement to change how music can reach people, and to question what role we play when we put musicians and works of music on a public stage – how what we program and put on stage can perhaps help to inspire others…
Toronto Summer Music runs from July 7 to July 30. For further information please visit torontosummermusic.com.
QUICK PICKS
MAY 25, 27 & 28: Toronto Symphony Orchestra music director Gustavo Gimeno is joined by Garrick Ohlsson in a performance of Beethoven's Piano Concerto No.5 in E-flat Major Op.73 "Emperor". The concert also includes the world premiere of TSO Spotlight Artist, Samy Moussa's Symphony No. 2. On MAY 27, at 6:15PM there is a pre-concert performance for ticketholders, by the TSO Chamber Soloists performing Schubert's Shepherd on the Rock for soprano, clarinet and piano, written during the last months of the composer's life. JUN 1, 2, 4 & 5: Child prodigy, world-class pianist and trail-blazing composer, Clara Schumann wrote her Piano Concerto at 14 to showcase her own virtuosity. Here it serves as a showcase for Toronto-born pianist Tony Siqi Yun, gold medalist at the first China International Music Competition in 2019. JUN 9 & 11 Gustavo Gimeno pays tribute to his native Spain: composer Francisco Coll's new work, Elysian, reinforces his reputation as one of today's most striking and individual musical voices, and Javier Perianes is is the soloist in Grieg's lush, melodic Piano Concerto. JUN 15, 16, 17 & 19 Beethoven's transcendent Symphony No.9 is an ideal closer to the TSO's 2021/22 season. Don't miss it.
May 29, 3PM: Bravo Niagara! Festival of the Arts presents pianist Jon Kimura Parker in a program of Beethoven's "Moonlight" Sonata; a Scherzo by Clara Schumann; Brahms' dynamic Variations on a Theme by Handel; Schubert's lovely Impromptu in B-flat Op.142 No.3; Chick Corea's Got a Match?; and other works. FirstOntario Performing Arts Centre, St. Catharines.
JUN 6, 8PM: Trio Arkel performs Ravel's String Quartet and Caplet's Conte fantastique for harp and string quartet. Marie Bérard, violin; Emily Kruspe, violin; Rémi Pelletier, viola; Heidi Elise Bearcroft, harp; Winona Zelenka, cello. Trinity-St. Paul's Centre.
Jun 24, 7:30PM: Hamilton Philharmonic Orchestra music director, Gemma New, conducts the HPO in Alexina Louie's Music for a Celebration; Mozart's divine Clarinet Concerto; Matthias McIntire's Yangon Connection; and Prokofiev's delightful Symphony No.1 in D Op.25 "Classical"; Dominic Desautels, solo clarinet. FirstOntario Concert Hall, Hamilton. JUN 26, 7:30PM: Gemma New conducts the HPO in propulsive new works accompanied by vibrant video installations created by Hamilton artist Andrew O'Connor: Paul Frehner's Voluptuous Panic imitates the thrill of rollercoasters and fast cars; Juliet Palmer's Foundry explores the sounds of metal transforming. Dragon Unfolding, by Kelly-Marie Murphy, portrays an origami dragon rising and taking flight. Luis Ramirez's new work evokes an Aztec deity emerging from an ancient temple. The flow of water over Webster's Falls inspires Abigail Richardson-Schulte's Downstream. And Jordan Pal's On the Double offers a bright conclusion to the evening. The Cotton Factory, Hamilton.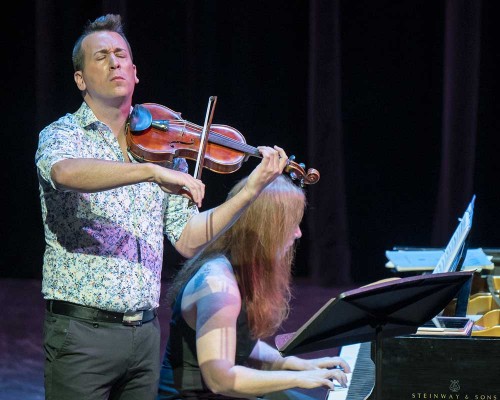 JUN 27, 12:15PM: Andrew Sords (violin) and Cheryl Duvall (piano) return to Music Mondays with a dive into the Romantic literature: from Beethoven's "Spring" Sonata and Ravel's Tzigane to Sarasate's Pamplona. Works by Chopin and Brahms fill out this 19th-century feast. Church of the Holy Trinity, Trinity Square.
Paul Ennis is the managing editor of The WholeNote.