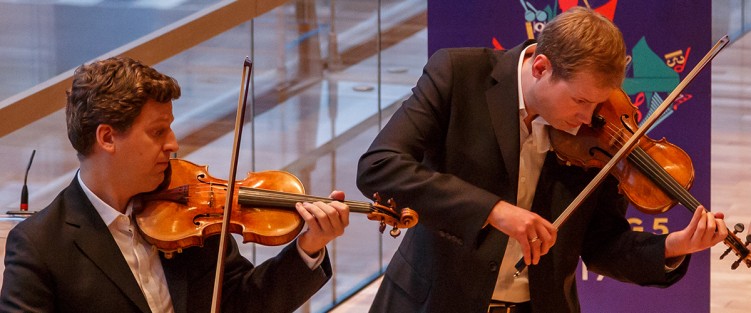 Of all the musical events I've taken in online recently, the highlight was watching new TSO music director Gustavo Gimeno in Amsterdam conducting the regathered Concertgebouw, the orchestra in which he played percussion for 11 years beginning in 2001.
Both Beethoven's Seventh Symphony (recorded June 2 and broadcast June 3) and Dvořák's Symphony No.8 (livestreamed on June 5) are now available on YouTube. The Dvořák, its live aura palpable, struck special notes of smooth and sweet, its dance movements floating effortlessly. The musicians observed quite distinct social distancing rules, with the strings separated by 1.75 metres, the winds and brass by two metres, which led to many members being placed on the steps behind the stage.
I was in the midst of a telephone conversation with TSO concertmaster and Toronto Summer Music artistic director, Jonathan Crow, when I wondered. Had he seen it? Yes, he had. Wasn't it extraordinary, I asked rhetorically.
"Oh, it's unbelievable," he jumped right in. "For me, it was to see the musicians so happy to be making music together again. Just to be onstage playing this incredible piece in an incredible hall with an incredible conductor. And it was just amazing to see everybody adjusting. That orchestra was playing in a way that they'd never played before. Everybody was far away. Everybody had their own music. It's just a huge learning curve. And to play as spectacularly as they did is a real tribute to the kind of flexibility of everybody involved. I can't wait to be back on stage with my colleagues playing Beethoven. I don't know if we'll have masks or if you'll be able to see my big grin or not, but it's certainly going to be there."
When I pointed out that the live feeling is very important to the palpability and accessibility of the musicians for an online audience, Crow responded enthusiastically. "Absolutely! It's a hard thing to do," he said. "Because I've done so many of them from that end when you're just staring at a computer screen, trying to figure out, how do I – I mean, I still get nervous for them in a strange way because it's still a performance, but finding the way to make it really feel like you're connecting to the people through time and through electrical wire, through cables, basically through a computer screen. It's such a strange thing when you grew up basically thinking of music as the thing you do as a community. You grew up doing chamber music, in the orchestra playing for people, doing group lessons and you know, listening to one another, then having it suddenly cut off. Very odd."
I asked if he had enjoyed other people's performances in this virtual universe we've been living in and he told me that he had, but in a weird way. "I enjoyed them but they also made me really miss them." A lot of the people he has been watching, he explained, have been people that he knows and has worked with for dozens of years, and played chamber music with or heard live.
"So I see these things and it makes me think, I can't wait to go back and see this in the hall. You know, we just did a Beethoven romance [No.2] with James Ehnes at the TSO. He sent me his recording – to start patching it all together and everything – and it was him in his living room playing the Beethoven by himself. It was kind of amazing and it's so funny because it sounded exactly like him and, oh yeah, I could recognize that playing anywhere. But what it made me think was, Oh, this is beautiful but, man, how much more beautiful will that be when we can go back and hear him play the Beethoven concerto with the symphony. Live!
"These things are lovely and it's nice for us to kind of keep busy and feel like we're continuing to make music, continuing to reach people, but in a way it's also like whetting everybody's appetite for when we can go back to normal, whenever that is, when we can do live music again and actually have an interaction directly with the audience rather than through that barrier."
Toronto Summer Music Reborn
The reason for my phone call to Jonathan Crow was welcome news from Toronto Summer Music: the virtual rebirth of Toronto Summer Music, two months after its 15th season had been cancelled. "We have a great group of supporters at the festival," Crow told me, "and we had a number of people who stepped up and said, 'We want to see Toronto Summer Music doing something and we want to support you. We want to support your artists.'"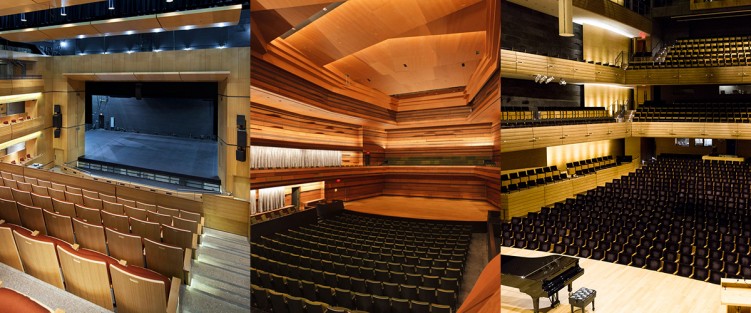 The call was in late June, while details of the reconfigured program – from July 16 to August 1 – were still being finalized. But Crow described the mix of concerts and chats and how the festival will work: recorded in beautiful spaces (like Koerner Hall, The Burlington Arts Centre and Kingston's Isabel Bader Centre for the Performing Arts), executed professionally with great recording equipment and a top-notch videographer, and with the music performed "as live as we can do it." Trying to work out the safety of the enterprise has also been a very interesting process. "There's been a lot of thought going into things that normally would never be considered. You know, researching what does the clarinet do with the virus; what does the horn do? Are singers safe? This sort of stuff."
The biggest challenge was logistical, given the limitations imposed by the maximum of ten people in a certain space. "In a way you're left thinking about what is a space? It becomes very conceptual," Crow said. And while spatial considerations don't affect the social distancing between two performers, in a quartet where everybody's two metres apart, the circle gets a lot wider. In a septet "you get to the point where we're going to be so far apart that we don't actually have the communication with our colleagues that we're used to," Crow said. "What kind of a learning curve are we going to have, to make sure that we can sound really good and feel like we're making live music?"
Rehearsals and recordings will take place in the second week of July, which gives them a couple of weeks to figure out their logistics and to make sure that everybody feels comfortable. "We wanted to make it as festival-like as possible," he said. "Hopefully that atmosphere will come across in the recording, [so] that it doesn't seem too sterile or pre-planned – that it's still the excitement of doing live concerts."
Every performer in the 17-day online festival already has a connection to Toronto Summer Music, Crow told me, "so it's not like there's anybody who doesn't know what we do at TSM. And the nice thing about that is that every artist who has ever come through has talked about how great our audiences are, how much they love the vibe of the concerts ... They know that what they're presenting is, in a way, their gift to our Toronto audiences – the audience is not paying – it's something that we're giving back to the people of Toronto."
A lot of what went into the programming was Crow reaching out to artists and asking, "What do you want to play? What are you thinking about during these days? What makes you excited about getting back into music?" Crow said that he left a lot of it open to the artists and what they wanted to present.
As to specifics about the program: "We've got kind of a little weekly series. Mondays will be Mentor Mondays. And that's basically the mentors that have come to the festival previously or would have been here this year. So, for example, a highlight of that will be Brian Manker and Colin Carr having an online conversation about Bach suites: on playing them; little demonstrations; just talking about it. They're actually recording it as we speak. I got a text from Brian yesterday saying, 'How long do you want this to be? We've spent about three hours and we can go at it again tomorrow.' You know, they're super into it. We'll probably edit that down to something that's a little bit shorter but leave the entire thing online for those hardcore Bach cello suites enthusiasts who just want to hear these two remarkable musicians pick each other's brains."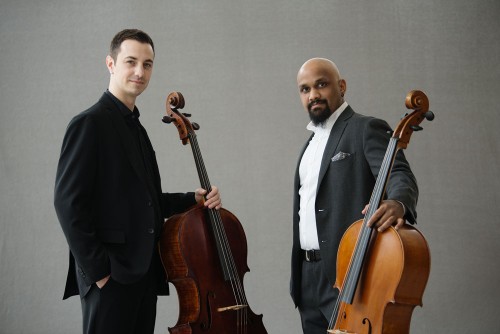 Tuesdays will offer slightly more alternative programming. "For that we'll have VC2, who's a great two-cello group that's come to the festival before. And Ladom. Both Ladom and VC2 are actually former participants [known as 'fellows' in TSM's academy program] – which is awesome. Wednesday will be kids programming so we'll have two of those. Thursdays are Throwback Thursdays – highlights of things that have happened at the festival in the past that we want to bring your attention to. A big highlight of that will be James Ehnes, who will be opening the festival on July 16 with a program of Beethoven violin and piano sonatas. That sort of thing."
"Fridays will be Fellow Fridays and that will be fellows both past and present who have done recordings for us. And we'll talk to them a little bit. And Saturdays will be some sort of Signature Saturdays, major events like what we used to do with the academy program mentors, the visiting artists, doing a little bit more standard chamber music. Highlights of that will be the Beethoven septet, recorded with people from Toronto and a nice program of the Beethoven 'Moonlight' sonata mixed with the Shostakovich viola sonatas.
"So, that's the basic look of it. We'll have a three-day opening and the next two weeks will follow that same pattern. The Dover Quartet will also do one of the big Signature Saturdays from New York."
Meanwhile, as Ontario moves tentatively into Stage 2 of post-COVID reopening, musicians around the world are in various stages of concertizing, with the likes of live hour-long recitals in London's historic Wigmore Hall, and full-blown orchestral events such as Yannick Nézet-Séguin leading Montreal's Orchestre Métropolitain, where, after three months of silence, Nézet-Séguin and his OM musicians were reunited in June at Montreal's Bourgie Hall without an audience to perform Beethoven's first eight symphonies – the first time in North America that a full orchestra had played together since suspending their activities due to the COVID-19 pandemic. The concerts will be streamed on the OM and Bourgie Hall websites throughout the summer.
In Europe, according to bachtrack.com, Italy is on the leading edge of performing before live audiences, a striking turnaround for a country that suffered so much in the pandemic's early days. And classicfm.com writes about an upcoming Swiss television broadcast of the Orchestre de la Suisse Romande (OSR) and Grand Théâtre de Genève Choir, performing Beethoven's Ninth Symphony in Geneva's great Victoria Hall with social distancing measures in place; singers and many of the musicians were arranged on the balcony overlooking the stage. (Events for up to 300 people are now allowed in Switzerland.)
For me, the Wigmore Hall lunch-time performances had an exceptional live quality as performers took to the stage of the 119-year-old facility to play in front of an audience of two. The month-long series concluded at the end of June but will be archived into July. Many of its performers are familiar to Toronto audiences: Stephen Hough, Benjamin Grosvenor, Paul Lewis, Angela Hewitt and Mitsuko Uchida. Lewis played Beethoven's "Moonlight" sonata with muscular security; Grosvenor and his violin partner, Hyeyoon Park, dazzled in music by Franck and Szymanowski.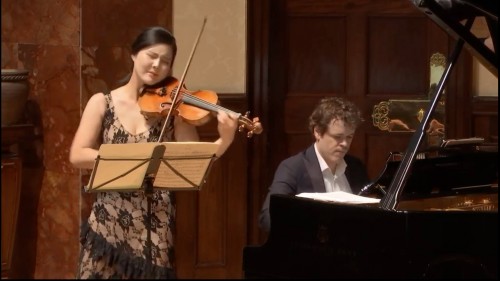 I asked Jonathan Crow if he had seen any of the Wigmore Hall recital series – he hadn't – but after I mentioned that the musicians had performed live in the hall and there was a nice ambient quality, he picked up on it immediately.
"That's one of the reasons we're doing all of our recordings in real concert halls, because there's something about stepping onto the stage in Koerner Hall, even when it's empty. You still feel this kind of thrill, you feel this buzz – it's like, Ooh, I'm in one of the world's great halls – and you can kind of feel the edge of a live performance starting, even for rehearsals. And you just don't get that the same way in your living room. As much as you might be trying to do something that's incredibly persuasive, it's still your living room. And so, when we do our recordings we put everybody back in the concert halls and they haven't been on stages for four months. I'm hopeful that that will give us all the edge – that, okay, yes, this is a real thing."
Paul Ennis is the managing editor of The WholeNote.