Soon they realized that simply being together could be a risk. A quartet is, by its nature, an intimate gathering. Players can't sit more than six feet apart and still hear each other, breathe together or respond to what are often subtle visual cues.
- James B. Stewart writing on April 19 about the Tesla Quartet's coping with the coronavirus in The New York Times.
The New York Philharmonic had already cancelled its live performances through early June, but social distancing couldn't stop more than 80 of its musicians from dedicating a special performance of Ravel's Boléro to healthcare workers fighting the coronavirus pandemic. Orchestra members recorded their parts in their own homes for a virtual performance posted April 3 on YouTube.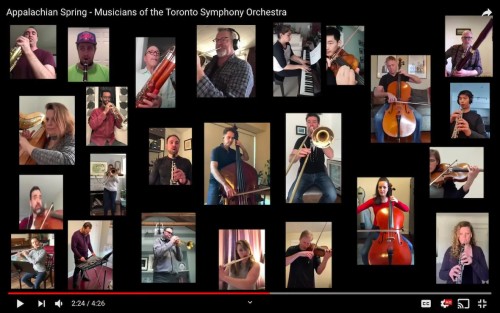 TSO: Less than ten days after cancelling their March concerts, the Toronto Symphony Orchestra posted a virtual performance of the final three sections of Aaron Copland's Appalachian Spring Suite on their Instagram page and YouTube on March 22. A month later almost 420,000 viewers had seen it on YouTube. TSO principal bassist Jeff Beecher, who organized and edited the crisp, four-minute-plus performance by 29 of the orchestra's players, got the idea on the first day of spring. CEO Matthew Loden, concertmaster Jonathan Crow, principal oboist Sarah Jeffrey and Beecher, talked about the experience recently on the TSO's Facebook page.
Beecher said that he sat on his couch and used the Sibelius program to produce all 29 parts, since the TSO library was closed and even the librarian had no access. The key to the enterprise was the click track, which, acting like an enlightened metronome, enabled each player to hear the "full voice of the score." It was tricky since each participant was separated in their own home. But as Crow said: "The speed-ups and slow-downs [of the click track] made it feel like live music."
"The singular difference was the missing live audience," Jeffrey said. "Without the live audience you hear everything you're doing." The music was recorded on 27 iPhones and two Androids and edited on Final Cut 2. Jeffrey did her part in four takes; it took time to adjust to playing naturally since the musicians didn't have the unified character that the conductor brings. Some interesting balance issues did not detract from the exuberant playing and emotional appropriateness of Copland's use of the uplifting Shaker hymn, Simple Gifts.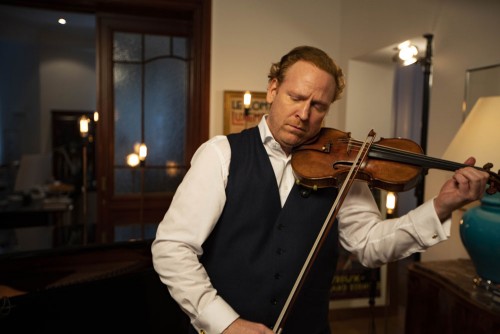 Hope: Dazzling as these virtual acts of wizardry are, they lack the extraordinary intimacy of the music salon violinist/conductor Daniel Hope (@hopeviolin) has created in his living room, in the middle of Berlin, with the backing of the French broadcaster Arte (arte.tv/en), who are making the concerts available at no charge for the next three months. "We're coming to you live," the personable Hope began on March 25. "[This is] a series to share music with you. Nothing brings things into perspective better than music." With his collaborative pianist, Christoph Israel, at least six feet away, Hope dedicated the first episode to Johann Sebastian Bach and brought his singing violin tone along for support, ending the 32-minute concert with an arrangement of Schubert's An die Musik. He called the Schubert an ode to music celebrating its power to take you to a different place and unite people – for which we should be extremely grateful.
The daily alchemy needed to sustain 26 episodes (as of April 23 and ongoing) is considerable, but the results – and over one million streams – speak for themselves. Whether it's Hope (who plays everything from memory) opening cold with a mesmerizing arrangement of Kurt Weill's Youkali in Episode 2, turning over segments to in-house guests like Simon Rattle and his wife, soprano Magdalena Kožená, In Episode 20, or showing videos sent in by other musicians (like Lynn Harrell and seven other cellists' virtual playing of Saint-Saëns' The Swan in Episode 19), Hope's living room is such a welcoming environment, it feels live. Rattle's warmth at the piano was coupled with his immense musical insights into the repertoire he's performing - "The ethos of Debussy is the idea that suggestion is always more powerful than statement." As extraordinary as it was to be a part of Hope's salon, Rattle concluded: "Of course, we're all waiting for the moment when we're playing to people in front of people. Let's hope."
Streaming sites: British magazine Classic FM has an extensive list of streaming sites for many musical organizations, including the New York Philharmonic's Boléro, the TSO's Appalachian Spring and Daniel Hope's Hope@Home - check them out here.
Updated daily, the list for April 23 includes 43 links for classical music organizations live-streaming, or that have made their concert archives available online. Among them are The Metropolitan Opera's "Nightly Met Opera Streams", the Berlin Philharmonic's "Digital Concert Hall", Carnegie Hall's "Live with Carnegie Hall", Wigmore Hall's "Live Stream" and the London Mozart Players' "At Home with LMP."
The list of 12 upcoming classical concerts being live-streamed includes the "Bang on a Can Marathon," May 3 at 3pm, with music by Philip Glass, Meredith Monk and others. The list of 75 past classical concerts that were live-streamed features Simon Rattle and the Berlin Philharmonic performing Bartók and Berio from March 13 and 14; Avi Avatal, Daniel Hope and Jacques Ammon, Lang Lang, Max Raabe and Christoph Israel performing at the Konzerthaus Berlin without an audience, March 18; and the Chamber Music Society of Lincoln Center "30th Anniversary Gala," April 21.
More to mine: Extensive as Classic FM's streaming sites are, they are not exhaustive. Here are a handful to mine in the weeks ahead. Anyone with a Toronto Public Library card can access medici.tv concerts and masterclasses and the Naxos Music Library by visiting torontopubliclibrary.ca. Bachtrack (bachtrack.com) currently has 1000 links to past live performances. YouTube remains a treasure trove; the TSO YouTube channel is one of many well worth examining. Facebook and Twitter are filled with musical notes of interest: the last weekend of April features The Metropolitan Opera virtual at home gala (metopera.org) with more than 40 artists led by Yannick Nézet-Séguin; more than 40 Broadway stars celebrate Stephen Sondheim's 90th birthday on April 26 (Broadway.com's YouTube channel); pianist Igor Levit gave his 42nd House Concert on April 23. Pity, my virtually non-existent German limits my understanding of his extensive introductions, but his Twitter feed (@igorpianist) woke me up with his playing of a Scott Joplin rag on April 13. And his radical rendition of Beethoven's "Waldstein" Sonata was completely gripping with its whirlwind first movement, contrasting second and sublime finale. The number of streams is closing in on 400,000.
Stay safe. Be well. Keep listening.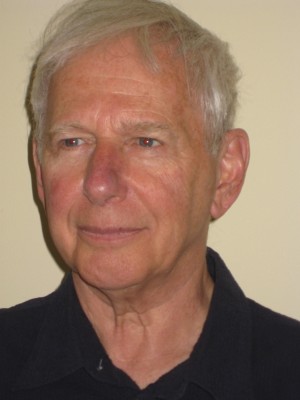 Paul Ennis is the managing editor of The WholeNote.
Alive and Online
It seems like every day there are additional new ways to find our music community online. Here are a few of particular note.
TSO MUSICIANS ONLINE & ACROSS SOCIAL MEDIA PLATFORMS
The TSO Facebook page hosts a regular series on Facebook Live on Tuesday and Friday afternoons called #TSOatHome. The most recent on April 24 featured violinist Leslie Dawn Knowles and her husband, tubist Mark Tetrault.
The TSO can also be found on Instagram (torontosymphony), on Twitter (@TorontoSymphony), and on YouTube.
Orchestra members are represented on Facebook and other platforms. They share content on Facebook (TSO Musicians), Instagram (tsomusicians) and Twitter (@TSOmusicians).
On Thursdays, the TSO has partnered with the Toronto Star for a collection of "Musical Moments". On April 22, concertmaster Jonathan Crow and pianist Phil Chiu (recorded individually and paired up by TSO producers) performed the famous Air from Bach's Orchestral Suite No.3. thestar.com/musicalmoments
KOERNER HALL CONCERTS FROM HOME!
There are more than 25 classical, jazz, and roots music concerts available online. Just for example...
András Keller conducted the Royal Conservatory Orchestra (April 26, 2019)
Nicolas Altstaedt and Fazil Say (March 2, 2018)
Terry Riley: Live at 85! (January 18, 2019)
rcmusic.com/performance/live-from-koerner-hall-concert-livestream
URGNT LIVE
This ad hoc crowd-funded livestream series of concerts was created in response to the COVID-19 outbreak. You can pay a cover charge which will contribute to paying a nominal fee to all involved parties, and help with lost gigs and wages as a result of the quarantine.
Presenting a wide range of performances, including a May 8 10-show, one-day festival that includes the Gryphon Trio, and Stewart Goodyear. urgnt.ca
THE CANADIAN OPERA COMPANY
#OperaatHome is an initiative to share one clip every day on social media channels to help bring opera to our audiences during this challenging time. With one clip, every day at 11am there are already 44 of these for viewing, so you have might some catching up to do! Find the link on their homepage. coc.ca