Art of Time Ensemble was to have presented "S'Wonderful," their Gershwin brothers' tribute at the beginning of April and "Dance to the Abyss," with music by Kurt Weill (and lyrics by Bertold Brecht), Schulhoff, Spoliansky et al, early in May, both already cancelled. To ease the pain, artistic director Andrew Burashko has created "The Self-Isolation Playlist" on Soundcloud, inviting everyone to listen, and saying this:
This song list is a desire to share with you some of the music we've made over the years - a kind of offering at a time when everything is being taken away. Suddenly, having more time than I know what to do with - trying to distract myself from the fear and madness outside my window, I've been digging through recordings of past concerts - some not heard in years, and reflecting on the immense privilege I have had of making music with such remarkable people/musicians. I hope you will enjoy it.
If you're reading this online, go to: soundcloud.com/user-185119516/sets/the-self-isolation-playlist, where you can hear Art of Time's take on nine songs by the likes of Charles Aznavour, Jacques Brel, Gilles Vigneault, Charles Trenet and Robert Charlebois.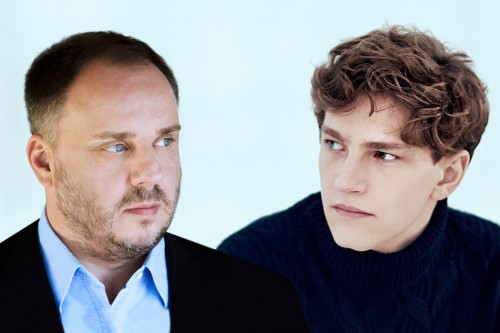 Canadian superstar Jan Lisiecki was also to appear at the beginning and end of this time period: scheduled to play Beethoven's Piano Concertos No.3 and No.5 "Emperor" with the TSO in early April; and at the end of the month, with baritone Matthias Goerne, to perform a program of Beethoven songs at Koerner Hall. In November 2014 when Lisiecki and the TSO played Beethoven concertos 3, 4 and 5, the then 19-year-old sat down in the Roy Thomson Hall lobby with composer Gary Kulesha for a brief interview. "My modus operandi is to make the piano sing," I remember Lisiecki saying. Kulesha wondered how Lisiecki would characterize the three Beethovens. The Third "has a similar ferocity and darkness as the D Minor Mozart K466 which it parallels"; the Fourth "pushes the boundaries… [it] begins from the soul of the piano"; the Fifth "broadens what can be done in a concerto."
The following summer (2015) at Stratford, I heard Lisiecki and the Annex Quartet perform all five, arranged for piano and string quartet. It was part of an exhaustive learning process leading up to his recording of the concertos with the Academy of St. Martin in the Fields conducted by Tomo Keller. The Academy/Keller/Lisiecki live recording from Konzerthaus Berlin in 2018 is available for viewing on YouTube! It's some consolation for the cancelled April TSO concerts.
In an interview in July 2019 for revopera.com, Lisiecki was asked about his evolving approach to the Chopin concertos; his response seems to me representative of his approach in general: "My interpretations are fluid, I change them from performance to performance, sometimes consciously, other times subconsciously. This is what makes music live, what makes it real and visceral to the audience."
Regarding the anticipated recital at Koerner with Goerne, on March 11, Deutsche Grammophon posted on their Facebook page a snippet of a rehearsal in anticipation of the release, on March 20, of Matthias Goerne (baritone) and Jan Lisiecki's recording of Beethoven songs to coincide with their concerts in Vienna (March 20), Munich (March 22) and Koerner Hall (April 24). A full performance video is coming soon per Facebook, offering an alternative should the April recital not take place.
Gimeno and Wang: April was also set to mark the return of incoming TSO musical director Gustavo Gimeno leading the orchestra in Brahms' bucolic Symphony No.2, paired on April 8 and 9 with Brahms' incendiary Piano Concerto No.1 and on April 11 with his uber-Romantic Piano Concerto No.2. In both instances, the soloist is the formidable Yuja Wang. YouTube features her emotions on display in both concertos with the Munich Philharmonic and their regular conductor Valery Gergiev. I was particularly looking forward to Wang's musical conversation with TSO principal horn, Neil Deland, that begins the second concerto.
Peter Oundjian: Also scheduled for April, Oundian's first visit as TSO conductor emeritus, leading the orchestra in Mahler's transformative Symphony No.5. The work's breathtaking Adagietto sent Robert F. Kennedy's funeral service heavenward and three years later immortalized Lucchino Visconti's celebrated adaptation of Thomas Mann's novella, Death in Venice, a film that may hit too close to home right now, despite its beauty. Slated to open the program, concertmaster Jonathan Crow as soloist in Bruch's lyrical calling card, his Violin Concerto No.1. Crow's local musical presence has deepened in the last three years since assuming the artistic directorship of Toronto Summer Music and enriching a time of year that not too long ago was moribund. Speaking of TSM, Crow is scheduled to host a free noon-hour preview of TSM's 15th anniversary season, at the Richard Bradshaw Amphitheatre on May 5.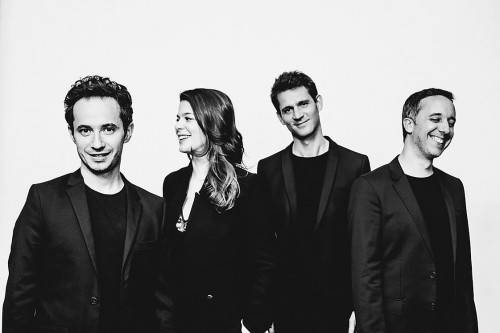 Quatuor Ébène was set to conclude Music Toronto's current series of downtown concerts on April 16 with performances of Beethoven's String Quartet Op.18, No.6 and Op.132. The Toronto concert was to follow a world tour with the theme "Beethoven Live Around the World" that has resulted in live recordings of all 16 quartets. The next day, April 17, the ensemble had planned to begin a complete traversal of the quartets in Zankel Hall, NYC. What insights would they have conveyed, what power, what joy? YouTube offers some consolation with their six-year-old video of Op.132 from Festival Wissembourg in Alsace and a three-year-old version of Op.131 also from Wissembourg. From seven years ago, there's a spirited NPR spot where each Ébène member says a few words about their favourite quartet before selecting Op.131 as the group's consensus pick. "It's so intimate, so beautiful … leading to a heavy metal finale."
Confluence: As I write this (March 20), Confluence Concerts' artistic director Larry Beckwith has begun a blog in which he aims to analyze a Beethoven string quartet each day for 17 days. Informative and diverting despite its relative brevity, it's worth a read at confluenceconcerts.ca/new-blog. Thoughtfully, Beckwith adds the performers he's listened to for each and where to find each performance.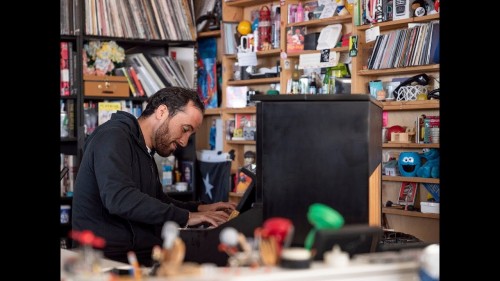 NPR Music, specifically their Tiny Desk Concerts, is a treasure trove of multi-genre performances, all under 30 minutes. A recent delight featured Igor Levit – why has he not been heard in Toronto? – introducing and playing up-close-and-personal selections from two Beethoven sonatas and Für Elise, last November. Bent over the keyboard of a small upright piano, his delicate, rigorous touch coming from a position of strength, he played the first movement of the "Moonlight" sonata. Next came the second movement of Sonata No.10, Op.2, which he called one of the funniest and wittiest of the sonatas. Levit drew out its cartoonish quality, tongue clearly in cheek all the way to the double-barrelled surprise at the end. The concert concluded with Bagatelle in A Minor "Für Elise," which he characterized as "a total eye-roller, one of the most beautiful treasures ever written."
Levit is one of many musicians in a growing list that Gramophone magazine's streaming service has made available for these self-isolating times. Go to gramophone.co.uk (their website) for streaming or the hashtag #gramophone (on Twitter) if you are an artist and would like them to watch your performance for possible inclusion. Among the many participants as the calendar turns to spring are Gautier Capuçon, Yo-Yo Ma, Alisa Weilerstein, Tafelmusik's bassoonist Domenic Teresi, Boris Giltburg and James Rhodes.
Three at Koerner: The immensely likable James Rhodes was the first of three singular concerts I was able to hear in Koerner Hall, March 5, 6 and 8 before the world changed. Rhodes (whom I interviewed for WholeNote's March issue) began with a Bach prelude in honour of Glenn Gould before playing – straight through with no break, like a rock concert – three Beethoven sonatas, and three encores to satisfy the enthusiastic crowd. The sheer lyricism and heartfelt beauty of Giovanni Sgambati's arrangement of the Melody from Gluck's Orfeo ed Euridice touched me the most.
South Korea-born violinist Kyung Wha Chung, who is celebrating her 50th year as a performer, made her Koerner Hall debut on March 6 with a substantive program of Mozart, Beethoven and Franck. Her beautiful round tone seemed to be an outgrowth of, and throwback to, violinists of the first half of the 20th century. Her straightforward demeanour belied the luminous sounds she and her longtime collaborative pianist, Kevin Kenner, produced – judicious phrasing and dynamics that illuminated the composers' scores, from the riches of Franck's Violin Sonata in A Major to the second movement of Mozart's Violin Sonata No.21 in E Minor, K304, which floated so naturally into the ether.
Hélène Grimaud's recital on March 8 was notable for its curatorial first half comprised of a mesmerizing hour of 13 works by Silvestrov, Debussy, Satie and Chopin chosen by the pianist to reflect "transparent textures, nostalgic, melancholic moods, cyclical structures… I think of the works as a sequence of crystalline miniatures, capturing time," she wrote. "It serves to conjure atmospheres of fragile reflection, a mirage of what was – or what could have been." A phrase that takes on more weight given our evolving circumstances.
For a taste of the Koerner Hall experience, RCM's Live from Koerner Hall Concert Livestream is available from rcmusic.com/performance and free to all. There are currently 27 concerts available including Barbara Hannigan and Reinbert de Leeuw's memorable salute to fin de siècle Vienna and the Second Viennese School; Terry Riley Live at 85; Stewart Goodyear; the Dover Quartet with Avi Avital; Kronos Quartet with Tanya Tagaq; and a number of world music and jazz performers (Robi Botos and Kenny Barron stand out).
Be well. Keep your social distance. Partake of music where you find it: on vinyl; on disc; on a streaming service; on YouTube. And remember before going to sleep, we're one day closer to the end of the pandemic.
Paul Ennis is the managing editor of The WholeNote.