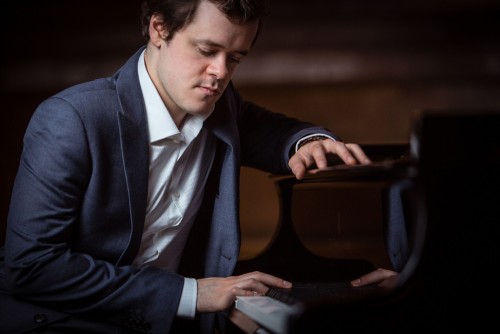 Benjamin Grosvenor first came to prominence when he won the Keyboard Final of the 2004 BBC Young Musician Competition at the age of 11. He was invited to perform with the BBC Symphony Orchestra at the First Night of the 2011 BBC Proms at 19. In the same year he became the youngest British musician ever, and the first British pianist in almost 60 years, to sign with Decca Classics. Gramophone named him Young Artist of the Year in 2012. A riveting performer with keen musical insights, many inspired by pianists of the past, Grosvenor's Music Toronto recital on March 31 marks his fourth appearance here since 2014, a testament to his prodigious talent. In the following email Q & A, which took place in mid-February, Grosvenor spoke about his latest CD and the program for his upcoming Toronto concert.
WN: I very much enjoyed your new recording of the Chopin piano concertos which I found to be highly contemporary yet informed by a sensibility reaching back into the last century. I interviewed you in the fall of 2017 and remember your response to my question "Who was the first composer you fell in love with as a child?" being Chopin. How did you decide to select his piano concertos as your first recording since Homages in 2016? How long have the concertos been part of your repertoire?
BG: I've been playing the works since I was very young. I learned the second when I was 12, and the first when I was 14 or so. My CDs to date have always included a mix of composers, and so I felt it was time to devote a disc to one single composer. Once I had decided with Decca on making a concerto recording, it felt quite natural for this to be of these pieces, since they had been in my repertoire for so long and given my long-term connection to this composer in particular.
How did your experience playing the chamber music version of the first concerto inform the recording?
I enjoyed playing the chamber versions of both works with the Doric Quartet last year. In the version made by Kevin Kenner (including double bass, which is I think is very important in this enterprise to give an orchestral sound to the strings) they are very effective and one hears lines in the orchestral writing with more clarity than in live performances of the works with orchestra. One principal 'problem' with the orchestration is that there are a number of undoubled wind lines (particularly in the sections of the opening movements where the piano has churning semiquavers) that in a live performance with orchestra can get lost. It is possible on a recording though to change the focus so that these come through, and we all felt that this should be a priority. I think that with these pieces, as with any concerto, it is important to study also the orchestral parts, and playing the chamber versions heightened my knowledge of these.
Did you draw inspiration from any Chopin recordings from the past?
I find that when preparing a work it is important to listen widely, to artists who approach it from different directions in terms of aesthetics. There are fascinating recordings for example by Noel Mewton-Wood, where he has a very Mozartian way with the music. Some recordings that have been particularly influential over the years though, in one concerto or the other, have been Cortot, Hofmann, Lipatti and, of the modern era, Martha Argerich.
What conductor or other musician of the past would you have liked to work with?
One name that immediately springs to mind from the recording era is Wilhelm Furtwängler. I have always found his interpretations fascinating, and his flexible organic approach with Beethoven in particular to be incredibly moving and inspired.
Turning to your Music Toronto recital on March 31, what considerations went into devising the program?
I thought that in this year of Beethoven celebrations, I should include one of his sonatas in my program. I have always enjoyed Op.7, which I would say is neglected relative to its merits and charms. Kreisleriana is perhaps emotionally a kindred spirit – both with a lot of lyricism, but with unpredictably tempestuous outbursts. The Rameau makes for a good way to open a recital, and the Liszt Faust transcription is a good way to end.
Rameau's Gavotte and Variations in A Minor would have fit nicely into your Dances recording from 2014. What drew you to it? Can we look forward to a Dances 2 CD?
I came to this work initially through the recording by Benno Moiseiwitsch, which has some adaptations by Leschetizky. It was quite a popular work by artists of that generation, with recordings also by Cherkassky, Marcelle Meyer and others. It is a very effective set of variations, virtuosically inclined. As with most Baroque music on the piano, there is a range of possibilities in terms of conceptual and stylistic approach that are interesting to explore. There are no plans for Dances 2 at the moment, but it is a nice idea!
Beethoven's Piano Sonata No.4, Op.7 has been in your repertoire for many years. When did you first begin playing it? How has your approach to it evolved?
I played this one for a season in around 2013 or so. It's hard to say how my approach has evolved. With any piece one's views naturally change over time, but I also don't necessarily remember everything that I did last time I played the work. I'd probably say that on a large scale in this work not much has changed, but there are many small details that I may have approached differently this time.
Do you have any further plans for performing Beethoven in this 250th anniversary year of his birth?
I am playing some of the concerti in the latter half of the year, and also at that point I will be introducing Op.101 into my repertoire. I will have some all-Beethoven recitals with Op.7, Op.101 and Op.27 No.2, and then Op.101 continues into 2021.
The second half of your Toronto recital begins with Kreisleriana, Schumann's passionate, novelistic love letter to his future wife, Clara Wieck. How does it speak to you?
It is a rich and enigmatic work, that is a thrilling piece to study and perform, filled with so many different emotions. At this time, his romance with Clara was forbidden by her father, and it seems to me an embodiment of all he was feeling in the moment, penned as it was over four days in a fit of inspiration. Full of moments of tenderness, intimacy, humour, there are also outbursts of frustration and anger. The novelistic influence is of course also interesting, and I think Schumann saw something of himself in the bipolar personality of Johannes Kreisler.
Leslie Howard wrote of Liszt's "ingenious elaboration" of Gounod's Valse de l'Opéra Faust that "Musically, Gounod is transformed and transcended at a stroke!" What attracted you to it? How would you characterize it?
I think there is genius in all of Liszt's opera transcriptions. He takes the material and the essence of the opera and weaves with it his own rich musical tapestry. There is certainly something transcendent to this one – the bombast of the opening section waltz is balanced perfectly by his illuminating figuration in the central lyrical section, and emerges as a work with more deliciousness, humour and personality than the original.
Music Toronto presents Benjamin Grosvenor on March 31 at 8pm in the Jane Mallett Theatre of the St. Lawrence Centre for the Arts.
Classical & Beyond QUICK PICKS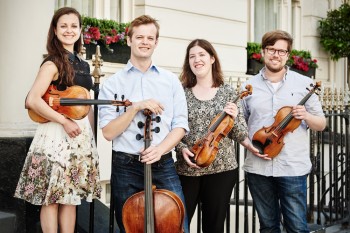 MAR 10, 12PM: The youthful, London-based Castalian String Quartet stops by the Richard Bradshaw Amphitheatre on their way to Carnegie Hall for this COC free noon-hour concert featuring Dutilleux's Ainsi la nuit and Schumann's String Quartet No.1, Op.41 No.1.
MAR 12, 12:10PM: U of T Faculty of Music presents the Calidore String Quartet (the James D. Stewart quartet-in-residence) celebrating their tenth anniversary with "Beethoven and the Fugue", a free concert of Beethoven's music in Walter Hall.
MAR 13, 7:30PM; MAR 14 & 15, 8PM: Acclaimed Deutsche Grammophon recording artist, Sergei Babayan, known for his vast repertoire of 54 concerti, his two-piano partnership with Martha Argerich and his mentorship of Daniil Trifonov, joins the TSO and conductor Jader Bignamini for a performance of Tchaikovsky's monumental Piano Concerto No.1. Bignamini, resident conductor of the Orchestra Sinfonica la Verdi and music director designate of the Detroit Symphony, also leads the TSO in Ravel's colourful orchestration of Mussorgsky's Pictures at an Exhibition.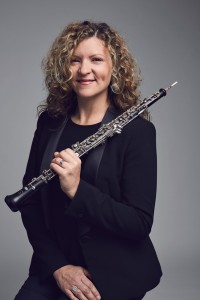 MAR 14, 7:30PM: TSO principal oboist, Sarah Jeffrey, joins Gemma New and the Hamilton Philharmonic Orchestra for Vaughan Williams' pastoral Oboe Concerto. Elgar's Serenade and Haydn's "London" Symphony No.104 add to the British atmosphere.
MAR 19, 8PM: Music Toronto presents the Pavel Haas Quartet, winners of six Gramophone Awards and known for their rapport and immersive approach, playing Martinu's Quartet No.4, Bartók's Quartet No.4 and Beethoven's divine Quartet in B-flat Major, Op.130 and "Grosse Fuge" Op.133.
MAR 22, 3:15PM: Andrew Wan, concertmaster of Orchestre symphonique de Montréal and a member of the New Orford String Quartet, teams up with his recording partner, pianist Charles Richard-Hamelin, silver medalist and laureate of the Krystian Zimerman prize at the 2015 International Chopin Piano Competition, for three of Beethoven's violin and piano sonatas: No.4 in A Minor, Op.23; No.10 in G Major, Op.96 "The Cockcrow"; and No.9 in A Major, Op.47 "Kreutzer". Mooredale Concerts presents the duo at Walter Hall.
MAR 26, 12:10PM: U of T Faculty of Music presents acclaimed pianist Dénes Várjon (this year's Lorand Fenyves resident artist) in a free solo recital in Walter Hall.
MAR 26, 7:30PM: Join conductor Gemma New and members of the Hamilton Philharmonic Orchestra for an unconventional, intimate, multi-sensory experience that integrates visual and multimedia arts in The Cotton Factory. Music is by Mendelssohn, Shostakovich, Tse, Ryan, O'Callaghan and Palej.
MAR 28, 7:30PM: The Academy Concert Series "Goin' Fishing" is an inventive piece of programming with three works for piano, violin, viola, cello and double bass: Ka Nin Chan's Salmon Quintet; Vaughan Williams' Piano Quintet in C; and Schubert's delightful "Trout" Quintet. Consummate chamber musician Phil Chiu is the pianist; Amanda Goodburn, violin; Emily Eng, viola; Kerri McGonigle, cello; Joseph Philips, bass.
MAR 29, 3PM: Amici, and special guest, Yehonatan Berick, revisit the tradition of silent films with live music. Man Ray's Emak-Bakia, Guy Maddin's Heart of the World and Buster Keaton's The Playhouse will be shown; music by Milhaud, Kradjian, Poulenc, Rota and Saint-Saëns. At the Isabel Bader Theatre.
APR 1 & 2, 8PM; APR 4, 8PM; APR 5, 3PM: Piano wunderkind Jan Lisiecki, Gramophone's 2013 Young Artist of the Year, now 25, joins former TSO music director, Jukka-Pekka Saraste, in two programs featuring Beethoven's much-loved Leonore Overture No.3 and his exultant Piano Concerto No.5 "Emperor". On April 1 and 2, at Roy Thomson Hall, Schoenberg's symphonic poem, Pelleas und Melisande, considered one of the "last gasps of Romanticism", completes the concert. It's replaced by Beethoven's dramatic Piano Concerto No.3 on April 4, at RTH, and on April 5 at George Weston Recital Hall.
APR 3, 7PM: Violinist Pamela Frank and pianist Emanuel Ax resume their productive musical partnership with this Koerner Hall recital comprised of two Mozart violin sonatas (K379 and K454) and Beethoven's Violin Sonata No.10 in G Major, Op.96 "The Cockcrow".
APR 3 & 4, 8PM: The youngest of the three musical sisters of the Skride family (Baiba's impressive TSO debut in Brahms' Violin Concerto four years ago still lingers in my memory), Lauma Skride, is the soloist with the Kitchener-Waterloo Symphony and conductor Andrei Feher in Schumann's masterful Piano Concerto. Brahms' profound Symphony No.4 completes the program.
APR 3, 8PM: Gifted cellist, Stéphane Tétrault, headlines Sinfonia Toronto's Glenn Gould Studio concert in Schumann's ravishing Cello Concerto. Conductor Nurhan Arman also leads his string orchestra in works by Bacewicz and Prokofiev. Grażyna Bacewicz (1909-1969) was a Polish composer and violinist, only the second Polish female composer to have achieved national and international recognition. According to Sinfonia Toronto's program note, her Concerto for String Orchestra, composed in 1948, became one of her most frequently performed compositions. "This masterpiece of neoclassicism fascinates as much by its invention and virtuosic brilliance as its harmonious combination of formal elements of a traditional nature with new tonal ideas."
APR 5, 1PM: Vietnamese-Canadian pianist Dang Thai Son caught the world's attention in October 1980, when he won the Tenth International Chopin Piano Competition in Warsaw, becoming the first Asian-born competitor to do so. Montreal-based, his teaching and coaching skills are in demand as is his concertizing worldwide. For this rare local appearance in Mazzoleni Hall, he performs works by Debussy and Chopin. Free tickets will be available from the RCM beginning March 30.
Paul Ennis is the managing editor of The WholeNote.