This month there is a panoply of young talent on display in various stages of development with many opportunities to see and hear potential musical stars, some of them in more intimate surroundings than the future may bring.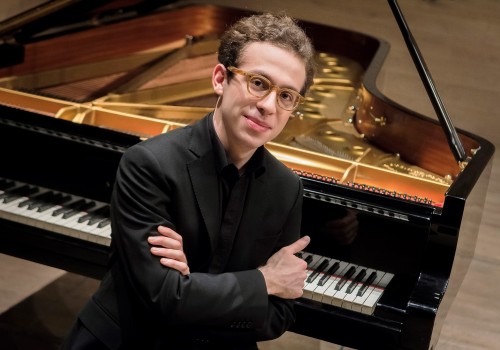 Nicolas Namoradze: One such artist is Nicolas Namoradze, who came to international attention when he was 26 years old after winning the 2018 Honens International Piano Competition in Calgary. Honens is proud of their reputation for discovering and nurturing talent for the 21st century and Namoradze is now in the second year of Honens' three-year development program that includes management and mentorship opportunities. He will do well if he is able to follow in the footsteps of 2012 laureate Pavel Kolesnikov, now reaping the rewards of his Hyperion Records exposure, and indications are that he may well do so. Namoradze's performances to date have been hailed by critics as "sparkling… sensitive and coloristic" (New York Times) and "simply gorgeous" (Wall Street Journal). One of his former teachers, the widely respected Emanuel Ax, said that Namoradze is set to become one of the truly important artists of his generation.
Born in Georgia and raised in Budapest, he grew up on a diet of great Hungarian composers like Bartók, Ligeti and Kurtág, as well as Liszt. But as he told Pamela Kuhn on her radio program Center Stage: "Everyone plays Liszt." As an infant he would "get stuck" listening to Verdi and Wagner. "You could not drag me away," he said. He began instrumental studies at seven with the piano, but before that he was obsessed with The Beatles and for a short period, AC/DC. Once he began to play, he lived strictly within the classical world. And apart from an interest in jazz, he still does.
Georgian is his mother tongue but if pressed he considers himself a European New Yorker who feels Georgian. Ax invited him to study at Juilliard when they met, when Namoradze was a teenager in Budapest. He accepted once he was ready to study for a master's degree. He's now pursuing a PhD at the CUNY Center. His daily regimen includes no more than four hours of physical piano practice, plus a lot of practice mentally. He does yoga, qi gong and tai chi; he's big on meditation as well. "It helps with competitions and flying into same-day concerts," he said. "It takes me and the audience to somewhere else."
He's also a composer who studied with John Corigliano. Namoradze spoke with Kuhn about Georgian folk music, which he called "one of the wonders of the musical world," and which has influenced his composing. "It's a musical tradition that came to tonal harmony from a completely different route," he said. "And by the tenth and eleventh century; earlier than tonal harmony became established in Western music."
"Georgian folk music was almost entirely vocal and that means that the tuning system had very little to do with what we call equal temperament," he explained. "In Georgian folk music there is no octave -- the most stable interval is the third. You stack two thirds on top of each other and you get a triad!" He spoke of its great diversity and complex polyphony and how certain aspects of the way it treats polyphony and counterpoint influenced his composing approach.
Highlights of the current season include a critically acclaimed, sold-out Carnegie debut recital at Zankel Hall, about which ConcertoNet wrote: "[Namoradze] is a pianist who proved that, once in a while, the distinguished members of the jury make a good choice and select a winner who plays like a true artist; who impresses not with pyrotechnics but rather with keen intelligence, a rich tonal palette and refinement … It was a most auspicious debut by an artist representing that rare breed, a thinking virtuoso." Two other highlights await this rising star: a recital at London's Wigmore Hall and a recording on Hyperion -- the label of Hamelin, Hough and Hewitt.
Meanwhile, his COC free noon-hour recital on November 19 includes his own Etudes I-VI in addition to Scriabin's Etudes Op.42.
Two More COC Noon-Hour Concerts of Interest
Born in 1991, pianist and composer Philippe Prud'homme began his piano studies at 12 with professor Gilles Manny. At 16, Prud'homme was accepted, under special circumstances, to the Université de Montréal without even finishing his secondary school education and with only four years of piano under his belt. He earned his master's with highest distinctions in the class of Dang Thai Son before beginning another graduate degree at the Conservatoire de Montréal in 2015 with Louise Bessette.
Well-known in Quebec, Prud'homme has won first prize at the Canadian Music Competition several times, in the solo piano category, as well as in chamber music. He is particularly interested in the works of Frederic Rzewski and François Morel. In 2016, Prud'homme took home the grand prize at the CMC in the 19-30-year-old category by performing Prokofiev. A few weeks later, he was part of CBC Music's 30 Hot Canadian Classical Musicians under 30. Soon after, he began his doctorate with Dang Thai Song at the Université de Montréal. His COC concert, November 14, features Liszt's La Vallée d'Obermann and Prokofiev's Sonata No.4, bracketted by Chopin and Hamelin.
In addition, a week earlier, November 6, Artists of the Royal Academy of Music in London join with Artists of the Royal Conservatory in Toronto to perform Weinberg's Piano Trio Op.24 and Hartmann's String Quartet No.1. It's a rare opportunity to hear students from two venerable musical institutions on the same stage.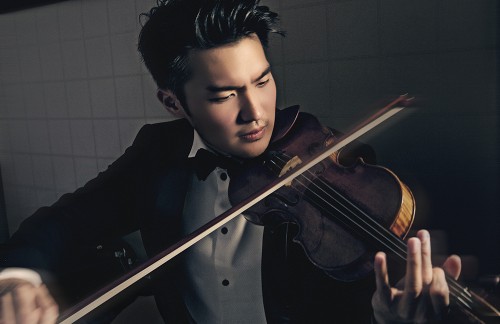 Ray Chen
Born in Taiwan and raised in Australia, 30-year-old Ray Chen was accepted by the Curtis Institute of Music at 15 where he studied with Aaron Rosand. He won the Menuhin Competition in 2007 and the Queen Elisabeth of Belgium Competition in 2008, two prestigious prizes that raised his profile and established his professional career. He's known for his vital social media presence where he interacts with his audience. He once performed in front of 800,000 people on Bastille Day in Paris and he has appeared on the Amazon series, Mozart in the Jungle. And he produced the lush sound that came out of Clive Owen's character's violin, jumping off the screen in François Girard's new film, The Song of Names. He plays the Stradivarius violin once owned by the legendary Joseph Joachim, on loan from the Nippon Music Foundation, with a luxuriant sound reminiscent of David Oistrakh.
The program for his Koerner Hall recital with American pianist Julio Elizalde, on November 8, begins with Grieg's Violin Sonata No.2 in G Major, Op.13, "written in the euphoria of my honeymoon" and brimming with Norwegian folk music references. Saint-Saëns' finely crafted Violin Sonata No.1 in D Minor, Op.75 is next followed by Bach's monumental Chaconne from Partita No. 2 in D Minor for Solo Violin, BWV1004, Debussy's ever-popular Clair de lune (arr. Roelens) and Ravel's flamboyant Tzigane.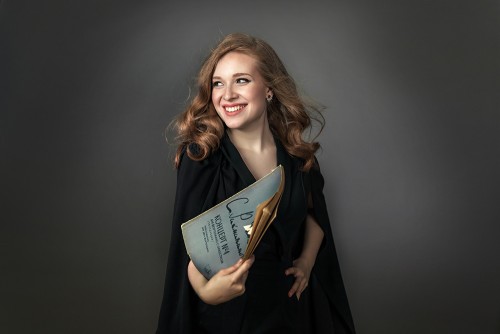 Gallery 345
Gallery 345's abundant programming continues this month with further installments of the Art of the Piano series and more. Piano 6 Next Generation-member Anastasia Rizikov has dazzled the world ever since her orchestral debut in Kiev at seven. Now 20, having competed with musicians over twice her age in winning numerous international piano competitions, she has entered a new stage in her career. Her November 14 recital is built to please, beginning with three major works by Chopin. After intermission, Burge, Arensky, Scriabin, Rachmaninoff and Balakirev's devilishly difficult Islameny will further showcase her musical skill set.
Ida Pelliccioli is a 31-year-old Italo-Croatian pianist who grew up in France. Her program, November 29, aims to create echoes between the music of Debussy and that of two composers who influenced him: Rameau and Albeniz. Debussy described Rameau as the pinnacle of the French tradition; his Suite in E Major opens the recital followed by Debussy's Hommage à Rameau. Debussy was fond of reimagining the music of other countries and Spanish idioms inspired some of his most animated music. Three of the pieces Pelliccioli will play are also linked by the same element of inspiration: Albeniz's La Vega was also called Alhambra Suite; Debussy's La Puerta del Vino refers to the gate of the same palace in Granada; and finally, Debussy's Soirée à Grenade" uses the Arabic scale and mimics guitar strumming to evoke images of this same land and heritage.
NYOC/EUYO Frenergy Tour
The National Youth Orchestra of Canada (NYO Canada) and the European Union Youth Orchestra (EUYO) join forces for The Frenergy Tour, a landmark collaboration and celebration of music and friendship, featuring a combined total of 76 outstanding young musicians under the baton of acclaimed Viennese conductor Sascha Goetzel, with music by Rossini, Ravel, Saint-Saëns, Stravinsky and Wagner, as well as Canadian composer John Estacio's Frenergy for orchestra. JUNO-nominated, burgeoning-star violinist and NYOC alumnus, Blake Pouliot, is featured as guest soloist in two virtuoso showpieces: Saint-Saëns' Introduction and Rondo Capriccioso and Ravel's Tzigane. This groundbreaking tour comprises concerts in Toronto (Koerner Hall November 12), Kingston (Isabel Bader November 13), Montreal (November 14) and Ottawa (November 17).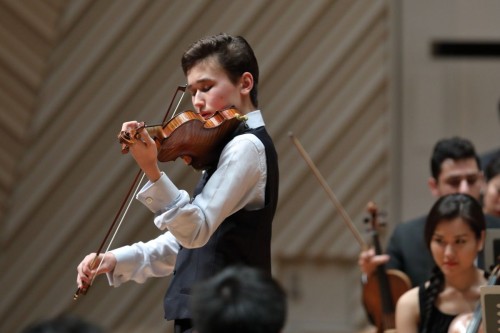 TSO Marks the Hits
On November 27, 28 30 and December 1, 18-year-old Swedish-born violin phenom, Daniel Lozakovich, is the soloist in Tchaikovsky's Violin Concerto, a Romantic masterpiece that is the featured work on his just-released, second Deutsche Grammophon CD. Lozakovich began playing the violin before he turned seven and made his debut two years later with Vladimir Spivakov and the Moscow Virtuosi Chamber Orchestra. His first appearance on DG came as a 15-year-old when Daniel Hope invited Lozakovich to join him in playing a selection of Bartok's Duos for two violins on his Tribute to Yehudi Menuhin CD. Rounding out the all-Tchaikovsky program, TSO resident conductor Simon Rivard leads the orchestra in the composer's beguiling Symphony No.1 "Winter Dreams" and the iconic 1812 Overture.
That program is the culmination of a month of orchestral favourites that begins November 13 with Sir Andrew Davis conducting Shostakovich's Symphony No.10, arguably the composer's greatest symphony. Concertmaster Jonathan Crow leads the TSO in Vivaldi's The Four Seasons and Copland's Appalachian Spring, November 16, 17, 20 and 21. And Leonard Slatkin makes a rare TSO appearance, November 22 and 23, conducting Gershwin's joyous An American in Paris and Barber's intensely emotional Piano Concerto (with soloist Jon Kimura Parker).
CLASSICAL AND BEYOND QUICK PICKS
NOV 7, 7:30PM: Stewart Goodyear joins the legendary Fine Arts String Quartet in a performance of Brahms' Piano Quintet in F Minor Op.34 at Isabel Bader Centre for the Performing Arts, Kingston.
NOV 10, 2PM: Chamber Music Hamilton presents the Fine Arts String Quartet playing Beethoven's String Quartet Op.18 No.1 and, with cellist and Chamber Music Hamilton co-artistic director Michael Schulte, Bruckner's unique String Quintet.
NOV 13, 8PM: Violinist Kerry DuWors and pianist Futaba Nickawa were students at the Eastman School of Music when they founded duo526 in 2011. Their acclaimed new Navona CD, Double Fantasy, features works by Villa-Lobos, Bax and Bolcom, which comprise the bulk of their recital for the Kitchener-Waterloo Chamber Music Society (K-WCMS). On NOV 16 at 7:30, the duo repeats their program at Gallery 345 in Toronto. Gramophone Magazine praised their recording, calling them a "beautifully balanced duo, with exceptional intonation and a tangible empathy."
NOV 16, 8PM: The ever-elegant pianist David Jalbert, fresh from his impactful participation in Music Toronto's spectacular Piano Six New Generation concert on October 22, gives a solo recital for K-WCMS headed by Debussy's poetic Images Book I and II.
NOV 17, 2:30PM: The formidable Jonathan Biss performs five Beethoven piano sonatas, from the early Op.7 to the celestial Op.109, at the Isabel Bader Centre for the Performing Arts, Kingston.
NOV 17, 3PM: Recalling two prior visits to Koerner Hall – his memorable Soundstreams performance of Max Richter's Vivaldi Recomposed and subsequent Tribute to Yehudi Menuhin – violinist Daniel Hope returns with his new band, the Zurich Chamber Orchestra, to perform works connected to Menuhin as well as Vivaldi's The Four Seasons.
NOV 23, 7:30PM: Pianist Yefim Bronfman brings his virtuoso talent to a program of Beethoven and Brahms at the Isabel Bader Centre for the Performing Arts, Kingston. NOV 24, 3PM: It's all Beethoven – Sonatas Nos.7, 8 and 9 as well as No.23 "Appassionata" – when Bronfman comes to Koerner Hall.
NOV 29 AND 30, 8PM: Sparkling violinist, Blake Pouliot, joins conductor Andrei Feher and the Kitchener-Waterloo Symphony in a performance of Brahms' unforgettable Violin Concerto.
NOV 30, 7:30PM: Bravo Niagara! presents cellist Ofra Harnoy who continues her remarkable recovery from reconstructive shoulder surgery in 2015. Her Niagara-on-the-Lake recital features music by Bach, Corelli, Popper and a Beatles Medley, supported by her husband, Mike Herriott, on flugelhorn and trumpet. Herriott produced Harnoy's latest recording, Back to Bach, much of which is the basis for this recital.
DEC 1, 3PM: The first American in three decades and the youngest musician ever to win First Prize at the International Tchaikovsky Competition Cello Division, 20-year-old Zlatomir Fung (who is of Bulgarian-Chinese parentage) is poised to become one of the preeminent cellists of our time. Joining him in this Syrinx Concerts presentation, in the intimate surroundings of Heliconian Hall, are pianist Jean-Luc Therrien, a Jeunesses Musicales Canada alumnus, and violinist Mai Tategami, Orford Music Prize-winner. Piano trios by Haydn, Clara Schumann, Chan Ka Nin and Mendelssohn are enticing.
Paul Ennis is the managing editor of The WholeNote.