As summer fades into fall, it's time for one last lingering look at Toronto Summer Music's 2019 season. I was fortunate to attend 16 events this year, nine mainstage concerts, five edifying TSM Connect sessions, one Shuffle Hour solo recital (excerpts from violinist Jennifer Koh's Shared Madness project) and one reGENERATION concert. [See my two Concert Reports on thewholenote.com.] Several of the mainstage concerts were among the ten that were sold-out. Spontaneous standing ovations were the rule – Jonathan Crow and Philip Chiu's recital on July 29 garnered two: the first following the singular beauty, roiling intensity and dynamic contrasts of Franck's Sonata for Violin and Piano in A Major; the second after John Corigliano's Sonata for Violin and Piano, which Crow called "youthful, exciting, with lots of notes, fun to play."
The 33 Academy fellows and the 42 artist mentors entertained a record 16,000 audience members, of whom a score or so sat on the Koerner Hall stage (a TSM first!) for Angela Hewitt's idiosyncratic, wildly well-received traversal of Bach's Goldberg Variations. The recital was preceded by a conversation between Eric Friesen and the award-winning author of Do Not Say We Have Nothing, Madeleine Thien. Thien wrote her Scotiabank Giller Prize winner while listening to Glenn Gould's recordings (mostly the 1955 version) of the Goldbergs 10,000 times over the five years it took her to complete the novel. She was walking beside rail tracks in Berlin listening to music on headphones in shuffle mode when Gould's 1955 recording began to play. It had been years since she'd heard it and it "cracked her open," she said. So began her purposeful routine. Hewitt's performance on July 30 was the first time Thien had heard the piece live.
TSM's irrepressible artistic director, Jonathan Crow, was the fulcrum of the festival, essential to its success and well deserving of the accolades he received. He and several of this year's mentors will return to their main gig as members of the TSO – more on that later – but his next local appearance is an unexpected one, delightful as it promises to be.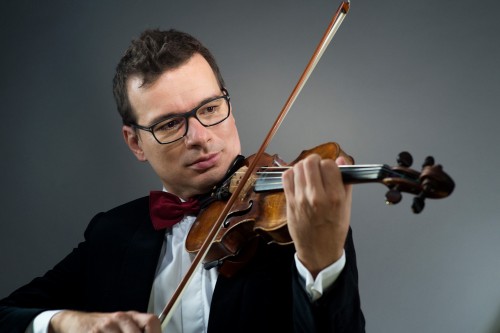 George Enescu Festival
On September 7 in Trinity-St. Paul's Centre, Crow and pianist Coral Solomon will inaugurate Toronto's part in the George Enescu Festival. "We actually centred all three recitals mainly around pieces we loved," Solomon said via email. "We also wanted to lightly centre these as a tribute to George Enescu who was one of the most remarkable musicians of 20th century Europe. An internationally acclaimed violinist, pianist, conductor, and composer who often advocated for new music and composers, as well as being an inspiring pedagogue and mentor to many prominent young musicians. We will follow his tradition and include some pieces that are not too often performed but that we are really passionate about, and hope the audience will fall in love with them as well!"
The festival began in Bucharest in 1958, three years after Enescu's death; it's been held every two years since then, with concerts throughout Romania and the world, including Canada for the first time this September. (Coincidentally, Charles Richard-Hamelin, a TSM mentor in 2019 will give two recitals in Romania as part of this year's festival.) The programs for the three Toronto recitals sparkle on paper, with exciting and varied works spread over three venues.
Crow and Solomon (who is the artistic director of the Canadian branch of the festival) fill their program with late-19th- and early-20th-century fireworks representative of Enescu's legacy. Ravel's Sonata in G Major was premiered by Ravel at the piano and Enescu on the violin in 1927; Ysaÿe's "fiery" Sonata for solo violin No.3 was dedicated to Enescu in 1923; Bartók's Romanian Dances; Brahms' Sonata No.3 for Violin and Piano; and Enescu's Toccata from Piano Suite Op.10 and Impromptu Concertant.
RCM faculty members, pianist Michael Berkovsky, violist Barry Shiffman with violinists Conrad Chow and Nuné Melik and cellist David Hetherington settle in for the second concert (at Eglinton St. George's United Church) featuring Enescu's Sérénade lointaine, for violin, cello and piano; selections from Ilan Rechtman's "very engaging" Jazzicals for Piano Trio and Paul Schenfield's Cafe Music; plus Brahms "epic" Piano Quintet in F Minor, Op.34. "In the mission of promoting young talent, this concert will also showcase a young rising star, Bill Vu from the Taylor Academy of the Royal Conservatory of Music, in a performance of a short and sweet highly virtuosic Toccata by Paul Constantinescu," Solomon said.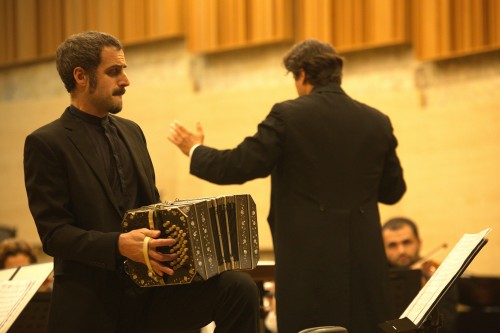 After playing Montreal on September 21, violinist Alexandru Tomescu and bandoneon master Omar Massa repeat their program on September 22 in the Glenn Gould Studio. It's a classical potpourri of Bach, Beethoven, Handel, Massenet, Kreisler, Enescu and Porumbescu miniatures before intermission "related to Enescu's inspirations from Romanian and other European cultures" and "some of the finest works by the jazz giant, Astor Piazzolla," in the second half. Tomescu's Strad – he won the right to play it by winning a competition in his native Romania – will doubtless shine.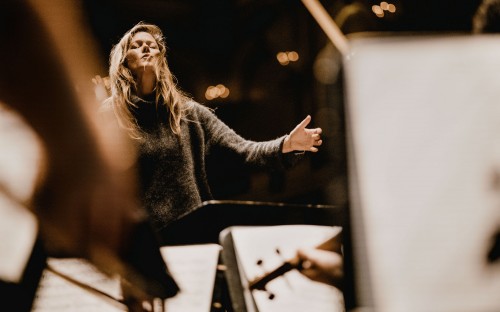 Toronto Symphony Season Begins
The TSO's season-opening concerts, September 19 and 21, will showcase the unique talents of the guest artists – Canadian soprano/conductor Barbara Hannigan and Finnish violinist/conductor John Storgårds. Hannigan, the supernova of contemporary song, who just happens to be enamoured of Haydn, will conduct Beethoven's Egmont Overture, Haydn's Symphony No.96 "Miracle" and Dutilleux's Sur le même accord for violin and orchestra, with Storgårds as soloist. Then Storgårds takes the baton for Hannigan to sing Bret Dean's And once I played Ophelia for soprano and string orchestra before leading the entire orchestra in Sibelius' Symphony No.3.
Dean's work uses Shakespeare's original lines from Hamlet to present Ophelia's thoughts, as well as what other characters say to and about her, delivered from her own perspective. The libretto is by Matthew Jocelyn, formerly artistic director of Canadian Stage. Interestingly, when Hannigan was in Toronto in March 2015 to take part in the New Creations Festival and give a lecture at U of T, she performed Hans Abrahamsen's let me tell you, the text of which (by Paul Griffiths) consists entirely of Ophelia's words in Hamlet. On September 20, Hannigan returns to U of T to give a masterclass on one of her signature roles, Ligeti's Mysteries of the Macabre, which she called her "party piece" back in 2015. "I felt that Ligeti's music was so strong that I could exist inside it," she said. "I felt I could become myself." The soloist will be Maeve Palmer, who sang Stravinsky's The Nightingale's Soliloquy in Hannigan's 2017 masterclass at the Glenn Gould School, as a Rebanks fellow.
Immediately after the September 20 masterclass in Walter Hall ends at 3pm, Hannigan and Dean will sit down for an hour-long conversation, also in Walter Hall. Both events are free to attend and highly recommended.
Ever-popular conductor Donald Runnicles returns to the TSO on September 27, 28 and 29 leading the orchestra in Brahms' bucolic Symphony No.3 and two works by Richard Strauss. TSO principal oboist, Sarah Jeffrey, brings her singing tone to Strauss' charming Concerto in D Major for Oboe and Small Orchestra before Runnicles illuminates the climactic radiance of Strauss' early tone poem Death and Transfiguration. (Jeffrey was also a mentor at TSM2019. Weeks later, I still vividly recall the lovely interplay between her oboe and Crow's violin in Schoenberg/Riehn's stripped-down chamber version of Mahler's Das Lied von der Erde played by an all-star band of virtuosi.)
Last June 28, 29 and 30, Gustavo Gimeno conducted the TSO for the first time as music director to be – his five-year contract begins with the 2020/21 season – and the result was an exhilarating evening the night I was there, a scene that reportedly repeated itself on the other nights as well. It was a love-fest of music making highlighted by the visceral virtuosity of Stravinsky's The Firebird. Gimeno returns to the RTH podium on October 9, 10 and 12 and I look forward to listening for the orchestral balance and sense of musical architecture that Gimeno evinced then in a quite different program featuring the remarkable 26-year-old pianist, Beatrice Rana, who will bring her fearless expressiveness to that bravura staple of the repertoire, Prokofiev's Piano Concerto No.3. Gemeno follows with Tchaikovsky's The Tempest Fantasy-Overture and Ravel's Daphnis et Chloé Suite No.2. After the concert, the audience is invited to stay for a chat with the personable Spaniard whose intelligence and charm were evident after the June concerts when he, concertmaster Jonathan Crow and TSO chief executive officer, Matthew Loden held a lively conversation onstage.
U of T Music Events
The new season of Thursdays at Noon free concerts begins in a big way in Walter Hall on September 12 with a performance by the venerable Gryphon Trio. The following week, September 19, Aiyn Huang and TorQ Percussion perform works by Michael Oesterle, Peter Edwards and more. Violinist Erika Raum and pianist Lydia Wong complete the month's Thursday midday concerts with Székely's Sonata for Solo Violin, Op.1 and Bartók's Violin Sonata No.2.
On September 30, fresh from mentoring at TSM, pianist Steven Philcox joins fellow U of T faculty member, soprano Nathalie Paulin, to present a program inspired by Messiaen's Chants de Terre et de Ciel (1938), a deeply personal song cycle celebrating the birth of Messiaen's son in 1937. Quartet-in-residence, the Calidore String Quartet, puts its youthful virtuosity on display as it gets an early jump on Beethoven's 250th birth-year celebrations with a program of the composer's Op.74 "Harp," Op.18, No.4 and Op.131 String Quartets.
CLASSICAL AND BEYOND QUICK PICKS
SEP 9, 5:30PM: Leaf Music presents an album release concert for Duo Kalysta's latest recording Origins. The harp (Emily Belvedere) and flute (Lara Deutch) twosome, collaborators since 2012, perform Debussy's haunting Prélude à l'après-midi d'un faune and Morlock's Vespertine I & II at Burdock Music Hall (free admission).
SEP 13 TO 15 AND 20 TO 22: The Prince Edward County Chamber Music Festival, with its distinctive and appealing program, takes over Picton's St. Mary Magdalene Anglican Church for two weekends. The A-list lineup includes the New Orford String Quartet; Jon Kimura Parker and Jamie Parker, pianist-brothers; the Gryphon Trio; soloists from Les Violons du Roy; soprano Julie Nesrallah and pianist Robert Kortgaard; and Charles Richard-Hamelin. Details at pecrmusicfestival.com.
SEP 14, 6PM: DISCoveries contributor Adam Sherkin launches The Piano Has Fallen on Your Head at Rainhard Brewery.
SEP 15, 4PM: Visiting cellist Kate Bennett Wadsworth takes time away from her Tafelmusik commitments to perform Bach's Suite No.5 in C in the Toronto Music Garden.
SEP 28, 8PM: Confluence Concerts celebrates the music of pianist-composer Clara Schumann with performers Christopher Bagan, Alison Beckwith, Patricia O'Callaghan, Angela Park and Ellie Sievers, all hosted by the engaging Tom Allen. At St. Thomas's Anglican Church, Toronto.
OCT 3, 1:30PM: The Women's Musical Club of Toronto's 122nd season opens with the effervescent Montreal-based Trio Fibonacci in a diverse program anchored by Beethoven's sparkling Piano Trio Op.70 No.1 "Ghost" – its nickname derived from its eerie-sounding slow movement.
Paul Ennis is the managing editor of The WholeNote.