Founded in 1994 by pianist Janina Fialkowska, Piano Six and Piano Plus brought live classical music events – mostly solo performers – to under-serviced parts of Canada until 2010. Over a period of 16 years, Fialkowska's efforts reached over 100,000 people directly – and tens of thousands indirectly – through over 430 events across Canada. In addition to Fialkowska, the other original members of the powerhouse ensemble were Angela Cheng, Marc-André Hamelin, Angela Hewitt, André Laplante and Jon Kimura Parker.
At each destination, a musician would collaborate with local presenters, schools and volunteers to provide multiple experiences directly with audiences, through concerts, workshops, masterclasses and Q&A sessions.
The initiative was launched in February 1995 with concerts in Toronto (broadcast on CBC) and Quebec City. Although the program concentrated on individual rather than ensemble visits, the pianists occasionally appeared together – at the Festival international de Lanaudière in 1999 and the 2000 Ottawa Chamber Music Festival, for example.
In 2017, pianist Daniel Wnukowski resurrected the original Piano Six model and relaunched it as Piano Six – New Generation. The new ensemble consists of Marika Bournaki, David Jalbert, Angela Park, Ian Parker and Anastasia Rizikov. Using many technological advances including web 2.0, social media and video streaming, Wnukowski has shifted the model to focus on the next generation of Canadians, especially post-millennials. Five colleagues joined the board having only met via Skype and Facetime.
Piano Six – New Generation will begin its first season of touring this month, starting with Wnukowski visiting Rainy River and Fort Frances in Ontario on May 6 and 8 respectively, and Fort Nelson BC on May 9 and 10, in a program he calls Piano through the Ages (Handel, Mozart, Chopin and Morawetz). Park and her program, Scenes from Nature (Chopin, Ravel, Burge, Beethoven, Lizst and Debussy), travel to Fort St. John BC (May 13 and 14) and Slave Lake in Alberta (May 16 and 17).
Then, on May 25, Bravo Niagara! will present a special Piano Six Gala Concert at St. Mark's Anglican Church in Niagara-on-the-Lake featuring Bournaki, Jalbert, Park, Parker, Wnukowski and special guest Godwin Friesen.
Wnukowski told me that the goal of the gala concert is "to leave audiences awed and inspired by the solo, four and six hands repertoire – with performances that range from scintillating to formidable. We are aiming through the May 25th concert to generate awareness about our cross-Canada tours and to garner enthusiasm and support for next year's tour," he said.
"The idea behind this particular concert program is to showcase the individual personalities of each pianist. First, we commissioned jazz composer Darren Sigesmund to write a short work involving all six pianists," he said. "And each pianist was then asked to submit a short solo piece as well as suggestions for four-hand/two-piano repertoire."
To Wnukowski's surprise, every pianist submitted a French work as their choice of a solo work! Bournaki submitted Poulenc's Trois novelettes; Jalbert chose Fauré's Nocturne No.6; Park picked Ravel's Miroirs No.3, Une barque sur l'ocean; and Friesen selected Debussy's Clair de lune. "This was an interesting coincidence," Wnukowski said, "as the harmonic progressions of Impressionism have long been considered a catalyst to the development of the jazz idiom." Ian Parker and Wnukowski also decided to jump onto the jazz bandwagon and contributed several jazz works to provide the program with better form. [Parker chose Gershwin's Three Preludes and Wnukowski picked Bill Evans' sublime Peace Piece; together they will play Gershwin's Rhapsody in Blue for their four-hands/two-piano selection.]
The French/Jazz theme has at this point taken on a life of its own, "offering a fine balance between bombastic and artful, introspective" Wnukowski said. "The program ends on a whirling tone with ecstatic, two-piano arrangements of Bernstein's West Side Story, followed by Darren Sigesmund's commissioned work for 12 hands on two pianos. We spend a great deal of time curating our programs in order to immerse our audiences in an extrasensory experience," he adds, "providing commentaries between pieces, pulling the music apart and suggesting why certain components generate specific emotional responses within listeners."
For Wnukowski, having the concert in the Niagara region is extremely meaningful; he spent his early childhood in Niagara Falls where his mother owned a children's clothing shop. "There is a great deal of sentiment for me in having the first Piano Six Gala Concert where my most precious childhood memories were formed," he said.
The Montreal Chamber Music Festival: Ludwig van Beethoven was born mid-December of 1770, likely on December 15 or 16 – his baptism was recorded as December 17 – so 2020 marks the 250th anniversary of his birth. Beethoven's music is always in the air, but there have been serious rumblings of ambitious celebrations to come in recent weeks, in programming by the TSO and Mooredale Concerts. So too the recent announcement that the Montreal Chamber Music Festival's 24th anniversary season – June 7 to 16, 2019 – will be the first of a three-year project to celebrate Beethoven, with the master composer's 250th birthday coinciding with the Festival's 25th anniversary. "Unlike any programming Montreal has ever heard," according to founder and artistic director Denis Brott, each of the 2019, 2020 and 2021 "Beethoven Chez Nous!" festivals will feature "significant cycles of complete works by Beethoven. Not only is Beethoven perhaps the greatest classical composer of all time, he also wrote the most chamber music, perfected the string quartet form, and single-handedly transitioned classical music from the classical to the Romantic era."
Two complete surveys highlight the 2019 program: 2019 Grammy Award-winner James Ehnes, with longtime pianistic partner Andrew Armstrong, will perform Beethoven's ten sonatas for violin and piano over three evenings (June 13 to 15). Gramophone magazine, in an Editor's Choice review, called the duo's recording of Sonatas 6 & 9 for Onyx Classics "a compelling addition to Ehnes and Armstrong's remarkable discography." And in an even more ambitious programming stroke, the Festival will present Franz Liszt's astonishing transcriptions of Beethoven's nine symphonies over a span of five late-afternoon concerts at Salle Bourgie (June 11 to 15). Among the most technically demanding piano music ever written, Liszt's remarkable reproductions will be performed by six pianists including Alexander Ullman, First Prize winner of the 2017 Liszt International Piano Competition (Symphonies 1 & 3); Vancouver's Jocelyn Lai (Symphonies 2 & 6); Juilliard alumnus Carlos Avila (Symphonies 8 & 7); Conservatoire de musique de Montréal faculty member, Richard Raymond (Symphonies 4 & 5); and the virtuosic David Jalbert and Wonny Song (artistic director of Orford Music and Mooredale Concerts) in a two-piano version of the Ninth Symphony. The 5pm concerts include a complimentary glass of wine!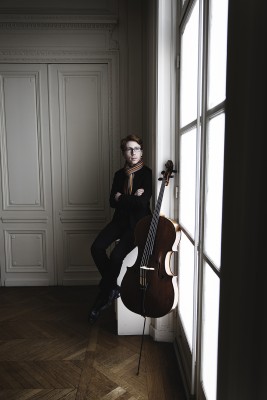 Another festival highlight: a new series of five free noon-hour concerts (June 11 to 15 at Salle Bourgie) spotlights emerging artists under 30: pianist Alexander Ullman; cellists Cameron Crozman and Bruno Tobon; and violinists Christina Bouey, Byungchan Lee and Emmanuel Vukovich. Tobon opens the series with a program devoted to cello duets (artistic director Denis Brott is the other cellist); British pianist Ullman's June 12 hour includes late Liszt and two dynamic suites (Tchaikovsky's The Nutcracker arranged by Pletnev; Stravinsky's The Firebird); Lee's program on June 13 moves from Bach to Kreisler to Prokofiev, and Ryan to Hermann in music for a combination of violinists including Martin Beaver, Heemin Choi and Amy Hillis; the June 14 concert headlined by Bouey and Vukovich also features violinists Hillis and Carissa Klopoushak and cellist Crozman in music by Ysaÿe, Honegger and Ernst's Last Rose of Summer; Crozman and violinist Lee bring their solo and collaborative skills to the June 15 program which ranges from Bach to Ysaÿe and Casado to Glière and Handel-Halvorsen.
Eager to get a start on the summer festival season? There are plenty of reasons to start in June as spring winds down. Beethoven Chez Nous beckons.
Toronto Symphony Orchestra: The TSO's season intensifies this month as the 2018/2019 season moves toward June and the next visit of music director-elect, Gustavo Gimeno. On the heels of Kerem Hasan's Beethoven's Symphony No. 3 "Eroica" the TSO turns to another English guest conductor, 33-year-old Nicholas Collon, to lead the orchestra May 11 and 12 in Beethoven's fateful icon, the kinetic Symphony No.5. Born in London, Collon trained as a violist, pianist and organist, and studied as Organ Scholar at Clare College, Cambridge. He is founder and principal conductor of the groundbreaking Aurora Orchestra, chief conductor and artistic advisor of the Residentie Orkest in The Hague, and principal guest conductor of the Guerzenich Orchester in Cologne. Israeli-born, New York resident and Juilliard grad, 43-year-old Shai Wosner is the soloist in Mozart's ever-popular Piano Concerto No.21 K467.
A month after their stirring performance of Mahler's Symphony No.2 "Resurrection," under guest conductor Matthew Halls, on May 15 and 16, the TSO takes on the composer's Symphony No.7, a work of contrasting moods, from darkness to light, an orchestral chiaroscuro, under the baton of interim artistic director, Sir Andrew Davis. The elegant Louis Lortie is the soloist in Franck's exuberant Symphonic Variations for Piano and Orchestra. A week later, May 24 and 25, Lortie and Davis return with a program of showpieces – Rossini's familiar Overture to William Tell, Saint-Saëns' late-Romantic masterwork, Piano Concerto No.4 and Respighi's electric crowd pleaser, Pines of Rome.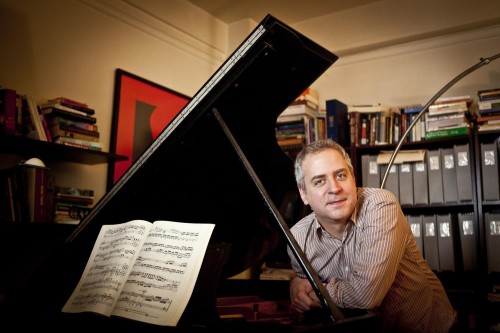 Known for what The New York Times calls "his penetrating intellectual engagement," pianist Jeremy Denk, winner of the MacArthur "Genius" Fellowship, has concocted an all-Mozart program which he will lead on May 29, May 30 and June 1. Included are the Piano Concerto No.14 (generally considered the first of the composer's mature works in that genre) and the magisterial Piano Concerto No. 25 (separated in the evening by the darkly melancholic and ethereally beautiful Rondo for Solo Piano K511).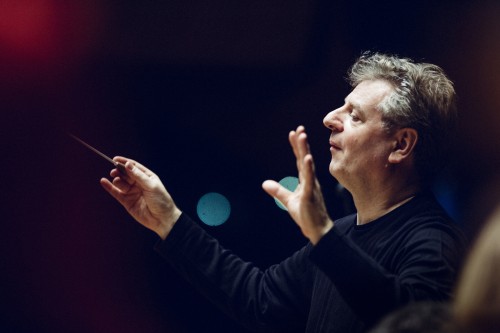 Formerly principal clarinet with the Berlin Philharmonic, German-born conductor Karl-Heinz Steffens makes his TSO debut, June 5, 6 and 8, in Brahms' inspired Symphony No.4. Earlier in the evening he and the orchestra are joined by Jan Lisiecki, the rapidly rising former wunderkind, in Mendelssohn's infectious Piano Concerto No.1 (a version of which you can find on Lisiecki's most recent Deutsche Grammophon CD).
CLASSICAL AND BEYOND QUICK PICKS
MAY 11, 7:30PM: The Georgian Bay Symphony and TSO concertmaster Jonathan Crow perform Sibelius' lush Violin Concerto at the Regional Auditorium in Owen Sound.
MAY 11, 7:30PM: Gemma New leads the Hamilton Philharmonic Orchestra in Mahler's Symphony No.5. According to Sir Simon Rattle: "Of all Mahler's symphonies, this is the one most rooted in Viennese rhythms. This makes it much tougher to play. You don't play what you see in the score. You have to play what it means."
MAY 12, 1PM: Bravo Niagara! Festival of the Arts presents pianist Jamie Parker, hornist Brian Mangrum and violinist Boson Mo in a sparkling program that ranges from solo piano (a Debussy Book Two Prélude and Brahms' quintessentially Romantic Intermezzo Op.118, No.2), piano and horn (Schumann's Adagio and Allegro Op.70) piano and violin (Franck's glorious Sonata in A Major) to all three instruments (Brahms Trio for Violin, Horn and Piano in E-flat Major). Stratus Vineyards, Niagara-on-the-Lake.
MAY 12, 2PM AND MAY 13, 7:30PM: Canzona Chamber Players present Richard Strauss' early Serenade Op.7 for 13 Winds and Mozart's great Serenade K361 "Gran Partita."
MAY 12, 5PM: Nocturnes in the City presents Montreal-based Duo Ventapane (Martin Karlicek, piano, ManaShiharshi, violin) in works by Martinú, Janáček, Dvořák and others at St. Wenceslaus Church, 496 Gladstone Ave.
MAY 21, 12PM: COC presents pianist Stéphane Mayer playing Frederic Rzewski's De Profundis. Richard Bradshaw Amphitheatre. Free.
MAY 24 AND MAY 25, 8PM: Kitchener-Waterloo Chamber Music Society presents cellist Cameron Crozman and pianist Philip Chiu performing music by Bach, Debussy, Françaix and Mendelssohn on May 24. The following evening, Jeffery Concerts presents the same program at Wolf Performance Hall, London.
MAY 25, 8PM: Gallery 345 presents James Giles in an ambitious program in their Art of the Piano series. Giles, who is based at Northwestern University in Chicago, follows a selection of Brahms' Waltzes Op.39 and Schubert's final sonata (D960) with miniatures from the piano's golden age by Godowsky, Levitski, Rosenthal, Friedman and Paderewski.
Paul Ennis is the managing editor of The WholeNote.