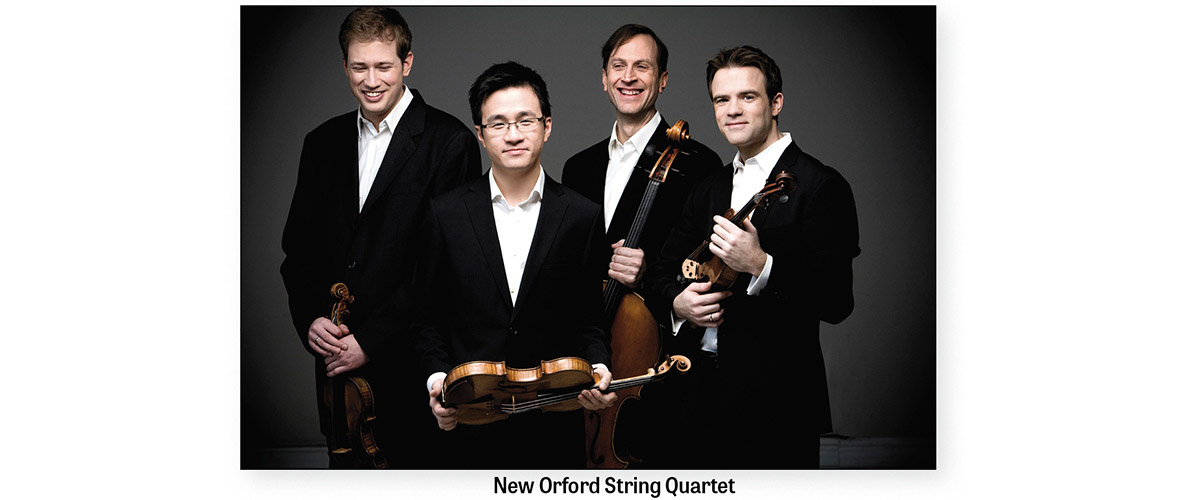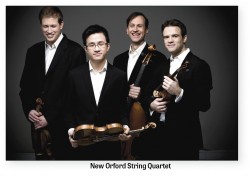 The New Orford String Quartet, founded in July 2009, takes its name from the trailblazing Orford String Quartet whose 26-year career ended in 1991. The New Orford's pedigree is impressive: violinists Jonathan Crow and Andrew Wan, respectively concertmasters of the Toronto Symphony Orchestra and Orchestre Symphonique de Montréal; Eric Nowlin, principal viola of the Detroit Symphony Orchestra; and Brian Manker, the OSM's principal cello. Their concert April 23, the finale of Mooredale Concerts' current season, is the quartet's third appearance with Mooredale since 2012.
Terry Robbins wrote about their latest CD of Brahms' two Op.51 Quartets in his February 2016 Strings Attached column for The WholeNote: "Just about all of the Brahmsian qualities you would want to hear are present: these are warm, passionate, nuanced, beautifully judged and balanced performances, full of that almost autumnal, nostalgic introspection so typical of the composer and with a lovely dynamic range."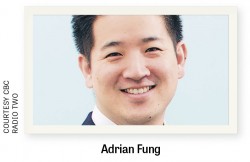 Notwithstanding the JUNO nomination (Classical Album of the Year: Solo or Chamber Ensemble) for that Brahms' String Quartets CD, which includes the A Minor Op.51 No.2 that they will perform April 23, the highlight of the afternoon will be the opportunity to hear Schubert's Quintet in C Major D956 which represents the peak of chamber music writing. I asked Mooredale Concerts' artistic director, Adrian Fung (also the cellist of the Afiara String Quartet, who will be playing the Cello II part in the concert), when he first heard Schubert's Quintet in C. He said it was a recording with the Cleveland Quartet and Yo-Yo Ma. Fung was about 10 or 11, shortly after he had begun the cello. "It was transcendent," he said. "And only later did I realize how few recordings (and performances!) respect the true dynamic markings in the first movement (where the two-cello theme is intended within a pianissimo dynamic)."
"I was moved by the sheer complexity and scope of intention," he told me. "It is incredible how each of the two cellos enables the other to let go of a supporting bass line and soar as a melody. In string quartets, when the cello soars, usually the viola needs to step in as best as it can to provide resonance below. In this work, there is an incredible spectrum of sound because of the equal balance of two violins, one viola, and two cellos. One would think there would be more cello quintets!"
His favourite configuration for performances of the work, he says, is "an established quartet playing with a guest cellist. There is so much poetry in how a group's existing cellist plays a welcoming role – musically – to a 'brother/sister' joining for this masterwork. I love how in the second movement, Cello II gets such a spotlight playing a recurring, transcendent, low bass line that is at once melismatic [and] a deep pondering of life's meaning."
Fung first heard the piece live when he was about 15 or so (and a student at different chamber music festivals), performed by various faculty musicians coming together to give the work a reading. His relationship to it has continued to evolve: "From first as a listener, to having played both Cello I and Cello II parts with my own quartet (Afiara) and as a guest with other quartets, the work has opened up several unexpected riches with each performance. I have had the privilege of welcoming incredible guest cellists in my role in Afiara, learning especially from the late Marc Johnson of the Vermeer Quartet, my mentor Joel Krosnick of the Juilliard String Quartet, Denis Brott of the first Orford Quartet and Bonnie Hampton. In turn, I have enjoyed playing the work with the Alexander and Cecilia String Quartets, among others….The Schubert is truly something to behold, with so many layers becoming more apparent with each visit. One of my favourite performances of it was with my Afiara and Shauna Rolston."
As for me, I first heard Schubert's Quintet as a teenager, taken to the Eaton Auditorium by an aunt and uncle one fall afternoon. It was played by the Quintetto Boccherini and presented by the Women's Musical Club of Toronto. I had never before been so moved by a piece of chamber music. Many years and many diverse recordings since, I still relish the opportunity to hear this sublime music live.
Music in the Afternoon: The Women's Musical Club of Toronto's current season comes to a vigorous conclusion with two very different concerts. The first, on April 6, features the Toronto debut of the Aizuri String Quartet, described by WMCT's artistic director Simon Fryer in his season announcement as "four girls in residence at the Curtis Institute," in a program of "how young composers grappled with the past." It's comprised of early Beethoven (Op.18 No.6), American Caroline Shaw's Blueprint (2016), Webern's late-Romantic Langsamer Satz and Mendelssohn's String Quartet No.2 in A Minor Op.13, written in 1827, just months after Beethoven's last quartet when Mendelssohn was just 18.
Then, on May 4 it's Charles Richard-Hamelin's turn to shine. The WMCT can be justifiably proud of their prescience in awarding pianist Richard-Hamelin their Career Development Award in April 2015. Only a few months later he became the silver medalist and laureate of the Krystian Zimerman award for the best sonata at the International Chopin Piano Competition. Take advantage of his first Toronto full-fledged solo recital since then, to hear this 27-year-old Canadian whose pianism exhibits the musicianship and maturity of a more seasoned artist. His program includes an early Schubert sonata, Chopin's captivating Impromptus and Scriabin's Op.8 and 9, works which owe much to Chopin.
Lucas Debargue and the TSO. The Tchaikovsky 2015 Competition keeps on giving. In the last year Show One has presented three of its prizewinners at Koerner Hall: a unique joint recital of runner-up Lukas Geniušas and Moscow Music Critics Association prizewinner Lucas Debargue last spring was followed by the Tchaikovsky Competition first-place finisher, a polished and secure Dmitry Masleev, in March 2017. Meanwhile on December 7, 2016, the TSO and a soulful Geniušas performed Tchaikovsky's Piano Concerto No.1. Now, Debargue will join Andrey Boreyko and the orchestra for a performance of Liszt's poetic Piano Concerto No.2 in A Major, April 12 and 13.
If Debargue's backstory weren't true, few would believe it as fiction. He heard the slow movement of Mozart's Piano Concerto No.21 K467 when he was ten, fell under its spell and into the world of music. He played a friend's upright piano by ear before beginning lessons at 11 with his first teacher, Madame Meunier, in the northern French town of Compiègne. He credits her with helping him to find his way as an artist, but when he moved to Paris to study literature at Diderot University he stopped playing piano, using the bass guitar as a musical outlet. After being away from the piano for years, he accepted an invitation to a competition in his home province. He won and began an intense pupil-teacher relationship with Rena Sherevskaya in Paris at 21. The finals of the Tchaikovsky Competition marked his concerto debut. Many attributed his fourth-place finish to his unfamiliarity with playing with an orchestra, yet he walked away with a Sony Music recording contract. Now, at 26, he's bringing his spontaneous and improvisatory pianistic approach to world stages. Last year in an email he said that his goal as an interpreter of music is "to find out and then keep as much as possible the spirit of the music I play. Let it live and reach the listener by being clear and expressive."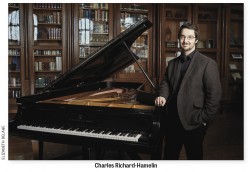 QUICK PICKS
Apr 2: Since my article in our March issue on the Church of the Holy Trinity's Piano Bravura series, 18-year-old Tony Yike Yang has been selected as one of the 30 competitors (and the youngest) for the 15th Van Cliburn International Piano Competition. Don't miss this opportunity to hear him before he heads down to Fort Worth TX in May. His formidable program includes Mussorgsky's Pictures at an Exhibition and Chopin's "Funeral March" Sonata. Apr 23: Sheng Cai's piano recital on Holy Trinity's Steinway includes two Scarlatti sonatas, Mozart's K332, Chopin's Barcarolle, Schumann's Humoresque Op.20 and Villa Lobos' Rudepoêma, written for Arthur Rubinstein.
Apr 2, 4, 5, 7, 8: The ever-resourceful Kitchener-Waterloo Chamber Music Society presents the Lafayette String Quartet playing the complete string quartets of Shostakovich. Then, Apr 30, KWCMS' season continues with a recital by the American colourist Eric Himy featuring his own piano arrangements of Debussy's Prélude à l'après-midi d'un faune and Gershwin's An American in Paris and Rhapsody in Blue. And on May 6, the Cecilia String Quartet's Music Room recital juxtaposes works by Kati Agócs and Nicole Lizée with Franck's expressive Piano Quintet in F Minor (Leopoldo Erice, piano).
Apr 4: COC's free noontime concert series features violinist Mark Fewer in "Partita Perfection." Apr 5: The series continues with Rossina Grieco in "Piano Panache." Apr 11: The COC Orchestra brass play works by Poulenc and Salonen. Apr 20: "Join the siblings of the Métis Fiddler Quartet on a musical voyage across the trade routes of the Northwestern frontier. Clap, jig and sing along with this award-winning group and discover the history of the Métis people in Canada through fiddle tunes and songs passed down by elders from across the country." May 2: The COC Orchestra winds play works by Haydn, Beethoven and Jacob. May 4: Members of the COC Orchestra perform Schubert's masterful Octet.
Apr 7: Bravo Niagara! presents Jon Kimura Parker in Beethoven's formidable Appassionata Sonata, Ravel's shimmering Jeux d'eau, Alexina Louie's Scenes from a Jade Terrace and two movie-themed pastiches by William Hirtz: Bernard Herrmann Fantasy and Fantasy on The Wizard of Oz.
Apr 8: Gemma New leads her Hamilton Philharmonic in music by Beethoven, Mozetich (with solo harpists Erica Goodman and Angela Schwarzkopf) and Mendelssohn. May 6: Lara St. John joins New and the orchestra as soloist in Korngold's Violin Concerto. The concert also includes two orchestral favourites: Strauss' Don Juan and Stravinsky's Petroushka.
Apr 8, 9: Violinist Scott St. John and violist Sharon Wei join Roberto De Clara and the Oakville Symphony Orchestra for Mozart's engaging Sinfonia Concertante for Violin, Viola and Orchestra K364; the concert concludes with Tchaikovsky's passionate Symphony No.6 "Pathétique."
Apr 9: Pocket Concerts presents a diverse, exciting program featuring co-artistic director, pianist Emily Rho. After a Glass étude (No.8) and a Mozart sonata (K310), Rho takes a break while a high-powered wind quintet performs Ligeti's compelling Six Bagatelles; then she joins them for Poulenc's highly addictive Sextet for Piano and Wind Quintet Op.100.
Apr 9: Les Amis presents Lynn Kuo, violin, Winona Zelenka, cello, and Rachael Kerr, piano, performing Schulhoff, Oesterle, Pepa and Dvořák's charming "Dumky" Trio Op.90, in Cobourg.
Apr 9: The Royal Conservatory presents the eminent pianist Louis Lortie performing Chopin's Études Op.10 and 25 and Preludes Op.28. Apr 28: RCM presents the Montrose Trio (Jon Kimura Parker, piano; Martin Beaver, violin; Clive Greensmith, cello; the latter two are former members of the disbanded Tokyo String Quartet) and friends (Barry Schiffman and Erika Raum, violins; Teng Li and Sharon Wei, violas; Desmond Hoebig, cello; and Allyson McHardy, mezzo-soprano) in a program that includes Brahms' Piano Trio No.1 and Alto Songs, plus Tchaikovsky's memorable Souvenir de Florence.
Apr 12: The Bata Shoe Museum presents the effervescent Quartetto Gelato.
Apr 16: Chamber Music Hamilton brings Quatuor Danel to Southern Ontario, a rare visit to North America for this Belgian-based quartet that is considered by some as the heirs to European quartets such as the Beethoven and Pro Arte, with whose surviving members they studied.
Apr 16: The Rosebud String Quartet, featuring COC Orchestra principal violist Keith Hamm (founder and artistic director of the Rosebud Chamber Music Festival in Rosebud, Alberta, his hometown) and COC Orchestra associate concertmaster/National Ballet Orchestra concertmaster Aaron Schwebel, performs Haydn and Schumann in historic Campbell House.
Apr 21: Remenyi House of Music presents Russian-born, British-based pianist Amiran Zenaishvili in a recital devoted to the music of Brahms.
Apr 21: TSO piccolo Camille Watts and COC/National Ballet Orchestra piccolo Shelley Brown join forces for Gallery 345's The Art of the Flute, with a little help from their friends Erin Cooper Gay, Aaron Schwebel, Keith Hamm and Britt Riley. Apr 29: The Art of the Flute continues with RCM faculty-member Sibylle Marquardt and her friends Fraser Jackson, Monique de Margerie, Paul Pulford and Michael Donovan.
Apr 21: In the penultimate concert of Jeffery Concerts' two-year traversal of the complete Beethoven Quartets, the New Orford String Quartet performs Op.18 No.3 and No.5, and Op.135; Wolf Performance Hall, London.
Apr 21, 22: Virtuoso German-Canadian cellist Johannes Moser joins Edwin Outwater and the Kitchener-Waterloo Symphony in Dvořák's grand Cello Concerto in B Minor Op.104; Brahms' glorious Symphony No.3 in F Major Op.90 completes the program. May 5, 6: Soprano Measha Brueggergosman and pianist Stewart Goodyear lend their star power to "Edwin's Pops" as Outwater leads his orchestra in PDQ Bach's hilarious take on Beethoven's Fifth and other musical jokes.
Apr 22: Estonian cellist Aare Tammesalu is the soloist for Dvořák's ever-popular Cello Concerto in B Minor Op.104, the centrepiece of Cathedral Bluffs' "Annual Fundraising Concert and Silent Auction," which also features the composer's beloved Symphony No.9 "From the New World," led by Norman Reintamm, who also happens to be Tammesalu's pianistic chamber music partner in Trio Estonia.
Apr 22, 23: Honens' 2015 Laureate Luca Buratto is the soloist in Mozart's Piano Concerto No.25 in C Major K503; RBC resident conductor Earl Lee also leads the TSO in Mendelssohn's exuberant Symphony No.4 "Italian." Apr 27: Buratto, whose first disc for Hyperion will be released later this year, gives a solo recital at the Aurora Cultural Centre.
Apr 23: Georgian Music presents the Cecilia String Quartet in Schubert's great "Death and the Maiden" String Quartet; Leopoldo Erice adds his pianism to Franck's expressive Piano Quintet in F Minor. Nadia Boulanger once said it contains more ppp and fff markings than any other chamber piece.
Apr 27: The Eybler Quartet's Heliconian Hall recital, which includes classical stalwarts Mozart's String Quartet in E-flat Major K428 and Haydn's String Quartet Op.20 No.2 in C major as well as two early quartets by Johann Baptist Vanhal, is also a CD-release concert for the group's new disc of Vanhal's Quartets Op.6 Nos.1-6.
Apr 29: TSO principal horn Neil Deland brings his ravishing sound to Brahms' Horn Trio with pianist Peter Longworth and Trio Arkel violinist Marie Bérard. The program concludes with Brahms' Piano Quartet No.2 in A Major Op. 26 with Trio Arkel violist Teng Li and cellist Winona Zelenka joining Bérard and Longworth.
Apr 29: Günter Neuhold conducts the Ontario Philharmonic in an all-Mozart program. Maria Sourjko is the soloist in the ineffable Piano Concerto No.21 K467; Jean Desmarais takes the keyboard in the delightful Piano Concerto No.17 K453. The exhilarating Symphony No.35 in D Major K385 "Haffner" concludes the evening.
Apr 30: Amici Chamber Ensemble (Joaquin Valdepeñas, clarinet, David Hetherington, cello, and Serouj Kradjian, piano) is augmented by violinist Jonathan Crow in a program that begins with Arvo Pärt's heavenly Spiegel im Spiegel and ends with Olivier Messiaen's ethereal Quartet for the End of Time; in Mazzoleni Hall.
Apr 30: Nocturnes in the City presents Slávka Vernerová-Pěchočová, a pupil of the great Ivan Moravec, playing piano music by Janáček, Schumann and Smetana.
May 5: Austrian teenager, violinist Elisso Gogibedashvili, returns to Sinfonia Toronto and conductor Nurhan Arman two years after her first appearance with them when she was just 14. The program includes Mozart's early Salzburg Symphony K137, Sarasate's virtuosic Carmen Fantasy and Schubert's "Death and the Maiden."
May 6: The Haliburton Concert Series presents the inimitable duo of Guy Few, piano/trumpet, and Nadina Mackie Jackson, bassoon, performing works by Dutilleux, Beethoven, Buhr, Rossini and Paganini.
Paul Ennis is the managing editor of The WholeNote.