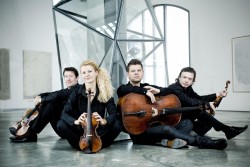 The Pavel Haas Quartet, the acclaimed Czech string quartet, makes its highly anticipated Toronto debut April 10 in Walter Hall. The music world began to take notice of the group's youthful vigour three years into the quartet's life when it won the Paolo Borciani competition in Italy in the spring of 2005. A Supraphon record contract soon led to their first two CDs containing material close to their hearts, Janáček's two string quartets and Pavel Haas' three. Their penultimate recording, a disc of Dvořák's String Quartets No. 12 in F major "American" and No. 13 in G major, was greeted with widespread critical acclaim culminating in Gramophone magazine's Record of the Year award in the fall of 2011.
I'm looking forward to their performance of Brahms Quartet No. 2 in A minor with its lovely opening movement's dusky poignancy. Like The Young Person's Guide to the Orchestra, Britten's String Quartet No. 2 in C Major celebrates the work of Henry Purcell, whom Britten rightly called "the last important figure of English music." I'm also eagerly anticipating the Pavel Haas Quartet's venture into such a singular British realm, in particular the last movement theme and variations chacony that ends with a huge celebration. They're certainly familiar with the U.K., having performed in Wigmore Hall and beyond and been artists in residence for three years in Glasgow Royal Concert Halls.
First violinist Veronika Jarůšková formed the group with fellow students of Milan Škampa, the legendary violist of the celebrated Smetana Quartet. An interview on Tokafi.com in 2007 soon after their first recording, revealed that Škampa was their biggest artistic influence: "He taught us about quartet dialogue and about life as a quartet." Their idea of what constitutes a good live performance continues to be their byword: "Most important is to hand over our feeling through music to the audience."
In an email exchange I asked founding PHQ violist Pavel Nikl how the quartet chose its name:
"It was a coincidence," he said. "At the time when we were trying to find a suitable name, a good friend of ours showed us a recording of the second string quartet composed by Pavel Haas and we liked it very much. So we asked his daughter, who still lives in Brno to get her consent to name our group after her father. She agreed. And all of us are happy that such great music [of Pavel Haas] will not fall into oblivion despite the fact he died very young [at 45] in a concentration camp and a lot of his music disappeared with him."
In a 2010 interview with Graham Strahle in the Adelaide Review, PHQ cellist Peter Jarusek (Jarůšková's husband) said that their namesake is a beacon for what the quartet seeks to achieve on an artistic level. "It is the unwavering genuineness of the man and what he did that means a lot to us. We are a young group, but that doesn't mean that we consciously set out to be more attractive, stylistically innovative or anything like that. We just try to communicate the best we can to our audience, that is with intimacy and no artifice.
Haas' music is all highly personal, original music from a man who believed very deeply in what he was doing. Throughout his music he uses many Jewish melodies, and you can feel it is Jewish. At the same time, he was fearlessly innovative. His Second String Quartet, for instance, which he called 'From the Monkey Mountains,' actually includes percussion in the last movement, and it's an absolute riot. It really is like big band music for string quartet."
In response to a question about the way the group chooses its material Nikl replied: "We try to choose pieces from every period of classical music to achieve a rich repertoire. We are lucky that no one is forcing us to play what we ourselves do not want to play. So we simply choose what we would like to play. The repertoire for string quartet is so rich that we are not able to play so much beautiful music during a lifetime. "
The quartet's most recent recording was released last September. Featuring Schubert's String Quartet No. 14 "Death and the Maiden" and the Cello Quintet with Danjulo Ishizaka, the CD has generated a major outpouring of praise. Here's an example from British blogger Peter Smith: "The Times reviewer wrote 'If CDs had grooves I would already have worn out these marvellous recordings … the perfect fusion of virtuosity and profundity.' Indeed. These performances are of a quite unworldly quality, deeply felt yet utterly thought-through, the most passionate you have heard but with moments of haunting delicacy, with an overarching architectural vision always holding it all together."
The Gramophone reviewer wrote about their "fearless risk-taking, their fervency" and "insanely memorable phrasing," calling the PHQ "absolutely mesmerizing" and "raw, visceral, and with an emotional immediacy that is almost unbearable."
Their upcoming concert presented by the Women's Musical Club of Toronto is comprised of Shostakovich's String Quartet No. 1, in addition to the Britten and Brahms, all from the same C major tonal family. When I pointed this out to Nikl, he said it was coincidence, something he had not realized until now. These pieces have only been part of the quartet's repertoire for a short time, about a year for the Brahms and Britten but less for the third. "The Shostakovich quartet is almost a new piece for us," he said.
Replying to a question about live performance versus studio work, Nikl piqued my curiosity once more about their April 1o debut. "Our approach is always the same. We try to play hard and do not distinguish whether we are playing on the concert stage or whether we are recording. But there is a fundamental difference. Unlike recording, on the stage we have just one shot for all ..."
Recent Events
Stephen Hough's masterclass at RCM's Mazzoleni Hall March 3 overflowed with insights from that most discerning of pianists:
•"Have the courage to do nothing sometimes."
•"Late Chopin – he became more interested in counterpoint – needs clarity; the right hand has to be able to whisper and still the accompaniment must be softer."
•"Descending chromatics in Western music from the Renaissance on is all about suffering."
•"Let's find a real pianissimo so that it's floating from the elbow; a real pianissimo in the concert hall makes an audience listen [as Hough's blissful unveiling of Schoenberg's Six Little Pieces in his March 2 Koerner Hall recital illustrated].
•"We have evidence (Horowitz's Rach 3) where you don't have to play all the notes; sometimes you need to thin things out – this was Horowitz's great trick. Rubinstein admitted he left out notes in Iberia by Albéniz to get the 'lift.'"
•"Some kind of musical clarity is more important than playing all the notes."
Gustavo Dudamel's visit to Roy Thomson Hall March 19 ignited his orchestra, the Los Angeles Philharmonic, and electrified the near-capacity crowd. His stellar status stems from his musical approach which energizes his players and invigorates the notes they play. The Toronto concert juxtaposed John Corigliano Jr.'s Symphony No. 1, an alternately tuneful and violent reflection of the composer's reaction to the AIDS epidemic, with Tchaikovsky's Symphony No. 5, with its own brand of fateful splendour.
Dudamel turned Corigliano's massive outpouring of pain and beauty (written at the end of the 1980s and inspired directly by the death of three of his friends) into a showcase for his superb orchestral instrument. The conductor laid bare the work's many textures, from an offstage piano quoting Albéniz to double tympani at opposite ends of the stage, from a heavenly solo cello to the stark shrill of three piccolos at triple fortissimo.
But it was the Tchaikovsky that confirmed Dudamel's reputation and justified an immediate standing ovation. He revealed the visceral power of the music, making the familiar fresh -- with great clarity throughout and restraint when appropriate, from the snark of the brass to the anguish of the strings, with perfectly phrased moments and bars snapped off as if by a bullwhip, even unearthing a note you've never really heard before.
And then, at the end, with an elegance that acknowledged his love and respect for the orchestra, he disappeared into their midst to soak up the applause.
Concert-copia
The Toronto Symphony Orchestra bids farewell to a stellar month April 30 and May 1 with Sir Andrew Davis conducting Mahler's essential Symphony 9 in D. April 17 and 19 finds the fascinating pianist Hélène Grimaud as soloist in Brahms' Concerto No. 1 under the baton of Andrey Boeyko, music director of the Düsseldorf Symphony Orchestra. On April 11 and 12 Mozart's vivacious Piano Concerto No. 17 comes under the scrutiny of the highly respected Richard Goode while Peter Oundjian also leads the orchestra in Richard Strauss' gloriously hubristic Ein Heldenleben.
The Kindred Spirits Orchestra celebrates Good Friday April 18 with Rimsky-Korsakov's Russian Easter Overture, Andre LaPlante performing Beethoven's Concerto No.5 "Emperor" and Schumann's Symphony No.1 "Spring." Kristian Alexander conducts.
April 6 the Royal Conservatory concludes another season of Sunday afternoon piano recitals with a power-packed program by Khatia Buniatishvili. Liszt's Piano Sonata and Chopin's Second Sonata bookend Ravel's iconic La valse. Stravinsky's Three Movements from Petrushka conclude the breathtaking proceedings.
Music Toronto brings back Kikuei Ikeda, former violinist of the beloved Tokyo String Quartet, to join the Parker Quartet as a violist April 10 in a performance of Dvořák's Quintet in E-flat Op.97 while April 28 finds the Associates of Toronto Symphony Orchestra playing Mozart's String Quintet No.3 in C, K515 and Brahms' String Quintet No.2 in G Op.111.
In their program May 4, the Windermere String Quartetnote that "the 13th quartets of Haydn and Beethoven [the lyrical Op. 130] bookend the era of the classical quartet: from the making of the mould to the breaking of it."
The Kitchener-Waterloo Chamber Music Society offers an alternative interpretation of Britten's String Quartet No.2 when they present the Enso Quartet April 11, one day after the Pavel Haas Quartet plays it in Toronto. On April 15 pianist Philip Chiu includes his own arrangement of the Suite for Oboe and Piano by Pavel Haas in his free noontime concert "Music in the Time of War" at the Richard Bradshaw Ampitheatre.
Two Grammy Award Winners: April 4 Jeffery Concerts presents James Ehnes accompanied by Andrew Armstrong performing LeClair's Sonata No. 3 in D major, op. 9, Brahms' Sonata No. 3 in D minor, op. 108, a new work by Alexina Louie and Richard Strauss' Sonata in E-flat major, op. 18 while the iconic Canadian Brass concludes the Mooredale Concerts current season April 27.
Paul Ennis is managing editor of The WholeNote.