The most acclaimed British pianist of his generation, the remarkable Stephen Hough, makes his Koerner Hall debut March 2, his first solo recital in Toronto since his Music Toronto appearance seven years ago. A few weeks earlier his 21-year-old countryman Benjamin Grosvenor, who's been not so quietly building a burgeoning career of his own appears on Music Toronto's Jane Mallet stage February 11, following that up February 14 and 15 as piano soloist with the Kitchener-Waterloo Symphony in Saint-Saëns' Piano Concerto No.2 (which Grosvenor plays with the Royal Liverpool Philharmonic on his latest Decca CD).
Grosvenor: In one so young – he's only 21 – we expect the notes and hope for the music; in this case there are good reasons to be hopeful. The Times said of Grosvenor's first recording (which included Chopin's Four Scherzi and Ravel's Gaspard de la Nuit) that "he jumps inside the music's soul."
Just who is this pianist upon whom the venerable magazine Gramophone bestowed its "Young Artist of the Year" and "Instrumental Award" in 2012?
At 11, Grosvenor's exceptional talent was revealed when he won the keyboard section of the BBC Young Musician of the Year. At 19, shortly after becoming the first British pianist since the legendary Clifford Curzon to be signed by Decca, he became the youngest soloist to perform at the First Night of the Proms.
The youngest of five brothers, his piano teacher mother shaped his early musical thinking. He divulged in a 2011 video that he decided at ten he would be a concert pianist and wasn't fazed at all by playing on the BBC shortly thereafter. Only when he became more self-aware at 13 or 14 did he suffer some anxious moments. On the video, a piano excerpt from Leonard Bernstein's Age of Anxiety follows, the musical core of which he expresses beautifully both literally and figuratively, before adding: "The pieces you play the best are the ones you respond to emotionally."
In a May 2013 YouTube webcam chat in advance of a return engagement in Singapore, he spoke of his musical taste. From the beginning he was attracted to Chopin but over the years hearing Schnabel for the first time led to an attraction to Beethoven and hearing Samuel Feinberg opened his ears to Bach. He's a bit of an old soul in that he has a great interest in recordings by pianists like Moriz Rosenthal, Ignaz Friedman, Benno Moiseiwitsch, Shura Cherkassky and Vladimir Horowitz made in the early half of the 20th century. "Their primary concern was in imitating the voice especially in romantic repertoire," he explained. "Horowitz was obsessed with the voice. They were the masters of that asynchronization of the hands."
In a profile in The Guardian three years ago when Grosvenor was 18, Tom Service wrote that he "talked of his early years as if he's a seasoned professional looking back on the sins of his youth. But he's talking about 2004."
"Listening back to the Chopin D-Flat Major Nocturne I did when I was 12 -- I think it's really interesting, some of the expressive things I do, like the asynchronization of the hands." Asynchronization, Service went on to explain, is "a technique where the left hand plays a microsecond before the right, something associated with pianists of an earlier age ... and frowned on by today's virtuosos."
Grosvenor continued: "I don't really know where that came from; I hadn't heard any of those early 20th-century recordings by then ... If you compare the way people perform Mozart now with, say, Lili Kraus' recordings, or Schnabel's Beethoven with today's players – today, things are so much blander and more boring. They were each so unique back then ... Maybe it's because of recording and the pressure to make things note perfect, or the influence of competitions, but we've lost touch with that tradition of playing, with its imagination and expression."
The Independent has described Grosvenor's sound as "poetic and gently ironic, brilliant yet clear-minded, intelligent but not without humour, all translated through a beautifully clear and singing touch." After his Wigmore Hall recital last fall, which contained much of what he will be playing in Toronto, International Piano compared Grosvenor to a young Krystian Zimerman. I'm looking forward to it.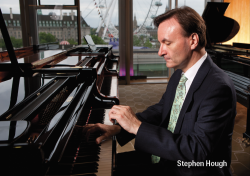 Hough: It had been eight years since Stephen Hough became the first classical musician to receive the MacArthur Fellowship, the so-called "genius award," so it was only fitting for him to be named by The Economist in 2009 as one of 20 polymaths the magazine determined to excel in diverse fields (in Hough's case: pianist, poet, composer, writer on religion – this was before his first solo exhibit of paintings in the fall of 2012 at London's Broadbent Gallery).
In the last two years Hough has been profiled and/or interviewed in Le Monde, Classical Music, the Houston Chronicle, Sunday Times, New York Times and London Evening Standard, all of which are available on his well-ordered website. There you can also link to the blog he writes for The Telegraph, where you may read his highly literate, well-argued thoughts, insights and reminiscences on everything from religion (he's a sceptical Catholic) to the death of Lou Reed:
"In my teenage bedroom – dark purple ceiling, light purple walls, joss sticks a-burning – I used to listen to Lou Reed: 'Take a walk on the wild side' he suggested with that ironic, sing-song, cooler-than-cool voice. I didn't take his advice in the end and went back to Beethoven, despite years of neglecting the piano and neglecting to do my homework. But in those voice-breaking years as I lounged around in my flared jeans covering my (purple) platform shoes, and as the LP, scratched and coarse, spun lazy circles in the smoke, I did feel a certain coming of age. I felt maturity arriving as if a shoot in a plant pot pushing out of the brown soil (no, not that plant). I was wrong; I was still a kid; it was a false Spring. But writing this in night-time New York, realizing that such a force of nature as Lou Reed is now a dead leaf beyond the Autumn of life, is strange and poignant."
And he tweets, which is where you'll find him showing his cheeky side, diaristically sharing choice words on whatever catches his fanciful fancy, revealing his peccadilloes (he loves shoes) or offering insights on the news of the day. An example, this tweet from the day Claudio Abbado died:
"I did a German tour w/@londonsymphony & #Abbado in the mid 80s. 'I'm Claudio': my youthful nerves instantly removed RIP"
Or these:
"My weird, wonderful life: solo on stage for 2000 people ... then 20 mins later solo slice of pizza @UnionStation_DC"
"Frank Sinatra on the speakers in the restaurant: comforting sounds before comforting food. That masterly swoop with its agogic accent. [continued] I think piano students can learn more from Frank Sinatra about phrasing and rubato than from most classical instrumentalists."
Indeed. By the nature of the medium, the musical insights on twitter may outnumber those onstage or in recordings. In any case, they're a most welcome way to keep up with this uncommon musician whose live appearances here are all too rare a gift. On March 3, Hough will give a masterclass at RCM. I was fortunate to attend a similar event at RCM's temporary home in 2007. It buoyed me for weeks while providing invaluable insights into my own modest world of piano playing. I'm looking forward to being reinvigorated.
The Year of the Horse: Celebrate the Chinese New Year February 3 with the TSO and an all-star lineup of guests including conductor Long Lu, the scintillating pianist Yuja Wang (playing Rachmaninov), the soulful violinist Cho-Liang Lin (in a Dvorak Romance) and Deutsche Grammophon recording artist Yian Wang (performing Tchaikovsky's delightful Variations on a Rococo Theme) plus popstar Song Zuying (a household name in China) and a new work by Tan Dun (incorporating music from his best-known film scores).
Double Duty: Cellist Winona Zelenka brings her singing tone to Bach, Haydn and Beethoven in the Associates of the TSO concert February 10 at Trinity-St. Paul's Centre and then wears her Trio Arkel hat as part of Chamber Music Mississauga's Belated Valentine concert February 22 in The Great Hall of The Unitarian Congregation of Mississauga.
Not To Be Missed: The Attacca Quartet's foray into the complete string quartets of Haydn presented by the Kitchener-Waterloo Chamber Music Society continues February 7, 8 and 9 in Waterloo with four concerts, each one including an early, middle and late quartet, and two introduced by a talk by violist Luke Fleming. For more information on the Haydn 68 series see my article in WholeNote's November 2013 issue.
Paul Ennis is the managing editor of The WholeNote.