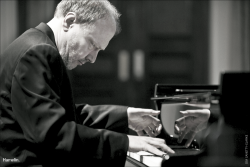 Three pianists, Quebec-born and internationally celebrated, will all find themselves on stages in Toronto and vicinity over the course of six days in January 2014. The last time such a confluence of singular dexterity occurred was during the Glenn Gould 75th anniversary celebrations in late September and early October of 2007. Then, in homage to Gould's love of the genre, Louis Lortie's entire recital consisted of piano transcriptions by Bach, Grieg, Gould and Lortie; André LaPlante saluted the 50th anniversary of Gould's Russian debut with music by Prokofiev and Shostakovich that curiously also included Mozart's Piano Sonata K282; Marc-André Hamelin's program comprised works championed and recorded by Gould, including Jacques Hétu's Variations for Piano Op.8 and surprisingly Mozart's Sonata in C, K545.
I happened to be in the audience at the Glenn Gould Studio when Hamelin began the second half of his concert by introducing the Mozart, saying that it was his least favourite of any Gould recording he heard growing up.
Hamelin began playing the piano at five. His pharmacist father was an amateur pianist enamoured of the pianists of the Golden Age — Vladimir de Pachmann, Benno Moiseiwitsch, Leopold Godowsky — and sufficiently proficient at the instrument to be able to play difficult pieces like César Franck's Symphonic Variations and some of the Chopin Études. In a recent interview with Colin Eatock for the summer 2013 issue of Queen's Quarterly Hamelin spoke candidly about his father's early influence:
"Listening to these pianists [in his father's record collection] taught me to view music with a great sense of freedom. Perhaps this wasn't too healthy, from the perspective of today's musicological advances, because I grew up with a disregard for the letter of the score. This is something I acquired later on. I believe it's the combination of these two elements that make me who I am today, and make me do what I do the way I do it."
From the age of 11 to 17 he studied with Yvonne Hubert at L'école de musique Vincent-d'Indy. Hubert taught LaPlante and Lortie among many others — Janina Fialkowska tells a wonderful story on CBC Radio 2's This Is My Music about hearing LaPlante practicing Liszt when they were both students at the school in Montreal, she nine, and he two years older.
Hamelin has literally brought to light many works by 19th and 20th century composers whose compositions were rarely played in the last several decades. There's an especially revealing response to Eatock's question about Hamelin's recorded music and whether he has followed "certain definable tendencies":
"If you look at my discography, I don't think you'll find anything like it anywhere else. I've always had a taste for the unfamiliar, and a desire to bring it to the forefront — in the hope of enlarging awareness of the repertoire, and helping other pianists by offering them a greater diversity of things to choose from. And I've pretty much always been able to do what I wanted."
Responding to a question about whether it's his virtuosity that appeals to his fans, Hamelin answered:
"For many people, difficulty has an attraction all its own. But I don't enjoy playing difficult music for its own sake — and I wish people understood this. If I do it, it's because I believe in the music, and I'll do whatever it takes to play it. But I want people to transcend virtuosity, and I'm a little less into that sort of thing now. I've found joy in simpler repertoire.
"And there's a lot of the standard repertoire that I still haven't done. For next year, I've programmed Schubert's Sonata in A Major D.959 and his Impromptus — and I'll be playing the Impromptus for the first time. But I'll also revisit Nikolai Medtner's Night Wind Sonata, which I think is an unsung masterpiece. It would benefit any young composer to study it very closely."
Hamelin's international career has maintained its lofty status. He's currently artist-in-residence at London's prestigious Wigmore Hall (where he made a memorable live recording slmost 20 years ago). He recently gave the first of five recitals there; the program's first half was identical to the one he will be performing in Toronto January 21 and repeating in Lindsay the next evening. London blogger Frances Wilson summed it up: "The program traced a darkly lit narrative from the brooding opening bars of Hamelin's atmospheric Barcarolle, through the sprawling musical landscapes of Medtner's Night Wind piano sonata." Here, he'll be playing the last four Schubert Impromptus after intermission.
Hamelin is a pianist whose mastery of the mechanical aspects of music making has always been in support of his artistic vision, a means of fulfilling the music's emotional content. Mark the date.
LaPlante and Lortie: LaPlante's recital at the Narvesons' Kitchener-Waterloo Chamber Music Series, in Waterloo January 18, harks back to that autumn week in 2007. Included in a program of the kind of virtuosic romantic music for which the pianist is known — Chopin, Liszt and a Busoni arrangement of the Bach Toccata, Adagio and Fugue in C — is the Mozart Sonata in E-flat K282 he played six years ago. Coincidentally he's also performing the Jacques Hétu Variations Hamelin played during that same anniversary celebration.
Lortie will be leading the TSO from the keyboard in a performance January 22 and 23 of Mozart's Piano Concerto No.22, K482 with its haunting middle "Andante" and elegant cantabile slow menuet that hijacks its "Allegro" third movement. "The important thing about a soloist being able to conduct," Lortie says on his website, "is that he is a master of time in all senses." He believes that it's the time involved in rehearsal ("which ideally is as much time as needed") that is essential. Since he believes that the Mozart concertos are true chamber music and that every player brings his own input to the playing of them, "you must have time to discuss phrasings with people." People who play a Mozart trio or quartet will take hours to discuss their approach; he wants to bring those same values to the concertos.
Bezuidenhout: On the subject of Mozart, fortepiano specialist Kristian Bezuidenhout conducts the Tafelmusik Baroque Orchestra from the keyboard December 5 to 8 in Mozart's Concertos Nos. 9 & 11, K271 and K413. Like Hamelin's, Bezuidenhout's boyhood home had a massive record collection and by the age of 9 or 10 he was intimately familiar with Mozart's music. He discovered his fascination with historic keyboards as student at the Eastman School of Music. "The scale of the piano went just far enough that one could recapture the sense of sturm and drang and tempestuousness that is present in Mozart's music," he observes in a video available on the Tafelmusik website.
Finally, a third pianist-conductor, Ignat Solzhenitsyn (son of the iconic Soviet writer and dissident), will, like Lortie, bring his talents to Roy Thomson Hall as part of the TSO "Mozart @258 Festival." On January 11 he will perform the Concerto No.18, K456 with its second movement "Andante" exhibiting a pathos rare for the composer.
QUICK PICKS
Two in Waterloo: Highly touted American pianist Andrew Von Oeyen's December 2 concert ranges from Bach's Partita No.1 to Ravel's La Valse; the gifted French pianist Jean-Philippe Collard's eye-opening program January 15 consists of Debussy's Preludes, Book I and Mussorgsky's Pictures at an Exhibition. Both at the Perimeter Institute.
Koerner Hall Debut: Russian-born pianist Kirill Gerstein who divides his time between America and Germany is that rare classical pianist with a jazz degree from the Berklee College of Music. His December 8 program includes two Ligeti Etudes, two Virtuoso Etudes by Earl Wild from songs by Gershwin and Pictures at an Exhibition.
COC Piano Virtuoso Series: RCM Rebanks Fellowship-winner Stefan Chaplikov takes on Beethoven's massive masterpiece, the Hammerklavier Sonata December 10; fellow RCM Rebanks Fellowship-winner (and one of the few Arabs performing Western classical music), Algerian-born Mehdi Ghazi looks to reveal the passion in works by Rachmaninov, de Falla, Prokofiev and Messiaen January 7; young American Christopher Goodpasture plays Fantasies by Schumann and Hétu and Etudes by Chopin and Debussy January 16. All concerts are free and at noon in the Richard Bradshaw Auditorium.) 
Paul Ennis is The WholeNote's managing editor.