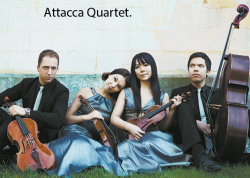 Now in their 11th year, the Attacca Quartet -- comprised of violinists Amy Schroeder and Keiko Tokunaga, violist Luke Fleming and cellist Andrew Yee -- met at Juilliard where they spent 2011-13 as the school's graduate resident string quartet.
Why did you decide to do this project (which began the year after the 200th anniversary of Haydn's death)? Was there a particular impetus behind this decision?
Oddly enough, I was not aware until having been asked your question that we began this project right on the heels of such a milestone! In fact, the year of the conception of "The
68" was 2009, the 200th anniversary, but it took many things coming together to realize this ambitious idea before the first concert in October 2010. The story actually begins before I was a member of the quartet (I joined in November 2009). Andrew, our cellist, was out walking his dog, Chopper, one cold evening. As usual, he had his noise-
cancelling headphones on to shield him from the noise of the Manhattan streets, and on his iPod came the slow movement of a Haydn quartet he had never heard. As the movement went on, he was overcome by its beauty and started to cry, right in the middle
of the Upper West Side. After returning home, he called everyone in the quartet and said,
"Guys, let's do this." And when I auditioned for the quartet a few months later, it was made very clear that I needed to be on board with this (in fact, reading through a more obscure Haydn quartet was part of the audition process). I needed very little convincing.
What draws you to Haydn's music? Has your attitude to Haydn changed as you've immersed yourselves in the cycle?
I had always admired Haydn as a composer, especially after coming to Juilliard. When all of us in the quartet were in school there, we took a fantastic class taught by a man named Michael White, a man who was absolutely obsessed with Haydn and his string quartets. After this inspiration, I was very interested in getting to know Haydn's quartets more, but when you aren't actually IN a quartet it is very difficult to make this happen!
So, I was very grateful that the planning of the project was already underway when I joined.
I think that the thing that has been most surprising and wonderful to me thus far (38 quartets) into the project is the amount of variety that one finds in this music, all written by the same man. It would be absolutely understandable, especially in his earlier quartets like Op. 1, for Haydn to write "throwaway" movements or recycle material. I mean, practically every OTHER composer at that time did! But Haydn seems incapable of writing a movement that doesn't contain some surprise, something inventive—as though
he couldn't help himself. And I have come to realize that this is what separates a good, respectable composer (think Telemann, Dittersdorf, Haydn's brother Michael) from a great one. Among both musicians and audiences, Haydn's quartets get shortchanged
when compared to Mozart's ten celebrated quartets or Beethoven's Op. 18. These are wonderful works to be sure, but if Mozart was the master of operatic lyricism and
Beethoven the master of visceral drama, Haydn is most certainly the master of variety and invention.
What are the particular challenges of a project like this? What has the experience been like? What are the great pleasures and rewards of the project?
The hardest thing about this project is, of course, learning the repertoire. Most quartets only carry one Haydn quartet — if any at all — per concert season. We have been keeping at least 12 in our repertoire every season since we started the series in New York, and with the inception of this project in Kitchener-Waterloo, we will up that to at least 24. (Bear in mind that this is on top of all the other repertoire — classical, romantic, and
20th century — that we continue to play in most of our concerts!) Most string quartets keep anywhere from 12 to 15 quartets total in their repertoire every season, so this does give us a very heavy work load. Amy bears the brunt of this burden, as Haydn quartets are all—albeit to varying degrees—pretty first violin heavy.
The most obvious reward is the same thing: learning the repertoire. Haydn's music
speaks for itself, and it is so wonderful to learn and perform. But another somewhat unexpected pleasure of putting together the series has to do with the fact that the series is entirely self-produced. From making the program and flyers and setting up the hall to the performance itself (and cleaning up afterwards), everything is on our terms and up to us.
This gives us an even greater sense of accomplishment at the end, and makes it all the more satisfying that our audience for these concerts — and the pre-concert talks — continues to grow.
How did you decide to do the cycle in Waterloo (which is the only site apart from New York City where you are performing it)? What was it like to play in the Narvesons' home last year?
Playing at Jan and Jean's last November was a really great experience. It is not often that we play for so enthusiastic an audience that is so well informed and hungry for great music. In fact, the Kitchener-Waterloo audience reminds me a lot of the one we have built for our Haydn concerts! When we played in Waterloo last year, Jan told us he was a total Haydn nut and wanted us to play one of the less-known Haydn quartets, since that had become one of our specialties. We chose Op. 64 no. 3, and of course we really enjoyed getting to know the piece; we also programmed it on one of our Haydn concerts
in New York around the same time. When Jan asked us a few months later to come back and do a "68 of the North" as we jokingly call it, we were absolutely thrilled!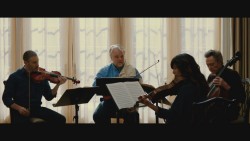 Finally, how appropriate -- considering your quartet's name -- that you appeared in the film A Late Quartet, the musical context of which, Beethoven's String Quartet Op.131, is a textbook example of movements being played attacca, (that is, without any break between them). And doubly apt because you portrayed a Juilliard student quartet being given a masterclass by Christopher Walken (who played the fictional quartet's cellist and founder) while you were in fact, the graduate resident string quartet at the Juilliard School. What was it like participating in movie magic?
Before I was a member, the quartet had already established a relationship with Yaron
Zilberman, the director of the film A Late Quartet. He had filmed the quartet for hours and hours as they learned, rehearsed, received coachings, and eventually performed Op. 131. The initial idea was to make a documentary on the process of learning and performing the piece, but that project was altered in favour of A Late Quartet. Elements of the interviews with quartet members (there is a scene where Phillip Seymour Hoffman gives a speech that are Keiko's words about the role of a second violinist verbatim), rehearsal techniques, and of course the coachings Yaron filmed were used in trying to
make the film seem as authentic as possible. We also coached the actors in the film on how to "fake" play their respective instruments in as convincing a way as possible.
This project was a fun and rewarding departure from our normal daily rehearsal routine.
I really appreciate that in the end, Yaron made a deeply affecting movie that successfully portrays some of the quirky and often drama-laden aspects of the life of a quartet player; most people are completely unaware of our rather unique lifestyles. I remember one part of the process vividly. Phillip Seymour Hoffman came to one of our rehearsals at
Keiko's apartment, and after shaking our hands he said, "I'm just going to sit here in the corner and watch—just pretend I'm not here." Of course it was hard to at first, but after a few minutes I think we actually did forget, and after an hour of keeping completely silent, he stood up and said, "Thank you so much," and left. And you know what? You can really see this attention to detail and care for authenticity in his portrayal of the second violinist in the film.