Welcome to the first WholeNote World View column of 2019.
Calendar years are human constructs, as is time itself. Yet as we all learned in Music 101, and as Leonard Bernstein repeated in his 1955 Art of Conducting TV lecture, "music exists in the medium of time."
As we all know, the familiar Gregorian calendar, in use since 1582, and itself a correction of the earlier Julian calendar – both based on the Earth's revolution around the Sun – pins January 1 as the very beginning of the year. The more ancient lunar calendar on the other hand is built on the monthly cycles of lunar phases.
Chinese culture has observed both a lunar and a solar calendar for millennia, complex computations resulting in a blended lunisolar calendar which reckons years, months and days according to astronomical phenomena, in 12-yearly cycles. The Chinese lunisolar New Year falls this year on February 5, initiating the Year of the Pig, which in some related Asian zodiacs is represented by its wild cousin the boar. Widely called chunjie (Spring Festival), it technically lasts 15 days in mainland China.
Participants mark the ritual start of a new year by planting crops, feasting, gifting, praying to the gods and the ancestors, and seeking to attract good fortune. Bright red auspicious decorations and lanterns are hung, negative forces are purged, fireworks fill the sky, and much more.
Lunisolar New Years are celebrated not only in mainland China and Taiwan but also widely in East and Southeast Asia and by Chinese and other communities around the world. One estimate pegs the number of participants at a quarter of the world's population.
In modern China, workers travel home to enjoy reunion dinners and family visits at this time of year. Called chunyun, this roughly 40-day period has been tagged as the world's largest annual migration. The numbers are truly mindboggling, like many things in China. Over 2.9 billion individual passenger journeys are projected during chunyun this year, well over twice the actual population of the country.
Chinese New Year in the Greater Toronto Area
The Chinese Spring Festival is undoubtedly the most significant community-wide celebration in China and the diaspora. In the GTA it already began in January.
I discussed how the Spring Festival season impacts GTA Chinese musicians, their repertoire and community patronage, in a series of late January messages with Canadian Chinese Orchestra artistic director and conductor Amely Zhou. (She was too busy for a sit-down due to her intensive rehearsal schedule.)
What is the New Year season like for Chinese musicians? Does it result in performing opportunities? "Very much yes… it's a busy time for all Chinese musicians," replied Zhou. "Private individuals, businesses and mass entertainment providers like TV stations want live Chinese music to demonstrate their allegiance to their culture of origin at this auspicious time of year." It's a significant form of community support for Chinese musicians in the diaspora, as well as for their Chinese instruments and repertoire.
The patronage of Chinese music and affiliated performing arts such as dance and opera are closely tied to GTA and international commercial interests. "These are ultimately linked to the economic strength of today's China," added Zhou. It reflects a complex and ever-evolving economic, cultural – and even at times political – dynamic between Canada and China, one which has very recently become significantly more tense.
Canadian Chinese Orchestra
Fête Chinoise at the AGO
A good example of this patronage at work was the Canadian Chinese Orchestra's first Chinese New Year gig at an event organized by Fête Chinoise, the Markham, Ontario magazine and lifestyle event programming company. Held at the Art Gallery of Ontario on January 26, the event, also called Fête Chinoise, seeks to "empower individuals to deepen the connection between their [Chinese] identity and culture," through a "curated lens and critical thinking."
CCO's repertoire for this event included Festive Overture for Chinese orchestra by veteran Chinese composer Jiping Zhao and the pop instrumental Summer by Japanese film ccomposer Joe Hisaishi, arranged by Malaysian composer Junyi Chow. CCO's set was, however, only one among many experiences that night. They included fashion, art and design as well as food, drink and stationery that reflected motifs of abundance, opulence, wealth and philanthropy, all significant themes in Chinese New Year celebrations. The sold-out event presented aspirational products and experiences which put a curated, contemporary and urbane spin on ancient Chinese cultural customs.
Chinese New Year Gala 2019 at the Sony Centre
February 4, on the eve of the Year of the Pig, The 6th Chinese New Year Gala 2019 takes over the substantial stage of the Sony Centre, Toronto, produced by Canada National TV, a Chinese-Canadian television station.
The Sony Centre event page describes the event as follows: "Chinese and Western artists will sing and dance, and we will drum the bell to welcome the arrival of 2019. It will be Canada's largest Chinese Spring Festival Evening by far! … The largest overseas Chinese New Year celebration, [the show] connects millions of viewers at home and abroad… through live television."
A portion of the ticket sales will benefit a local hospital and the Yee Hong Centre for Geriatric Care. It's part of a long Chinese tradition of giving back to the community and taking careful care of elders.
The CCO performs a set at the New Year Gala 2019 including Dance of the Golden Snake (1934), a fast-paced orchestral composition by Nie Er, popular during New Year celebrations, drawing on Shanghai region folk melodies and featuring lively percussion. the CCO plays an arrangement of this work by Hong Kong composer and conductor Ng Chiu Shing.
"We'll also be playing my Chinese orchestra arrangement of Billie Jean, Michael Jackson's hit 1982 song…just for fun," added Zhou (with smile emoticon attached).
Why choose to cover a 1982 American pop song on Chinese instruments?
"I wanted to challenge old misconceptions of traditional Chinese music being sad and quiet." And also, "because everyone [in China] knows Billie Jean … I made the arrangement for the CCO Youth Orchestra tour to China last summer and it was very well received, with audiences clapping and dancing. My drummer was particularly popular with the girls!"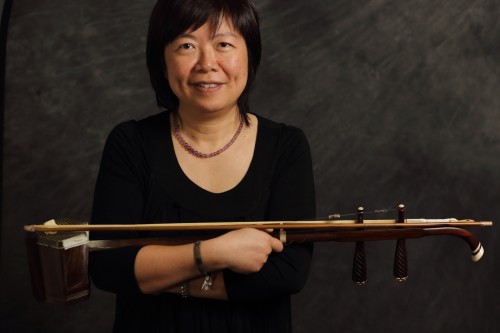 Toronto Chinese Orchestra
City Hall, Pacific Mall
The Toronto Chinese Orchestra (TCO) is the region's oldest such orchestra. Under music director Patty Chan on the morning of February 4 – the eve of the Year of the Pig – it plays festive music at Toronto City Hall, our region's civic hub and usually its political epicentre. Then at 10pm the same day the TCO reconvenes at the Pacific Mall playing a late-night set just before New Year. Located on the City of Markham side of Steeles Ave., the three-level Pacific Mall has reigned as the largest Chinese shopping mall in North America since opening its doors in 1997, a popular hub of an explicitly commercial kind. Both free concerts are open to the public.
COC's World Music Free Noon-Hour Series
February 5 at 12 noon the TCO's Chamber Players celebrate Chinese New Year in the Canadian Opera Company's free World Music Series at the Richard Bradshaw Amphitheatre, Four Seasons Centre for the Performing Arts. Led by its erhu player Patty Chan, the Chamber Players form the professional core of the TCO, including Kenny Kwan, percussion; Dora Wang, dizi and Wendy Zhou, pipa. Boosting the lower end of the sound spectrum is cellist Jaimie Chan who was recently added to the TCOCP roster.
Their varied program celebrates the Year of the Pig with a mix of traditional and contemporary Chinese music. It continues with Colourful Clouds Chasing the Moon composed by Ren Guang, the traditional Purple Bamboo Tune, Jiang Xianwei's Journey to Gusu, Lu Wencheng's Rising Higher Step by Step, and Romance on the Grasslands by Wang Luobin/Patty Chan. The program then concludes with Dance of Yi Tribe by Wang Huiren, Hand in Hand by Su Shi/Patty Chan, and the popular Racing Horses composed by Huang Haihuai.
ROM Gods in My Home: Chinese New Year
The TCO remains active during the New Year season playing public and private events. For example on February 16, 17 and 18, mornings and afternoons at the Royal Ontario Museum, its youth and small ensembles perform ensemble pieces and instrumental solos. They will also offer demonstrations and opportunities for the audiences to try playing selected instruments.
These interactive performances are part of the ROM's current exhibition Gods in My Home: Chinese New Year. Drawn from the Museum's permanent collection, the exhibition features a selection of ancestral portrait paintings and deity prints that were an integral part of Lunar New Year observances in Chinese households. Gods in My Home "explores the connections between the domestic, material and spiritual life of Chinese society…during the late Imperial period to the early 20th-century Republic era."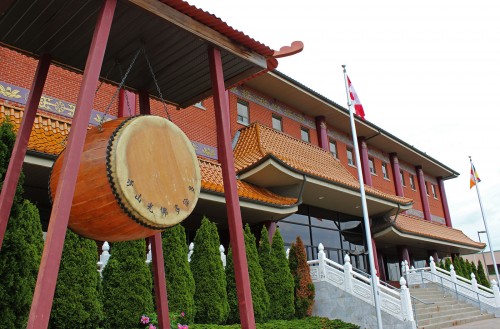 Plenty of other events
I've focused attention on just two Chinese Orchestras in this account of Chinese New Year music in the GTA. Of course there are plenty of other events taking place in Chinese communities throughout the GTA. For example the Chinese Cultural Centre of Greater Toronto holds its signature Year of the Pig Banquet on February 8 at its sprawling Scarborough facility, featuring an evening of community entertainment, many including Chinese music.
Finally, for those seeking musical experiences with a spiritual aim, the Fo Guang Shan Temple of Toronto marks the Chinese New Year with several activities in its Mississauga Mahayana Buddhist temple. In a message from the Venerable Master Hsing Yun, the founder of Fo Guang Shan, the Year of the Pig both symbolizes endings and brand new beginnings. "One homophone for pig is 'all' or 'everything,' which also represents a good wish for everyone to have a well-rounded and auspicious year."
From January 26 to February 10, the Temple hosts Chinese New Year Festival activities such as lighting lamps to the Buddhas, sounding the bell of peace, and participating in Dharma services to welcome the New Year.
The Chinese New Year's Eve Chanting Service is on February 4 starting at 8pm, while the New Year Chanting Service is on February 5 and 10 at 10am. The Temple invites everyone to visit during Chinese New Year. Please see their website for more details.
Perhaps, as the temple suggests, you will be among those fortunate enough to "bring home auspicious blessings and wisdom."
In this KonMari-fuelled "tidying and purging" era, those are two possessions I wouldn't mind more of.
WORLD VIEW QUICK PICKS
FEB 2, 8PM: Lemon Bucket Orkestra and Aline Morales at Koerner Hall, Royal Conservatory of Music. Toronto's guerilla-punk-Balkan-folk-brass band shares the stage with Aline Morales, the Brazilian-Toronto singer, percussionist and member of KUNÉ – Canada's Global Orchestra.
FEB 7, 12:30pm: York University Department of Music presents music professor Rob Simms playing a rare concert of tanbur and setar solos in its Faculty Spotlight Series in Room 235, Accolade East Building, York University.
FEB 9, 7:30PM: The "Queen of Klezmer" Alicia Svigals, a founder of the Grammy Award-winning Klezmatics and "the world's foremost klezmer violinist" takes the stage of the Isabel Bader Centre for the Performing Arts in Kingston, with her band.
FEB 9, 8PM: The Royal Conservatory of Music presents Cuban-Canadian piano giant Hilario Durán and his Latin Jazz Big Band with Horacio "El Negro" Hernández and Sarita Levya's Rumberos; at Koerner Hall.
FEB 21, 22, 23 AND 24: Tafelmusik restages its moving transcultural Tales of Two Cities: The Leipzig-Damascus Coffee House at Koerner Hall. Maryem Tollar serves as the gracious narrator and vocalist while Tafelmusik guests, Persian percussionist Naghmeh Farahmand and oud specialist Demetri Petsalakis, musically illustrate the Damascus end of the tale. Elisa Citterio conducts from the violin.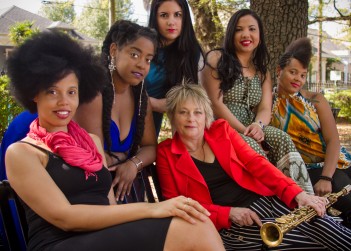 FEB 23, 8PM: The powerful Cuban female bolero, canción and son vocalist Yaima Sáez and her group splits the night with Jane Bunnett and Maqueque, her band of deep-groove, early-career Cuban women musicians, at the RBC Theatre, Living Arts Centre, Mississauga.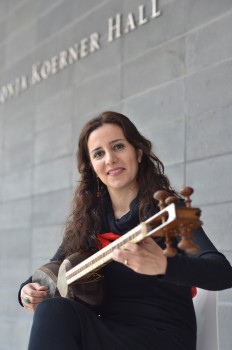 MAR 3, 1PM: The Royal Conservatory of Music presents Padideh Ahrarnejad, Iranian tar player and member of KUNÉ, performing a free concert (ticket required) with her sextet Partow at Mazzoleni Concert Hall, RCM.
Andrew Timar is a Toronto musician and music writer. He can be contacted at worldmusic@thewholenote.com.