Spring is a season of renewal. As the last of the dirty snow melts away, grass greens around us, tree buds begin to plump and birds return to song, we're reminded that the season is connected to some of humanity's deepest values and hopes.
That optimism is reflected in major cyclical religious holidays celebrated round the world – Holi, Nowruz, Passover and Easter – each of which possesses an extensive song list. While these spring-launch festivals will have taken place by the time you read this, there still remains the balance of the season to explore in music the many sacred and profane rites of spring associated with the vernal equinox. Please use this column as your guide to some of its rich abundance in our Greater Toronto Area communities.
In this issue I'll be exploring ethnic pluralism, aka cultural diversity as performed in music, in three stories. First is a preview of the second season of Labyrinth Ontario, modal music's Toronto outpost, then a segue to the Toronto leg of the Canadian tour of a choir from the Republic of Georgia, finally arriving, in my Quick Picks, at the smorgasbord of musical offerings this season.
Labyrinth Musical Workshop Ontario
Speaking of renewal, Labyrinth Music Workshop Ontario, an organization "dedicated to promoting the study and enjoyment of global traditions of modal music," is launching its second season of workshops, capped by a concert.
In its inaugural season, the full range of spirit of an extended modal family was reflected in Labyrinth's remarkably ambitious lineup featuring nine week-long workshops, twelve concerts, plus two panel discussions. Eleven masters of Greek, Turkish, Bulgarian, Iranian, Azerbaijani, Arabic, Kurdish and Afghani music traditions gave lessons and performed. Historically these musical cultures have interacted variously in and between their homelands, but last year's Toronto concerts reflected an intensified interaction perhaps only possible on the ground here today.
Ethnomusicologist Rob Simms, a Labyrinth Ontario board member, provided an overview on the site's blog. "Labyrinth's inaugural season offered attendees an immense wealth of practical insights into the technique and craft of modal music, inspiring performances, and valuable lore and wisdom regarding the larger context of contemporary modal cultures, straight from the source of some of the most important representative artists.
"While there was much great music making going on, I was particularly struck by the reminder that true mastery goes beyond playing to knowing what really matters on a deeper cultural, aesthetic, and ultimately spiritual level with this music—and being it, living it. … Toronto's Danforth and Chester neighbourhood is quite likely the modal musical centre of the planet for the month of May!"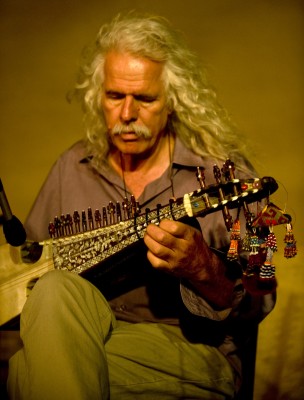 Ross Daly, a musician of international influence and founder in 1982 of the original Labyrinth centre in Crete – after which Labyrinth Ontario is modelled–- was on hand for the duration of last year's events. An eloquent spokesman for contemporary modal music, Daly offered thought-provoking perspectives at the panel discussions on many aspects of his long, inspiring career. He spoke to the relationship of individuals to tradition, building a repertoire, the balance of study and intuitive creativity, aesthetic preferences, the dynamics of audiences, the effect of recordings on learning and performing, and on the role of "cultural outsiders." These are all issues very pertinent to Canadian musicians in this scene too.
Labyrinth Ontario June 2019 Workshops
Daly again plays a central role in this year's Labyrinth activities. June 3 to 7 he will blend lecture, demonstration, performance and hands-on composition in his workshop, drawing on his decades of study of modal traditions. A modal heads-up: while the workshop is suitable for performers and composers of all levels and backgrounds, an "instrument capable of playing quarter-tones" is recommended. All workshops will be held at Eastminster United Church, 310 Danforth Ave., Toronto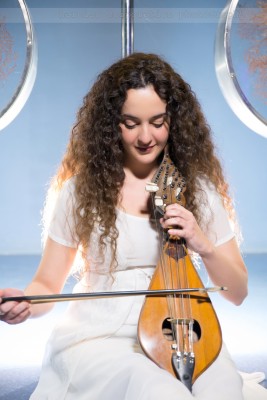 Running concurrently, Cretan lyra virtuosa Kelly Thoma leads a workshop on her instrument covering technique and repertoire, serving as an introduction to Cretan music and to her compositional and performance practice. Award-winning Bulgarian diva Tzvetanka Varimezova brings her decades of experience as a choir director and solo vocalist to cover vocal techniques and several styles of Bulgarian song in her class.
The following week on June 10 to 14, Araz Salek (tar) and Hamidreza Khalatbari (kamanche) jointly offer an Introduction to Iranian Music covering the fundamentals of Iranian modal music, while tombak virtuoso Pedram Khavarzamini teaches Percussion Cycles drawing on his deep intercultural study of cyclic rhythmic patterns in his workshop.
Labyrinth Ontario's concert
Saturday June 8, Labyrinth Ontario presents Modal Music Summit at Eastminster United Church, the concert tying together various threads explored by workshop leaders, including Ross Daly, the group This Tale of Ours (Daley, Thoma, Salek and Khavarzamini), plus vocalist Varimezova.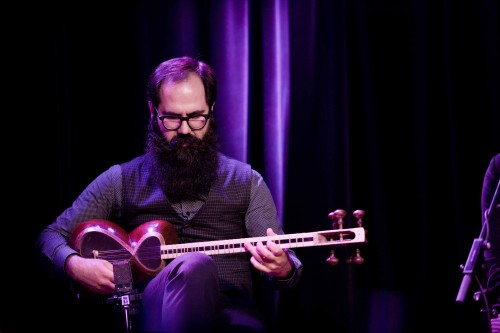 I spoke recently with Labyrinth's artistic director, Araz Salek, about the organization's first year. One of the healthiest aspects of the inaugural concerts was the mixed audiences, he told me. "They were not just drawn from the music's community of origin, but also attended by Torontonians eager for something new. That's in the core missions of Labyrinth: to encourage audiences to experience and then enjoy musics beyond what they listen to day to day. We believe audiences can develop a taste and ear for modal music traditions. We can learn to appreciate musics other than those we've grown up with."
Why is that important? "Because that experience ultimately enriches our lives. Many of us look forward to exploring cuisines we didn't grow up with, eventually developing a taste for diverse food and drink: why not music?"
Salek cautions against easy solutions, however. "Musicians from modal traditions often aim to make their music palatable to a broad international audience. All too often this results in reducing its essential characteristics to the lowest common denominator that the music shares with Western models. That's the opposite of what we're trying to do at Labyrinth. We encourage musicians, their students and our audiences to reach for what's essential in each musical tradition, and to develop it. Getting rid of microtones, modality and shoehorning melodies and performance practices into a Western framework, compromises the cultural voice of the individual culture represented."
Cultural bridges are crucial, Salek reminds us, "but it takes good will, time and considerable effort to build a sturdy and elegant bridge that accommodates both sides without compromise." This insight is useful for musicians to keep in mind when embarking on transcultural musical collaborations.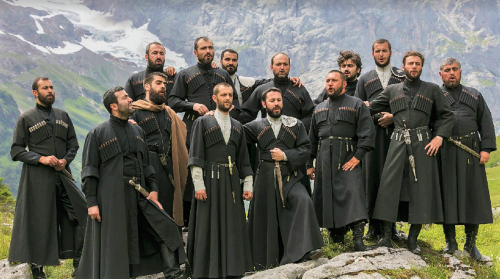 Didgori Ensemble in Canada
Didgori Ensemble is an award-winning six-voice choir from the Republic of Georgia performing the country's unique polyphonic choral repertoire. Since 2004, the have toured Russia, UK, France, Switzerland, Poland, the Czech Republic, Latvia, Uzbekistan, Turkey and Israel. Late in May into mid-June their Canadian tour promises to be a huge moment for Georgian music in Canada, an opportunity that happens perhaps once in a lifetime. How uncommon is this? The only time a choir from Georgia toured Canada previously was in the 1970s.
Co-sponsored by a consortium of Toronto, Edmonton, Winnipeg and Quebecois producers, Didgori's tour kicks off with a concert and workshop at the Edmonton International Choral Festival. The Winnipeg Singers then present them in Manitoba before they travel to Toronto, followed by dates in Kingston and Quebec.
Declared by UNESCO in 2001 as an Intangible Cultural Heritage of Humanity, the millennial-old Georgian polyphonic singing tradition, with its close harmonies and un-tempered scales, is a visceral experience. It features three-part singing in a variety of regionally based styles, ranging from melismatic lyrical singing and drones, to relaxed urban songs, to exploding "crunchy" counterpoint, reflecting the old, diverse and complex Georgian social and physical landscape.
The Didgori singers are acknowledged masters of a variety of Georgian musical styles. They are dedicated to the traditions of their ancestors through the mastery and popularization of Georgian polyphonic folk songs and liturgical chants. Didgori's very name honours the 1121 battle that helped reunite Georgia and usher in a period of growth in arts and culture.
Didgori Ensemble in Toronto: concert and workshops
Friday June 7, three Toronto arts organizations – MusiCamp, Clay & Paper Theatre and Folk Camp Canada – present Didgori Ensemble at Jeanne Lamon Hall, Trinity-St. Paul's Centre.
On June 8, Didgori gives a public Georgian choral workshop from 5 to7pm at the St. Vladimir Institute, 620 Spadina Ave. Then on Sunday, June 9, MusiCamp holds a five-hour Georgian choral workshop with Didgori at the MusiCamp Studio, 11 Cobourg Ave. from 11am to 4pm. Limited to 12 participants, this intensive mentoring experience with six experts of traditional Georgian choral repertoire is the closest Torontonians can get to this music short of a very, very long plane ride to Tbilisi. For more information about registration check MusiCamp's website.
Monday June 10, Didgori drives east for a 12:15pm concert at St. George's Cathedral, 270 King St. E, Kingston, Ontario, before travelling to dates in Québec.
WORLD VIEW QUICK PICKS
MAY 1, 5:30PM: the Canadian Opera Company presents Stomp the Floor with the sibling-fuelled Métis Fiddler Quartet at the Richard Bradshaw Amphitheatre, Four Seasons Centre for the Performing Arts, as part of its noon hour World Music Series. The concert is free, but note that a "no late seating" is strictly observed.
MAY 2, 7PM: North York Central Library/University of Toronto Faculty of Music offer Toronto audiences the rarely heard Music of Rajasthan with vocalist Abhishek Iyer, harmonium player Sushant Anatharam and Tanmay Sharma on tabla, at the North York Central Library. The event is free but registration is required.
MAY 2, 8PM: the popular sitarist Anoushka Shankar and party perform at Koerner Hall, Telus Centre in a concert produced by the Royal Conservatory of Music
MAY 3 AND 4, 8PM; MAY 5, 3PM: Esmeralda Enrique Spanish Dance Company stages its latest show Impulso at the Fleck Dance Theatre, Harbourfront Centre. The production features works by choreographers Esmeralda Enrique and José Maldonado. Guitarists Caroline Planté and Benjamin Barrile, vocalists Manuel Soto and Marcos Marin, are joined by percussionist Derek Gray to provide the energizing dance music.
MAY 4, 7PM: Singing Together 2019 presents A Celebration of Cultural Diversity, a "multicultural choral concert with seven choirs from different ethnic backgrounds," at St. Paschal Baylon Church, Thornhill. Groups include the Chinese Canadian Choir of Toronto (Cantonese); Coro San Marco (Italian); Joyful Singers (Korean); Nayiri Armenian Choir of Toronto (Armenian); Noor Children's Choir (Armenian); Toronto Taiwanese Choir (Mandarin), plus the guest Filipino Choral Group.
MAY 4, 6:30PM: the Mississauga Festival Choir, joined by guest world music ensemble Autorickshaw, offers songs from South Africa, South Asia and Canada's far north in a concert titled Building Bridges at the Living Arts Centre, Mississauga.
MAY 5, 1PM: the Royal Conservatory of Music presents the illustrious Toronto vocal quartet Turkwaz at the Mazzoleni Concert Hall, Royal Conservatory. Maryem Hassan Tollar draws on her Arabic language heritage, Jayne Brown and Sophia Grigoriadis bring their experience with Greek music and Brenna MacCrimmon adds her expertise in Turkish song repertoire to the mix.
MAY 12, 3PM: Echo Women's Choir performs a Mother's Day Concert: Thanks to Life, A Celebration of Songs from the Americas at the Church of the Holy Trinity. The repertoire includes Calixto Alvarez's Cuban Suite and Violeta Parra's Gracias a la Vida (arr. B. Whitla). Guest singer-songwriter Amanda Martinez joins veteran Echo conductors Becca Whitla and Alan Gasser.
MAY 17, 8PM: Small World Music Society presents Anindo Chatterjee & Guests, a North-meets-South-Indian percussion summit at the Small World Music Centre, Artscape Youngplace. Tabla master Pandit Anindo Chatterjee headlines, joined by Gowrishanker Balachandran (mrdangam), Ramana Indrakumar (ghatam), Shirshendu Mukherjee (vocalist), Hardeep Chana (harmonium), and local tabla maestro Ravi Naimpally.
MAY 26, 3PM: the Kyiv Chamber Choir conducted by Mykola Hobdych sings a program titled Sounds of Ukraine at the Koerner Hall, Telus Centre.
MAY 26, 7PM: Jewish Music Week in Toronto presents Nomadica: Music of the Gypsies, Arabs and Jews featuring David Buchbinder on trumpet and vocalist Roula Said at Lula Lounge.
MAY 28, 12PM: the Canadian Opera Company presents Celebrate Japan! in its World Music Series. Nagata Sachu, directed by Kiyoshi Nagata, will makes the Richard Bradshaw Amphitheatre ring with festive percussion-centric sounds.
JUN 2, 7:30PM: Sing! The Toronto Vocal Arts Festival continues with Cuban Fantasies with Vocal Sampling and Freeplay at Lula Lounge.
Andrew Timar is a Toronto musician and music writer. He can be contacted at worldmusic@thewholenote.com.