According to The WholeNote's "Previous Issues" searchable database, this marks the ninth year I'm writing this column. According to a back-of-the-envelope tally, I've written about 80 of these explorations of the seemingly inexhaustible globally conscious music communities in the GTA. Occasionally, I've even ventured off-continent following the touring activities of our musicians.
No matter how often I do it, however, writing about the launch of the pre-fall concert season amid our typical Southern Ontario August heat and humidity always feels oddly dyssynchronous.
One way to bridge this musical inter-seasonality is to select some of the musicians whose careers I've touched on here in past Septembers over the years, trace their 2019 summers, and see where they land this September. The fact they're all recent Polaris Music Prize recipients, and all Indigenous artists, provides us with another interesting lens.
Polaris Music Prize
The Polaris Music Prize is arguably a Canadian music industry bellwether. It is annually given to the "best full-length Canadian album based on artistic merit, regardless of genre, sales, or record label." Founded in 2006 by Steve Jordan, a former Canadian music industry A&R executive, it was endowed with an inclusive-sounding mission statement: "A select panel of [Canadian] music critics judge and award the Prize without regard to musical genre or commercial popularity." Polaris' aim differs from other awards which recognize album and digital title sales and/or streaming, radio airplay, touring and social media engagement.
Mission statement notwithstanding, a review of Polaris winners for the first eight years reveals its juries chose artists reflecting commercial album production within relatively mainstream popular music genres. These include indie rock (Final Fantasy/Owen Pallett, Patrick Watson, Arcade Fire, etc), pop (Dan Snaith/Caribou), post-rock (Godspeed You! Black Emperor), electronic/hip-hop (Kaytranada), as well as hardcore punk. Given those genres, until a few years ago Polaris awardees would not have found their way into this column.
In recent years however, Indigenous voices have come to the fore with Polaris juries, bringing their awards and their artistic achievements to the attention of the general public and to this column. While A Tribe Called Red's album Nation II Nation – their electronic dance music, dubbed powwow-step, imbued with powerful elements of First Nations music – was short-listed in 2013; it didn't win best album. But Indigenous sounds, however, did finally sweep into the Polaris award nightscape in downtown Toronto the following year.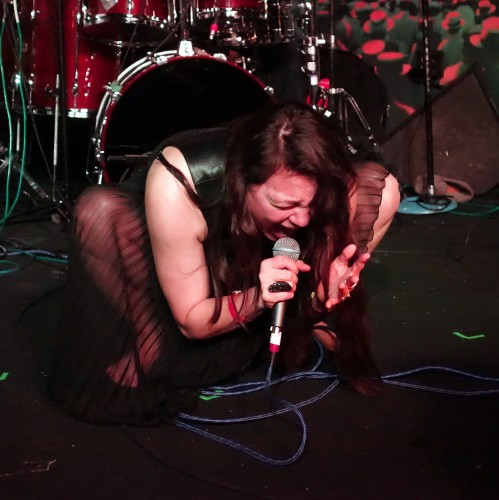 Tanya Tagaq's 2014 Win
On September 22, 2014 avant-garde Inuk vocalist Tanya Tagaq gave a jaw-dropping, dramatic ten-minute Polaris concert performance with drummer Jean Martin and violinist Jesse Zubot, along with, for the first time, the 44-voice improvising Element Choir conducted by Christine Duncan. "…It was as if an intense Arctic wind had blown into downtown Toronto's The Carlu [venue]…" I wrote, reporting for The WholeNote. To cap off the evening, Tagaq was awarded the Prize for her brilliant, overtly political album Animism.
"Her win marks a significant milestone" I wrote in my WholeNote report. "For the first time it was awarded to an Indigenous musician. … a complex and heady mix of confrontation and reconciliation, of social and political issues [with] musical genres … hinting at the potential transcultural power of the healing force of sound."
In the Polaris Spotlight in 2015 and Beyond
Tagaq's 2014 award seemed to have opened some kind of Polaris door for Indigenous Canadian musicians. The following year, the Piapot Cree-born singer-songwriter, composer, educator and social activist Buffy Sainte-Marie won the Prize for her firebrand statement, Power in the Blood; her 15th studio release. This fearless veteran of the music business, 74-years-old at the time, has been writing and singing songs of love, war, religion and Indigenous resistance for over half a century.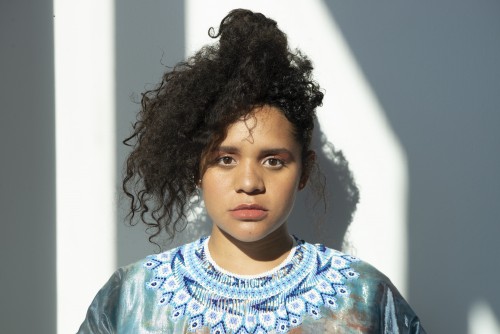 In 2017 the Polaris jury awarded the $50,000 Polaris Music Prize to the Colombian Canadian singer-songwriter Lido Pimienta for her album La Papessa. Identifying as Afro-Colombian with Indigenous Wayuu heritage on her mother's side, her music incorporates musical influences from those sources, as well as synthpop and electronic music genres. I also covered that Polaris gala evening for The WholeNote, and wrote: "In addition to her acrobatic voice, the sound of the tambura (Colombian bass drum), snare drum, electronics and a four-piece horn section dominated the music." There wasn't a single guitar or piano on stage; a rarity in the Polaris world.
Also significant that year, four of the ten short-listed albums directly reflected current Indigenous realities. A Tribe Called Red, Tanya Tagaq and Lido Pimienta were joined by Gord Downie's Secret Path, a moving concept album about Chanie Wenjack, the Anishinaabe boy who tragically died after escaping from a residential school.
Then in 2018, singer, pianist and composer Jeremy Dutcher captured the Prize with his moving freshman album Wolastoqiyik Lintuwakonawa. Dutcher, a Wolastoqiyik (Maliseet) member of the Tobique First Nation in New Brunswick, studied music and anthropology at Dalhousie University. He also trained as an operatic tenor, surely the first Polaris winner to do so. He later expanded his professional repertoire to include the traditional singing style and songs of his Wolastoqiyik community. His unique album reflects all those musical, linguistic and historically informed threads, reclaiming the past with an authenticity and emotional core that resonates with audiences.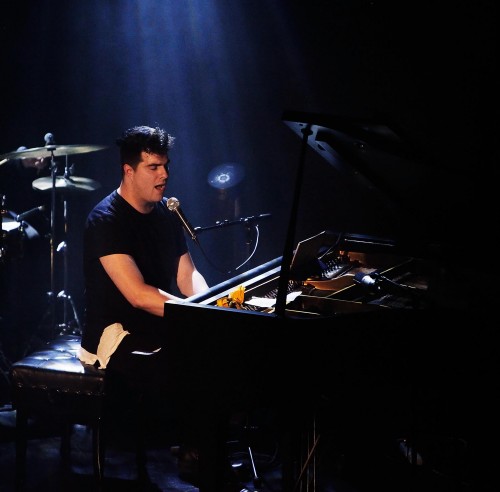 In his Polaris acceptance speech, Dutcher declared, "Canada, you are in the midst of an Indigenous renaissance," placing his work within a larger, growing Indigenous presence in the Canadian theatre, music, visual arts, dance and cinema scenes. With an eagle feather in his hand – holding an eagle feather honours the Creator and invites them to take notice – he continued, "What you see on the stage tonight is the future. … Are you ready to hear the truths that need to be told?"
Dutcher concluded his 2018 speech with a mission statement, an insight and a heartfelt invitation. "I do this work to honour those who have gone before and to lay the footprints for those yet to come. This is all part of a continuum of Indigenous excellence – and you are here to witness it. I welcome you."
The Summer of 2019
The laying of footprints continues apace. Over the 2019 summer, Tagaq, Pimienta and Dutcher kept busy touring. Tagaq, having relocated to Toronto since her win, has been on tour with both her music and her award-winning genre-bending literary debut Split Tooth (2018) which masterfully mashes up fiction, memoir, Inuit myth and poetry. Her coming-of-age story is not unlike her music in the richly layered texture of its narratives. In July, Tagaq appeared several times at the Riddu Riđđu Festival at the Centre for Northern Peoples in Northern Norway, along with Buffy Sainte-Marie, Jeremy Dutcher and other global Indigenous acts.
Pimienta's self-described "work of theatre, work of performance" We Are in a Non-relationship Relationship premiered earlier this year at Toronto's Museum of Contemporary Art. The cross-disciplinary work illustrated her versatility across a variety of performance genres integrating music, storytelling and visual elements, portrayed on three screens above a living room-like set. She's ambitiously expanding her career in new theatrical directions, "exploring the politics of gender, race, motherhood, identity and the construct of the Canadian landscape in the Latin American diaspora and vernacular."
Pimienta also took her music on tour this summer to Montréal's Suoni per il Popolo, Toronto's Koerner Hall, Folk on the Rocks in Yellowknife, Pickathon 2019 in Oregon, USA, SummerStage in New York City's Central Park and headlined the Dawson City Music Festival.
The positive reception of Jeremy Dutcher's Polaris win has provided a discernible lift to his career in radio plays, print coverage, record sales and live concerts. In The WholeNote's summer issue, I wrote about Dutcher's August concert at the rural Westben in Campbellford ON., an event that also featured an Anishinaabe BBQ for concertgoers. He also appeared at summer festivals in Toronto (Luminato), San Francisco, Montreal, Canso NS, Moncton NB, Woody Point NL, and Rees, Germany.
And in September … and early October
September 24, Tanya Tagaq and her band take the National Arts Centre stage in Ottawa along with Kalaallit (Greenlandic Inuk) Laakkuluk Williamson Bathory, in a concert evocatively titled "Voices Rising." A frequent Tagaq onstage collaborator, Bathory is a performance artist, actor, and storyteller, a specialist in uaajeerneq, a Greenlandic mask dance.
Jeremy Dutcher's tour dates include the World Music Festival in Chicago on September 18 and 19, the National Arts Centre Ottawa on September 25 and Centre in the Square in Kitchener on September 27 and 28. He continues with dates at First Ontario Performing Arts Centre, St. Catharines on October 3 and Burton Cummings Theatre, Winnipeg on October 9.
October 18 The Music Gallery presents "Lido Pimienta: Road to Miss Colombia, plus OKAN" at its home Toronto hall as part of its annual X avant concerts. Pimienta presents songs from Miss Colombia, her La Papessa follow-up album, exploring Pimienta's relationship to the culture of her birth. Performing with horns, winds and choir, the performance showcases her new songs arranged by Halifax-based composer Robert Drisdelle.
And the 2019 Polaris Music Award?
For one thing, Indigenous musicians remain contenders. The short list includes the Indigenous West Coast hip-hop duo Snotty Nose Rez Kids, nominated for their strong third album Trapline. Haisla rappers Darren "Young D" Metz and Quinton "Yung Trybez" Nyce incorporate themes from the Kitimat BC reservation, where they grew up, in their album's dense lyrics, mixing it with trap (a style of hip-hop music developed in the Southern USA): a style the duo call "Indigenous Trap."
Inuk singer, filmmaker and activist Elisapie, born in Salluit in Quebec's far north, is also on the short list. Her The Ballad of the Runaway Girl is by turns moody, melodic, richly layered and skillfully arranged throughout.
Of course there are eight other, non-Indigenous, nominees too. But no matter which one wins on September 16, the 2019 edition of the Polaris Music Prize clearly reflects, as Jeremy Dutcher astutely observed, the "continuum of Indigenous excellence" that the Prize itself, since 2014 at least, has contributed to.
WORLD VIEW QUICK PICKS
SEP 7: Aga Khan Museum, in partnership with Raag Mala Society of Canada, presents "Stree Shakti: Celebrating Women in Music," featuring Arati Ankalikar-Tikekar at the Museum. Ankalikar-Tikekar, an award-winning Hindustani music vocalist, accompanied by harmonium and tabla, performs raags associated with female deities and her own compositions.
SEP 28: Aga Khan Museum presents Madagascar's supergroup Toko Telo in its auditorium. Toko Telo features the soulful vocals of Malagasy diva Monika Njava and guitarists D'Gary (the fingerpicking master) and Joël Rabesolo, inspired by the rich inter-cultural music traditions of the island's southwest.
SEP 19 TO 29: Small World Music Society (SMWMS) presents its 18th Annual Small World Music Festival in Toronto. Here are just three of the concerts to look forward to:
SEP 19: Hanggai from China and Mongolia takes the stage at the Revival Bar. Beijing-based Hanggai convincingly mashes up rock and Mongolian music; the resulting mix can be heard on some of the world's biggest festival stages;
SEP 26: Lula Music & Arts Centre in association with SMWMS present "Women in Percussion Festival" opening night at Lula Lounge, headlining Adriana Portela. A leading figure in the samba-reggae movement, Portela was the first woman to lead a samba-reggae ensemble, and has played percussion with many leading Brazilian groups. Also on the bill is Brazilian-Canadian percussionist and vocalist Aline Morales with her new horn and drum project, Aline Morales & Vulvas.
SEP 28: MRG Concerts in association with SMWMS present Tinariwen at the Danforth Music Hall. Formed 40 years ago, this Malian band is closely associated with the electric-guitar-driven desert blues sound and with their powerful songs about issues facing their Tuareg people.
Andrew Timar is a Toronto musician and music writer. He can be contacted at worldmusic@thewholenote.com.