"Idecided to noise-cancel life," begins Olga Khazan in a provocative recent article What Happens When You Always Wear Headphones in The Atlantic's Health section. "The buck stops at my cochlea. Just like we choose everything else, I choose exactly what to put in my ears." she concludes.
Early in May of this year, the Global Musics and Musical Communities conference at California's UCLA posed a question: "How and why [do] specific musical genres travel outside their countries of origin and lead to the formation of new musical communities?" Presenters examined genres such as hip-hop, gamelan and taiko as musics that have "become global in the past century." Ethnomusicologist Henry Spiller's talk sported the cheeky yet insightful title The Hereness of the There: Making Sense of Gamelan in the United States.
So what do Khazan's noise-cancelling earbud manifesto and the Global Musics and Musical Communities conference have to do with my summer column?
The UCLA conference reminded me that the examination of musical nation-hopping performed every day in Canadian locales has been one of my main subjects here over the years, arguing strenuously that cross-cultural musical interaction is the norm rather than the exception. The widespread, speedy transmission of these genres to musical communities around the world, beginning in the second half of 20th century, and their adoption and incorporation, is a significant and remarkable development.
As for living a "noise-cancelling life" – I'm not sure that, even if attainable, it is a healthy goal. I'm all for choice and for protecting the health of one's ears in an increasingly noise-polluted environment, but for me the joy of music includes the excitement of exploration, the pleasure of surprise, chance, or even surreptitious discovery.
What does that sound like?
It's the feeling of walking through the lush shrub- and tree-filled lakeside Toronto Music Garden on a hot summer afternoon – the garden that was co-designed by cellist Yo Yo Ma to reflect in landscape Bach's Suite No. 1 in G Major for cello. The music of a small group you've only read about slowly emerges out of the city's din as you come to the brow of a knoll in the garden. They're playing at the bottom of a modest grassy amphitheatre sheltered by a mature weeping willow.
There's no front of house, program, no ushers or bar to contend with. You're in a T-shirt, shorts and sandals, wearing a protective hat. If you've ridden your bike down, as I have on occasion, you search for a safe place to park it. Pleasure boats are moored at Marina Quay West to the left, Billy Bishop Airport's prop planes within earshot. On the right, the Lakeshore Blvd. and Gardiner Expressway traffic sings with an eternal buzz, like the drone of thousands of urban cicadas.
That urban Toronto scene for me is one of the great and unique joys of music in the summer. It can't be experienced with earbuds on, noise-cancelling or otherwise. So, with transcultural music in mind, and minds and ears open rather than closed, let's explore just a few of the summer global music treats in store in the urban jungle, the GTA and beyond.
Labyrinth Musical Workshop Ontario: Have Yourself a Modal Summer
Let's begin by following up on two of the stories from my column last month.
Labyrinth Musical Workshop Ontario (LO) recently announced several concerts in addition to its June modal music workshops (check its website to register) and its June 8 concert, "Modal Music Summit: Ross Daly with This Tale of Ours plus Tzvetanka Varimezova," at Eastminster United Church. On the July 1 weekend it is programming three separate performances as part of the Aga Khan Museum's Rhythms of Canada program (more on this further on). Then on consecutive Saturday afternoons – August 3, 10, 17 and 24 – LO offers afternoon concerts in Flemingdon Park (at Don Mills and Eglinton), supported by the Toronto Arts Council's Arts in the Parks program. The concerts are billed as "family-friendly" and will include a chance to meet the musicians and instruments. Start time is around 3pm. Best confirm both the Aga Khan Museum and Flemingdon Park events in the listings or on the LO website.
Didgori Ensemble: Georgian Polyphony Tours Ontario and Quebec
My other lead story last issue was on the six-member Didgori Ensemble, the award-winning choir from the Republic of Georgia, and its June Canadian tour. As I mentioned, such a rare moment for Canadian Georgian-music lovers only happens once a lifetime.
We pick up the choir's tour on June 7 when a consortium of Toronto presenters showcase the Didgori Ensemble at Trinity-St. Paul's Centre's Jeanne Lamon Hall. Audiences can expect brilliant performances of Georgian polyphony, with ensemble members accompanying themselves on traditional Georgian instruments. June 8, Didgori gives a public Georgian choral workshop from 5 to7pm at the St. Vladimir Institute, 620 Spadina Ave., and the next day they hold a five-hour Georgian choral workshop at the MusiCamp Studio, 11 Cobourg Ave., starting at 11am. Check MusiCamp's website for registration information.
June 10, Didgori travels east to Kingston Ontario's St. George's Cathedral where they sing liturgical music at 12:15pm, presented by MusiCamp, the Melos Choir and Period Instruments. They continue east to Quebec, where on Wednesday June 12, Gabrielle Boutillier presents "Didgori en concert à Québec" at the Voûtes de la Maison Chevalier. The next day, they perform and conduct a workshop at the Auberge La Caravane, in North Hatley, QC. The tour then concludes on Saturday June 15 at 8pm in Montreal where the Harira Ensemble and MusiCamp present Didgori: Live in Concert at the Chapelle Notre-Dame-de-Lourdes. For those eager to experience this extraordinary music first-hand, Didgori offers an all-ages Workshop for Singers of All Levels June 15 and 16 at the Centre des Musiciens du Monde, 5043 St Dominique St, Montreal. You can reserve a spot at hariraensemble@gmail.com.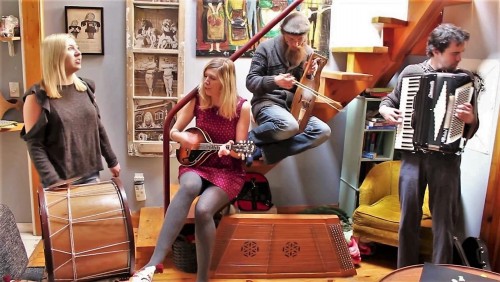 Small World Music: Free Summer Lunch
Small World Music presents its free Summer Lunch concert series in partnership with Union Station on the latter's TD Stage, 65 Front St. W. on nine consecutive Wednesdays from 12 noon to 1pm. SWM's Summer Lunch lineup launches June 5 with Mimi O'Bonsawin who recently won the Best Pop Album at the 2019 Indigenous Music Awards. It continues June 12 with Moskitto Bar, the Toronto quartet musically covering territory from Brittany to Bagdad, through Ukraine and the Balkans. June 19 the Polky Village Band, an energetic Polish-Canadian folk music group takes audiences on a musical journey to Poland, "the melting pot of Eastern and Central Europe with Carpathian, Jewish, Gypsy, Ukrainian, Slovak and Hungarian influences." June 26 the Tich Maredza Band, fronted by Toronto-based Zimbabwean singer, guitarist, mbira-ist and composer Tichaona Maredza takes the stage.
Of the five additional acts appearing on the Summer Lunch series, Fränder, a Swedish and Estonian folk quartet, is the only non-Ontario group, appearing on July 17. Representing the latest generation of talented musicians to take their rich heritage of indigenous songs to the world stage; it's worth taking your soup, sandwich or sushi to their set.
SWM's Summer Lunch series, incidentally, is part of Union Summer: Presented by TD, a sprawling 50 consecutive days of summer programming on the Front St. TD Stage, promising to "showcase …Toronto's talent, culture and spirit right at the gateway to the city."
Summer Music at the Museum: Aga Khan Museum
Earlier I mentioned Labyrinth Ontario's three Canada Day weekend performances at the Aga Khan Museum. The AKM is producing three festivals this summer celebrating "Canada's contemporary fabric, a dynamic mix of world views, cultures, stories, and rhythms. Our festivities honour the Indigenous people of this land … much of it planned to happen outdoors."
Some other selections from its "Rhythms of Canada" festival, running Sunday June 30 and Monday July 1:
Sunday opens with the 13-member Asiko Afrobeat Ensemble led by Nigerian-born bandleader Foly Kolade, and includes Toronto-based singer and composer Hussein Janmohamed, plus two-time world-champion hoop dancer Lisa Odjig from the Odawa/Ojibwe/Pottawatomi Nations from Wikwemikong, Manitoulin Island, Ontario. Headlining the event is the Cris Derksen Trio, led by rising star musician and composer Derksen, who describes herself as a "half-Cree, half- Mennonite classically trained cellist." Also on the bill is the Waleed Kush Ensemble offering percussion-driven African jazz, led by Sudanese multi-instrumentalist Waleed Abdulhamid. The next day on July 1 Toronto's Maracatu Mar Aberto perform the rhythms, songs and dances derived from the traditions of Northeastern Brazil, while other world music and dance events fill out the Canadian Day afternoon.
The AKM's "Moon Landing Festival" (July 20 and July 21) plus its "First Five Fest" celebrating five years of programming (August 31 and September 1) both have plenty for global music explorers. Please check the listings and the Museum website for details.
Harbourfront Centre: Summer Music in the Garden
My introduction to this month's column makes it pretty clear how I feel about Harbourfront Centre's delightful annual series of al fresco concerts. Summer Music in the Garden ranks among our city's essential music-in-the-park experiences. Now entering its third decade, artistic director Tamara Bernstein always makes room for top-rank global music in her astutely curated series. The concerts are scheduled for Thursdays at 7pm and Sundays at 4pm, so it pays to check the listings. Pro tip: unless it's sunny, best call the info desk at 416-973-4000 for the up-to-the-minute rain call.
Sunfest: "Canada's Premier Celebration of World Cultures"
Every summer for a quarter of a century the southwestern Ontario city of London has hosted what has become "one of the best overseas [world] music festivals," according to the UK's prestigious Songlines Magazine, transforming London's central Victoria Park into "a culturally diverse jewel, where 40 top world music and jazz groups from all corners of the planet entertain." This year from July 4 to 7 the admission-free festival jams the park chock-a-block with five stages and more than 225 exhibitors, including vendors of global cuisine, crafts and visual art.
I spoke directly with co-artistic director Mercedes Caxaj. "This is the 25th edition of Sunfest," Caxaj explained, "which my father Alfredo Caxaj founded." Mercedes has literally grown up with the festival. "You could consider it a family operation since my mother and brother are also involved in running Sunfest," she added.
On the fact that Sunfest's website the festival's lineup is divided into International and National performers, so I asked her about that. "It's one way visitors can get a feel for the world music scene today," she replied. "Also, by separating Canadian acts from those we've invited from abroad, we can highlight homegrown talent. Our main aim is to represent as many cultures as possible, and to ensure that Sunfest 2019 in the centre of London, Ontario, is an inclusive space."
Indeed, the geographic scope of the festival is vast, covering music from five continents. Caxaj listed groups from Cape Verde, Spain, England, Scotland, Netherlands, Norway, Czech Republic, Russia, Chile, Colombia, Peru, Mexico, Niger, Cameroon, Uganda, Palestine and Canada. It would be impossible to list them all. I don't think it would be fair to highlight just a few either, so I invite you to visit the Sunfest 2019 website for details. Perhaps I'll see you there.
There is one more thing to note: Sunfest's community-level arts engagement, a key reason why it's thriving and moving into its second generation. "Sunfest has accomplished in 25 years what has eluded municipal planners, politicians and corporations alone," states its media release. "From the beginning, the Sunfest Committee recognized the inestimable power of the performing arts to effect cultural and social change in this community and, despite the incredible challenges, organizers, patrons and sponsors were willing to take a chance on what's arguably one of London's most inspired utopian projects of the past quarter century. At its heart, TD Sunfest is about vision and hope: along with providing exemplary representation and accessibility … [it] offers inclusiveness to our visitors through the common denominator of their shared humanity."
Is Sunfest's inspirational model one that other festivals and presenters could emulate?
Stratford Summer Music
One of Ontario's most venerable annual summer music festivals takes place in Stratford. Last year the award-winning Canadian violinist Mark Fewer was appointed Stratford Summer Music's new artistic director, taking over the reins from John Miller who ran the extensive multi-week festival for 18 years.
This year, 100 events featuring more than 350 musicians in both indoor and outdoor venues will be heard throughout downtown Stratford – a great opportunity for what I described earlier as surreptitious musical discovery . As an example, two concerts with global themes, both presented at Factory 163 in Stratford: July 25, the Tehran-born Canadian musician Amir Amiri takes the stage. Amiri, a soloist on the santur (72-string Persian hammer dulcimer), composer and music director, strives to "explore the limits of music, stretching beyond the constraints of classical thought." July 29, Toronto's brilliant Payadora Tango performs a selection from their large repertoire of original compositions and arrangements of Argentinean tango and folk music.
Westben Concerts at The Barn
Also located in Southern Ontario, Westben Concerts at The Barn celebrates its 20th anniversary this summer. This rural music festival with a wide range of programs holds most of its concerts at The Barn, 6698 County Road 30 in Campbellford.
July 28, it presents Toronto's Kuné – Canada's Global Orchestra. Dubbing itself "a celebration of Canada's cultural diversity" Kuné's eclectic ensemble of Canadian musicians "hail from all corners of the globe, play over 20 instruments," representing the musics of their home cultures. August 2, the 2018 Polaris Prize-winning Jeremy Dutcher, a classically trained tenor and composer plays The Barn. Dutcher's music creatively blends his Wolastoq First Nation linguistic and music roots with Euro-Canadian classical and vernacular music. Come early for the 5pm feast featuring Anishinaabe BBQ; reservations are required two days in advance.
WORLD VIEW QUICK PICKS
JUN 7, 8PM: Small World Music Society presents Arnab Chakrabarty Sarod Recital featuring Arnab Chakrabarty (sarod), Zaheer-Abbas Janmohamed (tabla) in a concert of Hindustani classical music at the Small World Music Centre, Artscape Youngplace.
JUN 8, 8PM: Toronto's most seasoned and celebrated taiko group Nagata Shachu presents Nagata Shachu and American Rogues at the Harbourfront Centre Theatre. Nagata Shachu directed by Kiyoshi Nagata performs with The American Rogues Celtic Band.
JUN 9, 7:30PM: The Toronto Chinese Orchestra presents The Butterfly Lovers, featuring The Butterfly Lovers Concerto at the Markham People's Community Church, 22 Esna Park Dr., Markham.
JUL 21, 7:30PM: The Elora Festival presents Kuné, Canada's Global Orchestra at the Gambrel Barn, at the corner of Country Rd. 7 and 21 in Elora, ON.
AUG 2 and 3, 7PM: The Collingwood Summer Music Festival presents Nhapitapi from Zimbabwe at the New Life Church, Collingwood ON August 2, followed by the Payadora Tango Ensemble at the same venue the following evening.
Andrew Timar is a Toronto musician and music writer. He can be contacted at worldmusic@thewholenote.com.