At times in this column I have gone deep into a particular world music theme, presenter, musician, ensemble, audience or school. For example, last month in this column I explored in some detail, the 150-year lineage of Chinese music performance in Canada, then pulled a tighter focus on the world of Chinese Orchestras active in the GTA today. Concerts by two of those ensembles bookend the two-month-plus period I'm covering here.
At other times I've painted our region's worldly music pulse with a broad brush. For this December-January-early February column I've chosen the latter approach, surveying the seasonal tapestry of our region's astonishingly diverse music scenes. So, consider this column the tip of the GTA winter season's live music iceberg.
Toronto Chinese Orchestra "Scenic Sojourn: A Night of Chinese Music"
December 1: The Toronto Chinese Orchestra is the oldest such continually operating regional orchestra. It's presenting a concert on December 1 at North York's Yorkminster Citadel titled "Scenic Sojourn: A Night of Chinese Music" with Matthew Poon conducting. Angela Xu is the yangqin (Chinese hammered dulcimer) soloist, while Charlotte Liu is featured on the dizi (Chinese transverse flute).
On the program is music by both Chinese and Canadian composers chosen to underscore the concert's geographic and seasonal themes. They paint portraits of village life in Jiangsu, scenic views of mountain ranges in Taiwan and Kyrgyzstan, as well as evoking the prototypical Canadian winter chill.
Works include Whiteout by Matthew van Driel and Reincarnation Suite by Marko Koumoulas, both early-career Toronto composers. IMHO the performance of these works signals a healthy active engagement with the broader non-Chinese Canadian music community. Composers Hua Wu (Taiwan Folk Song Rhapsody), Xianyu Jiang, arr. Chunmin Zhang (Touring Gusu), and He Huang (Tian Shan Poetry) present Chinese approaches to orchestral writing. Rounding out the evening, a performance by the TCO's Toronto Youth Chinese Orchestra ensures essential interpretive orchestral skills are passed on to the younger generation.
Payadora: "Tango and Argentine Folk Music"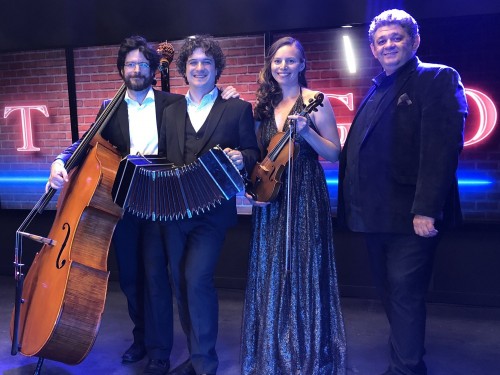 December 2: The warm and intimate Gallery 345 hosts the tango-centric Toronto quartet Payadora in concert. "Tango and Argentine Folk Music" is the aptly concise title of its committed tribute to the tango repertoire and ethos. Payadora regulars, violinist Rebekah Wolkstein, Drew Jurecka, bandoneon, pianist Robert Horvath and bassist Joseph Phillips are joined by guest vocalist Elbio Fernandez in a program drawn partly from the roots of the Buenos Aires' early 20th-century tango heyday.
The group typically plays scores which favour instrumental tangos designed for listening in a concert setting rather than those intended for couple dancing. The evening continues with Astor Piazzolla's well-known, trend-setting nuevo tango compositions of the second half of the 20th century.
In my May 1, 2017 review of a Payadora concert in The WholeNote, I wrote that in addition to tango they "also performed two Argentinian vernacular dance music genres. The zamba is set in a slow 3/4 meter – or is it in 6/8? – while yet another couples' dance, the chacarera, also plays on similar hemiola syncopation."
Audiences at the December 2 concert can certainly expect similar rhythmically compelling folkloric renditions. Founded in 2013, with its playful and virtuoso approach to the musically accessible tango repertoire, we can see why Payadora has, in a few years, garnered a healthy regional fan base.
Christmas musical themes
Every year at this time I look at music traditions of those who celebrate Christmas in its many guises. For those who don't, it may be time for Hanukkah, Kwanzaa, Solstice or just simply "The Holidays." This year is no exception.
I've assembled a few picks from the many seasonal musical offerings that highlight diversities in our region.
December 5: The Toronto Choral Society, Geoffrey Butler conductor, presents "Navidad Nuestra (Our Christmas)" at Koerner Hall. The concert features two of the best-known works of popular Argentine composer Ariel Ramírez (b. 1921). The 150-voice TCS choir is joined by the Latin ensemble (and past collaborator) Cassava, led by Rodrigo Chavez, with tenor soloist Ernesto Cárdenas.
Ramírez's Navidad Nuestra for choir and Andean instruments is a "folk drama of the Nativity" based on Hispanic-American traditions. His earlier Misa Criolla (1964), a Creole Catholic mass in a South American hybrid mixture of Iberian and Indigenous musical genres, swiftly became a big hit among international choirs and on LP. A pioneering mass written in a regional Indigenous dialect, Misa Criolla's bright, optimistic sound exuded an unpretentious spirituality, in tune with the changing times in which it was produced.
Founded in 1845, the TCS is the city's oldest and largest community choir and it is impressive to see them tackle these Ramírez scores again. Feliz navidad!
December 8: Celtic-themed music appears alive and well, particularly during the holiday season. Here's just one concert example at the eastern end of our own "fertile crescent.", the Isabel Bader Centre for the Performing Arts presents "The Kingston Connection: A Celtic Christmas with Kelli Trottier" at its beautiful Kingston Ontario hall.
A member of the North America Fiddlers' Hall of Fame, Kingston fiddler, step dancer and vocalist Trottier's musical vocabulary is steeped in her deep Scottish and French roots, reflected in her ten albums. Trottier and her backup musicians present an album of Canadian and Celtic Christmas songs and fiddle music.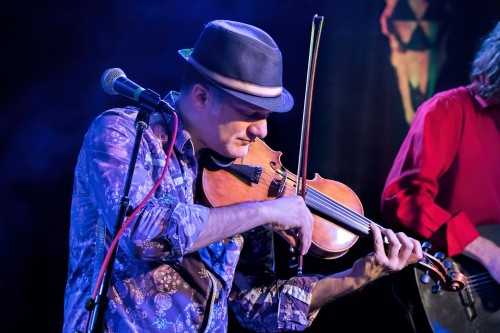 December 9 at 2pm: "Holidays of the Global Village with Chris McKhool and Friends" plays at the Kingston Road United Church. Kid-friendly Canadian violinist, guitarist and singer-songwriter McKhool is bringing two armloads of world music friends to help him fete the "multicultural mosaic of our country." Inclusive songs about "Bodhi Day (Buddhist), Carnival (Quebec), Chanukah, Chinese New Year, Christmas, Diwali, Halloween, Kwanzaa (Pan-African), Native Traditions, Ramadan and Winter Solstice" will ring out in the church. Assisting McKhool with his ecumenical vision are Toronto-based musicians Aviva Chernick, Shannon Thunderbird, Maryem and Ernie Tollar, Kevin Laliberté and Drew Birston.
December 20: in keeping with the Celtic theme – and at the southern end of our fertile crescent – The Gallery Players of Niagara present "Glissandi & Guy Bannerman: A Celtic Solstice" at Silver Spire United Church, St. Catharines. Guy Bannerman provides the Celtic-themed narration with the Glissandi trio playing the soulful music of Ireland, Wales and the Scottish Highlands. The program is repeated December 21 even further south at Grace United Church, Niagara-on-the-Lake.
Congratulations! We've made it to the New Year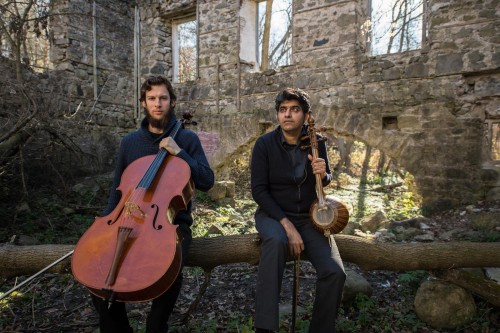 January 8, 12pm: Kamancello plays on the Canadian Opera Company's World Music Series at the Richard Bradshaw Amphitheatre. Kamancello is an innovative bowed string duo with Shahriyar Jamshidi on kamanche (Persian spike-fiddle) and Raphael Weinroth-Browne on cello. Theirs is an East-meets-West artistic partnership that "blurs musical genre conventions and cultural boundaries with their highly evocative improvised performances," ranging in tone from soulful to incendiary.
January 20, 4pm: Folk Under the Clock presents Harry Manx at the Market Hall Performing Arts Centre, Peterborough. Manx is a veteran of the Canadian music fusion scene who has released 11 albums and garnered multiple industry awards by successfully merging Hindustani classical music with acoustic blues. It's all propelled by the hybrid sitar-guitar he plays: the mohan veena. His ability to gracefully wed the blues with the classical Indian ragas is unparalleled. It's an unusual musical mix that has led him to be labelled the "Mysticssippi Blues Man." Manx and Steve Marriner (vocals, harmonica, guitar) will play tracks from their new album Hell Bound for Heaven.
January 24, 12pm: The Canadian Opera Company presents "Volando: Tango Takes Flight" as part of its World Music Series. The Payadora Tango Ensemble takes over the Richard Bradshaw Amphitheatre space in a noon-hour master class on contemporary tango listening music, performing from their latest album Volando, inspired by a "beautiful sunset in the clouds as seen from a flight home by violinist Rebekah Wolkstein."
February 2: Lemon Bucket Orkestra and Aline Morales perform at the Royal Conservatory of Music's Koerner Hall. I've written appreciatively about both the Orkestra and Morales numerous times in this column. The quotes, "Adventurous, multicultural and amazing!" (The Wall Street Journal), and "Toronto's guerilla-punk-Balkan-folk-brass band that started on the streets of Toronto" (their website) about sum up the Orkestra. And we know Morales as the Toronto-based Brazilian singer, percussionist, bandleader and member of KUNÉ: Canada's Global Orchestra. It's bound to be a good time.
Also on February 2: Alliance Française Toronto and Batuki Music Society present Les Frères Cissoko Bannaya Family from Senegal, part of their Musique du monde series at 9pm. Les Frères Cissoko's illustrious Malinke (aka Mandika) musical lineage stretches back several centuries in West Africa, along with their primary instrument, the kora. The kora (21-string long-necked harp lute) was traditionally played by a griot (a.k.a. jali, or jeli) who combines the bardic roles of a historian, storyteller, praise singer, poet and musician. As a main repository of regional oral tradition the griot therefore has often been an influential advisor to the West African ruling classes.
Malinke oral tradition recounts that Jali Mady Fouling Cissoko, one of the three Cissoko brothers' ancestors, a griot in the Kaabu Empire (1537–1867), was responsible for the development of the kora, launching a family tradition still in force today.
Senior brother Noumoucounda has taken his family's practice considerably further afield however, embracing international vernacular music genres. Formerly with Positive Black Soul, among the first hip-hop groups based in Dakar, Senegal (founded in 1989), he has played with Youssou N'Dour, Ki-Mani Marley (son of Bob Marley) and others, earning him the colourful sobriquets "the hip-hop griot," and "the Jimi Hendrix of the kora."
Finally, welcome the Year of the Pig (Boar)!
February 5, 12pm: The Canadian Opera Company celebrates the Chinese New Year featuring the Toronto Chinese Orchestra Chamber Players (TCO-CP) at the Richard Bradshaw Amphitheatre.
Led by erhu virtuosa Patty Chan, TCO-CP forms the professional core of the Toronto Chinese Orchestra. Marking the Chinese New Year they perform a mix of Chinese music plus contemporary works by Canadian and international composers.
TCO-CP members are established Toronto musicians and music teachers. Their repertoire embraces not only demanding Chinese works, but also contemporary scores by Canadian and international composers. This demonstration of transcultural musical solidarity is a marvellous way to bring in the year of the – carefree, honest, trusting, sincere, brave and wealthy – boar (aka pig).
Andrew Timar is a Toronto musician and music writer. He can be contacted at worldmusic@thewholenote.com