After a warm late summer, the nip is back in the air, just in time to herald the fall concert season. To Torontonians with adventurous musical tastes that signals the advent of another X Avant New Music Festival running from October 12 to 21and organized by the avant-garde presenter the Music Gallery. A fixture of the downtown scene for 36 years, its programing is dedicated to presenting "innovation and experimentation in all forms of music" as well as also encouraging "cross-pollination between genres, disciplines and audiences." While this year's theme, "Expanding Circuits," focusses on music from laptops to home made junk shop sourced electronics to commercial synthesizers, incoming artistic director David Dacks has still skillfully managed to weave world music elements into his programming.
Suzuki + Dunn: The first world music concert at the Music Gallery this month, on October 4, is "New World Series: Akio Suzuki + Kyle Bobby Dunn." While falling just prior to the X Avant festival, this concert exemplifies the risk taking attitude at the heart of the Music Gallery programing. Just what is "world music" about this concert? Examining the veteran instrument builder and psych-drone specialist musician Akio Suzuki's ancestry and instrumentation reveals a few clues. His musical aesthetic is infused with wabi-sabi, a comprehensive Japanese world view of beauty that is imperfect, impermanent and incomplete. Further characterized by asymmetry, asperity, austerity and intimacy, this aesthetic is permeated by a deep appreciation of the ingenuous integrity of natural objects and processes. As for the instruments he plays, one of them, the ancient iwabue (stone flute), exemplifies those attributes. Having been passed down through his family for generations, this flute, made of naturally-formed large pebbles, is associated with Japanese Shinto ritual. The haunting, keening melodies Suzuki performs on it strike listeners as pure and simple — in the best way; antediluvian and contemporary at the same time. I witnessed a solo performance by this remarkable sound artist several decades ago and agree with the musician and author David Toop that "Akio Suzuki is a kind of magician." Joining Suzuki is the rural Ontario-based minimalist composer Kyle Bobby Dunn, whose music is immersed in ambient, drone and post-classical composition genres.
Global bass:Commercial western record and concert production enterprises, specifically those headquartered in London, England, in the early 1980s, have often been cited as the origin of "World Music" as a marketing term. Ethnomusicologists such as Robert E. Brown and Peter Manuel, on the other hand, adapted it even earlier as an umbrella academic classification for a wide range of non-Western traditional musics. The general category has subsequently been redefined by both commercial and scholarly camps into numerous distinct regional subgenres primarily defined by geography, as well as hybrid sub-genres such asworldbeat, and fusion further described as world-, global- and ethnic-.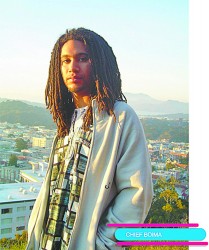 A concert on Friday October 12 titled "Global Bass Avant: Chief Boima, DJ Valeo and Daniel Vila" atthe Gladstone Ballroom on Queen St. W. reminds us that world music is an ever-evolving and highly contested notion. It also alerts us to the growing, energized role of the DJ and of the mashup and remix in this music. Part of the Music Gallery's X Avant festival, this concert features three creative producer-DJs: NYC's Chief Boima, Toronto-Montreal's Valeo(aka Guillaume Decouflet), one of the founders of Montreal's Masala radio show, and Daniel Vilawho isbehind the crypto-nightclub/art space, Double Double Land in Kensington Market, Toronto. All three musicians are active in cross-cultural musical experimentation as mediated by popular digital music technology. Taking the example of Chief Boima, his performances with the Sierra Leone Refugee Allstars, Jahdan Blakkamoore and Los Rakas, plus his releases including African by the Bay (2009) and Techno Rumba (2010) demonstrate the increasingly central place of the DJ in world music of all stripes.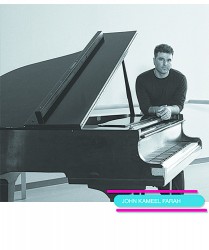 Farah: The last X Avant festival concert highlighted here is "From Carthage to Rome: John Kameel Farah" scheduled forSunday October 21. Toronto-based award winning keyboardist and composer Farah is no stranger to the pages of The WholeNote. I've reviewed several of his CD releases including his Unfolding (2009), an ambitious composition which in style and musical language is a veritable musical alchemical amalgam, drawing from an incredibly varied range of Western and Middle Eastern contemporary and historical sources. In it, baroque musical instruments and forms rub musical shoulders with drum and bass dance beats, Arabic maqam-based improvising structuresand metres: all this presented as a ten movement piano concerto! "From Carthage to Rome" is Farah's segue, with more emphasis on Arabic song structures, instrumental samples and characteristic microtonal tunings, yet with his trademark bravura piano playing front and centre. In keeping with X Avant festival's theme of "Expanding Circuits," laptopolist Matt Miller reinforces the concert's North African content by reanimating his Moroccan field recordings through Ableton software, adding Berber, Gnawa and Jilala ethnic source music into the mix.
Other Picks
On October 7 Marcel Khalifé and the Al Mayadine Ensemble,presented by the Toronto Palestine Film Festival, perform musical settings of the poetry of Mahmoud Darwish in the George Weston Recital Hall at the Toronto Centre for the Arts. The late Palestinian Mahmoud Darwish was among the Arab world's most revered poets. Translated into more than 25 languages his poetry touched on themes of exile, family, marginalization and identity. In the 1970s his poetry became a source of inspiration for the Lebanese composer, oud master and singer Marcel Khalifé, the recipient of many distinctions including the UNESCO Artist for Peace Award (2005). He is joined by the Al Mayadine Ensemble, an eight-piece group comprised of vocalists and musicians playing Middle Eastern and Western instruments. Their program, a fitting conclusion to the Palestine Film Festival, revisits and re-imagines the ties that bind the two powerful advocates of Arab culture: Darwish and Khalifé.
Despite the blustery fall weather outside, we may yet get another chance to experience the feel of summer this year at the second annual "Uma Nota Festival of Tropical Expressions." Running October 19 to 21, Uma Nota, which primarily programs music concerts this year, imaginatively partners with the Brazil Film Fest, each supporting the other's mandate. Friday, October 19 Uma Nota presents the Canadian debut of Stereo Maracanã from Rio de Janeiro, a popular four-piece band mixing electronic music, hip-hop, funk and capoeira percussion rhythms. Local Latin alternative and tropical bass experts Dos Mundos DJs and DJ Valeo join Stereo Maracanã at the El Mocambo. The party continues Saturday, October 20 at The Great Hall, with Uma Nota's "World Funk" feast. Emerging Toronto bands including Sound One reproduce a 1950s Jamaican ska sound, while Mar Aberto Sound System merge Brazilian percussion-rich dub reggae, samba grooves and tropical funk. DJs General Eclectic and Jerus Nazdaq spin Afro-Brazilian remixes, ska, reggae, Afrobeat and Latin standards. For other events such as the fun World Roots Community Cultural Fair please check the festival website.
October 23 at noon, the Canadian Opera Company's World Music Series stages "Pura Vida" in the Richard Bradshaw Amphitheatre, at the Four Seasons Centre for the Performing Arts. The Venezuelan-born vocalist Eliana Cuevas is ably supported by Jeremy Ledbetter, piano, and Luis Orebgoso, percussion. World music producer Derek Andrews once called Cuevas, possessed of a samba and salsa jazz-inflected sexy voice, "a major new voice on the Canadian music landscape" and I am inclined to agree.
October 25 the York University Department of Music presents "Trichy Sankaran — Music of South India" on the Faculty Concert Series at the Tribute Communities Recital Hall, York University, Keele St. campus. The mrdangam (classical South Indian drum) virtuoso and York music professor Trichy Sankaran is joined by senior vina (seven-string classical South Indian plucked lute) guru Karakudi Subramanian, a ninth generation vina player, and Desi Narayanan on kanjira. While the remarkable 40-plus year Canadian teaching career of Sankaran has indelibly influenced several generations of Canadian and international students (including yours truly), he has made an equally important contribution to the art of mrdangam performance. This will be live Carnatic music performance at its most refined.
Sunday October 28, the Toronto interpreters of inter-cultural music Jaffa Road release their new CD, Where The Light Gets In at Hugh's Room. The new album is Jaffa Road's follow-up to their Juno Award nominated, debut CD Sunplace. The group, comprised of leading Toronto music innovators Aviva Chernick (vocalist), Aaron Lightstone (guitars, oud, saz, synthesizers), Sundar Viswanathan(sax), Chris Gartner (bass)and Jeff Wilson(percussion), blends jazz, Jewish, Arabic and South Asian music with electronics.
Also at the Richard Bradshaw Amphitheatre, on November 6 the World Music Series concert "Many Strings Attached: Spotlight on Sarangi" showcases Aruna Narayan, among the world's premier sarangi players. The sarangi, a venerable Hindustani (North Indian) bowed string instrument is considered very difficult to master. Aruna Narayan, the daughter and artistic heir of renowned sarangi innovator and virtuoso Pandit Ram Narayan, is the only woman to play this "classical" instrument professionally. Narayan's concerts, vehicles for her technical prowess and profound understanding of the performance practice of Hindustani ragas are all too rare. I for one therefore will not miss her brief concert of midday ragas. 
Andrew Timar is a Toronto musician and music writer.
He can be contacted at worldmusic@thewholenote.com.