Not that long ago, June in Toronto meant a slow slide into summer, accompanied by an inevitable wind-down of concert activity. Over the last half decade, however, Luminato has enriched this time of the year by infusing the performing arts into the lifeblood of our city, entertaining and inspiring citizens and visitors alike. Luminato has swiftly established itself as one of North America's preeminent arts festivals, having commissioned over 50 new works, and presented 6,500 artists from over 35 countries. This year "Luminato 6" takes place from June 8 to 17 in various downtown venues. Many performances are free; most are staged at the Luminato venue they're calling the "Hub," at David Pecaut Square.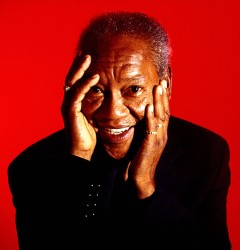 Taking its cue from the rich diversity of the city's numerous cultural communities, Luminato presents world music as part of its overall programming, its artist mix fostering a healthy, dynamic balance and even interplay between local and international performers. In an interview with The WholeNote, Luminato music curator Derek Andrews revealed that he has been working on some 30 music events this year, many which have world music connections. Andrews noted that Luminato aims to take risks by programming artists who are new to Toronto audiences, pairing them with local newcomers and favourites. Here are a few concert picks:
World music at Luminato launches on Friday June 8 with the double bill of K'NAAN and Kae Sun. Both are known primarily as hip hop, and sometimes "urban folk" performers, yet both were born on the African continent. They both maintain ties to their homelands. Born in Somalia, the singer, rapper, poet, songwriter and instrumentalist K'NAAN is a Canadian popular music phenomenon. He garnered global attention when his song Wavin' Flag was adopted as the 2010 FIFA World Cup theme song, in due course becoming an international chart-topper. The singer-songwriter Kae Sun (Kwaku Darko-Mensah Jnr.), on the other hand, began his career performing in his native Ghana before immigrating in his teens to Canada, studying multimedia and philosophy at McMaster University in Hamilton. His debut album, Lion on a Leash (2009) blends folk, soul and hip hop idioms, and was followed, after a visit to Ghana for inspiration, by his impressive 2011 EP, Outside the Barcode, which was "recorded on 2-inch tape on a farm in Ontario."
On the afternoon and evening of Saturday June 9, Luminato's Hub is the site for a "Caribbean Summit" where veteran Jamaican and Trinidadian musicians celebrate their nations' 50th anniversary of independence. Here are a few of the headliners: Guitarist Ernest Ranglin was called "the most important musician to emerge from Jamaica" by Island Records' founder Chris Blackwell. Ranglin is also credited as the founding father of Jamaican ska, which paved the way for reggae music. He fronts the "Jamaica to Toronto" band which includes Jay Douglas and Everton "Pablo" Paul. Calypso Rose, "The Queen of Calypso," began her singing career at 15 in her native Tobago. She has enjoyed a long string of calypso hits during her five-decade career. Another seasoned singer, the Jamaican-born Michael Rose, began his recording career with the important group Black Uhuru, which in 1985 won the first Grammy for reggae. He has since released more than 20 albums, including Last Chance, which reigned for weeks at number one on the UK reggae charts. Bringing it back home, the Trinidadian-Canadian group Kobo Town takes its name from the Port-of-Spain neighbourhood, the birthplace of calypso. Formed in 2004 by singer-songwriter Drew Gonsalves, the band's lyrics explore issues such as immigration and war, while its music serves up compelling heart-pumping, booty-shaking reggae-calypso grooves.
The next afternoon, on June 10, the concert titled "Ethiopiques: The Horn of Africa" offers a double bill exploring the region's folk, jazz and hybrid musical genres. The Boston-based nine-piece Debo Band mixes horns, strings and accordion along with voices. Their sound is a tribute to the exciting hybrid Ethiopian music being made by the bands of Haile Selassie's era. The Debo Band has recently been signed to SubPop's Next Ambience label. The other ensemble on the card is Abyssinian Roots. Produced by Toronto's Batuki Music Society, the band features notable expats of Addis Ababa's nightclub scene. Among the styles presented: "Azmaris" songs accompanied by monochord music with lyrics replete with social commentary, varied regional folk musics, as well as Ethio-jazz standards.
The evening concert on June 12, titled "Buena Vista West Africa," comes with a world music back-story. The opening act is the Ivory Coast singer Fatoumata Diawara in her North American premiere. After a career as an actress and multi-instrumentalist, she released an album featuring her singing. Diawara also made significant contributions to other high-profile projects, including Herbie Hancock's Grammy-winning Imagine Project. Now to the back story of the show's title. In 1996, several of Mali's finest musicians were scheduled to visit Cuba to record an album with local musicians. The Malians never arrived, however, and the veteran Cubans, not wishing to squander the scheduled studio session, recruited other musicians to partner with. That recording resulted in the global world music hit album Buena Vista Social Club. Fourteen years later the original Malian invitees, including Bassekou Kouyate, Toumani Diabate, Kassey Mady Diabate and Djelimady Tounkara, were finally united with the Cuban singer and guitarist Eliades Ochoa and his Grupo Patria. They produced the album AfroCubism. That this remarkable African-Cuban musical ensemble, which rarely performs live, is making its Toronto premiere at a free concert is a good argument for Luminato's programming.
Then, on June 16 at 8pm, Toronto's self-described "Balkan-Klezmer-Gypsy-Party-Punk-Superband" Lemon Bucket Orkestra, opens Luminato's "Balkan Beat Blowout." According to the festival promo the 13-piece Orkestra "grew out of a conversation between a Breton accordionist and a Ukrainian fiddler in a Vietnamese restaurant" — not an unlikely scenario in contemporary Toronto, I'd say. Even the title of their 2011 EP Cheeky gives away their folk party ways. Lemon Bucket is putting its imprint on the city's urban-folk scene with their quirky arrangements of traditional Ukrainian, Yugoslavian and Romanian songs. The headline act scheduled at 9pm is the Bucovina Club Orkestar, making its North American premiere.
In addition to these (and many more) concerts, Luminato is also presenting free weekday noon hour discussions and concerts of world music interest at the Luminato Lounge at the festival Hub, under the rubric, "Lunchtime Illuminations and Concerts." These events feature artists' conversations, each paired with a custom-tailored musical performance. They look like an unparalleled opportunity to get a deeper peek into the artists' m.o.
Please check the Luminato website (www.luminato.com), print media and of course The WholeNote listings for more details.
Other Picks
Contrary to appearances in my column thus far, Luminato is not the only world music game in town this month. On June 1, the Royal Conservatory presents Simon Shaheen at Koerner Hall. Among today's most significant Arab musicians, performers and composers, Shaheen is a virtuoso oud and violin player, incorporating traditional Arabic, jazz and Western classical idioms. Of interest to fans and students, Shaheen will also lead a public masterclass on Friday June 1 at 10am, at Beit Zatoun, located on Markham St., just south of Bloor.
Also on June 1, Ensemble Polaris presents "Game On!" at the Heliconian Hall. This concert presents traditional Canadian and northern European songs and dance tunes linked thematically with sport and games of skill and chance. Self-described as an "Arctic fusion band" — and why not? — Ensemble Polaris also performs at 2pm on June 7 at the Toronto Public Library's Orchardview branch.
June 6 at noon the COC's World Music Series presents a concert of "Authentic Klezmer and Gypsy Swing" at the Richard Bradshaw Amphitheatre. The musicians include the Yiddish Swingtet: Jordan Klapman, piano; Jonno Lightstone, clarinet; Tony Quarrington, guitar and mandolin.
Further afield at the University of Waterloo, the Department of Music presents "Singing: East and West" on June 13 at Renison University College. The University of Waterloo Choir directed by Gerard Yun performs chant and (Tuvan, or Inuit?) throat singing. Guests include Marhee Park, soprano; Waterloo Chinese Philharmonic Choir; and the Bluevale Collegiate Choir.
Back in Toronto, on June 20, the Georgian choir Darbazi performs as part of the glittering lineup at the SING! Festival fundraiser hosted by star tenor Michael Burgess at the Green Door Cabaret on Ossington Ave. Darbazi will also perform sets on July 2, at the Canada Day Celebrations, outdoor SING! tent at Harbourfront Centre.
Andrew Timar is a Toronto musician and music writer.  He can be contacted at worldmusic@thewholenote.com.