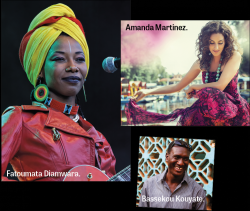 Yes, 'tis the season, though it's sometimes a cold one for world music lovers. I'll put my cards on the table for you, dear reader. It doesn't take much 6/8 time early music to put me into the Christmas spirit, and just a few bars of a polished Salvation Army brass band to warm my chilled Noël heart. I'm a sucker for Yuletide carols, period instrument performances of baroque staples by Bach, et al, grand chorales and church organ music. I may join the tenor section of a sing-along Messiah yet once more this year, the one with Ivars Taurins conducting, re-enacting moody "Herr Handel" warts, waistcoat and all. It's an interactive event which combines several of those seasonal pleasures I don't feel obliged to feel guilty about at all.
I wish I could say that about the Timar family holiday tradition. For decades we've feasted and then decorated the dessert table with super-rich confections. Make no mistake though; these are serious symbols of conspicuous abundance. Other kids had Christmas lights twinkling publicly on frosty front porches; we had tortes, truffles, candies and pastries shared in the warmth of family. Imagine homemade all-nut tortes garnished with spiked whipped cream and flavoured buttercream in thick layers. And heaping plates of all-butter shortbreads, artisanal boozy mascarpone truffles and raspberry Linzer squares, all toasted with Tokay and bubbly — but I digress from my main musical point...
My problem: none of the music performance sites I mentioned are generally considered or marketed as "world music," my beat at The WholeNote. Thus I can't discuss that sort of musicking here. What I do feel free to discuss however is the wealth of music originating from the second, third and hybrid worlds being performed in our midst, some of it even tied thematically to the season.
World cultures for millennia have marked the frighteningly long darkest night and looked forward to any sign of the return of the light. Lux Aeterna is a theme not only in the Latin liturgy and its music but in rituals around the world. As I write this, late fall's first white flakes swirl from above in shifting clouds, magically dusting our world with lacy crystals of water. It puts me in the mood to engage in haiku, another season-specific activity. This Japanese poetic form, like world music itself is an imported notion, an admirable platform from which to succinctly reflect on this liminal season:
Longest night, coldest
day; Solstice sings fa-la-la —
winter pine boughs cheer.
Picks: December 3 the Nathaniel Dett Chorale presents a concert deftly merging European, African American and Caribbean hybrid musical worlds thematically evoking the season. "An Indigo Christmas: Songs to the Black Virgin" at St. Timothy's Anglican Church, promises Christmas music with a "distinct Afrocentric vibe." The Chorale has presented this program before and released a stirring CD titled An Indigo Christmas – Live! in 2004. The notes admirably sum up the music as an "age-old story of expectation, hope, redemption and freedom wrapped up in the promise of a newborn child." The concert offers arrangements of spirituals and carols, "some with an African shout, a Caribbean twist, a jazz treatment, or a gospel blast of hope and joy."
Two days earlier, on December 1 at Koerner Hall, the 2012 Canadian Folk Music Award-winning Sultans of String release their new CD, Symphony! in a concert presented by Royal Conservatory and Small World Music. The album was recorded with the Cathedral Bluffs Symphony Orchestra conducted by Norman Reintamm. Toronto's Sultans of String was co-founded in 2004 by the well-known six-string violinist Chris McKhool and flamenco guitarist Kevin Laliberté. They are joined by Eddie Paton, guitar, bassist Drew Birston, Roger Travassos on percussion and the Cathedral Bluffs Symphony Orchestra. Expect a fast-paced instrumental concert mashing up elements of Arabic folk, Spanish flamenco, French Manouche Gypsy jazz, Cuban rhythms, all supported by lush pops orchestral arrangements.
In the last issue of The WholeNote my colleague Wendalyn Bartley wrote about the December 4 and 5 Continuum Contemporary Music production of Nuyamł-ił Kulhulmx/Singing the Earth at the Wychwood Theatre. Is this world music? My excuse for revisiting it here is that the composer of the work, Bella Coola-native Anna Höstman (winner of the 2013 Toronto Emerging Composer Award), incorporates multi-ethnic human texts and musical materials as well as the natural soundscape of the B.C. geography into this fascinating interdisciplinary performance. It weaves into the score not only human stories — a mixture of the indigenous Nuxalk Nation, descendants of Norwegian and Japanese settlers — but also the ever-present sonic backdrop of the place: the river and the forest. The Continuum Ensemble's skilled septet, conducted by Gregory Oh, is joined by mezzo Marion Newman.
December 5 the Faculty of Music, University of Toronto, presents its regular bi-annual "World Music Ensembles Concert" at 7:30pm in Walter Hall. This particular concert includes the (Balinese Semar Pegulingan) Gamelan Ensemble directed by Annette Sanger. They're joined by Brian Katz's Klezmer Ensemble; the Japanese Taiko Ensemble directed by Kiyoshi Nagata rounds out the early evening.
Women take stage centre: Rounding out the first week of the month on December 7 the Batuki Music Society showcases "Songs of My Mother: A Celebration of African Women" at the Ada Slaight Hall, Daniels Spectrum. The Batuku Music press release notes that in traditional African music male voices are often privileged while the female voice "is not given [the] prominent role that it deserves" even though it is ever present. Moreover "women are often ... discouraged from assuming leading roles especially as bandleaders. Toronto has a good number of African female singers: some of them lead their own bands and others are vocalists in various groups." This concert seeks to redress an evident gender inequality and to shine "a light on the rich talent and the diversity of music that these women possess." The featured singers are: Tapa Diarra, Evelyn Mukwedeya, Memory Makuri, Blandine Mbiya and Ruth Mathiang. They are supported by five (male) musicians and the choreographer/dancer Mabinty Sylla.
December 7 and 8 another concert examines the female diasporic experience, this time from an Asian perspective. The Raging Asian Women Taiko Drummers, aka RAW performs "From Rage Comes" on the spacious stage of the Betty Oliphant Theatre. RAW promises this concert "will not be your typical percussion event." Toronto's self-described "well-loved ensemble of Asian women activist drummers" has collectively created an evening-length work which aims to tell their stories as diasporic Asian-Canadian women in the 21st century through music, movement and storytelling. They mine personal experiences which "explore the theme of rage ... and what comes from it. When it is unleashed ... when it is muted ... when it must be swallowed ... and when it empowers women to transcend." The core taiko drumming practice of RAW, as it has evolved in North America, is a jumping off point "for an artistic journey to explore racial, sexual and cultural identities ... with a special focus on social activism, education and community building." They're well worth seeing.
The same night, December 8, the Echo Women's Choir raises its 80 strong voices at the Church of the Holy Trinity with a social activist, community and world music focus in a program titled "Rise." The Echo performs Appalachian, Croatian klapa  — a form of traditional a cappella singing from Dalmatia, gospel, South African songs, as well as compositions by several composers. The choir is joined by guest guitarist and fiddler Annabelle Chvostek. Becca Whitla and Alan Gasser conduct.
More picks: December 14 the African Catholic Community Choir presents songs from a variety of African traditions, plus works in English and French. Conducted by Serge Tshiunza, the concert is at the Holy Name Catholic Church.
We skip more than a month, and into a new year, to January 18, 2014. "Send me a Rose" is the concert by the Lute Legends Ensemble at the Glenn Gould Studio. Bassam Bishara, oud ('ud), Lucas Harris, lute, and Wen Zhao, pipa, present music for three prominent instruments of the venerable and widespread lute family. Some scholars trace the lineages of the modern Near-Eastern 'ud and Chinese pipa to a common ancestor about 1,100 years ago. The European lute and the 'ud are also related. Both appear to have descended from a common forbear via diverging evolutionary paths. The Lute Legends trio aims to bend the direction of these divergent geographic paths back toward the unified goal of making music together on the cozy stage of the Glenn Gould Studio. Their program includes music from Turkey, Italy, Iraq, China and Scotland. Sweetening the Can-con, the Canadian composer Andrew Donaldson has written a work for them too.
January 18 Amanda Martinez, no stranger to our column, brings her signature eclectic Latin-centred music to our 905 neighbours in Markham. Martinez and her band will offer a generous mix of Afro-Cuban beats, bossa nova, flamenco and Mexican folk music at the Flato Markham Theatre.
Already into the second month of the New Year, on February 1, Fatoumata Diawara and Bassekou Kouyate perform the exciting hybrid music of Malian blues at Koerner Hall. Co-presented by the Royal Conservatory, Small World Music and Batuki Music, Malian singer Diawara was singled out by Time magazine in 2012 as a singer to watch. "Her well-crafted songs are often light and breezy, but her soulful voice brings a bluesy depth and potency ..." Sharing the stage is Mali's Kouyate, the jeli ngoni virtuoso, whose music has been compared to the "electric desert blues" of Tinariwen and Ali Farka Touré.
I look forward to continuing my personal observations of the GTA world music scene in these pages next year. May you have a banner 2014. 
Andrew Timar is a Toronto musician and music writer. He can be contacted at worldmusic@thewholenote.com.