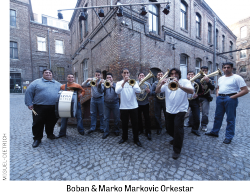 It's a warm sunny weekend day in late August and here I am sequestered in my office. I'm imagining perverse things like concerts in chilly October, when I'd rather be gone fishing, metaphorically speaking that is. The lyrics of a famous 20th-century standard come to mind reminding me that it's supposed to be the season when "the livin' is easy." Except it's been a busy, busy working summer around here. But enough of my moaning. This morning I rose thinking of singing and world music festivals soon to come.
Ashkenaz: By the time you read this the always fabulous biennial Ashkenaz Festival, billed as "North America's largest festival of global Jewish music and culture," will be wrapping up at the Harbourfront Centre, along with almost all of the hot, long days. (We can but hope for a handful more.) This is Ashkenaz's tenth celebration, with over 200 artists from more than 12 countries participating in dozens of events from August 29 to September 1. As usual tradition (i.e. "Havdallah") rubs elbows with musical cross-cultural fusion (i.e. "Aaron Kula – Black Sabbath: Blues & Jews," and "David Buchbinder's Odessa/Havana"), along with the downright friendly-weird (i.e. "Deep-Fried Gypsy Cumbia"). You can't say the festival doesn't have a sense of humour.
Small World Music: The fall season starts properly with the Small World Music Festival, this year running from September 25 to October 5. The series sets out to "capture the world in a ten-day festival," bringing the music of India, Germany, Trinidad, Serbia, Iran and Pakistan to Toronto venues.
Instead of my usual practice of chronologically going down the listings and issuing "picks" from on high, in this column I'm changing it up and sharing a more in-depth commentary on one of the concerts. I think it's in keeping with "the livin' is easy" attitude, don't you?
September 26 Small World Music Festival in association with AE presents the Boban & Marko Markovic Orkestar at the Phoenix Concert Theatre. Superlatives from The New York Times and the Boston Herald precede the Orkestar's appearance. Rather than repeating those, I propose a little vicarious field trip to Eastern Europe, to an unlikely, remarkable festival that launched the rkestar's success, taking this multigenerational Romani band from Serbian village weddings to large urban concert halls around the world. Consider this a page in your pocket guidebook.
What takes place in the central Serbian village of Guča is undeniably a global musical phenomenon. Since 1961 this tiny sleepy village is transformed each year into the raucous hub of the closely contested and widely popular annual Guča Trumpet Festival. It's also the world's largest trumpet competition – and for thousands, licence to show off, get rowdy and imbibe large quantities of their beverage of choice. A remarkable 300,000 to more than 500,000 people have swelled the village site each year, most to hear top Serbian and Balkan-style brass bands play in highly contested competitions. Some have claimed it's the largest music event anywhere. During the festival, bands from Serbia and all over the world play on the competition stage and also wander, performing in the village's streets night and day. This wild scene is illustrated in the 2013 U.S. feature documentary Brasslands.
The Boban Markovic Orkestar has long been among Guča's leading contenders. It took the Best Orchestra award in 2000, as well as the coveted Best Trumpet prize for its maestro no fewer than five times. As for Boban, dubbed the "king of Balkan Brass music," ever the gracious winner, he has retired from the competition and set his sights further afield. In the last decade he has aimed to reach international audiences through his contributions to movies, as well as by taking his funky and frenetic arrangements of dance-worthy brass music – sometimes described as "Balkan and/or Gypsy roots music" – on tour to global stages.
Following Serbian Romani tradition, in 2006 Boban Markovic formally handed over his orchestra to his son and successor, Marko, on his 18th birthday. Global Rhythm magazine opined, "With nods to klezmer, jazz, Latin and deep-fried funk injected into the mix, the … Orkestar knows where their music's been but they're hell-bent on slinging it straight into the future." This multigenerational musical powerhouse has harnessed brass virtuosity, macho lyrics, lightning tempi, pop kit drumming, Romani vocals and the occasional rap, all delivered with infectious energy. The Orkestar then morphed it all into a populist style that has allowed it to segue from Serbian village celebrations to the floors of trendy Central European dance clubs.
You can join me on the evening of September 26 at the Phoenix. I'll be the guy at the back soaking up the Orkestar's vibrations, with a small glass of šljivovica if they stock it, toasting the end of summer.
Andrew Timar is a Toronto musician and music writer. He can be contacted at worldmusic@thewholenote.com.