In this column I've often showcased concerts produced or presented by the Small World Music Society, the feisty Toronto institution dedicated to showcasing world music in its ever-evolving flavours. On February 8, 2014 Small World took a decisive new step in its 15-year evolution. It opened the doors of the Small World Music Centre (SWMC) to the public with a sold-out concert by Gustavo Santaolalla and Quiquie Escamilla. Located in Artscape's new Youngplace building, Small World's evolution also resonates in the building's bricks and mortar too. Artscape's transformation of the former school into Youngplace was completed last year just prior to the building's centenary. It's billed as a "community cultural hub" with spaces for individual artists and small organizations, as well as major ones like the Luminato Festival.
SWMC's Alan Davis: Seeking insight into SWMC's design and what its presence will mean for Toronto's world music performers and fans, I called Alan Davis, Small World's founder and executive director. Davis began the interview by describing the new space as "a world music hub, featuring professional quality sound, staging, lighting, flexible seating and recording capability." A full lighting system with wrap-around draping "helps create the perfect acoustic environment for both amplified and acoustic presentations," Davis adds. It's also the right size "to host intimate concerts, workshops, incubator residencies and multimedia productions to engage a diverse range of artists and cultural communities." SWMC aims to service Small World's "diverse partners, from performers in all genres to community groups as well as our new [Queen West] neighbourhood."
Davis enthusiastically described a key feature of the new facility: the "virtual concert hall." This consists of a "suite of high-quality video and audio capture technology, enabling what takes place in the SWMC to be experienced beyond its four walls," potentially by international audiences. With all the technology in place, "performances, workshops, lectures and more can be fully documented and edited into finished video content."
Another important aspect of the SWMC's programming is what he calls its "incubator function ... an intentional mixing of musical cultures, a result of perhaps four or five artists [from different traditions] in a residency," sharing common musical idioms and perhaps differences too, and designed to allow for "opportunities to create new fusions and to collaborate."
His hope is that having a permanent presentation space will lend continuity to staging of global musical genres, and will "spell some relief to the presenter's constant roller coaster ride." Some world music performance genres' preferred venues are experiencing a geographic shift to the 905, he explains; others are experiencingt a general decline in audience; while yet others, emerging or still attracting large audiences, are now represented by several competitive presenters.
To close, he offers some modestly realistic circumspection: "As to the future of the Small World Music Centre, we'll certainly learn as we go," he says.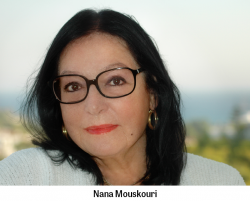 Nana Mouskouri: you can hear her on a Wednesday: April 2, Massey Hall and Roy Thomson Hall present "Nana Mouskouri: The Happy Birthday Tour." With her trademark black-framed glasses, proud Greek island roots, ringing mezzo-soprano and multinational popular song repertoire, the internationally top-selling singer has racked up impressive numbers. For beginners she's recorded some 1,500 songs and sold several hundred million records over her more than five-decade long career.
From her professional start in the late 1950s Mouskouri chose to add various types of songs to her repertoire including folk song and other popular styles. For a time she sang jazz standards in Athens nightclubs, leaning toward Ella Fitzgerald's repertoire. Then in 1957 she recorded her first single, Fascination, in both Greek and English. She quickly became identified with performing songs in multiple languages, thereby appealing to several national commercial record and concert hall markets. Her repertoire likewise draws on varied regional and national sources.
These features taken together, it strikes me that an argument could be made for Mouskouri as a prototypical world music singer before the term became an academic or commercial tag.
She sang on German and French film soundtracks. Impressed with what he heard on her early albums, Quincy Jones brought her to NYC to record a jazz album The Girl from Greece Sings (1962), while the American singer Harry Belafonte, then best known as the "King of Calypso," included her on his 1966 tour and teamed with her for a duo album. A perennially prolific recording artist, her MTV entry claims that "globally speaking, Nana Mouskouri is the biggest-selling female artist of all time. Her fluency in multiple languages (Greek, French, English, Spanish, Italian, Portuguese, plus nine more in her albums) enabled her to reach audiences all over Europe, the Americas and even Asia."
Well into a very successful singing career and with a punishing touring schedule which connected to fans worldwide, Mouskouri translated her fame into politics, sustained social activism and pacifism. It's a move few singers have negotiated with grace. She served as a member of the European Parliament (1994 to1999) and is a longtime UNICEF ambassador. A recipient of many European honours, she was recently awarded two in Canada. In 2013 the distinguished National Order of Québec, as well as the Doctor of Letters degree from McGill University were conferred.
At an age when most divas have long hung up their flowing concert gowns Mouskouri's fan power is such that retirement is not in the cards. She tried. From 2005 through 2008 she conducted an extended intercontinental farewell concert tour. That retirement didn't last long, however. She kicked off a new world tour in Athens last fall. Toronto audiences at the Roy Thomson Hall concert, billed "The Happy Birthday Tour," can expect a selection of Mouskouri's hits performed in a richly textured voice, distinctively accented with her native Greek. Still ringing with passion, today it's a voice lacquered with the patina of some 60 years of experience of life lived, of concert arenas and intimate stages, of life on the international road.
Other picks:
March 5, at the Lula Lounge, you will find Sierra Maestra, called "guardians of the Cuban son music tradition." Named after the eastern Cuban mountain range where son originated, Sierra Maestra has avidly preserved this ancestor of salsa, playing at clubs and festivals around the world. The Guardian observed that the band at its heart is revivalist, yet unafraid of "constantly changing styles, from 50s pop to 40s big-band and 30s jazz styles, through to percussive, African-influenced songs from the last century." Sierra Maestra has played a prominent role in the recent re-popularity of Cuban music. Juan de Marcos González, its ex-leader, was a key player in the creation of the Buena Vista Social Club. That's the group, a certified mega-phenomenon, which brought mid-century son and its veteran soneros to international fame via its eponymous 1997 album.
March 7 the Small World Music scene moves to the Baltic Avenue Dance Club, 875 Bloor St. W. with "Electro East: Mahmood Schricker & DOORJA." Touted as a "party with Electro World Musicians," the sets commence with the Toronto-based DOORJA producing pulsing electronica with live percussion and vocals. Also local are Mahmood Schricker and his band, with Reza Moghaddas (keyboard, programming), Oriana Barbato Guerrero (bass) and guest vocalists performing "electronic music influenced by Persian sounds." In every promotional photo I've seen Schricker is holding a setar, one of Iran's iconic lutes, a clear badge of his cultural roots.
March 15 Nagata Shachu presents Alcvin Ryuzen Ramos at the Brigantine Room, Harbourfront. BC-based Ramos, the guest soloist in the concert, is a leading North American performer of the shakuhachi, the end-blown Japanese bamboo flute. A multi-instrumentalist, composer and shakuhachi craftsman, Ramos is collaborating with the group Nagata Shachu and its leader Kiyoshi Nagata. The program includes new works, improvisations, traditional Japanese folk songs and physically demanding ensemble drumming for which Nagata Shachu is justly acclaimed.
April 5 Amanda Martinez and her band perform at the Winter Garden Theatre. Mexican and South African roots are mashed up with flamenco soul in Toronto-based singer/songwriter Martinez's music. Her solo CDs have resulted in several Latin Jazz Performer of the Year nominations. No longer a Canadian secret, she's appeared internationally too, headlining at the NYC Blue Note jazz club, the 2010 FIFA World Cup festivities in South Africa and at the 2011 Pan American Games in Mexico.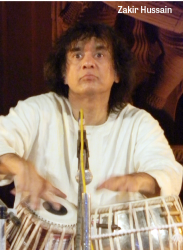 Also April 5, Small World Music, in conjunction with Roy Thomson Hall, presents "Zakir Hussain and The Masters of Percussion." A rare drummer-celebrity in his native India, Zakir Hussain has arguably become the world's best-known performer of the Hindustani tabla. I attended a previous concert of his touring group a few years ago. I came away impressed with the program's variety and high performance level, as well as with the boldness of Hussain's fusion experiments and showmanship.
This visit Hussain has invited a new cadre of outstanding percussionists to join him on stage. While the full lineup was not available at press time, two Hindustani string instrumentalists will provide melodic content on sarangi and sitar. On the other hand two other drummers, each representing differing cultures, have been given billing. V. Selvaganesh, Hussain's fellow member of the fusion group Remember Shakti is one. He's a virtuoso Indian percussionist based in the Carnatic tradition playing the ghatam (clay pot drum), kanjira (small frame drum) and the mridangam (barrel drum). Kit drummer Steve Smith, formerly of the top-charting rock group Journey, is a respected member of the Modern Drummer Hall of Fame. Smith represents drumming prowess in Western popular music and jazz within Zakir Hussain's spicy Indian rhythm masala.
Andrew Timar is a Toronto musician and music writer. He can be contacted at worldmusic@thewholenote.com