The sometime commercial music category and now broad notion I call world musics is manifest in many, ever-varied ways. It also appears to be spreading geographically to ever more communities in Southern Ontario. Concert presenters are a major vector for this diffusion. It's notable that aspects of the world's musics this month and next appear in programs by presenters as different as supper clubs, conservatories of music, classical new music producers, colleges and universities, as well as not-for-profit societies and venues. Yet they all claim to be presenting world music. Some of these presenters have a specific music genre, geographic or cultural construct as a focus, while others a much broader mandate, challenging received ideas of mono-ethnicity embedded in neighbourhood and community by encouraging hybrid exchanges.
I've explored in depth individual presenters such as Small World Music in previous columns. This time I thought it would be both fun and instructive to explore four disparate presenters for commonalities and differences, each promoting their event as a festival. Let's see what Lulaworld 2014, the Mateca Arts Festival, Royal Conservatory of Music's 21C Music Festival – all in Toronto – plus Conrad Grebel University College's Sound in the Land in Waterloo have in store for our adventurous ears.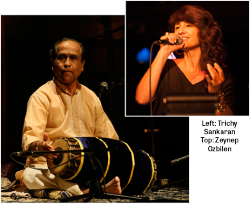 Lulaworld 2014: Running from May 18 to June 7 Lulaworld 2014, the ninth such annual festival presented by the Lula Music and Arts Centre, showcases Toronto's top world, jazz and Latin musicians, often performing alongside celebrated international colleagues. In a telephone conversation with Tracy Jenkins, Lula's co-artistic director, she underscored this year's theme. "In anticipation of the Toronto 2015 Pan Am Games, Lulaworld will focus on artists with cultural roots in Mexico, Colombia, Cuba, Dominican Republic, Puerto Rico, Haiti, Trinidad, Guadaloupe and Brazil." She added that musicians with other musical influences, those "from Angola, Israel, Portugal, Turkey and Italy" also have a place on this year's roster. In addition, for "the very first time, the festival will conclude with a day of free outdoor programming as part of the Dundas [Street] West Fest on June 7."
I counted 19 separate concerts in Lulaworld. On one date alone, the free Dundas West Fest where the street is closed to traffic, eight groups have been programmed to play on the al fresco stage. I can therefore only touch on a few of the concerts here. The opener on Sunday May 18 kicks off with the Montreal-based singer, pianist and composer Malika Tirolien. Born in Guadaloupe, she soulfully mashes up Antillean, funk, jazz and gospel musical influences. Then the Juno-nominated Toronto group Kobo Town takes the Lula stage with their alternative take on the venerable Trini calypsonian tradition.
There are two shows on May 30. At 7pm the outstanding keyboardist, Grammy-nominated, Juno Award-winning Hilario Duran takes over Lula's piano for a rare solo concert in his home repertoire of original works, Cuban and jazz standards. At 10pm the Turkish Latin vocalist Zeynep Ozbilen appears with Roberto Linares Brown, among Canada's most respected salsa bandleaders and composers, plus a nine-piece band. Ozbilen brings a new project, developed with Brown, which she evocatively describes as "Latin with Mediterranean spices."
In the last in-venue concert on June 6, headliners Jimmy Bosch and Ralph Irizarry with The Lula All Stars demonstrate an important aspect of Lulaworld's programing: mentorship of local musicians by international stars. Lula co-artistic director Jenkins pointed out that "Jimmy Bosch, a fiery exponent of the progressive sound he calls 'salsa dura' (hard salsa) is New York's most sought after [Latin music] trombonist. And NYC timbalero Ralph Irizarry [aka] the 'Godfather of Lula' is a legend of salsa percussion." They're both making repeat visits to Lula and will lead workshops and share stage time with our city's All Stars. You're encouraged to come for the tropical fusion dinner, take abeginner salsa lesson and stay afterward to dance salsa, merengue, bachata and top 40 to the post-show DJs.
Mateca Arts Festival: In contrast to Lulaworld's well-seasoned operation, this is the first edition of the Mateca Arts Festival. This "Community Multi-Arts Celebration," notes its press release, is "inspired by the riches of Latin American culture … honouring the diversity of the city of Toronto. Approximately 15 countries will be represented: Argentina, Chile, Mexico, Colombia, Ecuador, Peru, Venezuela, Spain, USA and Brazil amongst others."
The festival takes place in Burwash Quad, Victoria College, University of Toronto on June 7 and 8. This an all-inclusive type of cultural gathering, the kind that Harbourfront Centre has popularized over the years, replete with musicians, dancers, visual artists, arts and crafts, food vendors, karaoke, workshops and yoga. Even "motivational speeches" are listed.
For world music fans however perhaps the outstanding event is the trio concert led by the Argentinean singer Beatriz Pichi Malen. With a thriving international concert and recording career, Malen draws on her deep-rooted native Mapuche (indigenous people of south-central Chile and southwestern Argentina) heritage. Her trio performs songs, some inter-generationally passed on, dominated by themes from the natural world and by the Mapuche worldview centred on its intimate and harmonious relationship with Mother Earth. Among the indigenous instruments the group plays to accompany their songs are the kashkawilla (bell rattles),kultrung (drum), trompe (jews harp), and truutruka (valveless horn). The native Quechua dancer Lucho Cruz adds to the concert's Andean flavour with her choreography illustrating what the press release poetically calls "passages of sacred moments in an open and arid geography, splashed by the southern wind."
21C Music Festival:The venerable Royal Conservatory, with its Koerner and other halls, is certainly no newcomer to presenting a sweeping variety of music, though admittedly until the 21st century it was mostly of the Euro-American classical variety. The RC's five-year-old Koerner world music series offerings on the other hand have often been mentioned in this column.
The 21C Music Festival, running from May 21 through 25 is a brand new RC project hosting seven ensembles and numerous soloists, most of them Canadian. The media kit reflects one artistic inspiration for the event. Philanthropist Michael Koerner first quotes composer Charles Ives and then remarks that "21C Music Festival is … about ear stretching." One of the ear stretching elements evidently is music outside the Euro-American classical mainstream. Let's call it world music for the lack of a better term.
Of all the individual works and non-orchestral instruments in the festival which could claim world music provenance I'd like to focus on the concert on May 23. Titled "After Hours #1," the event begins late, approximately at 10pm, at the Conservatory Theatre. It features the compositions and performances of two drummer-composers, Trichy Sankaran and Gurpreet Chana, respectively representatives of the South Asian "classical" Carnatic and Hindustani musical traditions.
The internationally renowned Indian-Canadian percussion virtuoso and York University music professor Sankaran has been a prominent performer on the Toronto scene since the early 1970s. He has been commissioned by the RC to compose a new work for this occasion. His Hamsa (2014) for the 21C Ensemble consisting of violin, viola, cello, flute, clarinet and Sankaran on the mrdangam (Carnatic barrel-shaped drum) will receive its world premiere at the concert. New music by Sankaran is in itself cause for celebration.
Gurpreet Chana grew up in Canada and studied Indian tabla (double drum) in the Punjab gharana (school/style). He also presents a world premiere, TABLIX, for solo tabla and electronics. In his notes, Chana states that TABLIX is the "product of four years of meticulous research and development … explor[ing] technology's impact on the untapped melodic potential of the tabla." Chana's early experiences as a second-generation South Asian immigrant in Canada echo many other musicians' experiences, "characterized by interactions with every type of musician." It is an environment that instils an openness that echoes clearly throughout TABLIX which invites the listener to experience and communicate with contemporary music culture through the eyes of the tabla player.
Sound in the Land 2014 Festival: As illustrated in my last column, world music concerts have also taken root in Waterloo, Ontario. Presented by Conrad Grebel University College, University of Waterloo, the Sound in the Land 2014: Music and the Environment Festival, June 5 to 8, consists of a series of concerts plus a conference. Several of the Mennonite-centred, musical and ecologically themed concerts have world music threads as well as mainstream Euro-American ones. On the June 5 "Mennofolk Concert" the Buffleheads, a trio, perform what is intriguingly described as "Afro-grass" repertoire, a new (sub)genre to me. June 6 at the University of Waterloo's Humanities Theatre in the concert titled "Sonic Convergences: Orchestra and Multimedia," the Korean composer and media artist Cecilia Heejeong Kim stages her engaging multimedia piece Earth Songs(2009), for Korean instrumentsand Korean vocals.
Then at the Saturday matinee on June 7 the Grebel Gamelan directed by Maisie Sum plays Balinese instrumental music on the Grebel Chapel's patio (in keeping with the open-air presentation typical of performances in the music's tropical homeland).
Weaving together Lulaworld's Latin and Luso core with Mateca Arts Festival's South and Central American community multi-arts celebration, then adding the 21C Music Festival's embrace of performer-composers outside the received classical composer matrix and finally the multi-hued threads of Conrad Grebel's Afro-grass, Korean ecological theatre, Balinese gamelan and choral kecak, it becomes clear that these and other such presenters are key actors defining the practice and transmission of world music in our time.
Andrew Timar is a Toronto musician and music writer. He can be contacted at worldmusic@thewholenote.com.