So far it's been an odd fall here. Into the third week of October, it's well past Thanksgiving, yet Toronto is still reaching daytime high temperatures we typically experience in June. There hasn't even been a whisper of nighttime frost in town. The geraniums still bloom vigorously and peppers continue to redden on my north-facing balcony garden. Endless summer? Dire climactic implications aside, I for one am thankful for this cold weather reprieve, soon to be over, I suspect.
The GTA's first Festival of Arabic Music and Arts (FAMA), presented by the Canadian Arabic Orchestra, will be well under way by the time you read this. The festival's first concert was held at Koerner Hall on October 28, featuring a double bill with Iraqi guitarist, singer and composer Ilham Al-Madfai and the Toronto world music group Sultans of String. Ever since its establishment in 2014 the professional CAO has sought to connect expatriate Arabs with classical Arabic musical culture in order to maintain this heritage in the hearts and minds of the present community in Canada, as well as to safeguard it for future generations. At the same time, the orchestra also seeks to engage with non-Arab Canadian communities. FAMA shows both objectives at work.
Arabic Music in Toronto: Rob Simms and George Sawa
To gain further insight into Arabic music today, in both the Arab world and here in Canada, I called Rob Simms, associate professor at York University's Department of Music, a Canadian ethnomusicologist and multi-instrumentalist specializing in Middle Eastern and West African traditions. Simms reminded me of the devastation to cultural life impacting large swathes of Iraq and Syria as a consequence of the recent invasions and sustained armed conflict in those countries. One of the results of this upheaval has been the displacement of millions of Iraqis and Syrians, many finding themselves as refugees in foreign lands – including recently, Canada.
Aleppo, Syria, one of the oldest continuously inhabited cities in the world, is a prime example of this cultural devastation. It is considered an important centre of Arabic traditional music, historically supporting renowned practitioners of muwashshah, qudud halabiya and maqam (religious, secular and poetic-musical genres). Aleppo was also known for its sammi'a, a cadre of influential cultivated music connoisseurs. This ancient web of music production, patronage and appreciation has been tragically disrupted as a result of the current civil war.
I then followed up on the phone with longtime Toronto resident George Sawa, a renowned scholar, qanun (Arabic zither) player and music educator who holds a doctorate in historical Arabic musicology from the University of Toronto. Born in Alexandria, Egypt, the multi-award-winning Sawa has over 50 years' experience in Arabic music performance, history and theory. "I arrived in Toronto in 1970 to study at U of T," he recounted. One of the draws was the university's Robarts and Faculty of Music libraries, which according to Sawa "contain one of the best Arabic music collections in the world."
What was the Arabic music scene like in 1970 Toronto? "At the time Arabic music was mostly encountered in cabarets and in clubs which featured belly dancing," Sawa told me. He immediately sought to enrich the scene.
"In 1971 I founded a trio playing traditional Arabic music. Not long afterward, CBC radio recorded for broadcast a concert of Christmas carols sung by (leading contralto) Maureen Forrester, with me on qanun. The trio increased into a quintet, appearing in concert and on CBC over the next few decades. It became known as the Traditional Arabic Music Ensemble." Sawa also served as the music director of Toronto's Arabesque Dance Company & Orchestra from 1996 to 2005.
Today one of Sawa's performing projects is Alpharabius, "an ensemble dedicated to exploring the musical interactions of the rich cultures of the Mediterranean. The group is named after one of the great philosophers of classical Islam, al-Farabi (d. ah 339/ 950 CE), who was renowned as both a musical theorist and a practicing musician… The ensemble is a collaboration of musicians trained in the classical Arabic and Western medieval musical traditions."
He concluded our conversation by observing that the GTA's "Arabic community has grown considerably in the past few decades. For example, I think it's very significant and healthy that before securing support from Canadian Arts Councils, the Canadian Arabic Orchestra initially sought patronage from local Arabic businesses who believed in what they were doing. More power to them!"
Charbel Rouhana, oudist
November 3, FAMA in co-production with Festival du Monde Arabe de Montréal presents Charbel Rouhana, the Lebanese composer, singer and oudist accompanied by the Canadian Arabic Orchestra at the Jane Mallett Theatre, St. Lawrence Centre. This program will be repeated November 5 at the Monument National in Montreal.
Possessing ancient roots, the oud – often placed into three general groups, Arabic, Turkish and Persian – is at the core of much of the traditional music played throughout the Middle East and in regions influenced by its people. The oud, which has numerous morphological variants highly dependent on region of origin, typically today has 11 or 13 strings grouped into five or six courses.
Its performance tradition has been particularly long-maintained in Iraq, where a popular saying honours its high value to the culture: "In the music of the oud lies the country's soul." The instrument was once common in Iraqi households, something like the guitar in Canada or the USA. Following the 2003 invasion of Iraq and the overthrow of the Ba'athist regime however, the increasing power of Islamist extremists who consider secular music to be haram (sinful, forbidden) has forced many oud players and teachers to cease playing publicly, or even forced them into exile in order to pursue their oud-related careers.
Already a virtuoso of the instrument, several decades ago Rouhana established a new method of playing the oud. Published in seven volumes, it has been adopted by the National Conservatory of Music in Lebanon and by other music institutions, securing his standing among today's leading masters of the Arabic oud. Rouhana is also a prizewinning composer: in 1990 he was awarded first prize in the Hirayama Competition for his work Hymn of Peace. He has appeared in concert with classical Hindustani bansuri (bamboo flute) virtuoso Hariprasad Chaurasia, and also with many other leading musicians.
FAMA Concerts
In addition to the November 1 FAMA concert at the Revue Cinema mentioned in my previous column, featuring the outstanding female Syrian oud player and singer Waed Bouhassoun, and the November 3 Charbel Rouhana concert referred to above, there are a several more FAMA concerts in the first half of November. Here are some highlights.
November 4, the group Golan, its members hailing from Tunisia, France and Palestine, takes the stage at the Lester B. Pearson Theatre in Brampton. Leader Hubert Dupont, Golan's double bassist, gathered like-minded musicians from all over the Mediterranean, arranging a musical exchange between elements of contemporary European music, jazz and Arabic traditional music. Pascal Rozat wrote in France Musique that Golan is reaching for "an ideal of musical fraternity as much as a hymn to freedom, for an 'oriental journey' different from others."
November 9, FAMA, in partnership with the Native Canadian Centre in Toronto and in association with the Aga Khan Museum and the Arab Community Centre of Toronto, presents the world premiere of Origins at the Aga Khan Museum. Tagged "Indigenous/Arabic," this new production by the Canadian Arabic Orchestra in collaboration with poet and singer Hassan Tamim and St'at'imc (a.k.a. Lillooet) singer-songwriter and dancer Laura Grizzlypaws is perhaps the most ambitious of the FAMA offerings.
Origins showcases similarities as well as cultural divides between the people of two continents through dance and music, "in the spirit of truth and reconciliation and… peace and harmony through the cross-cultural medium of music." In addition to Grizzlypaws and the Canadian Arabic Orchestra, Origins presents whirling dervish performers of Rumi Canada for part of the program, enhancing the spiritual journey theme of the work.
November 12, FAMA moves to Mississauga's Hammerson Hall, at the Living Arts Centre. Iraqi-born Naseer Shamma, among the world's top oud masters, headlines the concert accompanied by the Canadian Arabic Orchestra. Titled "On the Way to Baghdad," the concert is billed as a veritable masterclass in classical Arabic music.
Born in 1963 in Iraq, Shamma received his diploma from the Baghdad Academy of Music in 1987. He has composed music for TV, films and plays since. In 1998 he established the Arabic Oud House in Cairo, as well as in Tunis and Dubai. His scholarly research consulting old manuscripts on Arabic music has aided in his reconstruction of the Al-Farabi (c. 870-951 CE) model oud, which can produce an expanded tonal range of four octaves, giving the player a vast improvisational terrain.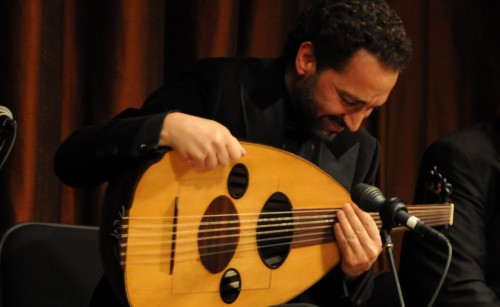 QUICK PICKS
The Aga Khan Museum hosts four concerts in addition to Origins: Nov 4: "Fleur Persane by Perséides" featuring Amir Amiri (santur) and Jean Félix Mailloux (double bass); Nov 18: "Haram with Gordon Grdina" is an evening of indie-rock meets jazz and electronica; Nov 25:" All Rivers at Once: The Israeli-Iranian Musical Initiative" is described as "jazz-like arrangements of traditional Israeli and Iranian folk songs." The ensemble, directed by pianist Noam Lemish, includes Saeed Kamjoo (kamancheh), Pedram Khavarzamini (tombak) and Amos Hoffman (oud). Dec 2: "Nazar by Turkwaz," the Toronto quartet of world music divas Maryem Hassan Tollar, Jayne Brown, Sophia Grigoriadis and Brenna MacCrimmon. Expect Arabic, Balkan and Turkish folk songs in tight arrangements with a sprinkling of new charts.
Nov 22: 12 noon, the COC's World Music Series continues with "Arabic Coffee House." The Al Qahwa Ensemble, with Maryem Hassan Tollar (vocals), Demetri Petsalakis (oud), Ernie Tollar (flutes) and Naghmeh Farahmand (percussion), animate the Richard Bradshaw Amphitheatre of the Four Seasons Centre for the Performing Arts.
I'll be sure to attend this concert of longtime local practitioners of Arabic and related music, bookending what promises to be an extraordinarily chockablock month of Arabic music in the GTA.
Andrew Timar is a Toronto musician and music writer. He can be contacted at worldmusic@thewholenote.com.