In my summer 2017 column I examined the formation and first season of the New Canadian Global Music Orchestra – the Royal Conservatory's supergroup celebrating cultural diversity and pluralism – and its search for a common language here in Toronto, Canada.
Now, with fall subtly nipping at our heels, two new initiatives aiming to address issues of interest to students, practitioners and audiences of globally sensitive music, are poised to set projects in motion. On the one hand, Polyphonic Ground aspires to bring under a big tent a group of individual "live music presenters committed to building and sustaining Toronto as a global music city." On the other hand, Labyrinth Musical Workshop Ontario is a non-profit "dedicated to promoting the study and appreciation of modal music traditions of Asia, Africa and Europe." Both publicly launch in September.
Polyphonic Ground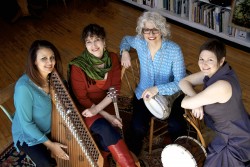 Kayla McGee, Small World Music's managing director, serves as Polyphonic Ground's community lead. In a mid-August interview she told me why Polyphonic Ground was an obvious next step in the evolution of our region's global music community. "We at Small World saw there was no real infrastructure for live music presenters, no shared platforms to allow us to work and grow together." Small World couldn't do it alone. But the need for setting up such infrastructure became abundantly clear to McGee when she served with Ontario's Live Music Working Group, an industry association promoting live Canadian music.
Polyphonic Ground's activities, McGee explains, will include collaborative programming, fundraising, addressing resource issues and professional development such as presenter panels and surveys. "We also want to stress to audiences that the music we collectively present is for the culturally curious and not just for members of a specific group. Many of us are looking for ways to break out of genre and confirmed audience silos … to cross-pollinate audiences."
That Small World had identified a real need became instantly clear when they put the word out about Polyphonic Ground; 12 small-to-medium-sized organizations responded to the call for "a new initiative to strengthen Toronto's culturally diverse music industry." It's an impressive list: Ashkenaz Foundation, Lula Music and Arts Centre, Batuki Music Society, Good Kind Productions, Link Music Lab, MonstrARTity Creative Community, Music Africa, Revolutions Per Minute, Uma Nota Culture, World Fiddle Day Toronto, iNative and Small World Music Society, the initiative's catalyst.
I have featured the activities of many of its members individually in this column over the years. Under the Polyphonic Ground banner these presenters could constitute a significant cultural voice. Taken as a whole the numbers are impressive. Collectively they employ 40 people in their operations and present some 300 concerts each year, to an estimated audience of over 300,000.
The press release announcing Polyphonic Ground's formation — Hear Toronto. Where the World Lives. — sets out its mission systematically: to provide points of connection for artists and audiences; to strengthen industry practices and be a united voice to government, business and industry; to encourage exchange and discovery through a monthly double-bill performance series and professional development initiatives for diverse artistic leaders. The release also acknowledges funding by the Ontario Media Development Corporation, as well as support from MusicOntario, Music Canada Live, City of Toronto and Cultural Pluralism in the Arts Movement Ontario (CPAMO). So at some level the collective has already begun making its case.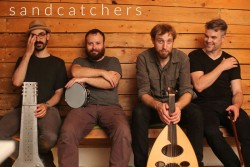 Polyphonic Ground serves up the first in its series of monthly double-bill concerts at Revival Bar, 783 College Street. As planned, for each concert, two partner organizations will pair in collaborative programs geared to transcultural musical discovery. The September 14 inaugural concert is spearheaded by Ashkenaz Foundation and Small World Music Society in co-presentation with three groups: Turkwaz (Toronto), GROOZ (Montreal) and Sandcatchers (Brooklyn). Transcultural the evening certainly will be, featuring the Balkan voices of the seasoned JUNO-nominated Turkwaz trio, the Middle Eastern-meets-Appalachian fusion of Sandcatchers, and GROOZ's spirited Algerian-Québécois septet. (This inaugural concert also celebrates the launch of the 16th annual Small World Music Festival, running September 14 to 17, "bringing Toronto music from around the world and around the corner.") Further double-bill Polyphonic Ground musical juxtapositions are scheduled for October 12, November 9 and December 14, with different Polyphonic Ground member organizations presenting. I'll be eagerly following these concerts.
I'll also be following with interest Polyphonic Ground's other meaningful initiatives beyond the concert hall. These include access to training and leadership and bolstering professional development opportunities within the music industry. Already announced is its Diversity and Live Music Panel series, supported by Ontario government and industry players; the Developing Diverse Leaders program "with the goal of empowering young talent through mentorship;" as well as its Best Practice Workshops. The titles may not be as catchy as "Middle Eastern-meets-Appalachian fusion" but the need is real.
Labyrinth Musical Workshop Ontario
While Polyphonic Ground is presenter-driven, Labyrinth Musical Workshop Ontario focuses on the education of a new generation of musicians – and also audiences. Its stated mission and mandate is also distinctly different: "dedicated to promoting the study and appreciation of modal music traditions of Asia, Africa, and Europe."
Founded in 2017 by two Toronto-based musicians, Persian tar player and teacher Araz Salek and keyboardist, composer and sound designer Jonathan Adjemian, LMWO takes its cues directly from the successful Labyrinth Musical Workshop founded in 2002 at Houdetsi, Crete by leading world musician and educator Ross Daly and running annually since. That successful model has inspired similar workshops in Spain and Italy, establishing an international Labyrinth network.
In a recent telephone interview Salek framed the core reason for establishing Labyrinth Ontario as a belief "in encouraging the study of modal musical traditions in their specific details. [We believe in] embracing the diversity of musical traditions and audiences in the GTA rather than smoothing out particularities of tuning, rhythm or phrasing to cater to an assumed common ground. Our ultimate hope is to see the GTA become a global hub for the study and performance of these traditions, providing institutional support to the many world-class musicians already living here and encouraging a new generation of performers."
Having begun his music career in Iran, Salek has been active as a tar player and leader in Toronto for about a decade in both Persian ensembles as well as in more eclectic music circles. He has taught and performed at the Labyrinth Musical Workshop in Houdetsi since 2011. Labyrinth Ontario will hold its first annual Toronto training intensive in May 2018. On offer will be a series of three week-long seminars in instrumental technique and in regional modal theory systems. Topics will cover aspects of Afghan, Arab, Azeri, Bulgarian, Greek, Iranian, Kurdish, and Turkish music. Confirmed faculty includes Bassam Bishara (CAN, oud), Ross Daly (Greece, modal music composition), Imamyar Hasanov (USA, Azeri kamancha), Pedram Khavarzamini (CAN, tombak), Ali Akbar Moradi (Iran, Kurdish tanbur), Araz Salek (CAN, tar) and Kelly Thoma (Greece, Cretan lyra). In addition to the workshops, faculty and their students will give concerts each week and moderated panel discussions will be open to the public.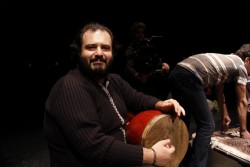 Friday September 15, Labyrinth Ontario holds its Launch Event and Fundraiser at 918 Bathurst Centre for Culture, Arts, Media and Education in order to celebrate its upcoming 2018 programming. The concert features performances by oud player and faculty member Bassam Bishara, Bulgarian and Balkan vocal and instrumental ensemble Meden Glas and Iranian Modal Music Ensemble of Toronto. Then a quartet co-led by faculty members tombak master Pedram Khavarzamini and artistic director Araz Salek on tar takes the stage, capped by a set by DJ Cheba Khadijah of Souk Sessions, known for his "Arab techno for the people."
New Canadian Global Music Orchestra, Polyphonic Ground and Labyrinth Ontario all launched this year. They are all ambitious adventures in imagining new ground on which global music can grow in Ontario soil, in our Ontario souls. They also address, albeit in very different ways, challenges of bridging musical cultures and expanding global musics' musician and audience base while maintaining the music's quality.
We'll keep eyes – and ears – open for just how they engage with all their necessary Toronto region stake-holders consisting of learners, creators, presenters, audiences and funders alike.
Andrew Timar is a Toronto musician and music writer. He can be contacted at worldmusic@thewholenote.com.
Update 3pm, Sep 6 2017: A previous version of this article incorrectly implied that Polyphonic Ground received financial support from organizations other than the OMDC, and that McGee encountered barriers among colleagues to setting up the organization. These errors have since been corrected.