In my column last month I introduced two new Toronto initiatives, both barely launched in September, and both in their way aiming to address issues of interest to students, performers, presenters and audiences of globally sensitive music. So I'll begin this month's column by following up on these.
Polyphonic Ground
Polyphonic Ground, an umbrella organization of 12 live music presenters "committed to building and sustaining Toronto as a global music city" kicked off its first monthly concert at the Revival Bar on September 14.
On October 12 the series continues at the same venue, this time presented by two well-established local organizations. Batuki Music Society promotes African music and art, while Uma Nota Culture is a "cultural production house focusing on Brazilian, Latin, Caribbean, Funk and Soul music." As in the first concert, these two organizations collaborate to present a program geared to spark transcultural musical discovery.
Three groups are featured in the concert. Matatu Express performs a highly dance-friendly blend of pan-African music genres including Ghanaian highlife and palm wine, Malagasy salegy and blues, and East African benga and rumba. West-African dancer Mabinty Sylla demonstrates how it is done back home.
Beny Esguerra & New Tradition serves up live hip hop, R&B and soul with Afro-Colombian percussion, a blend they evocatively dub "Afro-Native Colombian music from an inner city perspective via Jane-Finch, Tkaronto." The third group, Future Primitive, presents what they have dubbed "tropical soul" with elements of Latin American and Caribbean, along with catchy bespoke songwriting.
Labyrinth Musical Workshop Ontario Launch
I was on hand for the September 15 Labyrinth Musical Workshop Ontario launch and fundraiser held at the 918 Bathurst Centre. The concert and reception had a warm, mixed-community feel. The buzzy excitement of the launch of a new venture hung in the air and was reflected in the music: there were four ample sets by various groups and individual musicians. They covered aspects of Persian, Southeastern European, Turkish/Kurdish and Middle Eastern musical ground.
The most unusual single item was the joint group performance of the tender lilting Kurdish wedding song Dar Hejiroke, bringing all the performers together onstage. For me this performance perhaps most clearly reflected LMWO's mission, which includes the fostering of "detailed study of particular modal musical traditions and encounters between different traditions, encouraging intercultural understanding, artistic development and an appreciation of music as embracing all aspects of life."
LMWO is a significant development on the Toronto music scene, one which not only connects with the transnational movement Ross Daley instituted in Greece, but also animates regional musical threads here in the GTA. LMWO's website, www.labyrinthontario.com, is now fully operational. It's worth a visit to see what workshops by leading modal music practitioners are planned for next May.
Festival of Arabic Music and Arts (FAMA)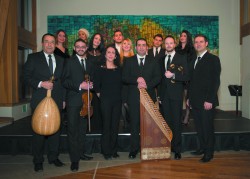 The Festival of Arabic Music and Arts launches October 28 at Koerner Hall, then moves to various locations in the GTA and in Montréal until November 12. Its presenting organization is the Canadian Arabic Orchestra (CAO) based in Toronto, co-founded by the husband-and-wife team of qanun expert and CAO president Wafa Al Zaghal, and pianist Lamees Audeh, its music director.
Not only is this the festival's inaugural year, but it's my first encounter with the CAO. Audeh filled me in on the backstory in a phone interview.
"Wafa and I formed our duo in 2009," Audeh recounted. "Then in 2014 we formed an ensemble of five musicians: piano, Arabic violin, oud, qanun and tabla [aka. darabuka]. This group initially performed a repertoire of well-known classical songs drawn from across the Arabic world, both instrumental and vocal."
Today the orchestra boasts a much larger complement including ney, oud, piano, clarinet, a string section of violins, viola, cello, bass and three percussionists. This instrumentation reflects the mission of the CAO to combine Western and Arabic classical musics.
"Our repertoire is evolving, along with the makeup of the orchestra," noted Audeh. "The arrangements for our upcoming festival were prepared by me, Wafa, and composers and arrangers drawn from the orchestra and across the Arabic diaspora. Our approach puts less emphasis on [Arab] ethnicity and rather more on the [Arabic] music itself.
The first FAMA concert on October 28 at Koerner Hall brings Iraqi guitarist, singer and composer Ilham Al-Madfai together with the Toronto instrumental group Sultans of String. Al-Madfai formed The Twisters, Iraq's first rock and roll band, in 1961. His subsequent synthesis of Western guitar, popular song and Iraqi music has kept his popularity as a performer alive in his native country and throughout the Middle East. Led by Canadian violinist and music producer Chris McKhool, the multiple award-winning Sultans of String quintet presents audiences with a "genre-hopping passport." Celtic reels, Manouche jazz, flamenco, South Asian ragas, and Cuban and Arabic folk music mix onstage, "all presented with pop sensibilities, forms and lengths," notes McKhool.
October 29 FAMA presents "Jazzy Arabia" at the Maja Prentice Library, Mississauga. Five members of the Canadian Arabic Orchestra perform jazz standards reinterpreted through an Arabic musical lens, as well as Arabic songs rendered in a jazz idiom. The common ground here may well turn out to be the spirit of melodic improvisation and taqsim, which animates both jazz and Middle Eastern performance practices.
November 1 the festival takes a deeper, more mystical turn, when Syrian oud virtuosa and singer Waed Bouhassoun performs solo at the Revue Cinema, Toronto. In 2008 Bouhassoun – who has been performing onstage since she was 10 – received star billing at the inaugural concert of "Damascus, Cultural Capital of the Arab World" held at the Alhambra Palace in Granada, receiving extensive international media coverage. In 2010 she was awarded the Coup de Coeur by the Académie Charles-Cros for her first solo album.
Six more concerts in the first half of November round out FAMA's first iteration. Please return to these pages next month to find out more about them.
Autorickshaw's 15th Anniversary Season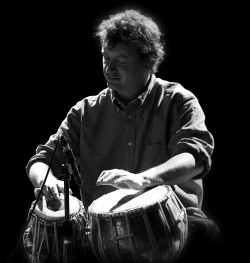 I've followed the Toronto band Autorickshaw's career through its release of award-winning albums, concerts and international tours. This season marks its 15th anniversary, a good time to take stock and reflect on the changing landscape of global music and how it has developed for musicians and audiences alike.
By the time you read this, Autorickshaw will have already officially released its fifth studio album Meter on September 28 and 29 at Small World Music Centre. They will tour the album this fall in Southern Ontario and then in India, with a follow-up concert back in Toronto. I've had a quick listen to Meter's 12 tracks. The music moves confidently between commissioned compositions, covers and many overt as well as covert references to the music of the subcontinent.
I spoke to founding band member Ed Hanley about Autorickshaw's evolution, first asking about changes in the scene since the early 2000s.
"The music industry's completely changed, of course," he says. "For instance, our first CD wasn't even on iTunes (though it was on Bandcamp). Our new release will be available on a number of online stores."
Hanley directed the video of one of the songs on Meter, the polished Hare Shiva, recently published on YouTube. I was struck by the presence of the personal, the trans-musical genre references, the easy musicality of the Autorickshaw trio, as well as by the prominence of Odissi dance.
"That's certainly another change from 15 years ago," commented Hanley. "YouTube has become the main discovery platform for music, and you really need to have a music video now – though it is of course a major extra expense. I feel you need two types of videos now: live videos to show presenters and audiences what the music looks and sounds like in concert, and an 'art video' to serve as a companion piece to the album."
Presenting music with roots on several continents often means having to explain the various constituent elements. "I feel we have to explain less about our music today," said Hanley. "Speaking for myself, more people seem to know what a tabla is than during Autorickshaw's early days. I get much less 'is that bongos?'"
"When we started out we were aware of the world music category, specifically the Indo-Jazz sub-category we felt our music fit. Since then we've moved in many different musical directions, and the industry has also evolved. Musically speaking, today we don't feel the need to be concerned with genre. We're more comfortable in our musical skins now."
I'll be keeping tabs on Autorickshaw as they roll out their season and embark on their cross-India tour.