Christmas, and the liminal juncture between old and new years that follows, is for many of us a prime occasion for gifting and for helping those less fortunate. It's also a time when daylight hours are at their shortest and even our waking hours are dominated by darkness. As such it's a time which amply rewards introspection of the personal kind, when we can profitably reflect back on the past year and also look forward, hopefully, to a brighter new one.
At the heart of all this is observance of the winter solstice. The period around the year's shortest day has been marked in the Northern Hemisphere with rituals of rebirth, celebrated in holidays, festivals and community gatherings, reaching back perhaps to the Neolithic period. Ancient Romans, Persians, Chinese, Theravada Buddhists, Northern European peoples – pagan and neo-pagan – as well as the Zuni of the American Southwest all celebrated the winter solstice. Some still do. Sensitivity to natural cycles seems to be hardwired in our human DNA.
It's no coincidence that Christians of the Western tradition chose the winter solstice to celebrate the Longest Night (aka Blue Christmas). Falling at the end of the Advent season, these long and cold nights underscore believers' own struggle with darkness and grief as they face the end of the growing season, and loss of many kinds. Christmas, the joyous celebration of Christ's birth, was strategically placed within the Roman annual calendar by the early Church to coincide with this period.
Timar family Christmas
My own family has celebrated Christmas for many generations but in recent decades the focus has increasingly shifted from long-time religious to secular rituals performed by our immediate Toronto family. In our ever-morphing clan new partners are added, names change, babies are born, people move away and some return; they grow up, grow old and yes, our elders ultimately enter the realm of the ancestors.
All dressed up, each year the extended Timar clan gathers at one of our homes to celebrate our seasonal traditions, ancient and new. We feast extravagantly into the night with special rich food and drink that speaks to our multiple ethnic and religious roots, identities and values. Helping refresh family bonds is the spirit of generosity, mutual care and the hospitality that permeates that late December evening.
65 Million Refugee Realities
Things aren't so rosy however for everyone at this time of year. It's a particularly sad time for families torn apart geographically, when some are compelled to flee their homelands. So it was too with my family when I was six. We were refugees from post-revolution occupied Hungary. Our first generation is forever grateful to Canada for giving five of us sanctuary, a fertile place to put down roots, make a home, to flourish.
Today, the plight of refugees of many kinds continues to confront every global citizen. Many millions of our fellow humans need aid or asylum at any given time. Celebrated Chinese multimedia artist and activist Ai Weiwei estimates the number at "about 65 million people."
In October 2017 he opened a vast new installation Good Fences Make Good Neighbours at some 300 sites around New York City, aiming ultimately to draw attention to the world's refugee crisis. Good Fences criticizes "the global trend of trying to separate us by colour, race, religion, nationality ... against freedom, against humanity," as Ai said at his October Manhattan press conference.
Reunite the Moneka Family
The mind-boggling numbers of displaced humanity around the world can be overwhelming in the absence of being able to put a human face on suffering. The dilemma of refugees, so passionately articulated by Ai in his art, is reflected in many ways here in Toronto. Not surprisingly, within our musical communities, it shows up particularly keenly among world musicians who have recently made Canada their home.
Early in November I received an email from Jaclyn Tam, manager of concerts and special projects – including New Canadian Global Music Orchestra (NCGMO) – at the Royal Conservatory and TELUS Centre. "I wanted to tell you about a fundraiser I'm organizing on Monday, December 11 at Lula Lounge," Tam's email began. JUNO winners and nominee musicians Quique Escamilla, David Buchbinder, Maryem and Ernie Tollar, and many special guests will perform. They're coming together to support Ahmed Moneka, an incredibly special musician and actor who now calls Toronto home, in his bid to bring his family here. I first met him last year when he auditioned for NCGMO."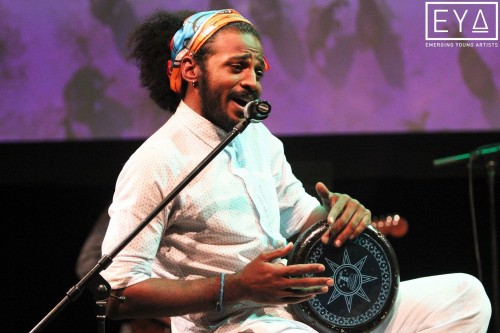 I was immediately gripped. Here was a story with parallels to that of my own family of origin, as well as to ancient semi-mythic narratives of asylum, hopes of peace, reconciliation and gift-giving generosity. I called Tam at her Royal Conservatory office.
"Musician and actor Ahmed Moneka was forced to apply for asylum in Canada in 2015 after his family received death threats for his lead role as a gay Iraqi man in the [short] film The Society," she told me. (The film premiered at the Cannes Film Festival and showed at TIFF.)
Moneka's family, of African Sufi descent, was well established in Baghdad's artist community. His father was a well-known Iraqi actor and comedian, and his sister Isra was one of the founders of the Cinema Department at the University of Basra. His younger sister Tara has an international career as a singer. She has performed on Iraqi TV and at festivals at a young age.
Having faced months of violent threats from the increasingly powerful militias in Iraq, however, the family was forced to flee to Turkey in 2016. Ahmed's family has been torn apart and they are now "in a critical situation." Moneka speaks powerfully of their present danger in his fundraising YouTube video. Moneka hopes to reunite his family in Canada "so that they may live together in peace." All proceeds from the December 11 Lula concert will support his goal.
"With Ahmed, it's all personal," Tam says. "I met him a few times, heard his music, and since there was a personal connection I felt compelled to act. It was simple really: here's one person I could help reconnect with his family."
At his NCGMO audition, "Ahmed radiated pure musical joy." But as Tam explains, by the time the final roster was decided, he had already made a commitment to tour with another band. The NCGMO moved on without him, but he made abiding connections with artistic director David Buchbinder, who has hired Ahmed for other projects.
After hearing Ahmed's story, Tam felt personally compelled to help. "I don't have a lot of money to donate," she says, "but I do have a large network built up over the years and also the producing skills to put together such an event." So she reached out to Tracey Jenkins at Lula Lounge and to musicians who have worked with Ahmed. "I was touched by the response of Lula and of the musicians and artists. They didn't hesitate to donate their talents."
This is our community at work big time (and it promises to be a fine musical evening as well)! Ahmed plays cajón and sings maqam in a wonderful trio called Moskitto Bar, which will play at the fundraiser. (One of his bandmates, Tangi Ropars, is formerly of Lemon Bucket Orkestra.) Additionally, a group dubbed Orchestra of Love has been organized for the fundraiser, bringing together Toronto world music A-listers such as trumpeter David Buchbinder, singers Maryem Tollar and Roula Said, percussionist Naghmeh Farahmand, multi-instrumentalist and vocalist Waleed Abdulhamid and wind player extraordinaire Ernie Tollar.
In addition to pure music, NAMAS will recite poetry to guitar accompaniment and Zeena Sileem, an Iraqi painter, will paint a canvas live during the evening. The completed canvas will be auctioned with proceeds benefitting the Moneka family reunification fund.
All in all, this promises to be a terrific community event guaranteed to put all who come out to support the Moneka family's desire for reunification in a proper holiday spirit.
New Canadian Global Music Orchestra (NCGMO): update
I promised in my summer 2017 column story about NCGMO that I would follow up on the ensemble's progress. Since I was speaking with Jaclyn Tam about the Moneka story I asked her for an update on the orchestra as well. As it turns out, the Orchestra had a Banff Centre studio residency in September and October, recording its first album (which is being edited and mixed for concert release on April 7, 2018). Shortly after the Banff residency, in November, the NCGMO performed a showcase at "North America's World Music Summit," Mundial Montréal. And on February 24, deeper and no doubt whiter into winter, NCGMO will appear on the Isabel Bader Centre stage in Kingston, in what the Isabel's listings describe as a concert of "transcultural music which connects and communicates in ways that words, politicians, and spiritual leaders cannot. Together, we all find a common language."
Lula Music and Arts Centre
In its own words, Lula "nourishes a thriving Canadian world music scene … with a focus on local artists performing music of the Americas." It fosters the Canadian world music scene "through concerts, festivals, cultural exchanges, education, outreach, audience and professional development."
Lula's Dundas West space appears to be in particularly heavy rotation this December. I counted 31 concerts and salsa classes on the site. That averages out to an astounding one scheduled event for each day of the month! In January the action announced so far settles down to eight music events, plus another six booked to date in February. It's entirely possible more gigs will be booked in the interim, but in any case that is much too many to talk about here. I encourage readers to visit The WholeNote's listings or Lula's site calendar for updates.
Aga Khan Museum: concert picks for January and February 2018
Another premier Toronto venue for culturally diverse music performance is the Aga Khan Museum. It continues its programs of concerts and more casual pop-ups.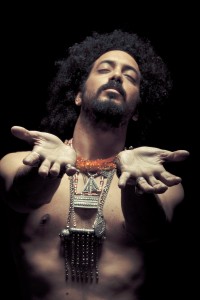 January 18 the AKM presents "Yemen Blues," a truly transcultural band delivering "an explosive combination of Yemeni song and poetry, Jewish music, West African groove and funk." With musicians from New York City, Uruguay and Tel Aviv, leader Ravid Kahalani's charts set a high musical standard and have roused international audiences.
February 1 "Musical Inventions" by Paolo Angeli featuring Dr. Draw takes the AKM's auditorium stage.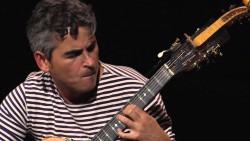 Angeli, playing a unique 18-string hybrid of guitar, violoncello and drums, performs music rooted in the Sardinian tradition blended with avant-garde aesthetics. He's joined by electric violinist Dr. Draw.
February 16 the AKM presents "Under the Indian Musical Sky," with Montréal group Constantinople and Grammy Award-nominated Carnatic venu (flute) virtuoso Shashank Subramanyam. Constantinople's collaboration with Subramanyam "bridges not only East and West but [also musical] traditions … from across the globe," much like the group's namesake city.
Andrew Timar is a Toronto musician and music writer. He can be contacted at worldmusic@thewholenote.com.