I look forward each February to focus my column's lens on Black History Month as celebrated in music. Last year I mentioned that the City of Toronto became the first municipality in Canada to proclaim BHM in 1979, recognizing "the past and present contributions that African Canadians make to the life of Toronto…."
It was only as recently as 2016 however, that Ontario passed legislation to formally recognize February as BHM on a continual annual basis. Its history is ever evolving. Therefore I recently asked Andrew Craig, the Toronto-based vocalist, multi-instrumentalist, composer, broadcaster and musical director of high-profile tributes to Quincy Jones and Oscar Peterson, for his views of its relevance today.
"Black History Month, in my estimation, continues to grow in importance and significance. In recent years, our many screens have become flooded with increasingly negative images of people of African descent in compromised or disempowered circumstances. The media is quick to latch on to stories depicting people of colour in well-worn stereotypical roles. What gets far less airtime are stories, both past and present, of the incredible contributions African descendants have made to the development of our contemporary society and culture.
"Despite the fact that these accounts of heroic and exemplary Blacks are so often relegated to the margins of the history books, a fresh retelling of their struggles and triumphs provides inspiration to all, regardless of one's background or colour," Craig concluded.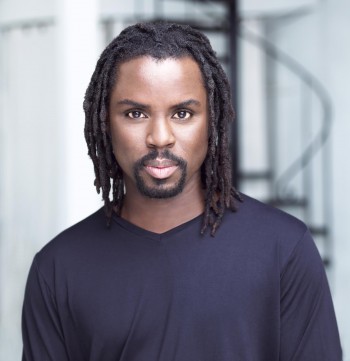 Portraits, Patterns, Possibilities: a Black Canadian Trilogy
Craig puts his ideas into action on February 23 at Eglinton St. George's United Church. Culchahworks Arts Collective, of which he is the founder and artistic director, presents a hybrid live action/videotaped evening titled "Portraits, Patterns, Possibilities: a Black Canadian Trilogy."
This theatrical event, conceived, written and directed by Craig, paints a portrait of three important Black Canadians and the historical milestones they set. Portrayed by actors, the characters collectively observe that despite their considerable accomplishments the struggles they fought for continue to this day. Nevertheless a core theme of optimism permeates Trilogy, the show envisioning a "brighter future for all of us," as Craig puts it.
The first landmark covered is the 225th anniversary of the passage of the Emancipation Act of 1793. Craig notes that the Black slave woman Chloe Cooley was the catalyst for the introduction of this legislation, the first to limit and ultimately abolish slavery in the British Empire.
As well, this year is the 195th birthday of Mary Ann Shadd Cary (1823-1893), the first Black woman publisher in North America, notable also as the first woman publisher in Canada. In addition, she was a pioneer in the desegregation of schools, worked for women's suffrage and graduated as a lawyer at the age of 60! The third milestone being celebrated is the 60th anniversary of the breaking of the NHL colour barrier by Boston Bruins hockey pioneer Willie O'Ree, known as the "Jackie Robinson of ice hockey."
To aid in telling these inspiring stories Craig has programmed music drawn from a mix of sources. It ranges in time and genre from a cappella choral music evoking field hollers and Negro spirituals, up to instrumental music in the style of the post-WWII era. Much of the score will be by Craig himself.
The evening will be videoed live with the public invited to be part of the studio audience. Join me in commemorating these compelling Black Canadian figures and witness the making of Portraits, Patterns, Possibilities, an essential story in our complex national narrative.
Africa Without Borders
Much earlier in the month, on February 3, Alliance Française de Toronto and Batuki Music Society mark BHM with a concert, "Africa Without Borders," at the Alliance Française's Toronto venue. The Okavango African Orchestra, winner of the 2017 JUNO Award for Best World Music Album of the Year, is featured. OAO recorded their album in front of a jammed house at the CBC's Glenn Gould Studio during BHM.
The eight accomplished African-born musicians in OAO now live in Toronto and Montreal. They include Daniel Nebiat (krar, vocals) from Eritrea, Donne Roberts (guitar, vocals) from Madagascar and Tichaona Maredza (marimba, nyunga-nyunga, hosho, vocals) from Zimbabwe. In addition Kooshin (kaban, vocals) is from Somalia, while Sadio Sissokho (kora, tama, djembe, vocals) came from Senegal, Nicolas Simbananiye (vocals) is from Burundi, while Kofi Ackah (percussion, vocals) and Ebenezer Agyekum (bass) both hail from Ghana. The group's Batuki Music Society artist page neatly sums up the numbers: "Okavango African Orchestra: 12 instruments, 10 languages, 7 countries … one special concert."
"The orchestra takes its name from the Okavango Delta, a basin in the Kalahari Desert in Botswana, where many different animal species come together to feed and find water. Similarly, the Okavango African Orchestra brings together the traditional music and instruments of several major African cultures that historically have had little or no interaction. The musicians of Okavango have created a common meeting place for these disparate cultures, and a new musical language that harmonizes their different tuning systems, rhythms and timbres. The multicultural spirit of modern-day Canada bridges ancient African solitudes."
The group draws on music genres like Somali jazz, Tigrinya folk music, Malagasy ballads and salegy, hybrid sounds of Shona folk and popular music of Zimbabwe, West Africa griot music and Ghanaian highlife, all vital elements in the successful musical recipe cooked up by OAO.
OAO's Facebook event page closes with the group's aspirational message: to continue its collective "journey to an Africa without borders … before the borders were created."
Waleed Kush African Jazz Ensemble and Kaia Kater
On February 24, the Aga Khan Museum partners with Batuki Music Society to present its BHM-themed concert," Kaia Kater and Waleed Kush African Jazz Ensemble," at the Museum. In an exploration of "Black/African diasporic cultural expression in all its many forms," this concert draws on traditional and contemporary instruments, genres and performance styles. The music ranges from "Nubia to Harlem via Appalachia, New Orleans and Mississauga."
The double bill brings together Waleed Kush Jazz Ensemble with guest singer Ruth Mathiang, and banjo player, singer-songwriter Kaia Kater, to explore musical expressions of the African-Canadian experience.
Of African-Caribbean descent, the Quebec born Kaia Kater grew up between two worlds. In her Toronto home she experienced her family's ties to Canadian folk music firsthand; in West Virginia on the other hand, she immersed herself in the deeply rooted musical traditions of Appalachia. Her debut album Sorrow Bound (2015) referenced this divide. Kater's second album, Nine Pin (2016), delves even further into the realities faced by people of colour in North America. Her restrained but idiomatically spot-on banjo finger picking provides an elegant support for her expressive voice.
The Waleed Kush African Jazz Ensemble combines African rhythms and melodies, melding them with jazz harmonies and song forms. Led by the Sudan-born Toronto multi-instrumentalist, composer and vocalist Abdulhamid, band members include local musicians Aaron Ferrera, John Ebata and Cory Sitek. The group writes that "just as Toronto is a harmonious mix of culture and people … [so] the inspiration for our music … is the harmonious mixing of rhythm and harmony." Poet and singer-songwriter Ruth Mathiang, also born in Sudan but commencing her musical career in Kenya, is the group's guest vocalist.
Angélique Kidjo
We wind up our non-definitive look at BHM (for many more concerts please check The WholeNote's listings) with Angélique Kidjo's concert at Koerner Hall on March 3.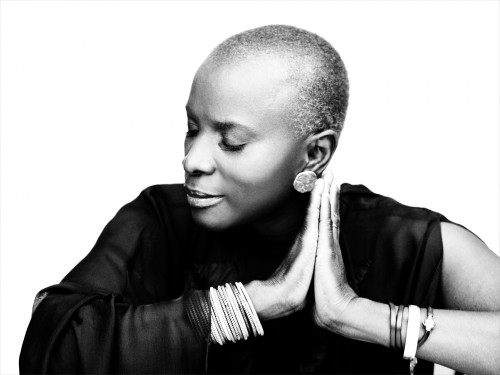 Three-time Grammy Award winner, dancer, songwriter, author and social activist, Angélique Kidjo is among the top tier of international singers today, a creative force with some 15 album credits. I was immediately struck by her powerful voice and commanding stage presence when I saw her perform live at Toronto's Harbourfront at the beginning of her very active touring career. Time magazine has since acclaimed her "Africa's premier diva."
As well as performing her original songs Kidjo's music ranges across ethnicities, boundaries and genres, cross-pollinating the West African music of her native Benin with R&B, soul, gospel, jazz, French Caribbean zouk, Congolese rumba and Latin music. She does it all with "irresistible energy and joie de vivre." (Los Angeles Times)
Though for many years unconvinced of the value of European classical music, Kidjo has however maintained a lifelong curiosity and transcultural ambition. It's a trait she says she learned from her father. 2014 marked the beginning of her work with European symphony orchestras with the release of her Grammy Award-winning album Eve. It included Orchestre Philharmonique du Luxembourg among many other top collaborators. The same year she collaborated on a song cycle based on Yoruba poems with American composer Philip Glass. The result was Ifé, Three Yorùbá Songs, scored for orchestra and Kidjo's eloquently impassioned vocals. For its 2015 American premiere performance with the San Francisco Symphony, Philip Glass wrote in the program notes, "Angélique, together we have built a bridge that no one has walked on before."
Her latest album, Sings (2015), continues her journey with the orchestra in a collection of nine songs arranged by Gast Waltzing and performed with his Orchestre Philharmonique du Luxembourg. The stylistically ambitious recording combines the formal, reserved qualities of European classical music with the freedom of jazz and the emotional intensity and rhythmic verve of African and Brazilian rhythms. It won her another Grammy.
Kidjo's Koerner Hall appearance however will be with a considerably more streamlined touring band including guitarist Dominic James, bassist Ben Zwerin, drummer Yayo Serka and percussionist Magatte Sow.
Thanks for reading my BHM picks. Now get out and enjoy some live music!
QUICK PICKS
Feb 1: Aga Khan Museum/Instituto Italiano di Cultura Toronto." Musical Inventions by Paolo Angeli featuring Dr Draw." Angeli, playing a unique 18-string hybrid of guitar, violoncello and drums, performs music rooted in the Sardinian tradition but influenced by avant-garde aesthetics. He's joined by electric violinist Dr. Draw.
Feb 9: Alliance Française de Toronto. "Exoria: Songs of Exile." Montréal Greek music-centered Ensemble Rebetika examines the 20th-century Greek experience of exile through songs.
Feb 10: Music Gallery/Native Women in the Arts. "Mother Tongue" features Joanne Shenandoah, Salia Joseph, Kwiigay Iiwaans and Nelson Tagoona. The event is the first of its kind, a showcase for musicians working to revitalise their Indigenous mother tongues. 918 Bathurst Centre for Culture, Arts, Media and Education.
Feb 16: Aga Khan Museum." Four Skies, Four Seasons: Under the Indian Sky." The East-West-bridging Montreal collective, Constantinople, welcomes the renowned Indian flautist Shashank Subramanyam in a "tribute to Indian music."
Feb 17: Lula Lounge presents "Salsa Saturday: Conjunto Lacalu, plus DJ Santiago Valasquez." Rooted in the Cuban sonora genre, this group adds a dynamic three-trumpet horn section to a rhythm section featuring Afro-Cuban hand percussion, piano, bass and tres. Dance lessons with Dreyser Garcia are available.
Feb 17: Canadian Music Centre. "Momentary." New works for solo kamanche (4-string Persian spike-fiddle) by Shahriyar Jamshidi composer, singer and creative Kurdish kamanche improviser.
Feb 17: Japanese Canadian Cultural Centre/Nagata Shachu. "Yukiai." Nagata Shachu (Kiyoshi Nagata, artistic director) is joined by Chieko Kojima, a founding member and principal dancer of the best-known of all taiko groups, Kodo, in an evening of dance, drums and song at the Japanese Canadian Cultural Centre.
Feb 22: Living Arts Centre presents the Lemon Bucket Orkestra in Hammerson Hall, Living Arts Centre, Mississauga.
Feb 24: Royal Conservatory of Music presents the New Canadian Global Music Orchestra at the Isabel Bader Centre for the Performing Arts, Kingston.
Feb 24: Toronto Centre for the Arts. "Idan Raichel: Piano Songs." Israeli singer-songwriter and musician Raichel, best known for his fusion of electronics, Hebrew texts and Arab and Ethiopian music returns to his first love, the piano.
Feb 24: The Toronto Symphony Orchestra marks the Chinese Year of the Dog with a celebratory concert. Wen Zhao, pipa; Adrian Anantawan, violin; Xiaoqiu Lin, erhu; Mark Rowswell ("Dashan"), host; Carolyn Kuan, conductor. Roy Thomson Hall.
Feb 27: St. Michael's Concerts presents the Vesuvius Ensemble performing music from southern Italy circa 1600 – traditional folk music about the Sorrowful Mother and other works – featuring Francesco Pellegrino, tenor, chitarra battente; Marco Cera, mandolin, ciaramella; Lucas Harris, lute, theorbo, Baroque guitar. St. Michael's Cathedral Basilica.
Andrew Timar is a Toronto musician and music writer. He can be contacted at worldmusic@thewholenote.com