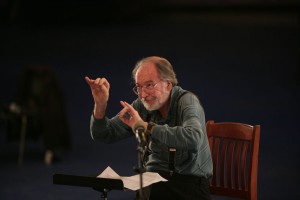 Atruism: technology shapes culture. One could argue that we are less the children of Stravinsky, Schoenberg, Bessie Smith and the Beatles than we are of Thomas Edison, Scott de Martinville and Charles Cros, and their progeny, the anonymous technicians who developed digital sound in the 1970s.
And yet the things that influence musicians most deeply remain unchanged. No recording matches the excitement of a masterful live performance. No online musical forum or resource replaces the one-on-one human connection between teacher and student through which musical ideas are most essentially conveyed.
We envy, admire and emulate musicians of renown. But we retain a special love for our teachers and mentors, who have touched us in way that a concert or recording never can. Agrade school music teacher, a private instructor, a conservatory lecturer; sometimes stronger as teachers than performers; sometimes well known, often not. It is they that give each of us the tools to add our unique voice to the music.
By all accounts, Deral Johnson was one such teacher. He taught choral music for 20 years at the University of Western Ontario, and after his death, March 24 this year, tributes from the musicians he touched poured in to The WholeNote and other forums. An expatriate American, Johnson taught in Texas and Colorado before moving to London in 1969. He threw himself into the Canadian music scene with a zeal and enthusiasm for which he became renowned, championing the music of Schafer, Cabena and Telfer, and training many distinguished Canadian musicians, including conductor and producer Robert Cooper, and University of Toronto voice professor Darryl Edwards.
Choral conductors who studied with Johnson include Michael Bloss, Lynn Janes, Jenny Crober, Ken Fleet and Carol Ratzlaff, all of whom direct choirs in and around Southern Ontario. Many of his former students speak glowingly of his combination of humour, rigour, kindness and passion. Margaret Thibideau, a former choral conductor, writes, "There was nothing quite like singing Gospel with Deral – it was fun, uplifting, and all I can say is that I have never had the privilege of finding anyone who even comes close to his high standards of musicianship or excellence." Johnson will be missed both by those who knew him personally and those who felt his influence.
Meanwhile, the choral scene that Johnson helped develop and foster is in good form this spring. For instance, Robert Cooper's Orpheus Choir performs the rarely heard Handel Oratorio Athalia on May 8, in a concert that showcases their Sedgwick Scholars (up-and-coming vocal talents who both sing in the choir and handle the solos). It is a mentoring programme now in its 20th year.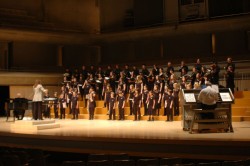 And Carol Ratzlaff's Annex-based Viva! Youth Singers have a 10th anniversary celebration concert, May 16. The concert features commissioned new works by composers James Rolfe and Juliet Palmer, as well as a musical by Leslie Arden. With singers from 4 to 25 and a wide range of choirs to choose from (including one for parents!), the choir's proud lineage is clear.
The number of choral concerts at this time of the year is astounding, and sorting through them a fascinating task.
For one, thing, this appears to be the spring of the "crossover" programme. Concerts including a mixture of Broadway, opera and cabaret music are being given by the Toronto Sinfonietta (May 1), Alexander Singers and Players (May 6-7), the East York Choir (June 6), the Harlequin Singers (June 4-6), and the Oriana Women's Choir, in a programme centred around the music of George Gershwin (May 8). Concerts focusing on the beloved music of Gilbert and Sullivan are given by Chorus Niagara (May 15-16) and the Etobicoke Centennial Choir (May 28-29).
There are also many concerts of works from the classical canon. On May 2 the Toronto Classical Singers sing an all-Mozart concert. On May 8 the Burlington Civic Chorale does the same, in a programme that includes two masses as well as rarer Mozart choral works. On the same evening the Peterborough Singers sing Mendelssohn's majestic Elijah, and Kitchener's Grand Philharmonic Choir sing the Verdi Requiem. The Durham Philharmonic Choir's May 15 concert include's excerpts from Hadyn's Creation, and on the same evening Orchestra London and Philharmonic Choir perform Beethoven's Missa Solemnis.
From May 28-30 the Kitchener-Waterloo Symphony, Grand Philharmonic Choir and Children's Chorus perform that perennial favourite, Orff's Carmina Burana. Three concerts featuring works by Bach are given by Orchestra London and Chamber Choir (May 5), Toronto Chamber Choir (May 16) and the St. Anne's Concert Choir and Orchestra (June 5), in a benefit concert towards repairs for the St. Anne's Parish. On May 1 the Tallis Choir focuses on the music of Purcell and his contemporaries, and on June 06 Unionville Symphonia and Chorus sing the Duruflé Requiem and the Haydn Te Deum.
And there are several of choices for modern and folk-based mass settings as well. The Amadeus Choir's concert on May 15 includes Ramirez's Misa Criolla and Toronto composer Sid Robinovitch's Canciones por las Americas. The Toronto Beach Chorale's May 2 concert includes Paul Winter's Missa Gaia. Other multicultural offerings include a concert by the University of Toronto Gospel Choir (May 1), Plamen Ukrainian Women's Vocal Ensemble (May 2), the Victoria Scholars' "Postcard from Around the World" (June 6), the Toronto Jewish Folk Choir's 84th annual spring concert (May 30) and the Nathaniel Dett Chorale's "And Still We Sing," featuring the steel pan work Legacy, in a programme focusing on music of the Caribbean islands (May 26 and 29).
That's not all! In this magazine, and on our website, you'll find many promising mixed end-of-season programmes by a wide variety of choirs. See The WholeNote's listings for more choral events.
Benjamin Stein is a tenor and theorbist. He can be contacted at: choralscene@thewholenote.com.