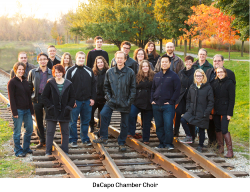 This column starts out with information about a few choirs from outside of the GTA, interspersed with several concerts that have a Latin or Mediterranean theme. If you think this might indicate a hidden desire to be anywhere but Toronto in February , even if it's only halfway sunny and pleasant – you would most likely be right. Here are a few listings which even if they don't warm you up, will at least keep you moving!
On February 7 London, Ontario's Karen Schuessler Singers perform their annual singathon. The concert is a fundraiser and will feature special guest conductors from the London area. More information can be found here: kssingers.com.
On February 13 the Upper Canada Choristers hold a concert titled "Music of the Americas," to help launch a CD of the same name. This community ensemble was founded in 1994, and since 2008 has begun to specialize in music of Latin America, in addition to other international repertoire. This concert will feature Cantemos, a chamber ensemble drawn from members of the UCC. The CD features music from Argentina, Brazil, Colombia, Uruguay, Venezuela, Costa Rica, Cuba, Jamaica, the U.S. and Canada, sung in Spanish, Portuguese, Latin and English. More information is available at
uppercanadachoristers.org.
On February 28, the Peterborough Singers perform "Soul," in honour of Black History Month. The choir combines with an instrumental ensemble and vocal soloists to explore the great rhythm and blues works of Motown (Detroit), Philadelphia, Memphis and New Orleans soul writers and composers. This is some of the best popular music created in the last century, but it tends to be avoided by many Canadian choirs, perhaps because they often Break It when they try to Shake It, so to speak. It's good to see a choral ensemble taking it on.
Also on February 28, St. Catharines' Chorus Niagara performs "Life Eternal: The Requiems of Mozart and Rutter." Mozart's famous D-Minor Requiem is paired with English composer John Rutter's tune-filled modern setting of the same text.
On March 1 Dundas, Ontario's John Laing Singers perform "Poet's Corner 2: Songs of Faith, Hope and Love." The concert provides an opportunity to hear a rarely performed (around here, anyhow) choral work by Italian composer Mario Castelnuovo-Tedesco, Romancero Gitano. Castelnuovo-Tedesco is perhaps best known for his guitar compositions, which were championed by Spanish classical guitar legend Andrés Segovia. He was also a prolific film composer, and his works are very energetic, accessible and redolent with Spanish-inflected musical gestures. Romancero Gitano sets the words of Spanish poet and political martyr Federico García Lorca, and is scored for chorus and classical guitar, a rare combination.
On March 7 and 8 the Kitchener/Waterloo-based DaCapo Chamber Choir performs "O Earth, Return." This ensemble specializes in unaccompanied music of the 20th century, with a special focus on Canadian repertoire. They sponsor a competition for new compositions every year, and a work by Matthew Emery, the 2014 winner, Night on a Starry Hill, will be premiered at the concert. Popular composer Arvo Pärt's Magnificat setting will also be performed. The two performances are held in Kitchener and Waterloo respectively.
Back in Toronto, on March 7 the Jubilate Singers perform "Rhythm Fusions," a concert featuring British composer Bob Chilcott's Little Jazz Mass, American Norman Luboff's African Mass and Swede Lars Jansson's To The Mothers In Brazil: Salve Regina. The JS's conductor, Isabel Bernaus, is a good programmer of world music, and the work of all three composers is infused with a lively knowledge of that genre.
And here are more listings, just to prove that I am not neglecting Toronto ensembles, filled with hardy choristers who brave the elements to faithfully attend rehearsals every week:
On March 1 the Toronto Classical Singers perform "Music from Two Great Rivals." The concert features Antonio Salieri's Mass No.1 in D and the Mozart D-Minor Requiem.
The purported rivalry between Mozart and his older contemporary Antonio Salieri is one of the many myths that has become part of the Mozartian legend since his death in 1791. This particular myth has its roots in the dramatic poem by Russian writer Alexander Pushkin, Mozart and Salieri published in 1830. But it was British playwright Peter Shaffer's 1979 play Amadeus that gave us the modern image of the vulpine older composer, consumed with jealousy over the accomplishments of his younger colleague, planning his murder and plotting to steal his brilliant compositions.
The reality is more prosaic – Salieri was only six years older than Mozart, one of the many Viennese composers that Mozart had to compete with for the attention, approbation and patronage of the Austrian aristocracy. Italian by birth, he was a successful opera composer who also has the distinction of teaching Schubert, Beethoven and Liszt. He was a rival to Mozart, in a professional rather than a dramatic sense, but there is also evidence that he and Mozart had a friendly and collegial relationship. Still, if their rivalry is ultimately just a story, it's a great one, and Shaffer's Amadeus explores the gap between talent and genius that is part of Mozart's enduring mystery.
Several of Salieri's operas have been restaged in recent times, and his Mass in D is worth a listen on its own terms, rivalries and legends aside. The galant style that he was trained in (as were Mozart, Haydn and J.C. Bach) had been imported from Italy to the rest of Europe, and as we explore less venerated or even forgotten composers from that era, we gain new and different insights into how to play and understand this musical tradition.
The University of Toronto music faculty has new music concerts and lectures taking place throughout the months of February and March. On February 8 the Faculty's Men's Chorus and MacMillan Singers will perform a contemporary showcase featuring U of T student composers, emerging Canadian composers Matthew Emery and Patrick Murphy and veteran choral masters Steven Chatman and Bob Chilcott.
Another concert of contemporary music to watch out for is Warrior Songs on March 6. The Elmer Iseler Singers perform this new work by Canadian Peter Togni. Warrior Songs takes as its theme the idea of being a "warrior for non-aggression" and explores texts from Buddhism, Malcolm X and the Roman Catholic Liturgy. Togni has had a distinguished career creating work that is both accessible and complex.
Benjamin Stein is a Toronto tenor and lutenist. He can be contacted at choralscene@thewholenote.com. Visit his website at
benjaminstein.ca.