I wonder if we'll ever overcome our tendency to judge people by their musical taste? When I see social media memes that make lofty pronouncements about the Power of Music (common elements: sunset; a violin bow; Mozart; a rose on a grand piano), I know what I'm in for when I get to the comments section: predictable complaints about today's lousy songs; the ignorant new generation; hip hop; Taylor Swift; heavy metal, etc.
I have no problem with honest snobbery, I just wish snobs would be consistent. If your musical preferences are elevated ones, you can't stop there – Benjamin Britten and cheeseburgers don't mix. Your tastes in literature, dance, film, visual art, clothes, food and architecture need to be on the same haute plateau. If you've achieved that, congratulations, your superb acumen is beautifully integrated into every aspect of your life. Unfortunately, you're probably insufferable. More likely, you don't actually exist.
Here's the key – snobbery works best in opposition. It's not enough to like something – what are you, eight? To be a true aesthete you have to hate something as well. Our love of Sondheim's tart rhymes is made keener by our dismissal of Lloyd Webber's sugary melodic hooks. Our veneration of Bach requires a good sneer at the burghers who preferred Telemann for the prestigious post at the Leipzig Thomaskirche. We hone our love of Hank Williams by sharpening our disdain for Clint Black. Louis Armstrong vs. Wynton Marsalis? I Can't Even, as the status updates say.
Lovers of choral music yield to no one in their readiness to indulge in a good love it/hate it status fest. But there are elements of choral culture that mitigate this unfortunate tendency and may make us a little more tolerant than say, indie-rock fans or free improv obsessives.
For one thing, there is a strong amateur aspect to choral music, in both the modern and ancient sense. We usually love what makes us feel good, and the modernist asceticism that produced so much defiantly listener-unfriendly music in the last century made less headway in choral circles than, say, orchestral ones. For another, the kind of singing that takes place in liturgical settings, or even plain old group singalongs, has had its influence on choral composers. And finally, children's choirs are a main entry point of apprenticeship both for musicians and choral music audiences, and composers who write for them know that their music must be visceral, energetic, and above all, fun.
Unfortunately, choral audiences also have a tendency to stick with what they know, and our preference for familiarity and adherence to the cult of the masterwork means that a good deal of interesting music goes unheard. We're willing to listen to minutiae and fragments from our musical gods – our love of Mozart's final musical sketchbook, the Requiem in D Minor, proves that. But coming up this month is an exciting revival of a work by a composer who is familiar to us for only a few pages of his entire musical oeuvre.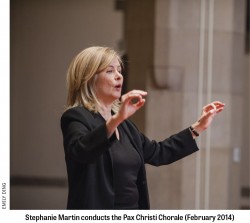 Parry's Judith: Anyone who has attended a Last Night of the Proms concert knows Sir Charles Hubert Hastings Parry's Jerusalem, and anyone who's sung in a church choir knows his "Dear Lord and Father of Mankind." Parry's name alone situates him firmly in the 19th century, a time when British imperialism dominated politics and culture. But isn't that the kind of facile dismissal I deplored above? If music of 18th-century Austria still speaks to us, what about British music from closer to our time, and from a culture that many of us still understand and share?
Parry (1848–1918) had a distinguished career as composer, essayist and teacher. Among other achievements, he wrote some of the first articles in the Grove Dictionary of Music and Musicians, a resource that remains central to music research today. Unlike composers such as Vaughan Williams and Holst, whose music seems to have been able to bridge the gap between the Victorian/Edwardian eras and our own, Parry's has been ignored or dismissed since his death, surfacing most often in the types of settings mentioned above.
On May 3 at Koerner Hall, Toronto conductor/composer Stephanie Martin and her ensemble, the Pax Christi Chorale, are undertaking the North American premiere of a neglected oratorio by Parry, Judith. First performed to great success in 1888, it tells the biblical story of the heroic Jewish heroine who saves her people by her daring assassination of the Assyrian general Holofernes.
Martin's interest in the piece turned into something of a quest when she discovered that the orchestral parts for Judith were not available from the original publisher. Assembling a research team and enlisting the help of British Parry scholar Jeremy Dibble, Martin created a performing edition of the score on her own. You can read her thoughts about Judith and its recovery process on her blog, at this address: stephaniemartinmusic.com/judith-at-koerner-hall/. Martin and the Pax Christi Chorale have worked incredibly hard on this historic project – which will also include the first full recording of the work – and I truly hope that they get a strong audience turnout for the performance.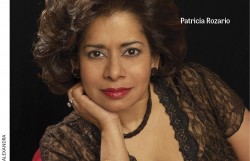 Tavener Explored: Another British composer is celebrated in Toronto this month – John Tavener, who died in 2013, almost a century after Parry. On April 16 Soundstreams presents "Song for Athene," a concert devoted to Tavener's works, that will also feature music of Jonathan Harvey and Canada's own Christos Hatzis. David Fallis will lead Choir 21, and Elise Bradley will conduct the Toronto Children's Chorus. The concert is notable both for the special participation of British soprano Patricia Rozario, a musician who is especially associated with Tavener, and for whom he wrote over 30 works, and for the North American premiere of Tavener's setting of the Missa Brevis text. For more information see
soundstreams.ca/Song-for-Athene.
Like the Judith concert, I think this exploration of Tavener is an event not to be missed this month. Parry, once celebrated, may be re-emerging from the shadows. Tavener, recently deceased, is greatly popular in choral circles. What will be his fate in the century to come?
Once again, I'm uneasily aware of having neglected many excellent concerts while focusing on just two. Please have a look in the listings and stay informed about what's taking place this month. In May I will take an in-depth look at the art of a cappella singing.
Benjamin Stein is a Toronto tenor and lutenist. He can be contacted at choralscene@thewholenote. Visit his website at benjaminstein.ca.