The human voice is an astonishingly versatile instrument, capable of an infinite variety of tones, timbres and inflections. Something primal in us is touched by the extremes of range in the sound of a coloratura soprano or a basso profundo; the virtuoso melismatic technique of a Hindustani or R&B soloist; the mysterious, elusive harmonies of Tibetan and Tuvan throat singing; and the street-corner, sandpaper tones of Tom Waits, Billie Holiday and Joe Turner.
We have an inexhaustible fascination with vocal music. Historical documents about music that ignore technical and artistic questions often go into great detail about the sound of voices. Today's recording industry is centred around the sound of the human voice, and our ability to mechanically engineer and manipulate sound has reached an astonishing level of ease and complexity. Paradoxically our interest in music's most basic expression, unaccompanied or a cappella singing, is unabated and may actually be increasing.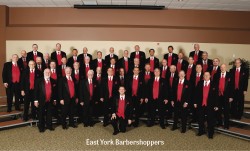 East York Barbershoppers: The awareness of tuning necessary to execute a cappella music, unsupported by instruments, can be a challenge even to experienced vocalists. In April I had the pleasure of attending a rehearsal of the East York Barbershoppers, in preparation for their May 23 concert. This event celebrates the group's 65th year, which makes them one of the longest-running ensembles in the city. For more information see eybs.ca
Barbershop singing is an internationally popular a cappella genre of vocal music. It is notable not only for its particular nature – close harmony singing by male or female ensembles centred around (but not limited to) Anglo-American parlour song of the 19th and 20th centuries – but also for the rehearsal process that trains singers to listen and harmonize, and the continuing vitality of the art form all over the world. The USA-based Barbershop Harmony Society has roughly 25,000 members internationally, with chapters from Sweden to South Africa to New Zealand. Continuing to flourish without the aid of mainstream commercial promotion or institutional instruction, Barbershop has managed to sustain itself in the face of neglect on many fronts.
The East York Barbershoppers have have an ongoing lease agreement with several levels of government that allows them to rehearse regularly in Harmony Hall, 2 Gower St., a community space near Dawes Rd. in what, pre-amalgamation, was called East York. The rehearsals take place in the gym/theatre space on the main floor, but downstairs there is the specially named Quartet Room for small ensemble rehearsals and the President's Room, a wonderful historical space filled with pictures, trophies and medals that attest to the group's ongoing presence within the community.
Chatting with some members of the EYB prior to the rehearsal, I am regaled with an intriguing mixture of historical and technical knowledge. Ron Whiteside is a baritone who joined the EYB in 2000 and took his own ensemble, the Scarborough Dukes of Harmony, to competition wins in the 70s and 80s. He gleefully discusses a version of "Jeannie With the Light Brown Hair" that scandalized a 70s era barbershop judging team, or the pitch issues involved in tuning close-harmony seventh chords in vocal standards like "Five Foot Two, Eyes of Blue" and "Ain't She Sweet."
Close harmony singing is challenging; you can't assume, as a classically trained musician or experienced choral singer, that you will automatically be able to tune barbershop chords. Classical singers generally sing accompanied by piano, and the tempered tuning of the piano does not always foster sensitive ears. Piano and orchestral accompaniment can become a kind of aural crutch in which a sounding pitch is approximately matched and really sensitive intervallic tuning is neglected.
Barbershop rehearsals make very little recourse to piano, either for harmonies or melodic lines. Singers instead are given a root tone from a pitch pipe, and are expected to be able to build their harmonies from that information alone. They use sheet music in rehearsal – performances are always memorized – but are often working as much by ear and from memory as from a printed score. The singers I talked to all showed an awareness of the nature of pitch relationships and of the necessity of microtuning to give a chord a more vibrant sound, in a manner that would befuddle many musicians with more formal training.
I met some singers who had recently begun singing in the EYB and others who had been singing in barbershop ensembles literally almost all their lives. Director emeritus George Shields continues to sing with the ensemble, along with his, brother-in-law, Jack Kelly, who was a founding member 65 years ago. George and Jack are 89 and 90 years old.
Lindsay-born Pat Hannon, the ensemble's young director, identifies himself as a fourth generation barbershopper, who grew up with the sound of close harmony in his home. Hannon points out that modern barbershop singing has both branched out from its original repertoire to include arrangements of songs such as Pharrell Williams' "Happy" and Jason Mraz's "I'm Yours," and at the same time is beginning to rediscover and explore its own roots in African-American culture, from which many of its traditions originated.
Before I left, the ensemble serenaded me with Hank Snow's "You're as Welcome as the Flowers in May," keeping perfect tune as every member of the group filed by and shook my hand, one by one. Walking out of Harmony Hall into the cool spring night, I was glad to see that in this corner of East Toronto this charming and rigorous tradition of a cappella community singing is healthy and thriving.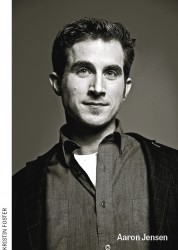 Time to SING! Barbershop and many other a cappella groups of all sizes and styles can be found at Toronto's SING! festival, a dynamic event now in its fourth year. SING! The Toronto Vocal Arts Festival will take place May 27 to 31. SING! was co-founded by the energetic and passionate Aaron Jensen, a composer/singer/conductor involved in so many different vocal music projects that he clearly does not have time to sleep. Still, he sounds more than alert when discussing his love of singing. In response to a follow-up email question, Jensen writes: "There is no human culture, no matter how remote or isolated, that doesn't sing. We sing to build personal bonds, to celebrate, to venerate gods, to mark rites of passage and to pass along ancient stories. Singing boosts your mental health, calms nerves, sharpens your memory, reduces anxiety and raises your spirits. Singing is intimate, evocative, empowering, and it's just plain fun."
Jensen's vision for the SING! festival is one that welcomes and celebrates many genres of music in the context of unaccompanied singing. His mandate is to make the festival and attendant events throughout the year a resource and hub for vocal training and performance in Canada. Jensen has also reached out to other North American cities, and there will be an upcoming SING! festival in Austin, Texas in October 2015.
Most of the activities in the Toronto event will be centred in the Distillery district just east of Parliament and Front Streets, but concerts will also take place at Koerner Hall and Glenn Gould Studio, as well as several Toronto churches, which are some of the best performance spaces in the city.
R.A.M. to Rajaton: The Estonian National Male Choir, known in Estonia as the R.A.M. Koor performs at Christ Church Deer Park May 28. This ensemble, which celebrates its 70th anniversary this year, has recorded for both Deutsche Grammophon and Sony records. Their performance includes a premiere by acclaimed Estonian Composer Arvo Pärt : his setting of the Da Pacem Domini text, in a new version for string orchestra and male choir. The choir's SING! concert is part of a seven-concert tour of southern Ontario. More details about the tour's dates and locations can be found at this Facebook group: facebook.com/estotour.
Two other acclaimed vocal chamber ensembles will be visiting Toronto for SING! 2015. Take 6 is a jazz harmony marvel that has performed with Ray Charles, Quincy Jones and Stevie Wonder. Finnish ensemble Rajaton, less well known in North America, are multi-platinum recording artists in Europe.
The Canadian contingent: This year Canada is represented at SING! by a number of different groups, including the Nathaniel Dett Chorale, with guests Countermeasure, one of Aaron Jensen's ensembles. In a concert titled "Jubilate Deo: Great Sacred Choral Music through the Ages," four Toronto choirs will sing together: the Cathedral Church of St. James, Rosedale United Church, Kingsway-Lambton Chancel, and All Saints Kingsway Anglican.
There will also be a series of intriguing workshops geared towards musicians and arts managers interested in networking, developing skills and building viable ensembles. Workshop topics will address subjects such as securing funding, the logistics of management, composing music for film and television, vocal care, and songwriting and audition strategies, among others. The Take 6 and Rajaton ensembles will be hosting workshops that investigate the technical and artistic aspects of their concert work. For information on the SING! concert and workshop schedule – there are many other groups performing that are not mentioned here –go to singtoronto.com.
Other May/June concerts:
On May 9 the Orpheus Choir of Toronto, one of the city's staunchest choral champions of living composers, presents "Touch the Earth Lightly." The concert features the premiere of Canadian composer (and Da Capo Chamber Choir conductor) Leonard Enns' Ten Thousand Rivers of Oil and the Toronto premiere of Norwegian composer Ola Gjeilo's Sunrise–Symphonic Mass .
On May 10 the ECHO Women's Choir presents "My Mother is the Ocean Sea." The concert features special guests Lemon Bucket Orchestra's Mark Marczyk and singer/ethnomusicologist Marichka Kudriavtseva.
On May 23 the Masterworks of Oakville Chorus & Orchestra will give a tenth anniversary concert, performing two popular modern works, Poulenc's Gloria and Stravinsky's Symphony of Psalms.
On May 24 choral audiences will be forced to choose between two different womens' voices ensembles. The Oriana Women's Choir performs "The Voice of Oriana: Music for a New Day," with works by Eleanor Daley, Harry Freedman, Derek Healey and others. And the Florivox Choir performs "This Woman's Work," a concert that includes music by Kate Bush.
On May 31 the male vocal ensemble, the Victoria Scholars, performs "Simple Gifts," with what the choir bills as "easy on the ears": works by Casals, Copland, Debussy, Kodály and Lauridsen.
On June 6 the Etobicoke Centennial Choir performs "Songs of Hope, Songs of Inspiration," a concert that includes modern choral favourites such as Paul Halley's catchy Freedom Trilogy and Samuel Barber's serene Sure on This Shining Night.
Also on June 6 the Voices Chamber Choir performs "Brother Sun, Sister Moon," with a theme of choral music for the morning and the evening, The concert includes current American choral starMorten Lauridsen's Nocturnes and Canadian Healy Willan's Magnificat and Nunc Dimittis.
A final thought on the subject of a cappella singing: Our love of the voice stems from our love of music, defined very roughly as pitched and coherently organized sound. The reasons why we love music are varied, complex and usually expressed with too much flowery verbosity to suit me. Music, executed well, makes us feel good. We don't need any more justification for its pursuit than that. But there is a special and unique quality to music's expression through the human voice. The act of singing affects us in a manner we scarcely understand, but feel at the most elemental level.
When we sing, our vocal chords become the reeds that translate vibration into pitch. Our throats become conduits for air flow, our bones conduct sound and our bodies become the echo chambers that give life and resonance to the tones we create. No matter where voiced pitch finds expression – the shower, a concert hall, a school gym, a digital or analogue recording – its source is ultimately flesh and bone. Singing is the closest we come not just to making music, but to being music. It's the nearest a process of transmutation that human beings can experience. As we embody music, music embodies us.
Benjamin Stein is a Toronto tenor and lutenist. He can be contacted at choralscene@thewholenote.com. Visit his website at benjaminstein.ca.