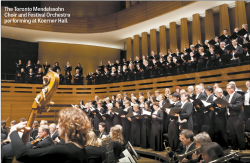 More than any other musician before Wagner, Beethoven exemplified the idea of composer as spiritual leader, the artist as visionary genius who compels the support of performers, teachers and historians to realize his dreams and ideas.
Beethoven is an approachable genius, though. His achievements are leavened and humanized by his vulnerability, his awkwardness bordering on misanthropy and his loneliness. Through the insights we garner from his letters and notebooks we are witness to his very human struggles with friends, family and colleagues, to his frantic rewriting and experimentation with his own work.
With few exceptions, every note of Beethoven's oeuvre feels like something is at stake. To be involved in a performance of his work sometimes seems, in a small way, like sharing in his struggles. As much as any of his works, the Missa Solemnis — performed in Toronto on May 15 by the Toronto Mendelssohn Choir — exemplifies this phenomenon.
It's generally accepted that Beethoven did not write sympathetically for voices. He was certainly not alone in this. In many instances Bach appeared to think of the voice as an instrument with a human being attached. Many of both composers' solo and choral vocal lines, beautifully wrought, are only possible to execute faithfully as long as the singer does not have to breathe for minutes on end.
The choral section of Beethoven's famous Ninth Symphony is a half-hour long vocal rollercoaster ride that taxes both the solo quartet and the choir with sustained high tessitura writing, dynamic extremes that require skilled vocal control, long instrumental-style passages with no room to breathe, all combined with the challenge of being heard over the wall of sound created by brass, winds, strings and tympani.
The Missa Solemnis is the same thing, multiplied by three.
It is the extreme nature of the vocal writing in the Missa Solemnis that makes it especially challenging. Beethoven's cruelly high melodic lines and virtuosic instrumental writing were well beyond the capabilities of the players and singers of the time, and the first performance of the work (in Russia, 1824) was famously ragged. It was not published in its entirety until after his death.
But in writing music that outstripped the capabilities of the musicians of the time, Beethoven founded the idea of the composition as artistic and spiritual summit, to which musicians must aspire and strive. Wagner and Stravinsky would continue this tradition, forcing musicians to develop new technical prowess, matching their abilities to new sounds that the world had never experienced. The Italian verismo vocal training of the late 19th and early 20th centuries founded a tradition of vocal heft that could deliver the heaviness of sound required by late Beethoven composition and the music that followed in its wake.
The Missa Solemnis is infused with the same spirit as the Ninth Symphony and other late period Beethoven — a musical expression of faith locked in combat with doubt. Extremes of mood convey an almost desperate sense of Beethoven's desire to connect to the world around him.
The Toronto Mendelssohn Choir is perhaps the only group in the region that can marshal the forces for such a mammoth work. A large-scale choir in the 19th century mode, the TMC is well equipped to be able to handle the technical elements of the work and to have a fighting chance to avoid being swamped by the orchestra. This is a massive undertaking for any ensemble and a chance to hear it live is not to be missed.
The Missa Solemnis is a kind of apotheosis of the European mass tradition, but innumerable other mass settings exist to cater to all tastes. A homegrown Canadian example that draws on one important strain in our history is the Celtic Mass for the Sea written by Scott MacMillan, a legendary folk musician from the East Coast. For their "Celtic Tide" concert on June 1 the VOCA Chorus has assembled a kind of Canadian Celtic supergroup, experienced and renowned players who bring their deep knowledge of Irish folk tradition to the music.
The VOCA Chorus, led by veteran conductor and pianist Jenny Crober, has made a specialty of combining classical works with folk and popular elements. Their Celtic-themed concerts have been increasing in popularity each year, and tickets for this current concert are reportedly in high demand.
Celtic Mass for the Sea was commissioned by the CBC in 1988 and has garnered many performances since then. The work blends the exuberant nature of Celtic rhythms with the resonance of the ancient mass text. Macmillan is planning to travel to Toronto to attend the performance and will give a pre-concert lecture on the work.
Further on the subject of modern Canadian works: I took part in a concert recently where the hapless ticket seller was quizzed about the nature of the music involved. The potential concert-goer wanted to make certain that whatever works were on the program would not be too "modern." Assurances that the most modern composer of the evening died in 1986 were barely sufficient.
Yes, this happened. It's common enough, really, so there's no point in being all snobby about it. Many people actively fear contemporary music, and I'll address that in depth in future columns. But folks, your friends, neighbours and colleagues are exploring new works in their various choirs every week. All of them, or at least most of them, make it back after rehearsal with their sanity intact. If they can do it, so can you. Here are a few concerts to consider this month.
This year's celebrations of Ruth Watson Henderson's 80th birthday continue with a concert of her works by the Oriana Women's Choir on May 25. Read my appreciation of Watson Henderson's work in my October 2012 column.
On May 4 and 5, Waterloo's DaCapo Chamber Choir performs "Leonardo Dreams," a concert featuring works by the ensemble's conductor Leonard Enns, fellow Canadian Glenn Buhr and American Eric Whitacre, all of whom write very well for choir and whose works have enjoyed repeated success with audiences.
Enns' and Watson Henderson's works are also featured in a concert by Barrie's Lyrica Chamber Choir on May 25, along with works by Healy, Estacio and Mozetich.
On May 24 and 25, another woman's chorus, Etobicoke's Harmony Singers, performs an all-Canadian program of popular works, with songs by k.d.lang, Joni Mitchell, Barenaked Ladies and Michael Bublé. On June 2 the VIVA! Youth Singers perform Dean Burry's A Medieval Bestiary, which is a cantata specially written for children's voices. Burry's work is both well wrought and appealing, and ought to be a very good introduction to classically styled music theatre for children.
On the subject of youth choirs, I recently had the pleasure of doing some vocal coaching for the Bach Children's Chorus. It was an education to watch conductor Linda Beaupré — as experienced a choral musician as we have in Toronto — work with the next generation of choral singers. Her Bach Chamber Youth Choir, performing on May 11 with the Bach Children's Chorus, is a rare youth ensemble catering to mid- and older teens interested in choral singing.
Finally, a free concert: the Caribbean Chorale of Toronto performs at the Church of St. Stephen on May 5. 
Ben Stein is a Toronto tenor and theorbist. He ca e contacted at choralscene@thewholenote.com. Visit his website at www.benjaminstein.ca.