March sees performances of two rarities – both influenced by the Nationalist movement in music in the 19th century.  On March 9, 11, 12 and 13, Toronto Operetta Theatre presents a fully staged version of the zarzuela Luisa Fernanda (1932) by Federico Moreno Torroba (1891-1982) and on March 27 Opera in Concert presents a concert version of Antonín Dvořák's comic opera The Devil and Kate (1899). Both works are regularly staged in their homelands – Spain and the Czech Republic, respectively – but are largely unknown outside of them. To discover more about the two works I spoke with Guillermo Silva-Marin, artistic director of both opera companies.
Luisa Fernanda is one of the most popular of all zarzuelas and will be the fourth zarzuela TOT has presented following Tomás Bretón's La Verbena de la paloma in 1999, Gonzalo Roig's Cecilia Valdés in 2003 and Francisco Asenjo Barbieri's El Barberillo de Lavapiés in 2005. This makes TOT the only operetta company in the world, as far as can be determined, to include Spanish repertoire on a regular basis along with works from Europe and America. Ohio Light Opera, North America's largest operetta festival, presented zarzuela once in 1999, but never since, and the Festival Internazionale dell'Operetta in Trieste has so far never included Spanish works.
Silva-Marin's inclusion of zarzuela is a conscious effort to diversify the TOT's offerings both because of the inherent value of the works and because the Hispanic community, as he notes, "is hardly ever represented in the cultural tapestry of this city." Unlike Viennese or Parisian operetta, zarzuela has largely remained unknown outside of Spain, first because of the misconception that the works were "too typically Spanish" to travel and second for the practical reason that Spain was politically isolated in the central part of the 20th century when interest in opera was expanding.
It is true, though, that zarzuela is not quite like operetta. In fact, it presents an art form that neatly complements its European counterparts. As Silva-Marin explains, "Zarzuela is, unlike operetta, a little bit more overt as to how it is critical of social, moral and political issues and portrays those not so much in a fun way but in a critical way. Gilbert and Sullivan poke fun at those in power but the tone is light. In zarzuela it is more serious. A great number of zarzuelas are daringly critical of the government, the aristocracy or of whatever social issues they're trying to present. That gives zarzuela more of an operatic tone. In Luisa Fernanda in particular the influence of Puccini and verismo is much stronger than in other zarzuelas of the period." While the whole movement of zarzuela was to create a nationalist school of opera, Spanish composers were fully aware of the artistic movements of their time. Silva-Marin says, "You get this mixture which is fascinating in that it is undeniably Spanish but is pushing ahead under the influence of musical movements from abroad."
Luisa Fernanda is set in Madrid in 1868 during the revolutionary republican movement that threatened the regime of Queen Isabel II.  A typical love triangle takes on political implications when the tenor lead Javier, a colonel, finds himself torn between his fiancée Luisa Fernanda, daughter of a court clerk and the Duchess Carolina.Luisa's friends counsel her to forget Javier because of his dangerous revolutionary ideas and to accept the attentions of the wealthy landowner Vidal, who has come to Madrid to find a wife.
Mexican tenor Edgar Ernesto Ramirez will sing Javier, a role popularized on disc by Plácido Domingo and José Carreras. Michèle Bogdanowicz will sing Luisa, Miriam Khalil the Countess and Silva-Marin himself will sing Vidal. The zarzuela will be sung in Spanish with dialogue in English but for the first time the TOT will use surtitles for the musical numbers.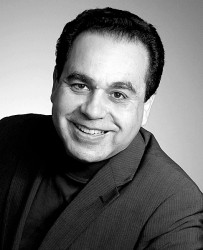 Shifting geography, Dvořák's The Devil and Kate, like Luisa Fernanda, is a work that has never been off the boards in its home country since its premiere. Though it may seem heresy to say so, The Devil and Kate is generally considered even more popular in the Czech Republic and in Slovakia than than Dvořák's best-known opera Rusalka (1901). Besides its robust humour, one of the work's greatest attractions is its abundance of folk dances. Ever since Opera in Concert's presentation of Rusalka in 1998, Silva-Marin became curious about Dvořák's other eight published operas. As it happened he came across a DVD of the Wexford Festival's 1988 production of the opera sung in English. Based on a Bohemian fairy tale, Kate wants to dance so much that she declares she'd dance with the devil himself. What do you know but a mysterious stranger named Marbuel suddenly appears, dances with Kate and disappears with her underground. Fortunately, Kate has a friend Jirka, who vows to rescue her. Marion Newman sings Kate, Giles Tomkins will be the devil's servant Marbuel. OiC will use the same clever translation by Ian Gledhill used at Wexford.  For more information about TOT visit www.torontooperetta.com and for OiC go to www.operainconcert.com. Without the efforts of Guillermo Silva-Marin, Toronto's opera scene would lose the diversity that makes it so rich.
Christopher Hoile is a Toronto-based writer on opera and theatre. He can be contacted at opera@thewholenote.com.