November offers those in Toronto and vicinity a chance to see the Canadian premiere of a new Scottish opera with a Canadian connection, and the revivals of seldom-seen American and Canadian operas. This is a further demonstration, if anyone needed one, of how vital such companies are in maintaining the diversity of Toronto's opera scene.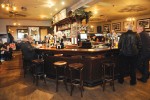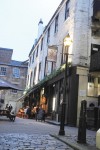 First to appear, on November 10, 11 and 12, is Pub Operas by Scottish composer Gareth Williams, to a libretto by Canadian David Brock. The two met in 2009 at Tapestry New Opera's LibLab, Tapestry's composer/librettist incubator, and the project grew out of that meeting. The opera premiered earlier this year in July, at Sloan's Bar in Glasgow as part of the Merchant City Festival. The venue was no quirk because Pub Operas was written specifically to celebrate the history of Sloan's, which is Glasgow's oldest pub, having been founded in 1797. The libretto, about life's cycle of love, marriage, birth and death, is based on letters sent in by the public for whom Sloan's played a real role at key points in their lives.
For the performance, the Ernest Balmer Studio in the Distillery District will substitute for Sloan's. The singers will be Xin Wang, Heather Jewson, James McLean and Benjamin Covey with Wayne Strongman leading a six-piece band. Sue Miner directs. For more information about the opera, visit www.tapestrynewopera.com; and for the history of Sloan's visit www.sloansglasgow.com.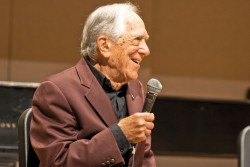 Also playing on November 11 and 12 will be the Toronto premiere of the 1989 opera Crazy to Kill by John Beckwith to a libretto by James Reaney. Toronto Masque Theatre will mount this production of "Canada's first detective opera" at the Enwave Theatre starring singers Kimberly Barber, Doug McNaughton and Shannon Mercer and actors Brendan Wall and Ingrid Doucet. The work, scored for piano and percussion, wiill feature Greg Oh as pianist and conductor and Ed Reifel as percussionist. David Ferry will direct.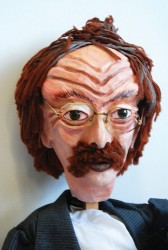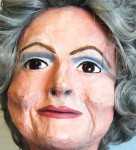 The story for the libretto comes from the 1941 novel of the same title by Ann Cardwell (pseudonym of Jean Makins Pawley) that is still in print. It concerns Detective Fry who, with the help of "model patient" Agatha Lawson, investigates a series of murders at Elmhurst, a private mental asylum for the wealthy in Southwestern Ontario. Reaney has stated that it was reading this novel that inspired him to become a writer. The commission (from the Edward John Music Foundation and Billie Bridgman for the Guelph Spring Festival) limited the cast to three singers and two actors. To get around these constraints Reaney had the idea of giving Agatha the habit of making life-sized doll puppets, eighteen in all, who, manipulated by the performers, also portray characters at Elmhurst. After a workshop at Banff in 1988, the one-act opera premiered at the Guelph Spring Festival on May 11, 1989, with Jean Stilwell as Agatha, Paul Massel as Fry and Sharon Crowther as Mme Dupont, an Elmhurst patient. For more information visit www.torontomasquetheatre.com. Also note that the fall edition of Opera Canada includes an article adapted from a chapter from Unheard Of: Memoirs of a Canadian Composer by John Beckwith, to be published in 2012 that deals with the background of Crazy to Kill and other of his operas of the period.
On November 23 and 26, Opera by Request (OBR) and Ensemble TrypTych (ET) co-produce the first Canadian performance of The Saint of Bleecker Street by Gian Carlo Menotti. The 1954 opera had its Canadian premiere at the University of British Columbia in the 1980s, but as far as OBR artistic director William Shookhoff can determine, has not had a full performance in Canada since then. OBR and ET chose the opera in consultation with the performers to celebrate the centenary of the birth of the composer. OBR traditionally does one choral opera per season with the University of Toronto Scarborough Concert Choir, and as this is Menotti's only choral opera it fit the bill. Besides, this seldom-heard opera provides something more out of the way than The Medium (1946) or The Consul (1950).
Bleecker Street, which won the 1955 Pulitzer Prize for Music and the New York Drama Critics Circle Award for Best Musical, is set in New York City's Little Italy, where a young woman named Anina manifests the stigmata and begins to see angels. A conflict develops between her atheist brother Michele, who thinks she needs medical attention, and the neighbourhood which regards her as a saint. Shookhoff says, "As with The Consul, there is a timelessness to it which resonates particularly with younger participants, as it does with all of us: the conflict between tradition and new surroundings; between faith and rationale; and the stigma of relationships which go against the norm."
The work will be performed in concert with Shookhoff as pianist on November 23 at the University of Toronto Scarborough Campus and on November 26 at Trinity Presbyterian York Mills. Deena Nicklefork will sing Anina and Avery Krisman will sing Michele with six other soloists rounding out the cast. For more visit www.operabyrequest.ca.
Christopher Hoile is a Toronto-based writer on opera and theatre. He can be contacted at opera@thewholenote.com.