Opera in Toronto no longer ends with the close of the Canadian Opera Company's season. This month sees the world premiere of Svadba – Wedding, a new a cappella opera by Montreal composer Ana Sokolovic commissioned by Queen of Puddings Music Theatre.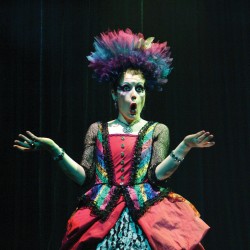 Any opera by Queen of Puddings is an event, especially when it is on a large scale, this time involving six singers. According to the QoP press release, Svadba – Wedding "takes place the night before a fiancée, Milica, leaves for her wedding. Her girlfriends keep her company all night long and engage in raucous girltalk, invoking pagan rituals as they prepare her for the impending wedding. What elevates this 'girltalk' to a supernaturally exhilarating experience is Ana Sokolovic's style of composition. Using existing Slavic/Balkan peasant folk tales, myths and traditions as her text source, she draws on her native Balkan folk music as a source of inspiration for all her music. She transforms the music and text into her own unique onomatopoeic language and transports listeners to a world of magic realism. The singers have to use every single possible vocal technique – combining opera singing with Balkan folk singing, overtones, extreme chest voice, heightened nasal voice, whispering, creating a wildly inventive intense palette of colours."
This is Sokolovic's fourth collaboration with QoP after Love Songs (2008), The Midnight Court (2005) and Six Voices for Sirens (2000). Born in Belgrade, Serbia, in 1968, she studied composition with Dusan Radic and Zoran Eric. She completed a master's degree at the Université de Montréal under the direction of José Evangelista. Her catalogue includes orchestral and piano works and several chamber music compositions, and she has written numerous scores for the theatre. This year she has been unanimously chosen by the SMCQ (Société de musique contemporaine du Québec) for its 2011-2012 season Homage Series. This season the entire Québec cultural community will recognize and celebrate the work of Ana Sokolovic by programming her music.
Via e-mail, Dáirine Ní Mheadhra, co-founder with John Hess of QoP, writes of Sokolovic and her inspiration for this new work: "The genesis of Svadba was Sirens, that ten minute work for six female voices we commissioned from Ana in 2000. We adored that work and anyone who heard it has never forgotten it and we've performed it many times since. She used Balkan vocal techniques in Sirens, something akin to what you hear in that famous Bulgarian women's choir, Le Mystère des Voix Bulgares. While we've commissioned other works from Ana since 2000, we've always wanted to revisit a full-length scenario for six female voices in which Ana would again be drawn towards Balkan vocal techniques, as she always is when writing vocal music."
"Balkan folkloric music has always been the inspiration for all of her music. Love Songs included three Serbian poems, and now in Svadba she has come full circle as it's completely in Serbian. She had the idea of really exploring Balkan literature and folk texts for Svadba and the wedding rituals and texts were the ones that caught her attention. She spent time in Belgrade poring over hundreds of texts. While Ana lives in Montreal, married to a Québécois with two Canadian children, she is never far from her Serbian background in her art. Igor Stravinsky's Les Noces (a choral ballet from 1923 based on Russian wedding lyrics) may not have been Svadba's immediate inspiration but it was probably there subliminally."
In answer to questions about the nature of Svadba as opera, Ní Mheadhra says, "Svadba is more about ritual than narrative, although it does unfold in seven consecutive scenes where the bride and her girlfriends stay up all night long before the impending wedding as they prepare her for the ceremony. It includes scenes like colouring her hair, bathing her in the hammam, dressing her, etc., leading to the farewell, and the music is completely onomatopoeic. The catharsis is a purging through emotion, most definitely, as the forcefield of sound set up by those female voices singing nasally pushes into the far reaches of your cranium and makes your head buzz and your body vibrate so much that you feel totally exhilarated! It's primal stuff and communicates so viscerally that you want more and more and more … which is after all how those Sirens could lure those sailors onto the rocks with their sound that was so seductive!"
Svadba will be sung in Serbian with English surtitles. The cast is comprised of singers Jacqueline Woodley, Shannon Mercer, Laura Albino, Carla Huhtanen, Andrea Ludwig and Krisztina Szabó, under the music direction of Dáirine Ní Mheadhra. The creative team consists of stage director Michael Cavanagh, set and costume designer Michael Gianfrancesco and lighting designer Kimberly Purtell. Performances take place in Toronto June 24, 25, 28, 29, 30 and July 2 at the Berkeley Street Theatre Downstairs. For tickets phone 416-368-3110 or visit www.canadianstage.com/alsoatberkeley. For more about Ana Sokolovic, see www.anasokolovic.com and for more about Queen of Puddings see www.queenofpuddingsmusictheatre.com.
Christopher Hoile is a Toronto-based writer on opera and theatre. He can be contacted at opera@thewholenote.com.