The 2009-10 season is a very rich one, with much to please those who favour the tried and true and those curious about opera off the beaten path. Two events are certain to draw international attention to Toronto – the COC's production of The Nightingale and Other Short Fables; and the North American premiere of Prima Donna, by Canadian singer-songwriter Rufus Wainwright – but Toronto's expanding number of smaller companies also have diverse treasures on offer. What follows is a small selection of some of the season's highlights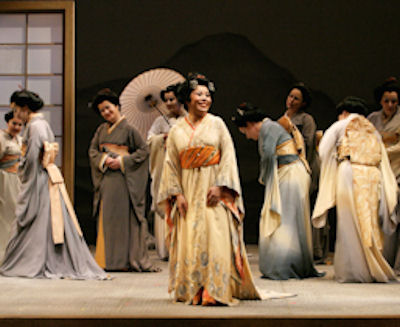 The season begins on September 26 with the COC's revival of Puccini's Madama Butterfly in an extended run to November 3. This will be the first presentation at the Four Seasons Centre of Susan Benson's gorgeous, much lauded traditional production directed by Brian MacDonald. If you happen to have any friends who somehow have not yet visited the FSC, this is the perfect opportunity to invite them along.
The second COC offering is The Nightingale and Other Short Fables from October 17-November 5. For this production, director Robert Lepage links two short operas by Stravinsky, Le Rossignol (1914) and Renard (1916), with a miscellany of non-operatic pieces--the octet Ragtime (1916), Pribaoutki, a set of four nonsense songs (1914), the four lullabies that comprise the The Cat's Cradle Songs (1917), Two Poems of Constantin Balmont (1911) and Four Russian Peasant Songs (1917). Lepage will be using the techniques of Southeast Asian puppetry in his staging, and the COC says the programme is aimed at an audience of all ages.
On October 25, Opera in Concert presents Rossini's La Donna del lago (1819) based on the narrative poem by Sir Walter Scott. Alison d'Amato is the music director and the presentation will feature Virginia Hatfield, Amanda Jones, Paul Anthony Williamson, Graham Thomson and Gene Wu. At the end of the month, October 31-November 7, Opera Atelier presents a revival of Gluck's Iphigénie en Tauride (1779), last seen in 2003. The principals will be entirely new with Kresimir Spicer as Oreste, Thomas Macleay as Pylade and Peggy Kriha Dye as Iphigénie. Andrew Parrott conducts the Tafelmusik Baroque Orchestra and Marshall Pynkoski directs.
In November, Opera York, which has focused primarily on warhorses, takes a new course by presenting the Canadian premiere of And the Rat Laughed, an Israeli opera from 2005 by Ella Milch-Sheriff sung in Hebrew with English surtitles. The libretto is by Nava Semel based on her novel of the same title. Opera York presents the work in partnership with the Sarah and Chaim Neuberger Holocaust Education Centre and UJA Federation of Greater Toronto. It runs November 5-12 at the Richmond Hill Centre for Performing Arts.
In commemoration of the 250th anniversary of Joseph Haydn's death, the University of Toronto Opera Division presents Haydn's Il mondo della luna (1777). The comic story tells of the would-be astrologer Eccitico, who convinces the wealthy Buonafede that he has been transported to the moon. The opera runs November 5-8 conducted by Miah Im and directed by Michael Patrick Albano and Erik Thor. Also in November, Opera By Request, a company whose singers choose the repertory themselves, offers concert performances of Ponchielli's once popular La Gioconda (1876) featuring Caroline Johnston in the title role with Melanie Hartshorn-Walton, Karen Bojti, Peter Whalen and Melchiorre Nicosia.
December begins with a new work commissioned by Toronto Masque Theatre, The Mummer's Masque, written by composer/librettist Dean
Burry in celebration of the Newfoundland mummer tradition. The singers will include Laura Albino, Krisztina Szabó, John Kriter, Giles Tomkins and a children's choir. The production runs December 3-6.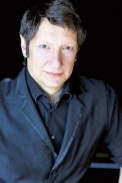 February 17-21, Toronto Operetta Theatre revives its popular production of Canada's own operetta, Leo, the Royal Cadet (1889) by Oscar Telgmann. The tuneful tale follows the lives of cadets at the Royal Military College in Kingston, their departure for the Zulu Wars in South Africa and their return home.
In March, the Royal Conservatory of Music will give Toronto audiences a rare chance to see Jules Massenet's Cendrillon (1899) sung by members of the Glenn Gould School and accompanied by the Royal Conservatory Orchestra under the baton of Mario Bernardi. Performances run March 20-25. March will also brings us a world premiere from Queen of Puddings Music Theatre: Beauty Dissolves in a Brief Hour – A Triptych. The work comprises three chamber operas sung in three languages (Mandarin, English and French) commissioned from three different Canadian composers – Fuhong Shi, John Rea and Pierre Klanac – and scored for two sopranos and virtuoso accordion player Joseph Petric.
April begins with another world premiere, Giiwedin, by Catherine Magowan and Algonquin poet Spy Dénommé-Welch. This, the most ambitious project in the history of Native Earth Performing Arts, is written in Anishnawbe Mowin, French and English and tells the story of a 150-year old Aboriginal woman fighting for her land. It runs April 9-24.
May 1-30 the COC presents its first-ever production of Donizetti's Maria Stuarda (1835), written the same year as his Lucia di Lammermoor. It stars Serena Farnocchia, Alexandrina Pendatchanska, Eric Cutler and Patrick Carfizzi, and is conducted by Antony Walker with direction by Stephen Lawless.
The season ends with the North American premiere of Rufus Wainwright's Prima Donna, as part of Luminato, running June 5-14. The opera was originally commissioned by the Met, but when Wainwright insisted that the libretto be in French, Met Artistic Director Peter Gelb abandoned the project. Thereupon it was swiftly picked up by Luminato along with the Melbourne International Arts Festival and the Manchester International Festival, where it had its world premiere in July this year. Also in June, Tapestry New Opera Works will present the world premiere of the staged "operatic oratorio" Dark Star by Andrew Staniland, a requiem about AIDS. Wayne Strongman conducts and Tom Diamond directs. This season, also look for Tryptych's world premiere of Andrew Ager's Frankenstein. Stay tuned for further developments!