The undoubted operatic highlight of May is the world premiere of the "The Shadow" by Omar Daniel to a libretto by Alex Poch-Goldin. The work is presented by Tapestry New Opera Works and features baritone Theodore Baerg, counter-tenor Scott Belluz, soprano Carla Huhtanen, tenor Keith Klassen and baritone Peter McGillivray.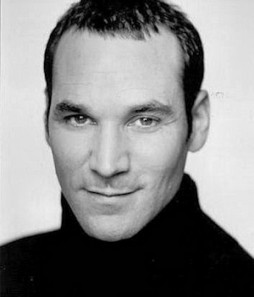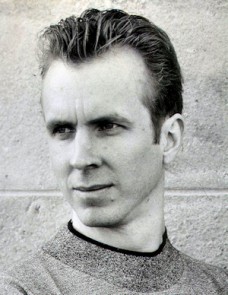 Alex Poch-Goldin (above) & Omar Daniel
The story concerns Raoul (McGillivray) a simple mailman who fantasizes about marrying the beautiful Allegra (Huhtanen), the daughter of a wealthy gentleman on his route.  In his daydreams, he becomes "Hernando", a dashing figure of the night, who tells Allegra that he is a wealthy merchant.  With 'help' from the local Don (Baerg), Raoul succeeds in his transformation and successfully woos the beautiful Allegra.  But when Raoul can't pay back the Don, the mysterious Shadow (Belluz) begins to follow him.  The theme of living beyond one's means on borrowed money could hardly be more relevant.

Via e-mail correspondence the composer and librettist helped shed light on the genesis and nature of the project.  Well-known actor and playwright Poch-Goldin wrote the original story inspired by an article he read about the Mafia in turn-of-the century Barcelona: "For those who owed money to the Mafia, instead of sending someone out to break your legs, they would send out a 'Shadow' to find you. The Shadow would suddenly appear, dressed handsomely in tails and a top hat, and declare to anyone in the street that you owed money, had welched on your payment and were a worthless person because of it. The Shadow would declare you publicly untrustworthy and destroy your reputation.  He would follow you around, hounding you until you repaid the debt. The humiliation would grow so intense that you would do anything to pay it back. It sounded pretty horrific. I thought, 'Throw in a little romance, some betrayal and bit of greed and it would make great opera'".

Poch-Goldin's story is rich in implications.  At work in Barcelona at the time was fantastic Art Nouveau architect Antonio Gaudí (1852-1926), whose buildings both incorporate animal-like structure and seem to be caught in the midst of dissolving.  Poch-Goldin says that this weirdness seems to reflect Raoul's state of mind.  The story also plays with duplicity both real and metaphorical.  The "Shadow" as a concept has strong links to Jungian psychology, as the dark side of the self, as as Poch-Goldin explains, "The person who we wish to be, that resides within us, slipping out and wreaking havoc, the dream destroying the waking life. And while the Shadow is an actual figure in the opera to me, there is a case to be made that he is a figment of the Raoul's
imagination".

To capture these ideas, Daniels, Associate Professor of Music Theory and Composition at UWO, says that wanted to create an "expressionistic musical world", one that depicts the world as viewed or distorted by the mind of an individual.  Daniels, says that he took his favourite opera, Alban Berg's "Wozzeck" (1925), as his model.   Daniels notes that, "I wanted to avoid what I consider a pitfall of modern opera--endless speech-like vocal lines.  I was determined to create real 'songs' for the performers, along with recitatives to advance the plot".  Daniels credits the idea for using a counter-tenor to play The Shadow to conductor Wayne Strongman and director Tom Diamond.  There is a "subliminal" influence of Spanish music appropriate to the setting, but "Overall there is an ornate, somewhat baroque energy, along with rich and complex harmonies that characterizes the musical language (reflective of Gaudian architecture)".  At the same time Daniels "wanted to temper the dense, complex nature of Expressionism with representations of the world outside the characters" with musical forms (e.g., the bolero) more familiar to the listener.  Though it is a chamber opera, Daniels wanted "as much instrumental colour and pitch range as possible".  The orchestra is composed of trumpet, violin, cello, clarinet, bass clarinet, piano, organ and "lots of percussion not necessarily for volume, but for colour".  Performances take place at the Berkeley Street Theatre Downstairs from May 21-30.  Phone 416-368-3110 for tickets or visit www.tapestrynewopera.com.

Meanwhile, we should note that May 5-23 the COC is presenting its first mainstage production of Britten's "A Midsummer Night's Dream" (1960).  Also Opera by Request (www.operabyrequest.ca), the only Toronto company where the singers choose the repertoire, will present concert versions of two rarities--Mozart's "La Clemenza di Tito" (1791) on May 23 and Bellini's "I Capuleti e i Montecchi" (1830) on May 27 both conducted by William Shookhoff at the College Street United Church.
©Christopher Hoile