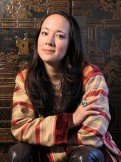 Over the years April has become the most opera-heavy month of the year. Joining a full slate of old favourites from well-known companies (I'll say more about these later) is a world premiere from an exciting young company.
Indie(n) Rights Reserve presents Giiwedin ("The North Wind"), in co-production with the Native Earth Performing Arts Centre. The opera, written in the Anishnaabemowin, French and English languages, tells the story of Noodin-Kwe and her struggle to protect her ancestral land in Northeastern Ontario. It runs at the Theatre Passe Muraille Mainspace April 8-24.

Librettist and co-composer Spy Dénommé-Welch and co-composer Catherine Magowan respeonded to questions I asked them, providing much insight into the opera and its background.
How did Giiwedin come about? Where did the idea come from? How long have you been working on it?

SDW: I had the idea to write an opera about five or six years ago. I just had this kind of image come to me, like a flash. All I knew was that I was going to write an opera and that Catherine would be my collaborator. A couple of years later, we started working. It became clearer to us what the scope of this project was going to be, especially as the depth of the story really unfolded. The story is linked to the historical research that I had been doing about my family and Timiskaming (on the Ontario side).

I grew up with oral knowledge about my ancestors and the Timiskaming region. As an adult I began to piece together this history, and came upon historical documentation that confirmed a lot of the oral knowledge I grew up with. I had also come upon some of my ancestral history through letters and government documents. I found letters written by a great ancestor who was challenging the government at the turn the century over the lands that were being seized without any form of fair treaty or compensation negotiated or exchanged. The lands were simply being taken away, cleared and settled without regard for local Indigenous communities and families who were living in the area over thousands of years. So I wanted to develop a story about Timiskaming and the surrounding areas, told from the perspective of a strong and operatic Anishnaabe woman.
One press release mentions that the central figure, Noodin-Kwe, is 150 years old. Could you say she is a symbolic figure and that the opera is in the mode of magic realism?

SDW: Noodin-Kwe's age is symbolic to this story, as she represents seven generations of historical knowledge. As a girl she witnessed the French-Indian Seven Years' War, and the Royal Proclamation of 1763. The Proclamation is an important event, because it has really shaped and affected how we relate with one another and the land that we are standing on, and has impacted Canada's relationship to its Indigenous people and vice-versa. Although the year 1867 may be viewed as the official birth of Canada, a lot of history precedes this date.

Myself, I didn't write this work as magic realism, however, I am quite aware that some audiences could easily read the work from this point of view. This is perfectly fine with me; everyone has their own entry-point into a work of art. My frame of reference is traditional Anishnaabe storytelling methods, but also includes classical and contemporary forms of theatre to the more experimental modes of performance, including the more diary-based and poetic forms of writing. But this opera is heavily rooted in the history of Northern Ontario, and would not ask audiences to imagine that it is a parallel universe.

Certainly some images in the work may cause us to understand a story better because we tend to filter and process them from our own experience or knowledge. This can be helpful when trying to build mutual understanding, but to suggest that histories are universal is a fine line to blur. I wrote this work in line with Anishnaabe storytelling methods because they are packed with teachings, and I used poetic and comedic dynamics interspersed with the tragic elements that we find in Grand Opera forms. This way we can laugh our way through tragedy, making some of this reality a bit more bearable.
I note that Giiwedin translates as "North Wind." Why this title?

SDW: Giiwedin/The North Wind is symbolic of Northern Ontario, and Noodin-Kwe's name translates into Wind Woman. Wind has inspired many mythologies and stories that easily lend to Grand Opera forms. We felt this story was no exception, as it is epic in scope and spans time and space. Wind plays a symbolic role in this opera, because it has the power to affect the spread of other elements such as fire and water. Wind forces, like the North Wind, have a lot of impact on the shaping or reshaping of land-forms, like the effect that colonialism has had on these lands.
I see you have collaborated before on short operas. Is this your first full-length opera?

SDW: I've collaborated on short opera works through the Tapestry LibLab programme, but this is my first full-length operatic work. I've trained in violin and play guitar, and have scored original music for experimental shorts, which has been especially helpful when orchestrating music for this particular score. I love and grew up with all kinds of music. My mother really guided my musical diversity; she brought all kinds of music into the home, and taught me to appreciate the politics behind the music. This has really influenced how I work as an artist and a scholar.
CM: I've previously written works for chamber ensembles such as bassoon quartets. The bassoon is my weapon of choice, and I especially love bassoon quartets because they characteristically have very close harmonies and voice crossing. It reminds me of vocal stylings from the swing and jazz era, and local groups like Moxy Früvous. Because I play bassoon, I was always looking for music from other instruments' repertoire and making transcriptions and arrangements for myself and my friends. Even after people started asking me to do it for their own use, I didn't really think of the possibilities as a composer. Three years later…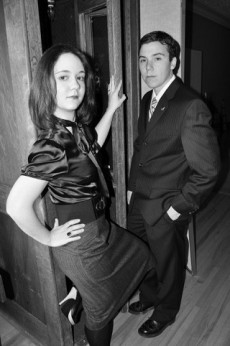 You two are listed as "co-composers." How does that work?

CM: At first we assigned sections based on what we perceived to be our musical strengths, but that went out the door pretty quickly. Our music was developed entirely as a team. In some cases, we divided sections for each to work on, but we also worked on passages together. This way we could give each other feedback, critique and support. It's an interesting process that requires a well-thought out methodology before tackling the creative components. It also helped us stay on track, set and meet deadlines, because we always had to stay aware of each other's progress.

SDW: Sometimes we'd question each other's musical decisions or lend new ideas so as to find ways to enhance the musical lines or passages that we were writing. We simply accepted the fact that no matter how the work turned out, it would reflect on us both. This allowed us to concentrate on just telling the story in the best way possible.

CM: This way all of our music was developed in a constant feedback loop, which helped to combine our musical voices, making it pretty much indistinguishable who wrote what, even to us. Because we were equally involved in our roles as composers we had a lot of influence on each other's process, which we know is unusual because traditionally librettists and composers work separately. So having multiple composers on a project like this is probably even more unusual. It has really helped us to tell a story as layered as Giiwedin, having more tools at our combined disposal.
The press release says that the opera "blends baroque and traditional Indigenous music and aesthetics." How so?

SDW: The primary aesthetics used in the opera come from Baroque and First Nations traditions, but as the work progressed we decided to bring other genres and styles into the piece. These choices were always deliberate and agreed upon after discussion and sometimes lively debate.
CM: As a result of this variety we feel that we have developed a work that bridges cultural aesthetics, and creates a work that is relevant to a whole new generation of music lovers. While we do use two older musical traditions, we incorporated modern idioms to support the underlying themes of industrialization, which is a driving force behind the story-line.
The opera is scored for violin, cello, archlute and harpsichord. First Nations mezzo-soprano Marion Newman sings the role of Noodin-Kwe. She is joined by Ryan Allen, Gilbert Anderson, Neema Bickersteth, Catharin Carew, Lawrence Cotton, Nicole Joy-Fraser, Jessica Lloyd and James McLennan in ten other roles as humans and animals. For tickets and more information visit www.anindienrightsreserve.com or phone 416-504-7529.
More Opera
As I mentioned at the top of this column, there's lots more opera happening at this time of the year. This month sees the Canadian Opera Company revive its 1996 production of Wagner's Der fiegende Holländer April 24-May 20 with Evgeny Nikitin as the Dutchman and the COC's new music director Johannes Debus on the podium. And opening on May 1, the COC's production of Maria Stuarda (Donizetti), brings soprano Serena Farnocchia to Toronto in the title role, with staging by COC veteran Stephen Lawless.

Opera Atelier stages a new production of Mozart's The Marriage of Figaro April 24-May 1 with Olivier Laquerre as Figaro and David Fallis conducting. Opera Hamilton is presenting Puccini's La Bohème April 22 and 24 with Roger Honeywell as Rodolfo and Miriam Khalil as Mimi. Toronto Operetta Theatre brings us Gilbert and Sullivan's The Pirates of Penzance, April 27-May 2, with David Ludwig and Jean Stilwell.
As well, on the 22nd, Aradia presents Polly, an 18th-century English opera by Samuel Arnold, at the Richard Bradshaw Amphitheatre (part of the COC's free concert series). And Opera by Request gives a concert performance of Verdi's La Forza del Destino on April 30, led by music director William Shookhoff.
Christopher Hoile is a Toronto-based writer on opera. He can be contacted at: opera@thewholenote.com.