Once again the stars have aligned to make April the most opera-intensive month in Southern Ontario.  At time of starting to write this article there were no fewer than fourteen examples of music theatre on offer spanning the 17th to the 20th century. (There have been a couple of hiccups, as you will see, but opera lovers will still have quite a task deciding how to fit them all in.)
Here they are in chronological order.
1642: The Coronation of Poppea.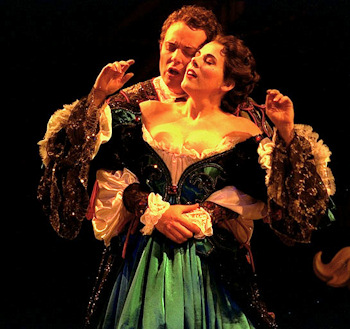 Renowned mezzo-soprano Kimberly Barber makes her Opera Atelier debut as Ottavia in the company's revival of its highly successful 2002 production of Claudio Monteverdi's final opera.  American male soprano Michael Maniaci returns as Nero with Peggy Kriha Dye in the title role of the unscrupulous courtesan who schemes her way to the top. The cast also includes Carla Huhtanen as Drusilla, João Fernandes as Seneca, Olivier Laquerre as Ottone and Laura Pudwell as Arnalta.  David Fallis conducts the Tafelmusik Baroque Orchestra and Marshall Pynkoski directs.  The opera runs April 25-May 2 at the Elgin Theatre. See www.operaatelier.com for more.
1691: King Arthur. This, the culmination of Toronto Masque Theatre's five-year Purcell Cycle, tells John Dryden's fanciful tale about Arthur's attempts to rescue his fiancée, the blind Cornish princess Emmeline, from the clutches of his arch-enemy the Saxon King Oswald of Kent.  This work likely marks the first appearance of Valkyries in opera.  In true masque tradition this "semi-opera" integrates singing, dance and acting.  Directed by Derek Boyes with choreography by Marie-Nathalie Lacoursière, it features Daniel Auchincloss, Benjamin Butterfield, Daniel Taylor and Giles Tomkins.  Larry Beckwith leads a period instrument band from the violin.  Performances run April 23 and 24 at the MacMillan Theatre.  See www.torontomasquetheatre.ca.
1790: Così fan tutte. Part of the RCM's "Rising Star" series, Mozart's acerbic opera about the supposedly innate unfaithfulness of women is performed by the by Glenn Gould School Opera and the Royal Conservatory Opera April 2-7 at Mazzoleni Hall.  The GGS Opera Ensemble is conducted by Mario Bernardi and directed by Jennifer Parr.  Admission is free.
1817: Cinderella. Kitchener used to share an opera company with Hamilton. Now it does so with Brampton. "Cinderella" is none other than Gioacchino Rossini's "La Cenerentola" sung in English.  The cast features Jennifer Fina as Angelina (a.k.a. "Cinderella'), Emilio Fina as Don Ramiro, and Anna Bateman and Louisa Cowie as Angelina's annoying sisters. Under the aegis of Opera Kitchener, the opera was to play on April 5 at Centre in the Square. But this performance has been postponed (date TBA). Under the aegis of Brampton Lyric Opera, the opera plays May 14 at the Rose Theatre, Brampton. Consult www.bramptonlyricopera.ca or www.operakitchener.com for further details.
1879: Eugene Onegin. From April 4-11 Opera Lyra Ottawa presents its first ever production of Tchaikovsky's operatic masterpiece with Russell Braun singing the title role for the first time in Canada.  Those who saw Brett Polegato in the role just last year with the COC may be interested to compare and contrast the interpretations of two of Canada's finest baritones.  Joining Braun are Inna Dukach as Tatyana, Richard Troxell as Lenski, Elizabeth Turnbull as Olga and Peter Volpe as Prince Gremin.  Tyrone Patterson conducts the National Arts Centre Orchestra and Joe Bascetta directs.  Visit http://operalyra.ca.
1881: Simon Boccanegra. (COC, Apr 11-May 7 at the Four Seasons Centre). This, the COC's first production of Verdi's dark masterpiece since 1979, tells the story of the first Doge of Genoa, elected to unite warring factions who, nevertheless, plot his downfall.  The work premiered and failed in 1857.  Twenty-five years later Verdi with the help of Arrigo Boito (Verdi's librettist for "Falstaff" and "Otello") extensively revised it and made it a success.  It features Italian baritone Paolo Gavanelli in the title role with Tamara Wilson, Mikhail Agafonov and Phillip Ens in a production from the Royal Opera, Covent Garden, directed by Ian Judge and conducted by Marco Guidarini.  See www.coc.ca.
1882: Iolanthe. (Toronto Operetta Theatre, Apr 18-16, at the Jane Mallett Theatre).  For many Savoyards this is the quintessential Gilbert and Sullivan operetta.  The overturning of the British Parliament by a band of fairies and the reductio ad absurdam conclusion make it the ultimate in the duo's visions of topsy-turvydom.  Despite its fame the professional production of "Iolanthe" was back in 1984 when it formed the climax of the Stratford Festival's G&S series directed by Brian Macdonald and designed by Susan Benson with Maureen Forrester as the formidable Queen of the Fairies.  That role will be played by Wendy Hatala Foley, the TOT's outstanding Katisha last year, with Elizabeth DeGrazia as the innocent shepherdess Phyllis.  Robert Cooper conducts the TOT Orchestra and Guillermo Silva-Marin directs.  See www.torontooperetta.com.
1890: Cavalleria rusticana / 1892: Pagliacci.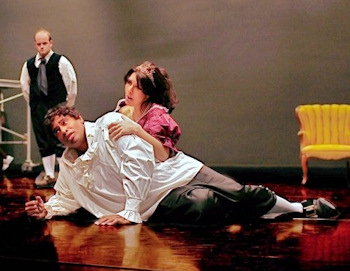 Our second hiccup. Opera Lirica Italiana had planned to present this favourite verismo double bill April 23 and 25, but the WholeNote has learned that the three-year-old company has had to postpone the production until the fall.  In the meantime, OLI artistic director Marianne Zin-Orlowski is looking for people willing to donate time or financial support in helping the company achieve its twin goals of establishing a showcase for emerging Canadian artists fresh from opera school and providing affordable, fully-staged operas for the greater Toronto community.  Last year OLI formed a children's chorus to involve youth at an early age in the art form.  Given government cutbacks to the arts OLI is dependent on the commitment of individuals of diverse backgrounds to sustain the company as it continues to grow.  For information visit www.operaliricaitaliana.com or contact Ms. Zin-Orlowski directly at 416-882-0246 or marianne@operaliricaitaliana. com.
1896: La Bohème.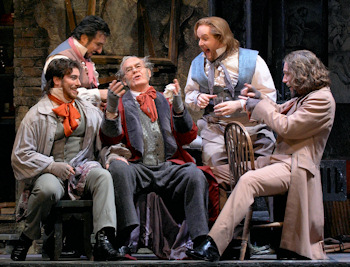 The COC stage the world's most popular opera April 17-May 24 at the Four Seasons Centre.  The almost entirely Canadian cast includes Frédérique Vézina as Mimi, David Pomeroy as Rodolfo, Peter Barrett as Marcello, Robert Gleadow as Colline and Jon-Paul Décosse as Schaunard.  The single non-Canadian is New Zealander Anna Leese as Musetta.  The familiar production by Wolfram and Amrei Skalicki is directed by Maer Gronsdal Powell with Julian Kovatchev and Derek Bate trading off conducting duties on the podium.
1904: Madama Butterfly.
Another favourite by Giacomo Puccini will be staged by Opera Hamilton April 2-3 at Hamilton Place.  This, the final offering of Opera Hamilton's first season since its resurrection last year, features Chinese-American soprano Ai-Lan Zhu as Cio-Cio San, Gordon Gietz as Pinkerton, Lauren Segal as Suzuki, Gaetan Lapierre as Sharpless and Gerald Isaac as Goro.  Daniel Lipton conducts the Hamilton Philharmonic and Graham Cozzubbo directs.  Visit www.operahamilton.ca for more.
1952: Trouble in Tahiti. This one-act comic opera by Leonard Bernstein is part of the concert series in the Richard Bradshaw Amphitheatre of the Four Seasons Centre.  Baritone Jon-Paul Décosse (Sam) and mezzo-soprano Megan Latham (Dinah) are joined by a trio of jazz vocalists.  In this satire on American suburban married life, Dinah and Sam face marital breakdown, from which the latest movie release "Trouble in Tahiti" is their only escape.  The opera plays from noon to 1pm on April 23.  Admission is free.
1957: West Side Story. For more Bernstein one need only head over to the Stratford Festival, where "West Side Story" begins previews on April 11.  The show opens on June 5 and runs until October 31.  Paul Nolan is Tony, Chilina Kennedy is Maria and Tessa Alves is Anita.  Stratford last presented "West Side Story" in 1999 at the Avon Theatre.  This time it's at the larger Festival Theatre directed by Chicagoan Gary Griffin. See www.stratfordfestival.ca for more.
1984: Sunday in the Park with George. The Shaw Festival continues its exploration of Stephen Sondheim with this meditation on artist Georges Seurat (1859-91) and his creation of the pointillist masterpiece "Un dimanche après-midi à l'Île de la Grande Jatte" (1884). While Act 1 concerns itself with Seurat, Act 2 focuses on his great-grandson George, also an artist, who comes to learn about art from the ghosts of the past.  The musical stars Stephen Sutcliffe as Georges/George with Julie Martell as his muse Marie/Dot and a strong cast including, Neil Barclay, Kyle Blair, Patty Jamieson, Gabrielle Jones and Jay Turvey.  The productions is conducted by Paul Sportelli and directed by Alisa Palmer.  Previews begin April 1, with the show opening May 22 and playing until November 1 at the Royal George Theatre, Niagara-on-the-Lake.  Visit www.shawfest.com.
1996: Ruth. Arcady, an ensemble dedicated to the recording and performance of the music of Canadian composer Ronald Beckett, will perform his "Ruth" written to a libretto by Roger Bayley, the first in the composer's trilogy of religious music dramas that includes "John" (1997) and "I Am ..." (1998). The CD of "Ruth" employs a number of soloists, a chorus of 28, a youth chorus of 44, string quintet, keyboards and percussion. For church performances the forces are reduced to violin, cello and percussion with Beckett himself leading from the keyboard. The opera will be performed at Forward Baptist Church, 455 Myers Road, Cambridge, on April 24. For tickets, call 519-220-1542. A second performance will take place at the Central Presbyterian Church, 97 Wellington Street, in Brantford on June 5.  Both performances feature Marion Samuel-Stevens as Ruth, Michael York as Boaz and Christopher Fischer as the Narrator. Visit the Arcady website (www.arcady.ca)
As if full opera performances were not enough there are also several opera and music theatre concerts on hand.  The University of Toronto Opera Division hosts "Why Can't You Behave?" a revue of the songs of Cole Porter and witticisms of Dorothy Parker April 3-4  (www.music.utoronto.ca), and renowned diva Renée Fleming with Hartmut Hoell at the piano gives a concert of art songs by Dutilleux, Messiaen, Richard Strauss and others at Roy Thompson Hall on April 17 (www.roythomson.com).
©Christopher Hoile