This March, the emphasis is clearly on contemporary Canadian opera. There are five on offer: four as part of Tapestry New Opera Work's annual Opera to Go, plus the world premiere of Charles Wilson's Kamouraska.
Tapestry's Opera to Go has a special "Press Opening and Community Night" on March 26 at the Living Arts Centre in Mississauga, followed by its regular run March 27-29 at the Enwave Theatre at Harbourfront. All four works are conducted by Wayne Strongman and directed by Tom Diamond, and all involve a troupe of five well-known singers in various groupings. This year the troupe consists of soprano Sally Dibblee, countertenor Scott Belluz, tenor Keith Klassen, mezzo-soprano Krisztina Szabó and baritone Peter McGillivray.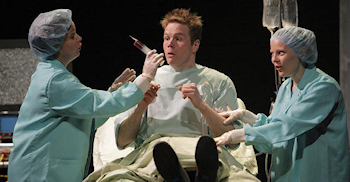 The first half of the evening is devoted to three short operas. The first is The Virgin Charlie by William Rowson to a libretto by Taylor Graham. Labelled "a dark comedy in retro musical theatre form," the opera concerns the drag performer Charlie, who has an unexpected visitation from Virgin Mary. The second work, One Lump or Two, by Glenn James and librettist Sandy Pool, concerns four ladies who want to poison their husbands and meet over tea to plan the deed. The third short opera is My Mother's Ring, by Stephen Andrew Taylor to a libretto by Marcia Johnson. Here, the central character is convinced that two strangers are posing as his parents.
The second half of the evening comprises a full one-act opera, The Perfect Screw, by Abigail Richardson to a libretto by Alexis Diamond. This is the duo's second opera together having written Sanctuary Song, which premiered at last year's Luminato Festival. This work, described as "a comic allegory filled with double entendre and innuendo," deals with the race between American and Canadian inventors, who both hope that their screwdriver will become the industry standard. Opera to Go invariably provides us with an exciting glimpse into the future of Canadian opera. From these four works we can see definite leaning toward comedy, and an interest in the possibilities of the countertenor voice. For tickets phone 416-973-4000 or visit www.harbourfront.com. For more information visit www.tapestrynewopera.com.
The same weekend that Opera to Go winds up, March 28-29, Opera in Concert presents the world premiere of Charles Wilson's Kamouraska, composed in 1974-75 to his own libretto and based on Anne Hébert's 1970 novel. The opera depicts the life in 19th-century rural Quebec of Elizabeth d'Aulnières, her marriage to Antoine Tassy, his violent murder and her passion for the American doctor George Nelson. The twelve-member cast includes such singers as Miriam Khalil, James McLennan and Alexander Dobson. Alex Pauk conducts the Esprit Orchestra.
Kamouraska had a first reading in Toronto in the 1970s, but nothing came of it. Opera in Concert discovered the score in 2004 and approached Wilson to revive the work, preciptitating a complete rewrite of the opera. OiC will present the English version of the rewrite. (Wilson also wrote a French version to take into account the different rhythmic patterns of the language.) This, OiC's first-ever world premiere, will take place at the Jane Mallett Theatre. Phone 416-366-7723 or 1-800-708-6754 for tickets or visit www.operainconcert.com for more information.
Two final notes: First, the U of T Opera Division will present a Ravel double-bill March 5-8 of L'Heure espagnole (1911) and L'Enfant et les sortilèges (1925). Second, TrypTych was to present a workshop production of Marc Richard's new opera, Hamlet, March 18-22, but that has now been postponed to June 24-29.
On Opera: Feburary 09
by Christopher Hoile


A highlight of February will be the world premiere of the new Canadian chamber opera "Inês" produced by Queen of Puddings Music Theatre.  Founded by musicians John Hess and Dáirine Ní Mheadhra in 1995, the company has an enviable record of creating forward-looking but immediately appealing new music theatre works like "Beatrice Chancy" by James Rolfe and George Elliott Clarke in 1999 and "The Midnight Court" by Ana Sokolovic and Paul Bentley in 2005.  The latter became the first Canadian opera invited for performance at the Linbury Studio of the Royal Opera House, Covent Garden.  Currently, "Love Songs", a song-cycle by Ana Sokolovic that debuted in Toronto in 2008 is booked for tours to Montreal, Ljubljana, Zagreb and Paris.


"Inês" combines the talents of composer James Rolfe, who also wrote the highly acclaimed "Swoon" for the COC, with those of Paul Bentley, now famous for his libretti for Poul Ruders' operas "The Handmaid's Tale" and "Kafka's Trial".  "Inês" is inspired by the famous Portuguese tale of Inês de Castro and will make use of Portuguese "Fado" music.  Interested in the genesis of new operas, I wrote Ms. Ní Mheadhra, who explained how the idea for the work came about.  The seeds for "Inês" were planted about six years ago when she and Hess went to hear the now-superstar Portuguese Fado singer Mariza at Harbourfront. "It was the first time we heard Fado and we were hooked."  "Fado", which can be translated as "fate", is a uniquely Portuguese music form that can be traced to the early 19th century but likely has its origins in Moorish song.  As Ní Mheadhra explains, "Portuguese Fado is a living form of urban folk music developed in Lisbon for solo voice. A deeply emotional music form, it shares a visceral expressiveness with opera and a poetic intimacy with theatre. In Fado, tears are communicated in worthy fashion, with a loneliness that fadistas make attractive through their graceful and supple singing."  They immediately thought,  "Wouldn't it be nice to do an opera with Fado in it."
Hess and Ní Mheadhra felt the opera would require a composer of a particular sensibility.  "James Rolfe has displayed through his music an appetite for contrast of diverse musical styles and has frequently incorporated critical non-Western musical components. And we've worked with James before on 'Beatrice Chancy' in which he incorporated extant African-Canadian music."


For a story they went to Ricardo Sternberg and Joe Blackmore of the Portuguese Department at University of Toronto.  Of the many tales they heard, the one that struck them most was the story of Inês de Castro (1325-55). Inês came to Portugal in 1340 as a maid of princess Constança of Castile, recently married to Prince Pedro, the heir to the throne.  Pedro, as fate would have it, fell in love with Inês and neglected Constança.  Eventually Pedro's father Alfonso IV exiled Inês from court and ultimately ordered her murder.  Pedro never wavered in his devotion to Inês and in 1357 when he became king, he declared the now-deceased Inês as his lawful wife, had her exhumed and made the court swear allegiance to her corpse.  Numerous plays and over twenty operas have been written on the subject.


Yet, Hess and Ní Mheadhra wanted the opera to be relevant rather than another retelling of the famous tale.  In the QoP version the legend is placed within Toronto's Portuguese community in the 1960s. Pedro is married to Constança but falls fatally in love with the beautiful fadista Inês.  The opera unfolds against a backdrop of Portugal's war in Angola, the Salazar dictatorship and the Portuguese immigrant experience in Canada.  "We asked Paul Bentley if he was interested in writing the libretto and he came on board. He did loads of research, even going to hear Fado in London and incorporated everything we talked about-the nightmare for immigrants during their first winter in Toronto, Portuguese cleaning ladies, the Catholic church, etc. and came up with a libretto."  After their fourth workshop in May 2008, they knew they could proceed to a world premiere.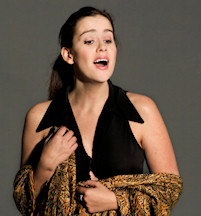 The opera has four opera singers and one Fado singer.  In "Inês", "some of the music is Fado inflected, and there are also some songs that are James' version of a Fado and of course our Portuguese singer sings with Fado inflect
ion. The instrumentation is piano, violin, amplified/acoustic guitar, clarinet, double bass/electric bass".  Meanwhile Mariza, is coming to Toronto on February 13th and Ní Mheadhra plans "to phone her agent to tell him that she was the inspiration for our opera".


Portugal's celebrated singer Inês Santos will be starring in the title role.  The production also features Giles Tomkins, Shannon Mercer, Elizabeth Turnbull and Thomas Goerz with stage direction by Jennifer Tarver.  "Inês" premieres at the Enwave Theatre at Harbourfront on Sunday, February 22 at 4pm and subsequently plays February 25, 26, 28 and March 1.  For tickets call 416-973-4000 or for more information visit www.queenofpuddingsmusictheatre.com.