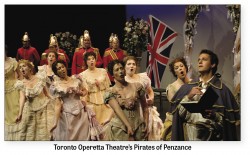 The past two years have seen Toronto opera companies unveil exciting new works or new interpretations of older works in December and January. This season, both large and smaller companies are saving these kinds of productions for spring 2017. In April 2017, the Canadian Opera Company presents a new production of Harry Somers' Louis Riel (1967). In the same month, Opera Atelier revives Marc-Antoine Charpentier's Médée (1693), which it will then take to Versailles. Tapestry Opera will present its grandest new opera since Iron Road (2001) in the form of Aaron Gervais's Oksana G. in May. And Toronto Masque Theatre will present the world premiere of The Man Who Married Himself by composer Juliet Palmer. The reason for all this activity in 2017 is that companies are pulling out all the stops in celebration of Canada's sesquicentennial that year.
For this December and January, however, most companies are sticking to the tried and true, and, given the general sense of unease in the world, perhaps that is not a bad thing. For professional, fully staged productions, Toronto Operetta Theatre is first off the mark with Gilbert and Sullivan's The Pirates of Penzance (1879), the work by the duo most often staged by professional opera companies and the only one to be staged regularly in non-English-speaking countries. Since 2014, there have been productions of Pirates in Münster, Luxembourg, Caen and Saarbrücken.
TOT's Pirates
This year's Pirates will give audiences a chance to hear two performers who are better known for their work with Opera Atelier, sing in a genre far removed from Baroque opera. Tenor Colin Ainsworth, who will sing Jason for Opera Atelier in next year's Médée, sings the role of Frederic, the young lad mistakenly apprenticed to a pirate. Bass-baritone Curtis Sullivan, who has sung La Haine in Armide and Samiel in Der Freischütz, will take on the role of Major-General Stanley. TOT favourite Elizabeth Beeler will sing Ruth, the "piratical maid of all work," and Vania Chan will sing the Donizetti-like role of Mabel. Austin Larusson and Anthony Rodrigues will share the role of Sergeant of Police, and Nicholas Borg and Janaka Welihinda will share the role of the Pirate King. Derek Bate, resident conductor for the COC, will conduct and TOT artistic director Guillermo Silva-Marin will direct. The operetta runs December 27, 30, 31, 2016, and January 6, 7 and 8, 2017.
Mozart's Flute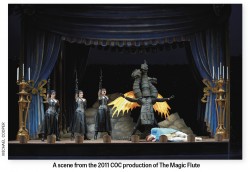 The winter season at the Canadian Opera Company begins January 19 with Mozart's The Magic Flute. This will be the first revival of the COC's own production, designed by Myung Hee Cho and directed by Diane Paulus, that had its premiere in January 2011. For the revival, Ashlie Corcoran will recreate Paulus' direction.
Tenors Andrew Haji and Owen McCausland will alternate in the role of Tamino. Sopranos Elena Tsallagova and Kirsten MacKinnon will share the role of Tamino's beloved Pamina. Baritones Joshua Hopkins and Phillip Addis will alternate as Tamino's bird-selling sidekick Papageno. And bass-baritones Goran Juric and Matt Boehler will share the role of the magician Sarastro, accused of having kidnapped Pamina. Coloratura soprano Ambur Braid, recently seen as Dalinda in Handel's Ariodante at the COC, will sing the demanding role of Pamina's mother, the Queen of the Night, at all 12 performances. Tenor Michael Colvin is Pamina's guard Monostatos. The conductor will be Bernard Labadie, best known as the founding conductor of the Montreal-based period instrument ensemble Les Violons du Roy. The opera runs from January 19 to February 24.
Street Scene by Request
If one is looking for more unusual fare, Kurt Weill's American opera Street Scene (1947) is coming back to town for the first time since Voicebox/Opera In Concert mounted it Feb 1, 2015, at the Jane Mallett Theatre. This time, Opera by Request is taking the ambitious project on. With lyrics by the poet Langston Hughes and a book by the playwright Elmer Rice, based on his own play, the action takes place outside a multi-ethnic tenement on the East Side of Manhattan over two hot days in 1946. The opera has two plots involving the Maurrant family. One plot line follows young Rose Maurrant and her romance with a neighbour Sam Kaplan, though she is being harassed both by her boss and by another neighbour. The other follows Rose's parents, Anna and Frank, and Anna's affair with the milkman Steve Sankey. Subsidiary stories deal with a woman about to have a baby and the eviction of a couple who can't pay the rent.
One impediment to the opera being produced is that it has 19 named singing roles, ten named speaking roles and other roles for children and dancers. The cast is headed by soprano Shannon Mills as Rose, soprano Kellie Masalas as Anna, baritone Austin Larusson as Frank and Avery Krisman as Sam.
Music director and pianist for the opera, William Shookhoff, provided me with some background to the production. "Street Scene came about as a project envisioned by Shannon Mills, who works with a number of the COC children, and Brandon White, whose specialty is collaborative theatre and design. It was their feeling that this piece was as relevant now as ever (perhaps more so since November 8) and that, to do it justice, it needed to be presented in a more descriptive format than the usual concert arrangement. The church will be transformed by use of backdrops, suggesting tenement apartment windows, and various minimal set pieces. Dress will indicate hot summer and there will be no music stands, with far more interaction than concert format allows." Street Scene runs December 2 and 3 at the College Street United Church.
Opera by Request has two other concert performances slated for January. On January 14, it presents Humperdinck's Hansel and Gretel (1891) with Kate Carver as the pianist; and on January 27, Mozart's Don Giovanni (1787) with William Shookhoff as the pianist.
St. Anne's G&S Treat
For Gilbert and Sullivan fans there is a real treat coming up in January. The amateur company St. Anne's Music and Drama Society (MADS) will present a fully staged production, with an 18-piece orchestra, of The Grand Duke (1896), the final comic opera written together by the famous duo. In its day, it was the partnership's only financial failure, unlike the equally rare Utopia, Limited (1893) that preceded it. Like G&S's first collaboration Thespis (1871), it concerns a theatrical troupe that takes on political power. The Central European setting allows Sullivan the chance to imitate Viennese music extensively for the first time. The D'Oyly Carte Opera Company did revive Utopia, Limited once for the company's centenary in 1974, but it never revived The Grand Duke, even though it recorded both. This neglect only helped reinforce the view elsewhere that these two were undeserving of revival.
Productions by other companies such as MADS, however, have found that with cuts mostly to Gilbert's unusually extensive dialogue, The Grand Duke is eminently enjoyable. MADS, first launched in 1963 by pianist Clifford Poole, wife Margaret Parsons, and Roy Schatz, has placed The Grand Duke in its regular cycle of G&S operas, meaning it is performed every 11 or 12 years. It was previously staged in 1996 and 2007.
Roy Schatz's daughter Laura, the stage director, informed me of the challenges and rewards of the piece: "I very much like The Grand Duke and think it deserves to be performed more often. One of the challenges for any group who wishes to perform it is the number of leads necessary – 14 to be precise. It should not have come up in our rotation for another couple of years, but our group recently had an influx of very talented singers and I wanted to be able to feature them as well as our regular wonderful leads. We have a cast of over 50 and they are enjoying the challenge of learning one of the G&S operas that is seldom performed." The Grand Duke will be staged at the Parish Hall of St. Anne's Anglican Church from January 27 to February 5 for four evening and four matinee performances.
Christopher Hoile is a Toronto-based writer on opera and theatre. He can be contacted at opera@thewholenote.com.