As the Canadian Opera Company's production of Bellini's Norma continues its run, two Baroque operas will receive full-scale productions in Toronto in October. The first to open will be the COC's first-ever presentation of Ariodante, an opera from 1735 by George Frideric Handel, running from October 16 to November 4. The second will be a new production from Opera Atelier of Henry Purcell's masterpiece from 1689, Dido and Aeneas, running from October 20 to 29. The productions provide a contrast in approach to operas from the same period and country of origin.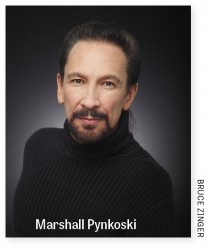 Dido: Opera Atelier presents Dido and Aeneas, after a hiatus of ten years, in a new production. Writing in the Opera Atelier blog, Marshall Pynkoski said: "Of all of Opera Atelier's repertoire, Dido remains perhaps the closest to our hearts. In 1986 Opera Atelier was officially launched with Canada's first staged production of Purcell's Dido and Aeneas, which took place at the Royal Ontario Museum. Since that inaugural production, Dido has become one of Opera Atelier's most important calling cards internationally." Dido has in fact toured internationally more than any other Canadian opera production.
"Why stage a new production and what constitutes a new production for a period performance company?" I put these questions to Opera Atelier co-artistic director Marshall Pynkoski.
Pynkoski explains: "Opera Atelier has been moving more into the storytelling itself. We had a wonderful beginning focusing on period style, but we had to ask what does this mean as a means of communication rather than a means of gorgeous display. I want people to listen and take in what these operas have to say. And so we've been stripping back the look of the company. If you look at our early productions and how incredibly elaborate they were with the wigs, the makeup, the sets, and what they've become now, I like to think we're getting closer and closer to the core of what this work is.
"I still love period productions, I like exploring within that idiom, but the idiom isn't dictating to us now. It's become much more a means of expression. So with the new Dido, the set designs and the costumes have been simplified tremendously with far less applied detail. Instead of wigs, all the women are wearing their hair down for the first time. Instead of the tight control over design we're allowing a more human element to enter everything. To increase the drama we're allowing everyone a little bit more freedom in how they're moving through the aesthetic gesturally and rhetorically.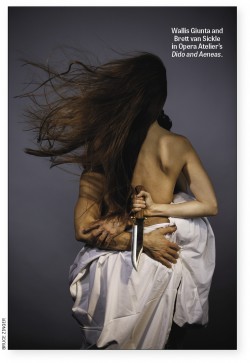 "We still want to work within a framework that allows this very stylized art form, but the stylization isn't going to dictate to us. Instead it becomes a point of departure and a means of creating something new." Pynkoski says his point of reference has always been George Balanchine who could not have created something new for American Ballet Theatre without having been steeped in the strictures of Russian classical ballet. "Balanchine asked how much he could take away from the art form and still have it remain classical ballet."
As for the common practice of updating productions to the present or recent past, Pynkoski says, "If we do that we lose all sense of history and what we can learn from history. If we insist on seeing everything as a mirror of ourselves, we see ourselves as a little moment in history that is divorced from everything that has come before. The past informs us. We're part of the past. Rather than being provocative, an updated setting puts us into the realm of the familiar and the familiar gives us comfort and acts as a buffer. In my experience it is the past that can jolt more than the present. Familiarity can make us miss an enormous amount that is there."
In the all-Canadian cast of the new production, rising mezzo-soprano Wallis Giunta makes her role debut as Dido and tenor Christopher Enns makes his role debut as Aeneas. OA mainstay Meghan Lindsay will sing Belinda, Dido's sister and confidante, beloved mezzo Laura Pudwell returns to sing the Sorceress and tenor Cory Knight sings the Sailor. In a nod to the work's first performance at Josias Priest's girls' school in 1689, the Toronto Children's Chorus will be the Chorus. As usual, Pynkoski will direct and David Fallis will conduct the Tafelmusik Baroque Orchestra.
Ariodante: Taking a non-period approach to performance is the Canadian Opera Company's production of Handel's Ariodante, a co-production with Festival d'Aix-en-Provence, Dutch National Opera and Lyric Opera of Chicago, already seen in Aix and Amsterdam.
Ariodante derives its plot from Cantos 5 and 6 of Ludovico Ariosto's epic poem Orlando Furioso (1532). Ariosto's 46-canto work is set during Charlemagne's reign as Holy Roman Emperor (800-814AD) during a fictitious war on Europe waged by the Saracen "King of Africa." The action involving Ariodante takes place in Scotland, where Ginevra, daughter of the King, is happily betrothed to Ariodante. When Ginevra rejects the lewd advances of Polinesso, the Duke of Albany, he tricks Ariodante and her father into believing she has been unfaithful. As a result Ariodante attempts suicide and Ginevra is condemned to death. Fortunately, Ariodante's brother Lurcanio challenges Polinesso to a duel, which Lurcanio wins, and forces Polinesso to confess his treachery.
For Andrea Marcon, who conducted the premiere of Richard Jones' production at Aix, Ariodante is the "perfect" Handel opera in its structure, in the strength of its melodies and arias, and in the consistency of its melancholic tone. Many critics have noted that Ariodante is written on a much more intimate scale than some of Handel's other operas. It is perhaps because of this and because of the work's sombre tone that British director Jones has almost totally changed the opera's setting, doing away with all the trappings of heroism and chivalric romance and relocating the action to a small Scottish fishing village in the 1970s where Ginevra's father is not a king but merely a powerful man. The emphasis is thereby shifted to a more contemporary aspect of the plot – the intolerance of a small religious community that shuns a woman simply because she has been accused of immorality.
Since Handel had available the services of dancer Marie Sallé and her company for this opera and for Alcina (1735), these are the only two operas by Handel that contain so much dance music, especially in interludes at the end of each act. A company like Opera Atelier with a resident corps de ballet would have no problem with the inclusion of dance as it showed in its 2014 production of Alcina. Yet, according to reports from Aix and Amsterdam, while Jones does include Scottish dancing, he intriguingly substitutes table-top puppet shows for the end-of-act dance interludes to foreshadow developments in the plot.
British mezzo-soprano Alice Coote, last seen at the COC in 2014 as Dejanira in Hercules, will sing the role of Ariodante, originally written for a castrato. Canadian soprano Jane Archibald will sing the much abused Ginevra. Armenian mezzo Varduhi Abrahamyan sings the trouser role of the villainous Polinesso, no longer a duke but reconceived by Jones as a Protestant minister. Canadian soprano Ambur Braid is Dalinda, Ginevra's servant who is secretly in love with Polinesso. And Canadian tenor Owen McCausland is Ariodante's brother Lurcanio. With Ariodante, COC music director Johannes Debus conducts his first Handel opera.
Christopher Hoile is a Toronto-based writer on opera and theatre. He can be contacted at opera@thewholenote.com.