Based on the schedules that have already been announced, the 2016/17 opera season in Toronto will feature an intriguing mix of old favourites, revivals of major rarities and world premieres.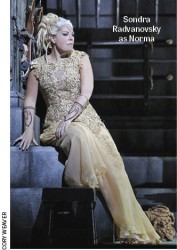 The Canadian Opera Company opens the season with a new production of Vincenzo Bellini's Norma (1831), an opera not heard at the COC since 2006. Alternating in the title role of the Druid priestess will be Sondra Radvanovsky and Elza van den Heever. Pollione, her fickle Roman lover, is Russell Thomas, while Pollione's new love, Adalgisa will be Isabel Leonard. Dimitry Ivashchenko will sing Norma's father Oroveso. Stephen Lord conducts the eight performances running from October 6 to November 5.
Alternating with Norma, the COC continues its exploration of Handel with the company premiere of the composer's 1734 opera Ariodante based on an episode from Ariosto's epic poem Orlando Furioso (1532). Alice Coote sings the trouser role of Ariodante, Jane Archibald is his beloved Ginevra and Varduhi Abrahamyan sings the second trouser role of the jealous Polinesso. Johannes Debus conducts his first ever Handel opera for seven performances running from October 16 to November 4.
The winter season sees the revival of two COC productions, Mozart's The Magic Flute running for 12 performances from January 19 to February 24 and Wagner's Götterdämmerung running for seven performances from February 2 to 25. Andrew Haji and Owen McCausland share the role of Tamino, while Elena Tsallagova and Kirsten MacKinnon sing the role of Pamina. Joshua Hopkins and Phillip Addis alternate in the role of the bird catcher, Papageno. The Queen of the Night is Ambur Braid. Sarastro is sung by Goran Jurić in his Canadian debut and by Matt Boehler. Ashlie Corcoran directs the revival of the 2005 production and Bernard Labadie makes his COC debut at the podium.
The COC's production of Götterdämmerung, last seen in 2006, stars the acclaimed Christine Goerke, who continues Brünnhilde's journey that she began in Die Walküre in 2015 and continued in Siegfried in 2016. Her Siegfried this time will be Andreas Schager. Martin Gantner is Gunther, Siegfried's rival, Ileana Montalbetti is Gunther's sister Gutrune, Ain Anger is Gunther's dangerous half-brother, Hagen, and Robert Pomakov is the dwarf Alberich. Johannes Debus conducts his first-ever Götterdämmerung and Tim Albery returns to direct.
The highlight of the Toronto opera calendar occurs in the COC's spring season. From April 20 to May 13, the COC presents a new production of Louis Riel by Harry Somers, written for Canada's centennial in 1967, remounted in 1975 and now revived for Canada's sesquicentennial in 2017 in a co-production with the National Arts Centre in Ottawa. Generally regarded as Canada's greatest opera, Louis Riel runs for seven performances from April 20 to May 13 in Toronto and from June 15 to 17 at the NAC.
In the all-Canadian cast, Russell Braun sings the title role of the controversial Métis leader; James Westman is Sir John A. MacDonald; Simone Osborne is Riel's wife Marguerite; Allyson McHardy is Riel's mother Julie; Michael Colvin is Thomas Scott, an Orangeman executed on orders by Riel; and John Relyea is Bishop Taché, who is duped into helping betray Riel. Peter Hinton directs and Johannes Debus conducts this momentous production.
Alternating with Louis Riel is the Puccini warhorse Tosca, in the now-familiar production directed by Paul Curran last seen here in 2012. The 12 performances run from April 30 to May 20 and will use a double cast. Adrianne Pieczonka and Keri Alkema will sing the title role, Marcelo Puente and Kamen Chanev sing Tosca's lover Cavaradossi and Markus Marquardt and Craig Colclough sing the villainous Scarpia. Canadian maestra Keri-Lynn Wilson, making her COC debut, conducts.
Opera Atelier's season features two revivals of late 17th-century operas – Purcell's Dido and Aeneas (1689) and Marc-Antoine Charpentier's Medea, (Médee, 1693). Dido and Aeneas, running from October 20 to 29, will feature Wallis Giunta as Dido, Christopher Enns as Aeneas, Meghan Lindsay as Dido's confidante Belinda and Laura Pudwell as the Sorceress. Medea, running from April 22 to 29,will see Peggy Kriha Dye as Medea, Colin Ainsworth as Jason, Mireille Asselin as Jason's wife Créuse and Stephen Hegedus as Créon. Both productions will be directed as usual by Marshall Pynkoski with David Fallis conducting the Tafelmusik Baroque Orchestra.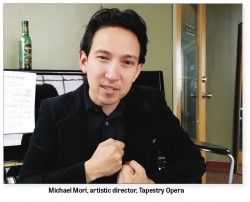 Tapestry Opera has an especially exciting season. The season begins with the Toronto premiere of Naomi's Road (2005), composer Ramona Luengen and librettist and director Ann Hodges, based on the novel by Joy Kogawa. Set in Vancouver during World War II, the opera follows nine-year-old Japanese-Canadian Naomi and her brother who are sent to internment camps in the B.C. interior and Alberta. The opera runs from November 16 to 20, 2016, at St. David's Anglican Church, the home of St. Andrew's, the last Japanese-Canadian Anglican parish in Toronto.
Running from May 24 to 30, Tapestry presents The Enslavement and Liberation of Oksana G., its largest-scale production since Iron Road in 2001. Oksana G. by composer Aaron Gervais and playwright Colleen Murphy is the story of a young Ukrainian girl lured into the world of sex trafficking by a Georgian recruiter who unexpectedly falls in love with her. When Oksana escapes to a refugee shelter, she finds herself entangled in a complex triangle between the recruiter and the Canadian priest who runs the shelter. With its fierce, contemporary heroine, Oksana G. sets out to challenge the operatic convention of the tragic victim. The premiere is led by acclaimed director Tom Diamond and conductor Jordan de Souza.
Toronto Operetta Theatre also has two fully staged revivals on offer. Running from December 27, 2016, to January 8, 2017, is Gilbert and Sullivan's The Pirates of Penzance (1879) with Colin Ainsworth as Frederick, Curtis Sullivan as the Pirate King, Elizabeth Beeler as Ruth and Vania Chan as Mabel. COC resident conductor Derek Bate wields the baton. Running from April 26 to 30 is The Chocolate Soldier (1908) by Oscar Straus, based on Arms and the Man (1894) by George Bernard Shaw. The popular operetta features Jennifer Taverner, Anna Caroline Macdonald, Stefan Fehr and Michael Nyby. Peter Tiefenbach conducts. Guillermo Silva-Marin directs both productions.
Toronto Masque Theatre has a fascinating lineup. Its first production running from November 17 to 19 is Handel's cantata Apollo e Dafne (Apollo and Daphne,1710) starring Jaqueline Woodley and Geoffrey Sirett and staged by Marie-Nathalie Lacoursière. This is paired with Richard Strauss' unusual melodrama for piano and spoken word, Enoch Arden (1897) based on the 1864 poem by Tennyson. TMT's second production is a world premiere, The Man Who Married Himself, composed by Juliet Palmer to a libretto by Anna Chatterton based on a Karnataka folk tale. The singers include Scott Belluz, Subiksha Rangarajan and Alex Samaras and the dance will combine Eastern and Western traditions just as will the makeup of the orchestra. Hari Krishnan will direct and choreograph the piece and Larry Beckwith conducts both productions.
VOICEBOX: Opera in Concert again helps to fill in the void in repertoire left by the larger companies. This season will begin with the second Bellini of the season in the form of I Capuleti e i Montecchi (1830), Bellini's version of Romeo and Juliet, on November 20, with Caitlin Wood, Anita Krause and Tonatiuh Abrego. On February 5 is Franz Joseph Haydn's delightful L'Isola disabitata (1779) accompanied by the Aradia Ensemble with Kevin Mallon conducting. And on March 26 is Modest Mussorgsky's Khovanshchina (1886). Although not all of Toronto's opera companies have announced their offerings, the season already presents an embarras de choix.
Christopher Hoile is a Toronto-based writer on opera and theatre. He can be contacted at opera@thewholenote.com.