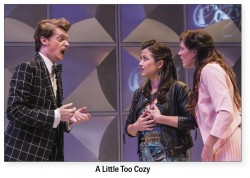 Opera this May is about making things new and making new things. Not only will Tapestry Opera stage the world premiere of a Scottish/Canadian collaboration but two other companies will provide new librettos to well-known works.
First up is Against the Grain Theatre's production of A Little Too Cozy. The production, workshopped at the Banff Centre last year, reimagines Mozart's 1790 opera Così fan tutte as a television game show. This will complete AtG's series of "transladaptations" of the three Mozart/Da Ponte operas after Figaro's Wedding in 2013, with the audience conceived of as wedding guests, and #UncleJohn, staged in 2014 as the wedding reception for Zerlina and Masetto. Like the previous two, AtG artistic director Joel Ivany has provided Mozart's opera with a new English-language libretto.
Ivany is not the first to write a new libretto for Così fan tutte. The work was unpopular when it first premiered and had only ten performances in Mozart's lifetime. In 1791, Friedrich Schröder called Da Ponte's libretto "a miserable thing, that debases all women." In 1875, critic Eduard Hanslick made the famous statement that "the boundless triviality of the libretto everywhere deals a death blow to Mozart's lovely music." Because of this attitude, which many people still hold, there were several unsuccessful attempts to rewrite the libretto. Only after the Glyndebourne Opera revival in 1934 did the work with Da Ponte's libretto become standard repertoire.
In Ivany's adaptation, the audience becomes the studio audience for a live taping of the final episode of a reality show called "A Little Too Cozy." The show asks its contestants, "Can you fall in love with someone you've never met?" The opera will be presented in a real TV studio, CBC Toronto's Studio 42 at 25 John Street. Before the show begins, the final four contestants have already found their match, but as the final test of the show, the women have to meet an additional set of people before they're finally allowed to be with their fiancés. After that, the women must then decide if they still love their fiancés – whom they have never met in person – since from the start the men and women have been separated by the so-called Wall of Love. As Ivany says, "These four contestants go on the show because they're tired of this superficial way that relationships are presented now, and they're looking for something more authentic, more real, more rooted in our being. But then over the course of the show, they get messed around and played with."
The two female contestants are Felicity (i.e. Fiordiligi) sung by soprano Shantelle Przybylo and Dora (i.e. Dorabella) sung by mezzo-soprano Rihab Chaieb. The two male contestants are Fernando (i.e. Ferrando) sung by tenor Aaron Sheppard and Elmo (i.e. Guglielmo) sung by baritone Clarence Frazer. Baritone Cairan Ryan plays the host of the show, Donald L. Fonzo (i.e. Don Alfonso), and soprano Caitlin Wood is his lovely assistant Despina. As with AtG's previous productions conductor Topher Mokrzewski has also arranged the music The opera runs from May 12 to 21.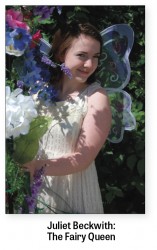 Toronto Masque Theatre: A second opera in May also has a libretto that has impeded its regular performance. This is The Fairy Queen from 1692 by Henry Purcell. As many people will know from recordings, the work contains some of the loveliest theatre music Purcell ever wrote. The problem is that this music what was called a "semi-opera" of the same name, adapted by an anonymous author from Shakespeare's A Midsummer Night's Dream. Purcell's music is concentrated in five masques, related only thematically to the play, each following one of the play's five acts. The adaptation of the play is generally deemed to be dreadful and to perform it with Purcell's music would take up to six hours.
Ever since the score was rediscovered in the early 20th century, the question has been how to redeem Purcell's music from its original context. Various solutions have been adopted: having actors play selected scenes from Shakespeare's original comedy before the five masques; or having a narrator recount the action of the play, rather than subjecting the audience to it.
Toronto Masque Theatre has come up with a far more ingenious solution – to do away not merely with the play but with the spoken word entirely. Director/choreographer Marie-Nathalie Lacoursière has reconceived the work in such a way that it consists solely of Purcell's music but will still tell a story. Lacoursière's starting point is the first lines of the first air: "Come, come, come, let us leave the Town / And in some lonely place, / Where Crowds and Noise were never known / Resolve to spend our days." Rather than an arcadian scene, Lacoursière imagines nine singers and two dancers as vaguely contemporary people waiting at a train station. The scenario follows the individuals as they seek love, happiness and meaning in life. To tell the new story Lacoursière has had to reorder the musical numbers.
In a telephone interview, TMT artistic director, Larry Beckwith, was reluctant to reveal too many details about the new story so that they will come as a surprise. He did say, though, that the figure of the Drunken Poet sung by Alexander Dobson, would feature prominently. Besides Dobson, the cast includes sopranos Juliet Beckwith, Vania Chan, Charlotte Knight and Janelle Lapalme; alto Simon Honeyman; tenors Cory Knight and Jonathan MacArthur; baritone Graham Robinson and dancers Stéphanie Brochard and Lacoursière herself. Beckwith conducts a seven-member baroque ensemble from the violin. Performances take place at the Arts and Letters Club May 27 to 29.
Tapestry's Winner: In addition to presenting old operas in new ways, May also brings the world premiere of an opera co-commissioned by Toronto's Tapestry Opera and Scottish Opera. This is Rocking Horse Winner by Irish-Scottish composer Gareth Williams, with a libretto by Canadian Anna Chatterton.
When asked how this collaboration came about, Chatterton wrote: "Gareth and I met in the 2009 Tapestry Lib Lab (a ten-day "speed dating" program for composers and writers to collaborate together by writing a five-minute opera in 48 hours). We really enjoyed working together and recognized a similar aesthetic and appreciated each other's artistic style. Gareth also has a great sense of dramatic form, which is fantastic for collaborating on new ideas. We wanted to write something longer together and Gareth suggested adapting D.H. Lawrence's haunting short story, Rocking Horse Winner."
Lawrence's short story was first published in 1926 and was made into a classic British film in 1949. The story focuses on a young boy, Paul, who lives in a family that feels it is dogged by bad luck. The family, however, also lives beyond its means and Paul's Uncle Oscar and the gardener Bassett seek to increase the family income by betting on horses. Paul is literally haunted by mysterious voices in the house that tell him "There must be more money." To solve the problem he rides his rocking horse until the name of the winning horse magically comes to him.
Chatterton says that she and Williams changed certain details of the story: "We set the story in the present and made the pivotal character Paul – originally a young boy in Lawrence's short story – into a young man who is on the autistic spectrum." Bassett is changed from a gardener to Paul's health-care worker. Nevertheless, Lawrence's original themes are still there and still relevant. As Chatterton says, "The story is very much about entitlement and greed, and also about a mother who can't feel love for her son and all the complexities that come with that disconnect. We feel these themes still speak to today's society."
The cast features soprano Carla Huhtanen as Ava, Paul's mother; tenor Keith Klassen as Paul's Uncle Oscar; baritone Peter McGillivray as Bassett; and in his professional debut with Tapestry Opera, tenor Asitha Tennekoon as Paul. Tapestry's artistic director Michael Hidetoshi Mori will direct and Jordan de Souza will conduct. Performances take place May 27 to June 4.
Christopher Hoile is a Toronto-based writer on opera and theatre. He can be contacted at opera@thewholenote.com.